Support TFG by using the links in our articles to shop. We receive a small commission (at no extra cost to you) so we can continue to create helpful free content. As an Amazon Associate, we earn from qualifying purchases made on Amazon in addition to other retailers featured on the blog. Thank you, we appreciate your support!
Wondering what to wear in Jordan? Here are some tips if you're visiting the Dea Sea and one of the world wonders, Petra.
---
What to Wear in Jordan
Written By: Lily Kim
---
Jordan's Petra, the ancient "Sela" Rose City built by Nabataeans in 312 BCE, is one of the New 7 Wonders of the World, a much-photographed UNESCO World Heritage Site, and was chosen by the Smithsonian as one of the "28 Places to See Before You Die." it's truly impressive!
Practicalities
Jordan has extremely hot summers (27-40

°

C / 81-104

°

F) with heat waves that can begin in spring. It has relatively low humidity (26-54%), yet there's the risk of heavy downpours and flash floods in winter.
Visitors to Southern Jordan should be aware of the culture and environment. Since there are no ATMs, even at major hotels or shopping areas, bring plenty of cash or Jordanian Dinar (JOD). For entrance fees and coins, USD or Euros are accepted as well. Consider using a money belt or a Secret Bra Stash to keep your money safe.
Jordanian visas are very easily obtained at the southern crossing near Aqaba. Exit fees must be paid, cash only, in each direction, and a cold-water fountain will only be seen on the Israeli side of the border with no ATMs anywhere. Travel agencies connected to hotels may sometimes assist with the currency exchange.
Pack powdered electrolytes such as Nutrilite Twist Tubes 2 Go to replenish electrolytes and rehydrate you.
When in Petra, there's a small restaurant on site that's not easily accessible (and cash only). Although Bedouins sell snacks along the path, for allergics or sensitive stomachs, pack energy bars or bags of crackers. Nuts and dried fruit are commonly sold in towns and in markets.
When traveling in conservative countries, it is respectful to be modest in terms of the clothing in your travel capsule wardrobe: cover your shoulders and most of your legs, and show absolutely no cleavage. Please read this post for more info.
What to Wear in Jordan: Clothing
Although fitted clothing might be fine, revealing skin (including legs, shoulders, and cleavage) is UNWELCOME. When planning what to wear in Jordan, due to the relatively conservative atmosphere, we suggest packing: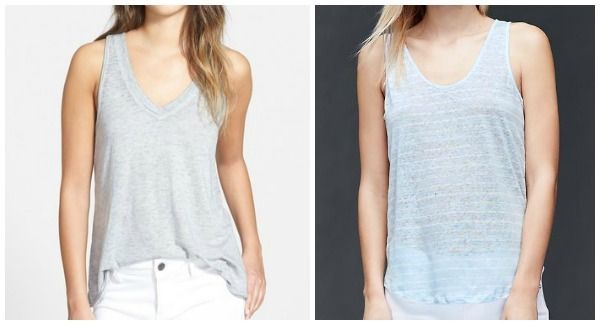 2 tank tops (worn at the beaches of Aqaba or the Dead Sea) you can also use a light scarf to cover your shoulders when needed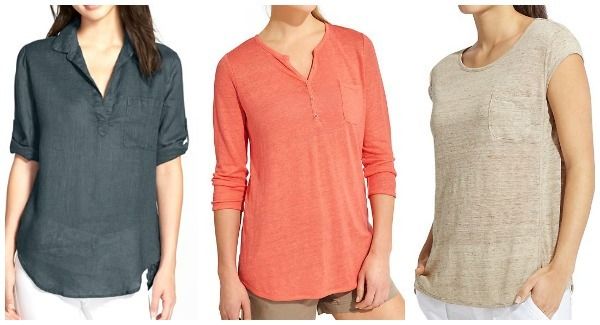 Linen Shirt | Newport Henley Tunic | Newport Tee
2 modest linen, raglan, or crinkle sleeved blouses and 1 breathable, sporty tee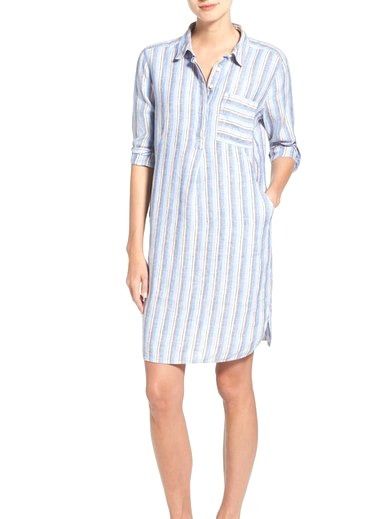 1 kaftan or tunic dress you can wear over pants or alone as a beach cover-up (only in the Dead Sea and resort areas)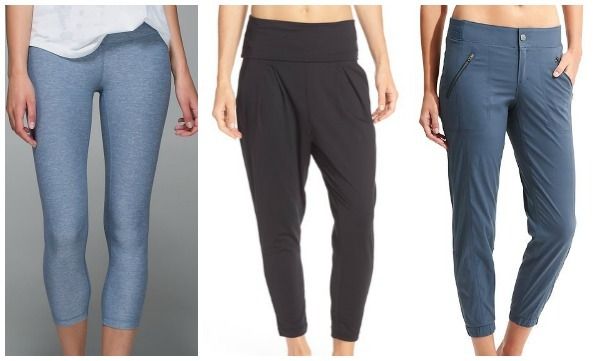 Lululemon Wunder Pant | Harem Capris | Trekkie Jogger
1 breathable stretch pants to wear under tunics (like Lululemon's Wunder Pant with Luxtreme mesh venting); 1 casual, fluid, yoga or linen drawstring pants to wear everywhere; 1 pair of capris for the Dead Sea or Petra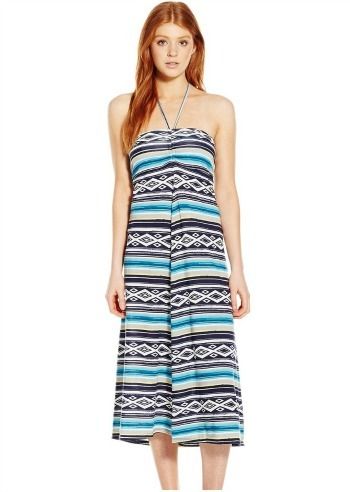 Convertible Strapless Ruched Maxi Skirt Dress
1  maxi skirt (or convertible skirt/dress)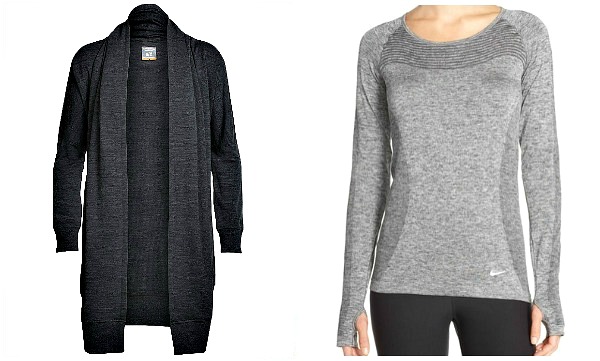 Icebreaker Cardigan | Dri-FIT Long Sleeve Top
1 cardigan or light jacket for cool nights (temps may drop to 18°C / 64°F) and 1 light, sleeved, synthetic tee to layer if needed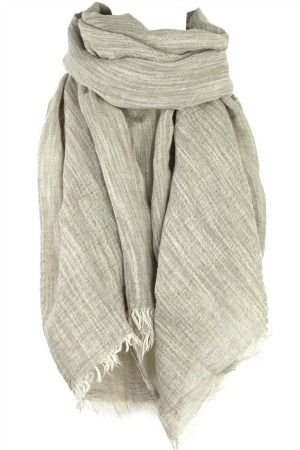 Linen & Cotton Scarf Shawl Wrap
1 long scarf for covering your head, chin, chest, and shoulders near mosques

1-2 summery pajamas plus undergarments: nylon bra & panty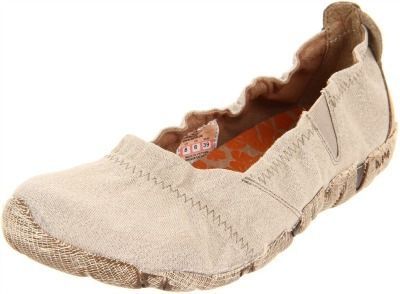 Walking shoes for sightseeing in towns – supportive tread for archaeological/dig sites is a must! If you require extra support, bring versatile hiking shoes.
If your travels take you to the Dead Sea or Red Sea, you will also need:

Sun Hat | Sanuk Yoga Sling 2 Flip-Flop | Underwire Bikini Top | Ruby Bikini Bottom
1-2 bathing suits for Turkish baths (e.g., Wadi Musa spas), the Dea Sea, Red Sea, or hotel pool
Stylish sandals or flip flops beside the pool
A shawl or hat to show modesty and serve as a head covering
What to Wear in Jordan: Accessories

Naot Diana Flat Sandal | Polarized Sunglasses | Kindle Voyage | Packable Backpack
Sunglasses and other sun-blocking accessories are a must to protect your eyes from the blinding sun in Petra.
A backpack will enable you to ride on a camel or horse easily, but it should ideally be a light and thin pack that will not trap heat and sweat on your back.
Leave room for a good book, since bus travel and wait times at border crossings can often take hours.
Cobblestones or hot, uneven walking surfaces require breathable, supportive footwear. Comfortable trainers or good walking sandals will suffice if the sole is thick enough to step on the hot sand.

Packing cubes

make the perfect shoe bags to protect your luggage from dirty shoes.
The reddish dust will ruin shiny new shoes, so don't bring your best pair to traverse Southern Jordan!
What to Bring to Jordan: Toiletries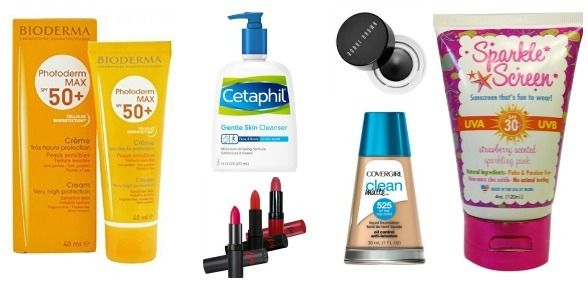 Photoderm | GlitterTots' | Lipstick | Eyeliner | Oil Control Makeup | Cleanser
The heat and the reef in Jordan require special care when planning your packing list. Avoid bringing skin products with chemical compounds if you will visit the Red Sea for its coral reef.
For people who suffer extreme heat rash, Bioderma Photoderm (SPF 60) moisturizing sunblock milk is great for sun-intolerant or sensitive skin.
Otherwise, in the city, a natural alternative for the young at heart is GlitterTots' Sparkle Screen (SPF 30), which is strawberry-scented with non-mono zinc oxide, to help counteract the effects of the body's overheating.
Long-lasting, waterproof, or sweatproof makeup is ideal, and shine control makeup will prevent breakouts. Rimmel's moisturizing Lasting Finish by Kate Lipstick is good for a splash of color in photos. Bobbi Brown Long-Wear Gel Eyeliner and CoverGirl Clean Oil Control makeup is suitable for sensitive skin or eyes.
Prepare for the aridness of the desert, too. Breaking in new sandals or stepping on salt rocks at the Dead Sea can cause sores, so pack Bandaids and the anti-chaffing gel Lanacane. We also recommend bringing lubricating eye drops.
Moisturizing oil-based creams or UV-filtering agents should be used to help protect and replenish hair; hair primer is a good idea if using straightening irons or blowdryers.
Pack a good facial cleanser and light moisturizer to wash off the dust and sweat from the desert and towns.
What to Know in Jordan: Electronics

Nikon | Canon SX50 | Olympus SZ-31 MR | USB Power Bank storage
If you like to shoot lots of film and videos on your travels, then you ought to have a powerful optical zoom camera. Nikon has zoom cameras that are easier to carry than DSLR cameras, and they let you view and shoot from afar.
Alternately, a panoramic wide lens allows for perfect shots in narrow spaces, such as the Siq (the high rock-walled passage prior to the main site). Otherwise, digital/zoom cameras like Canon SX50 and Olympus SZ-31 MR can take picture-perfect shots as well.
Bring large capacity SDXC cards, which have 256+ gigabytes of memory). They are good for taking full high definition videos and pictures at the same time. Plan to bring the new USB Power Bank storage device so you can recharge your camera battery.
---
What are your tips on what to wear in Jordan? Please comment!
---
For more Asia packing tips, please read:
Suggested Travel Resources:
---
LIKE THIS POST? PIN THIS TO SAVE IT!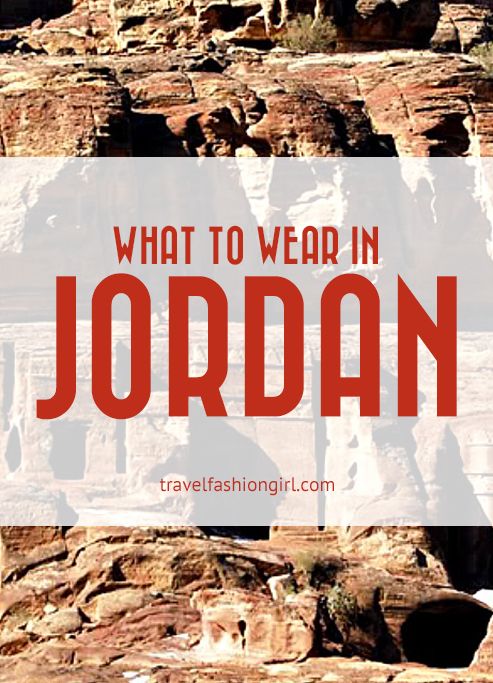 ---
We hope you liked this post on what to wear in Jordan. Please share it with your friends on Facebook, Twitter, and Pinterest. Thanks for reading!
---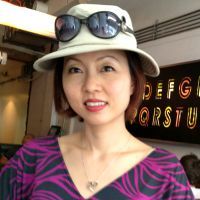 Author Bio: Lily An is a Canadian educator and Vancouver-born nature enthusiast. When she isn't working or traveling, she is likely to be skiing, diving, or mountain biking with her family. 
---