Support TFG by using the links in our articles to shop. We receive a small commission (at no extra cost to you) so we can continue to create helpful free content. Thank you, we appreciate it!
What do you get for the traveler who has everything? You can never go wrong with beauty products because they either get used up or worn out! Here are our picks for the best beauty gifts for jetsetters.
---
Best Beauty Gifts for Jetsetters
---
Table Of Contents
Whether you're shopping for a savvy traveler or need to pick up a few things for yourself, this is the perfect season to shop for a good deal. When it comes to skincare and makeup, I'm generally a drugstore shopper. This is the one time of the year where I save up to invest in some splurge-worthy deals at the department stores.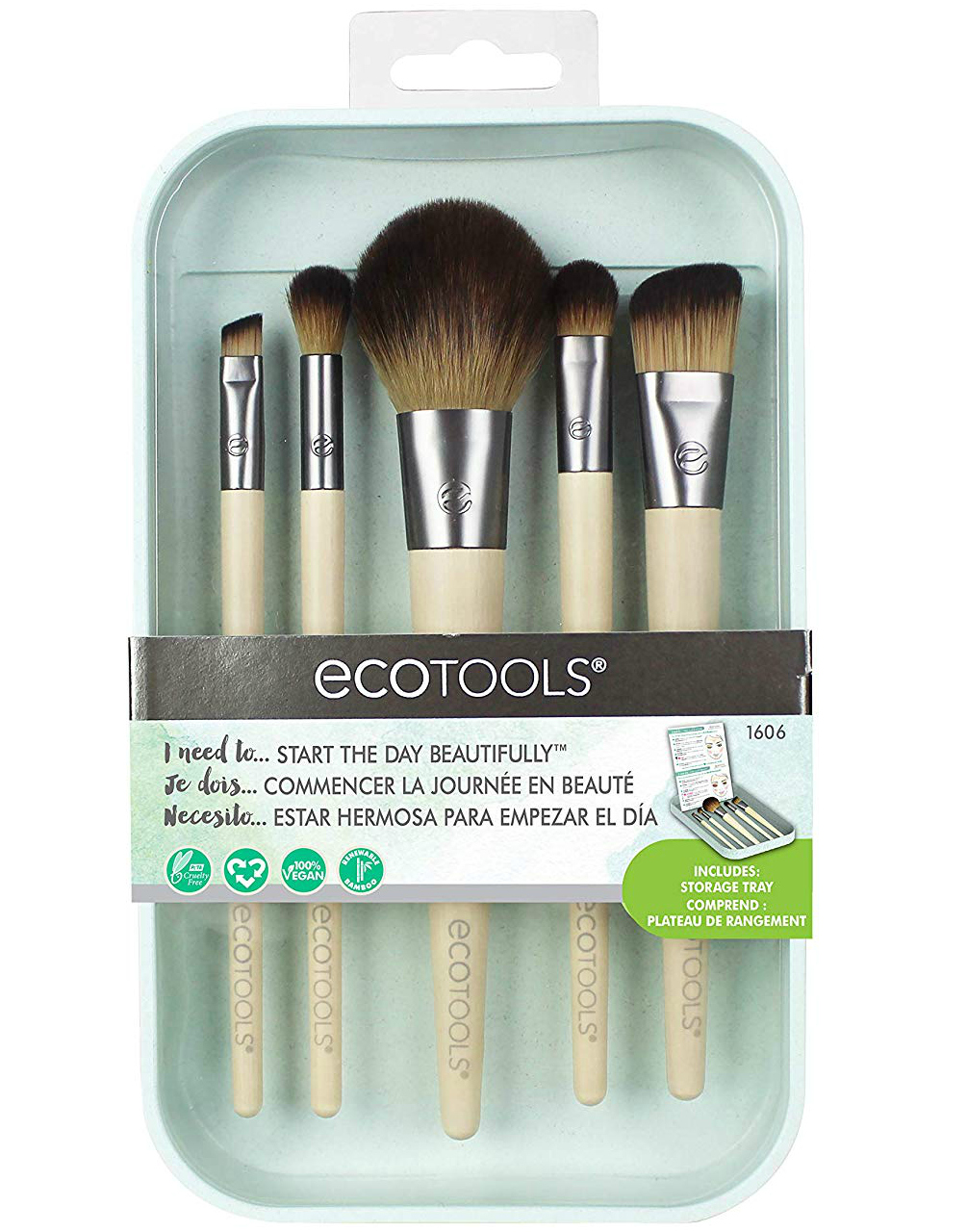 EcoTools Start The Day Kit, $9.98, Amazon
Travel-Sized Makeup Brush Sets
This is the perfect time of the year to buy designer makeup brushes for yourself or for travelers as a gift. Although this may seem like an unnecessary splurge, there's something about using a professional makeup brush that makes even the dullest makeup look gorgeous.
Because I'm always traveling, I don't like bringing a cosmetics bag of full-sized brushes. My solution: pick up a limited edition brush set from one of your favorite designer makeup brands.
Real Techniques Core Collection Set, $10.95, Amzon
In addition to the compact size of the brushes, there's also the added affordability: a single, full-sized brush could easily cost as much as a limited-edition travel bundle.
If you need to pick up a travel brush set for you or a fellow traveler, this is the perfect time of the year to get a great deal!
NARS Audacious Lipstick Keepsake Set, $79.00. Sephora
Travel Lipsticks
For some women, no look is complete without a swipe of lipstick. A pop of lip color is a beautiful way to brighten up your face and help you look more alive after a long day of traveling. But when you're touring historical sites and enjoying new foods, the last thing you want to have to do is re-apply your lipstick every couple of hours.
MAC Shiny Pretty Things Nude Mini Lipstick Kit, $36.99, Amazon
Treat yourself with a mini lipstick that you can bring along on your trip. These mini lipsticks are everything you need for a daze-inducing kiss.
Tory Burch Mini Duo, $29.99. Amazon
Travel Perfume
One of the easiest ways to travel with a mini perfume is to use a sampler vial. These contain just the right amount for a week or two-week trip. Most of the time, you can get these for free at Sephora. Or, you can purchase a sampler kit, which lets you test out a few different scents.
GUCCI Bloom Eau de Parfum For Her, $34.00, Sephora
Most brand name scents come in various sized bottles, including small rollerballs that typically contain around 0.25 oz, which is more than enough to last on a trip. While you can't spray the perfume and must roll it on your skin, it's one of the easier alternatives for how to travel with perfume.
5 Couleurs Couture Eyeshadow Palette, $52.70, Nordstrom
Makeup Travel Palettes
A small palette is all I need to feel like I'm put together when I'm on vacation. It's easy to grab and easy to find, which means I'm less likely to forget or lose an item. If you want to simplify but not eliminate your makeup travel routine, check out the above versatile palettes.

Girls Basic Bitch Palette, $41.00, Nordstrom
My favorite way to travel is with an all-in-one makeup palette. I don't like to spend too much time organizing different pods of makeup and then packing all those different pieces.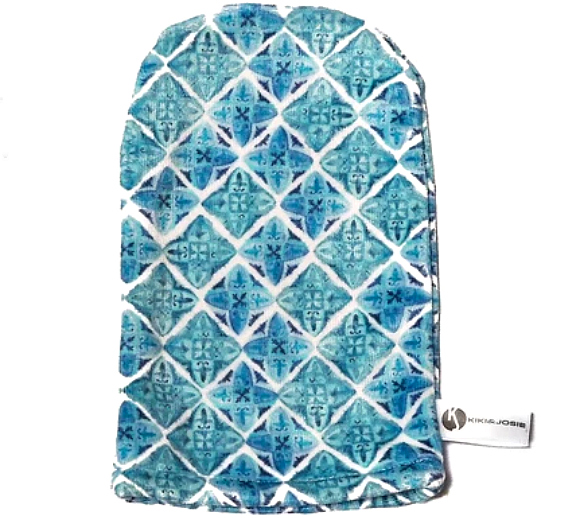 Editor's Top Pick: Liquid-free Makeup Remover Glove
The Makeup Remover Glove from Kiki&Josie has become part of my daily routine at home and while traveling, especially as I'm slightly obsessed with eye lash extensions! I find it easier to clean my face thoroughly while still protecting my eye lashes.
I love the pretty designs from this brand, which also help you know which is the "soft" side to use to wipe your skin. The Moroccan Blue design is my fave!
ACURE Essentials Travel Size Kit, $16.98, Amazon
Travel Toiletries
If you want to splurge on some designer skincare products but don't want to pay for a whole set, travel toiletries are a great way to get a taste of each product in their line and make some of the best beauty gifts.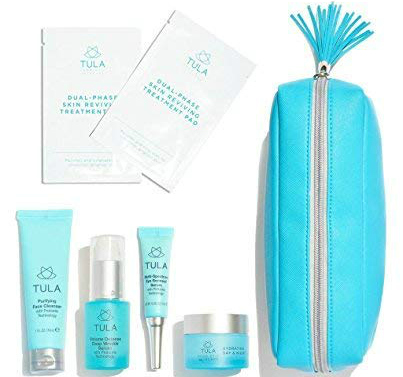 TULA Skin Care Healthy Glow Starter Kit, $52.00, Amazon
It's also a great way to get travel-sized versions of your favorite products and possibly try some new items. They usually come with a complimentary travel bag, and I can always find a way to put that extra bag to use!
Take a look at out top ten toiletry bags!
---
What do you think are the best beauty gifts this season? Share and comment below!
---
For more travel gift ideas, please read:
---
PIN THIS GIFT GUIDE TO SAVE IT!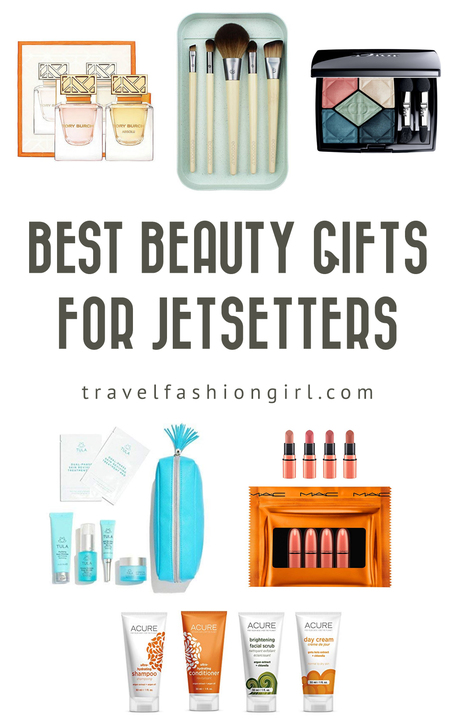 ---
---
Author Bio: Josie Reim has been traveling the world with a carry-on luggage since 1995 and has visited 18 countries. She loves immersing herself in the local culture, including learning the language and seeking out local wildlife. Packing is a way of life for Josie as she and her husband move their home around the United States often.
---