Support TFG by using the links in our articles to shop. We receive a small commission (at no extra cost to you) so we can continue to create helpful free content. Thank you, we appreciate it!
---
Join our community of 500,000 stylish female travelers! Sign up for Travel Fashion Girl's newsletter and never miss a thing!
---
Overpacking. We've all done it before, and some of us still struggle with it. Here, I'm sharing my tried-and-true tips to avoid overpacking.
---
Are You Still Overpacking?
---
As a former overpacker, I'm always amazed at how easy it is for me to pack.
Even though I've traveled carryon-only for months at a time, I still get nervous when it's time to pack. It happens to me when I'm packing for the airport and it also happens when I'm leaving my hotel.
And after 15-30 minutes, I'm always surprised at how quickly I finished packing. I laugh and smile, worry that I forgot to pack something, and then relax at the comfort of knowing that everything's fine.
Does this ever happen to you?
The first time I overpacked was in 2007 when I went on a two-week organized coach tour of Europe with my grandmother. We took one massive full size suitcase plus a carryon bag.
On that trip, I quickly learned the painful lesson that we packed way too much since neither one of us used hardly any of the items we packed.
Instead, we ended up wearing the clothing we brought that made us feel most comfortable. The only night we actually wore our "nice clothing" was to go to the Moulin Rouge in Paris.
The very next year, I returned to Europe for two weeks, but this time I went with a good friend. This time I took a smaller, 25" bag (not a carryon), but only took exactly what I needed. Remembering the many flights of stairs, I also chose to bring a wheeled duffel instead of a suitcase so it was easier to pick up and go as needed.
If you're wondering how to choose the right travel luggage, we've put together a helpful guide to get you started.
Instead of also bringing a carryon bag, all I brought was a large crossbody bag with my flight essentials. Everything else was in my checked bag.
Unfortunately, as you can read about in this post about my European packing disaster, my friend didn't pack as light as I had. In fact, she brought a massive 30"+ suitcase, plus a large daypack that was filled to the brim.
That trip was kind of a nightmare, and I have to say that a big part of the reason was the luggage. My friend's handle broke with the weight and, needless to say, it put a damper on the experience.
Here is a quick list of the best luggage brands according to top travel experts!
This is why I can't stress enough that overpacking is so much more than just "checking a bag." Travel is about fun and self-fulfillment. It shouldn't be a stressful experience you look back on with bitterness.
To be honest, it really doesn't even matter if you don't travel carryon only. It's not for everyone, and that's okay as long as you don't overpack and bring all the wrong things. Or worse off, bring a bunch of things you don't actually need.
This is why I created Travel Fashion Girl and, with the blog, a variety of helpful resources to help you avoid this drama from happening to you.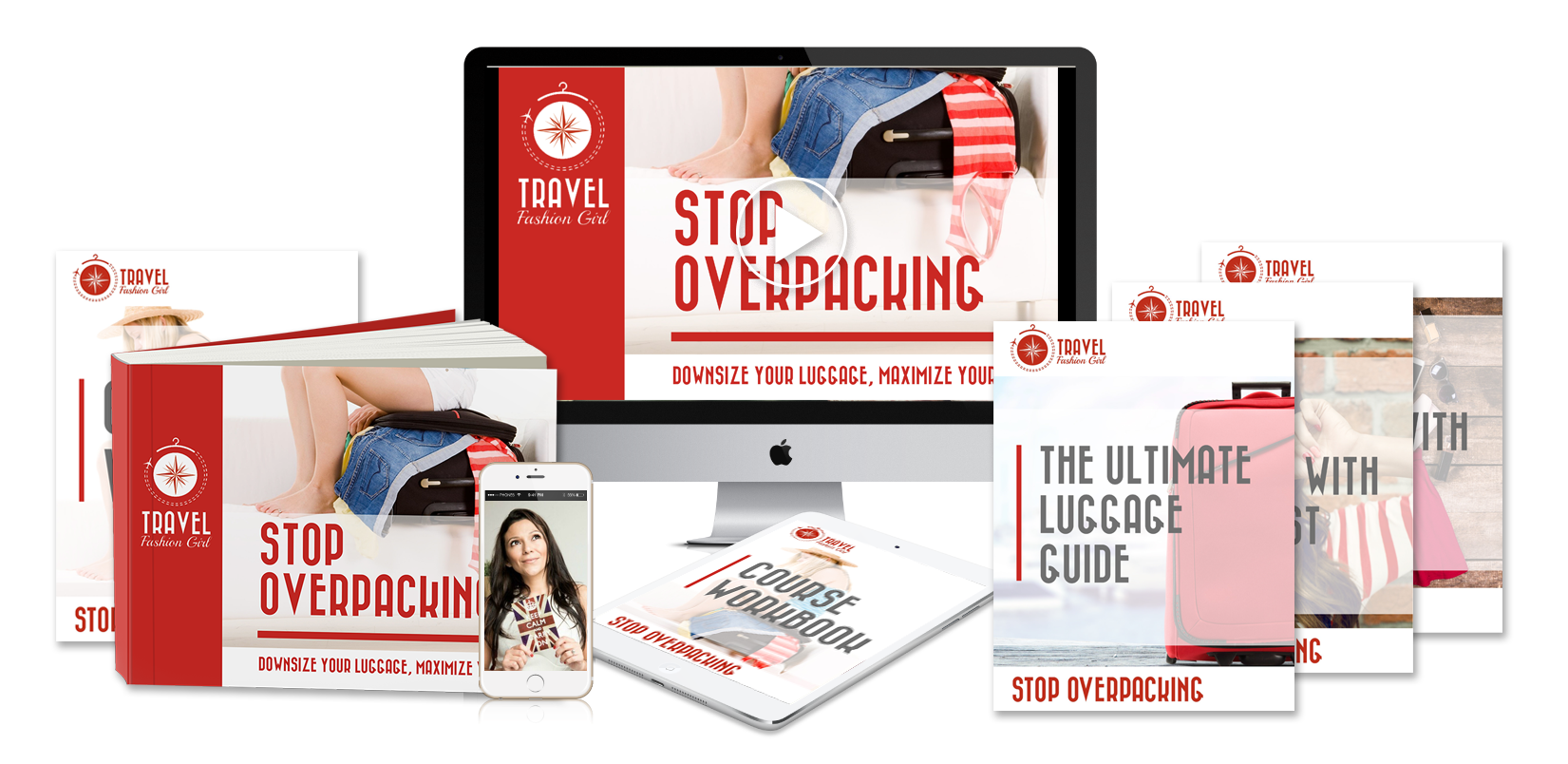 "Stop Overpacking" was a big game changer for me. I set out to create a comprehensive guide to help readers with their biggest issue. Creating this packing course for you was the final piece of the puzzle for me. After putting it together, that's when I started feeling surprised every time I packed: it was always so easy!
Learn more about Stop Overpacking here!
---
P.S. And if you're a first-time traveler or have never traveled carry-on only, read our newly revamped "Getting Started" page. It will walk you through everything step by step!
Are you still overpacking? Share and comment below!
---
For more travel packing tips, please read:
---
LIKED THIS POST? PIN THIS PIC TO SAVE IT!
---
I hope you liked this post on how to avoid overpacking! Please share it with your friends on Facebook, Twitter, or Pinterest. Thanks for reading!
---