This post contains affiliate links. Visit our Disclosure page for details.
Winter is coming and you know what this means: rain and snow. Before you head out on your winter trips, make sure you have a good pair of women's waterproof boots.
When buying winter boots, prioritize warmth. It's no fun to have cold wet toes while sightseeing. It will put a damper on your trip – literally. Make sure that the pair you choose fits well, is lightweight, feels comfortable, and goes with all your outfits. Remember to leave room in your luggage in case you have to pack them away too.
For a bit of function and fashion, here are our five top picks for women's waterproof boots!
---
5 Women's Waterproof Boots
---
➊
De La Vina by Teva ($180)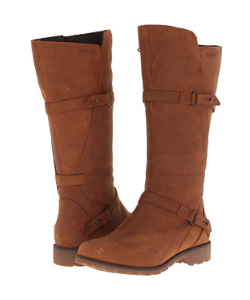 This stunning pair of boots look and feel like leather and have riding boot design. Teva infused this item with a patented rubber outsole for better traction, and an insole cushioning for comfort. Every time I walk into an outdoor shop I have to stop myself from buying these boots since I don't need more than one pair on my long term travels. They look good and the color goes with everything. These are my top pick!

➋
Wintertide by Patagonia ($185)
Available at Zappos and Amazon
A stylish quilted boot design made with leather-like appearance, these women's waterproof boots are perfect for a casual and rugged look. It has a gusseted tongue which helps keep the winter debris out of your toes. The cushion is made out of spun wool for additional warmth, making them a great option for travels with extremely cold and snowy temperatures. The rubber outsole also offers grip on wet and slick surfaces, giving you stability in walking on the snow.
➌
Captiva by Merrell ($190)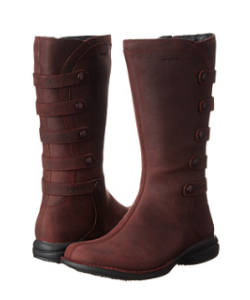 Available at Zappos and Amazon
A pair of boots created for the girls-on-the-go, this design boasts grain leather upper and a patented material that seals moisture out. Zippered closures and gorings are found at the medial side, while a mesh lining ensures proper odor treatment for the boot. Merrell also made this design with a comfortable midsole and an arch shank with molded nylon for optimal comfort. I've heard great things about these boots and are a classic look with a touch of edge with the back detail.
➍
Mount Hope by Timberland ($150)

These women's waterproof boots are made with premium leather and created for the women who intends to look stylish on her outdoor trips in the snow. The shoes are designed with fabric upper and microfiber fur lining from recycled materials for extra warmth. Its leather make is a plus; the material is made from a tannery with a high rating for its production processes. LOVE the Tobacco color – super versatile!
➎
BL490 by Blundstone ($143)

A ankle length waterproof winter boot, this item from Blundstone offers a eather-made upper to keep your feet toasty and comfortable. The patented foot bed wicks moisture away, keeping you warm and dry in the cold travel season. The shoes claim to reduce shock at the heel, which would help relieve some stress on your feet and legs. This brand has a great reputation and is recommended in this camping tips post. Check out some of their other styles.

---
What do you recommend for women's waterproof boots for winter? Share it in the comments!
---
For more tips on travel shoes, please read:
---
Hope you liked our top picks for women's waterproof boots. Share this post with your friends on Facebook, Twitter and Pinterest. Thanks for reading!
---
Liked this article? Check out similar posts: