This post contains affiliate links. Visit our Disclosure page for details.
---
Join our community of 500,000 stylish female travelers! Sign up for Travel Fashion Girl's newsletter and never miss a thing!
---
Just in time for Memorial Day weekend and this summer's beach vacation season, Lady Lux Swimwear shares their top tips on choosing the best swimsuit for your body type.
---
Find the Best Swimsuit for your Body Type
---
Body Types
1. Pear Shape
Hips are significantly wider than your waist and bust.
2. Apple Shape
The waist is wider than your hips, and equal to or nearly as wide as your bust.
3. Hourglass shape
Bust and hips are about the same size width, but your waist is smaller.
4. Straight
Thin all around, with no significant difference between your hips and bust.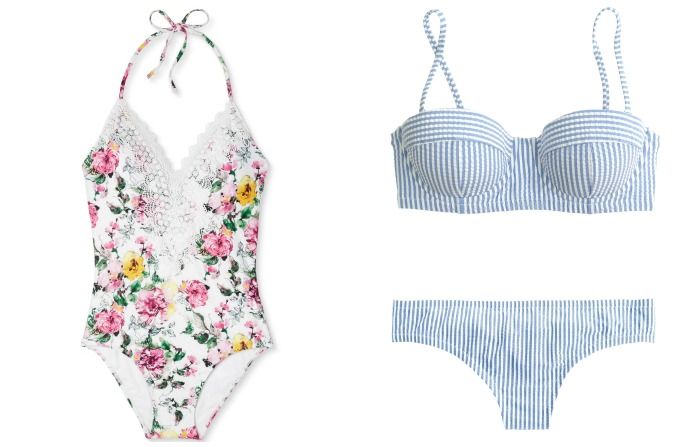 Floral Lace Halter One Piece | Seersucker Bikini Top & Bottom
How To Select The Right Cut
1. A one piece will hide your waist.
Choose one with shirred panels, details, dark or solid colors.
2. High cut bikini bottoms will make your leg look longer.
If you're short, or long in the torso, this is a good option.
3. Halter tops draw attention to the bust,
as do triangle tops.
4. Bandeau tops will make the bust seem wider.
If you're a pear shape and want to imitate an hourglass shape, choose a bandeau top with ruffles or a busy detail.
5. To minimize a large bust,
look for a straight across cut at the top of your swimsuit with wide set straps. Try a bikini top with an underwire and a thick chest band for extra support.

Tips to Choose A Flattering Pattern
Push Up Midi Bikini Top & Bottom | Tank Shelf Bra One Piece Swimsuit
Chevron prints show a flattering side to your body and keep eyes moving
A petite small print makes you look smaller and shrinks you
Vertical and angled stripes have a slandering affect
Lady Lux suggests: Try our Rock the Boat, Rock the boat monokini, Desert Rose, Jet set ready, Indian Summer or Irresistible bikini
If You Have A Large Bust
Triangle Bikini Top & Bottom | Strappy Back One Piece Swimsuit
Try underwire in a top for extra support
Red is slimming and appears to be smaller
Multiple straps on a swimsuit top add twice the support
Animal attraction: a small animal print plays down the chest size
Lady Lux suggests: Try the Red Hot, Tainted Love, Summer Siren, Jessie's Girl, Sugar Rush, Guilty Pleasure bikini
If You Have A Small Bust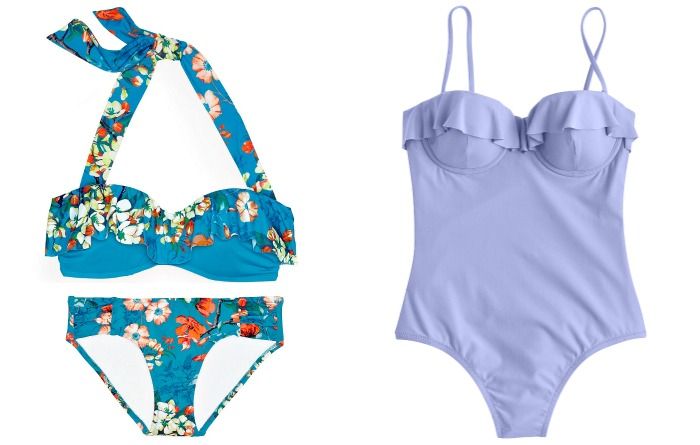 Underwire One-Piece Swimsuit | Underwire Bandeau Bikini Top & Bottoms
Lightly padded bra suit gives you believable cleavage
Underwire suit tops enhance what you have as well
Enhance your top with frills or bows
Avoid a pancake bandeau top with hardware in the front or a twist tie front
Lady Lux suggests: Try a triangle top like our Gold Digger Bandeau, Ride Like the Wind, or Call me maybe
 Want An Instantly Slimming Style?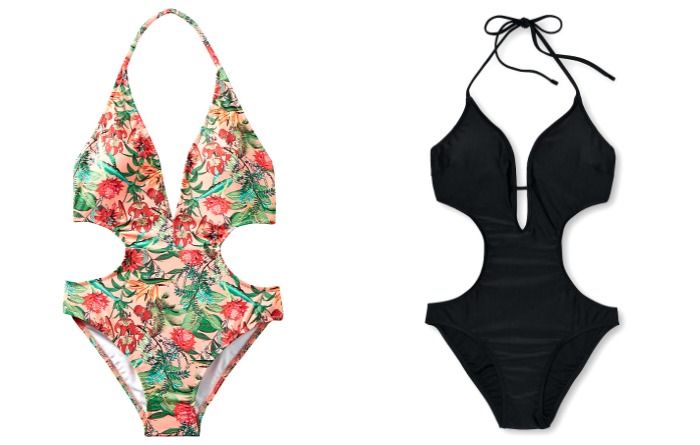 Tropical Floral Print Plunge Front Monokini | Monokini One Piece Swimsuit
Try fun printed monokinis: They are slimming and show off your legs
Deep monokini plunge shows off the girls, yet give you an elongated feel
Lady Lux suggests: The Gold Digger Monokini and Palms Springs Primmed are perfect slimming suits.
Expert Tricks To Enhance Your Best Features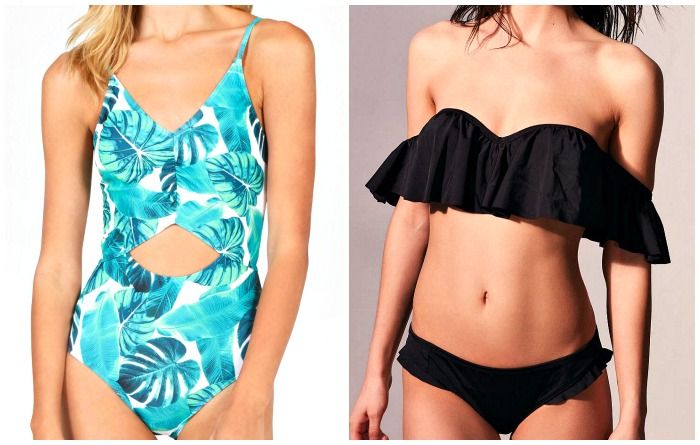 Peekaboo One Piece Swimsuit | Forever Ruffle Bikini Top & Bottom
1. To highlight a feature you like, use a bright color or pattern
Ex. Guilty Pleasure, Sugar Rush, Summer Siren, Strawberry Shortcake
2. To hide something you don't like, use a solid color.
Ex. Summer siren, Sugar Rush, Rich Girl, Call Me Maybe
3. To add volume (bust or hips) choose a piece with ruffles or hardware details
Ex. Gold Digger bandeau, Jessie's Girl, Ride Like the Wind, Indian Summer, Rock the Boat
TFG Top Picks
Underwired Bandeau Bikini Top | Body Glove Bikini Top
These are my two of my very favorite bikini tops and the best part? They're bra sized! Read my full round up of underwire swimwear!
Lady Lux Swimwear hooked me up with one of their best swimsuits: the Sugar Rush Bikini in Jade. It's a bit more glam than I'm used to but I definitely felt sexy wearing it in Miami Beach – it gets two thumbs up from me! Take a look at my pic above!

---
What are your best swimsuit for your body type? Share your tips in the comments!
---
For more on summer travel fashion, please read:
---
Hope you liked this post on tips and tricks to find the best swimsuit for your body type. Please share with your friends on Facebook, Twitter and Pinterest. Thanks for reading!
---
Liked this article? Check out similar posts: