This post contains affiliate links. Visit our Disclosure page for details.
Travel Fashion Girl readers are some of the most savvy globetrotters around and we all share one common goal: to pack light. Eliminate excess baggage and use luggage scales to weigh your bag before you go. In fact, check every item to ensure the cumulative weight of your belongings is absolutely minimal!
How low can you go? Are you up for the challenge? Enter this Tarriss Travel Gear giveaway for a chance to win one of their Jestetter Digital Luggage Scales!
---
Enter to Win!
---
Introducing: The Jetsetter Digital Luggage Scale
Key Points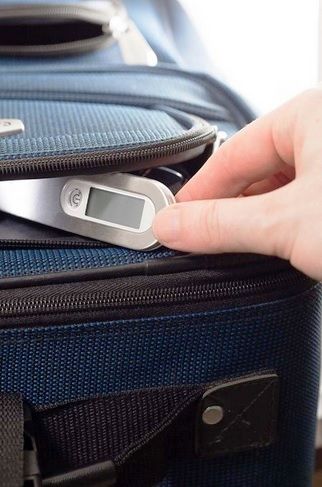 ➊ The Jetsetter Digital Luggage Scale pays for itself the first time it saves you from overweight baggage fees
➋ It's one of the highest rated and best selling luggage scales on Amazon.
➌ It's accurate, compact and durable.
➍The perfect gift for a traveler who has everything.
➎With an Easy-to-Read LCD display you don't have to strain to see the totals
➏ Lifetime warranty.
ENTER TO WIN!
Three lucky winners will win a Jetsetter Digital Luggage Scale by Tarriss Travel Gear. Enter to win now!
JETSETTER DIGITAL LUGGAGE SCALES

 Rules
This giveaway is open to legal residents of the USA who are 18 years or older. It begins on 12/01/2014 at 12:01 AM (Pacific Time (US & Canada)) and ends on 12/07/2014 at 11:59 PM (Pacific Time (US & Canada)). Three winners will be chosen. Each winner gets one (1) Jetsetter Digital Luggage Scale.
Winner will be notified by email at the email address provided in the entry information on or about 72 hours after the random drawing. Potential winner must accept a prize by email within 30 days of notification. Any winner notification not responded to or returned as undeliverable may result in prize forfeiture.
About Tarriss Travel Gear
Tarriss Travel Gear is a new company which introduced its first product, the Jetsetter Digital Luggage Scale, in February 2014 and so far the respoArevico Settingsnse has been phenomenal.
When they began selling their scale on Amazon in February there were over 200 other luggage scales available, many from well established companies who had been there for several years. In less than a year its become the #1 rated and the #2 best selling luggage scale on Amazon.
The scale is designed to be stylish, lightweight and compact so you can easily take it with you. It is also one of the only portable luggage scales on the market to offer a lifetime warranty.
The mastermind behind Tarriss Travel Gear is Todd Arriss who's first solo trip occurred at the tender age of five years old when his mother helped him pack his bags so he could run away from home. He had a change of pants, an apple and his favorite toy. Although this childhood journey only took him on a short trip around his back yard, he learned the art of traveling light. It was the start of a life-long adventure in learning, travel and serial entrepreneurship.
Grab your Discount Code
Tarriss Travel Gear is offering all TFG readers an exclusive discount for the duration of the giveaway. Use code TFG25OFF to get 25% off your purchase on Amazon!
---
How much does your baggage usually weigh? Tell us in the comments and don't forget to enter!
---
 Hope you like this giveaway! Please share it with your friends on Facebook, Twitter, or Pinterest. Thanks for reading!
---
Liked this article? Check out similar posts: