Support TFG by using the links in our articles to shop. We receive a small commission (at no extra cost to you) so we can continue to create helpful free content. As an Amazon Associate, we earn from qualifying purchases made on Amazon in addition to other retailers featured on the blog. Thank you, we appreciate your support!
Traveling to South America? Find out what to wear in Chile!
---
What to Wear in Santiago de Chile
Written by: Tammy Lowe
---
Santiago has a mixed climate with dry warm summers up to 30 degrees Celsius (86 F) and fairly mild winters with average temperatures of 15 degrees Celsius (59 F). So what to wear in Chile depends largely on the time of year you are going.
However, temperatures often change drastically during the day – even in the summer, so it is always advisable to wear layers. Also most old buildings in Santiago don't have central heating, so even nights inside can feel pretty chilly.
Always research the weather before your trip. Once you've checked the weather forecast, you can focus on creating a travel capsule wardrobe, which should easily fit in a carryon suitcase with the help of packing cubes to compress your clothing.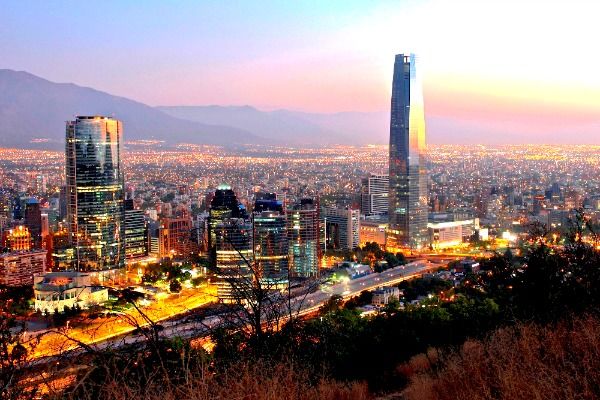 Santiago de Chile – source
Layers
The famous onion look is probably your best bet for a visit to Santiago. This way you are not too hot during the day, but when it gets chilly or it starts raining you are at least prepared.
Santiago is a metropolis though, so when planning what to wear in Chile you may want to pack clothes that don't scream tourist. You will probably stand out if you walk around in your zip off pants and hiking boots.
People dress pretty casually in Santiago, so bring some regular outfits for wandering around the city and then maybe also some smarter going-out outfits.
Daytime clothes
You are likely to do a lot of walking in Santiago, so bring some comfortable walking shoes with you. I personally like the Teva Kayenta Suede sandals, as they are very comfortable and sturdy but also look really pretty.
As it is usually fairly warm T-Shirts or tank tops are fine to wear. They will go nicely with a pair of Jeans hot pants or a skirt. If you feel the cold easily though or would like to protect your skin from the sun you could also wear a light cardigan on top. You can basically bring any regular outfit you like wearing at home too.
Read these tips on transitioning from hot to cold weather on the same day.
Nighttime clothes
As it is usually a bit cooler at night you probably need to wear a coat. A light raincoat is probably best since it will protect you from an unexpected daytime downpour but also from the chilly Santiago nighttime temperatures.
In the winter you could take an ultra down jacket with you, as it won't be too hot, but toasty enough for cooler evenings. I personally love UNIQLO down jackets, as they are really warm, pack up nice and small and don't cost a fortune.
If you are going out at night and would like to dress up a bit more polished, but don't want to necessarily take an evening dress with you I can recommend the dress range from Icebreaker when planning what to wear in Chile . Icebreaker dresses are perfect travel dresses in my opinion. The merino wool keeps you cool when it is warm and warm when it is cold. It is a genius product and so handy for travelers.
You can easily jazz it up a little with a fancy cardigan, some nice jewelry and some ballet flats. If you are not a dress person a nice pair of jeans with a going out top, a matching cardigan and some flats will also do the trick.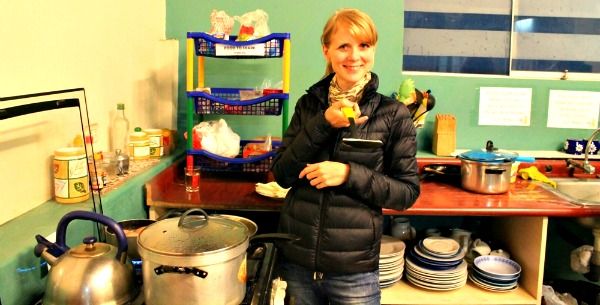 Tammy in her UNIQLO ultra down jacket in a chilly hostel kitchen
Sun protection
It is almost always sunny in Santiago, so to protect your eyes bring a pair of good sunglasses with you. The air is also very dry and can be dusty at times. If you are a contact lens wearer sunglasses will also protect you from the dust. You should also bring some eye drops with you as well though, otherwise your eyes might dry out too much.
Take some sun cream as well as it is usually quite expensive to buy in Santiago. Because the air is so dry I would also bring some after sun lotion with you, so you can moisturize your skin in the evenings.
A sunhat is also important as the sun is quite strong in Santiago. If you don't want to wear a touristy looking wide brimmed hat, then you can buy fashionable caps everywhere in Santiago as well.
Shop The Post
---

---
I hope you find you find this post on what to wear in Chile useful. What are your packing tips for Santiago?
---
For more South America packing tips, please read:
Suggested travel resources:
---
Hope you enjoyed this post on what to wear in Chile. Please share it with your friends on Facebook, Twitter, or Pinterest. Thanks for reading!
---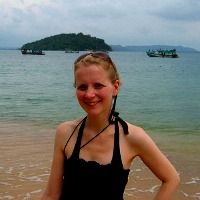 Author Bio: Tammy is a travel blogger and adventure junkie. She has endured the Everest Base Camp trek, abseiled down a skyscraper, cycled down the world's most dangerous road, and trekked through the mosquito infested Amazon jungle. You can follow her adventures on her blog Tammy & Chris on the move or on Facebook, Twitter, Instagram or Pinterest.
---