Support TFG by using the links in our articles to shop. We receive a small commission (at no extra cost to you) so we can continue to create helpful free content. As an Amazon Associate, we earn from qualifying purchases made on Amazon in addition to other retailers featured on the blog. Thank you, we appreciate your support!
Adventure junkie Tammy Lowe shares her ultimate packing list for desert adventures, safaris, and more! Do you have everything on her list? Get it now!
---
What to Pack for a Trip to The Desert
Written by: Tammy Lowe
---
Deserts can be an amazing travel destination:  from camel riding in Morocco, to sand boarding in Peru or star gazing in the Atacama desert, Chile, there is something adventurous, but also very romantic about deserts.
However, it is also important to pack the right gear in your travel capsule wardrobe because of the extreme climate. Below are some essentials that should come with you on all desert adventures:
Clothing
Wear white/reflective, long-sleeved and long-legged clothing, to protect you from the intense sun during the day. Deserts also get really cold at night though, so it is important to take some warm clothes with you as well.
Outerwear
Warm hat and gloves
Wide brimmed hat (If the top of your head is exposed to the sun, your body needs to work harder to keep itself cool, so it is very important to cover your hat, as it will prevent you from getting a sun stroke.)
Large cotton scarf, such as a shemagh, to protect your face, neck and head from the sun, dust and sandstorms (when I went to the Moroccan Sahara I got caught in a sandstorm and wore my scarf around my entire head and face and only left my eyes uncovered-this saved me from getting my skin pierced by the sand corns).
Base Layers
Shoes
Gear
Hygiene
Suncream (With at least SPF 30.)
Aftersun (In case you get sun burned.)
Lip balm (With at least SPF 30.)
Toilet paper
Small microfiber towel (if you get the chance to wash yourself at night it is good to have a towel with you. Otherwise it is really handy to wipe off the sweat.)
Baby wipes (In case you can't get access to water, you can wash yourself with baby wipes.)
Flashlight/headlamp (For those nightly toilet visits.)
If you are a contact lens wearer bring a spare pair. Sandstorms are likely to happen and if you get a sand corn or dust in your eye you will be pleased to have a set of spare ones with you.)
Hand sanitizer (Because the rumours are true – there really is no running water in the desert.)
Medication
First aid kit with bandage materials
Tweezers or pliers (For cactus spines.)
Painkillers
Insect repellent (There can be a lot of sand flies in the desert, which can give you nasty, blistering bites.)
Use packing cubes to keep your belongings organized and to compress your clothing as shown in this video! .
Food & Drink
Water
Hydration bladder and water bottle
I personally find it easier to drink out of hydration bladders (i.e. from Camelbac) as you can push the drinking tube through the top of your backpack and over your shoulders, so it is always handy when you need it. A water bottle can be a pain to get out of your backpack side pockets, especially if your hands are full. I still recommend bringing a water bottle with you as well though for night time and in case you need to purify some water and need an extra container.
If your tour operator is not providing water bring plenty of water yourself. The general rule of thumb is four liters a day for all desert adventures.
Food
The type of foods you consume on a desert trip can increase your perceived need for water, so try and avoid salty snacks.
High Energy Snacks (energy bars, dried fruit and nuts) are good to get those blood sugar levels rolling again.
Shop The Post
---

---
So there you have it ladies, my ultimate packing list for desert adventures. I hope you find this list useful and have fun on your next desert trip.
---
For more tips on adventure travel, please read these posts: 
---
 If you found these packing tips for desert adventures helpful, please share it with your friends on Facebook, Twitter and Pinterest. Thanks for reading!
---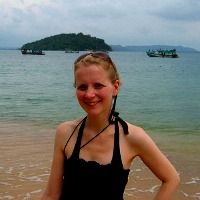 Bio: Tammy is a travel blogger and adventure junkie. She has endured the Everest Base Camp trek, abseiled down a skyscraper, cycled down the world's most dangerous road, and trekked through the mosquito infested Amazon jungle. You can follow her adventures on her blog Tammy & Chris on the move or on Facebook, Twitter, Instagram or Pinterest.
---