Support TFG by using the links in our articles to shop. We receive a small commission (at no extra cost to you) so we can continue to create helpful free content. Thank you, we appreciate it!
If there's one thing we know on TFG is that a clothing line doesn't have to be made specifically for "travel" to be jetsetter-worthy. Today we're featuring one of our writers' favorites brands. She says it's one of the best options in travel fashion for women over 50 and it even has a fantastic range for petite, tall, and plus size, too. Want to know what it is? Keep reading!
---
Travel Fashion for Women Over 50
Written by: Phebe Schwartz
---
I know that travelers who struggle to find adequate travel fashion for women over 50 may have similar clothing concerns as women who wear plus size.
Like everyone, we want clothes in our travel capsule wardrobes that make us look and feel wonderful. But we also need a bit more structure and maybe more coverage than what standard clothing lines tend to offer. We might not want to travel with only leggings and cropped shirts.
Tip: Want to pack light, use packing cubes to compress your clothing as shown in this video!
Many designers consider a size 10 a plus size. (I'd love to be a size 10 again!) Where do we shop when department stores stop at size 10 or 12?
You might think of Lane Bryant when you think of plus size fashion. They have some lovely items, and are great for women with an hourglass shape. Unfortunately, I'm not an hourglass, but more of a rectangle.
For all those who are still looking for a place to shop for comfortable, classic, but not super expensive clothing, this is for you:
J Jill
J Jill is one of my favorite lines of clothing especially for travel fashion for women over 50. They tend to use natural fibers, which breathe; this is essential for women with hot flashes.
Their clothes range from Petite to Misses to Plus ("Womens"), and can easily dress up or down, perfect for travel. (Their plus size ranges from 16W to 28W.)
My only complaint is that their stores usually carry only misses sizing, which makes it hard to fit everyone. However, their XL is about a 16-18, which some designers consider a plus size. That helps for considering sizing and fit.
One of my favorite items is their Safari tank dress, from their summer line. It looks like a perfect travel dress – cotton knit, knee length, easy to wear. The XL runs slim in this style, so I would have ordered this in a plus size if I had enough time.
Instead, I went with this tiered dress. Again, perfect for many climates and many occasions. It is, however, linen and so it wrinkles a bit. (I pack it in a clothing folder which minimizes wrinkles. A quick spritz with water mist, hang for an hour, and it looks fabulous again.)
If you prefer knits to wovens, their Wearever line is rayon knit jersey. This line is wonderful for packing, and lasts forever.
J Jill has wonderful sweaters and tops for cold weather; their tees and knit tanks are perfect for warmer climates; and the skirts, slacks, and jeans go with everything. I also like the cotton or linen tops and blouses.
I realize that they don't use plus size models on their website, but I know from experience that the clothing is sized well for those of us size 14 and beyond. Also, if you aren't very tall but are also curvy, try the petite XL – I prefer the petite XL slacks because they have a shorter rise.
They even carry shoes, purses, jewelry, scarves, etc. if you like one stop shopping.
I could happily outfit an entire trip from J Jill – my go-to store for travel fashion for women over 50!
---
What's your favorite brand for travel fashion for women over 50? Please share and comment below!
---
For more tips and ideas on travel clothing, please read:
---
Hope you liked these tips on travel fashion for women over 50. Please share it with your friends on Facebook, Twitter, and Pinterest. Thanks for reading!
---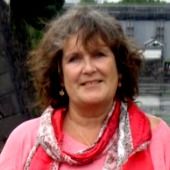 Author Bio: Phebe Schwartz started traveling and living overseas at age 19, and haven't stopped. Her career has included two years in Africa with the Peace Corps, and a three month trip home from there. As a result of living in Liberia, West Africa, she found a job teaching art in the US Virgin Islands, where she spent 25 wonderful years. Now retired, she and her husband are just traveling the world and having the time of their lives; the plan is to have no plan, the philosophy is that where they end up is where they are meant to be. Follow their adventure at their travel blog: Rolling Luggagers
---