Support TFG by using the links in our articles to shop. We receive a small commission (at no extra cost to you) so we can continue to create helpful free content. As an Amazon Associate, we earn from qualifying purchases made on Amazon in addition to other retailers featured on the blog. Thank you, we appreciate your support!
Adventure junkie Tammy Lowe shares her ultimate packing list for jungle treks. Do you have everything on her list? Get it now!
---
Jungle Trekking Gear and Packing List
Written by: Tammy Lowe
---
Jungles can sound intimidating, especially if you don`t like creepy crawlies, but they can also offer an amazing array of adventures and wildlife. Whether you are planning to go to the Amazon or some of the world`s oldest rainforests in Asia, it is important to pack the right things in your travel capsule wardrobe, as the climate and terrain in jungles is very unusual. The following is an overview of the most important kit that you will need in a jungle environment: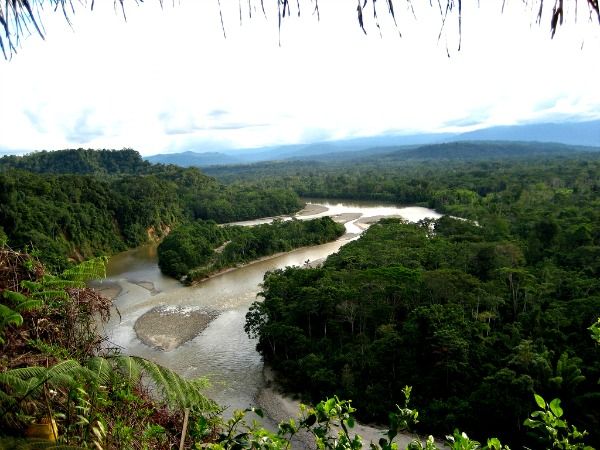 The Amazon rainforest
Clothes
When you embark on a jungle trek you need to be prepared for very damp and rainy conditions. Rainforests are called rainforests for a reason. It is almost impossible to get your clothes dry once they got wet because of the constant high humidity, so some quick drying clothes will be your best friend.
Read more about how to choose the best fabrics for travel.
Jungles are also full of bugs, leeches and all kinds of other insects and they tend to love foreign blood. Craighoppers have developed a really good anti mosquito clothes range called  with special treatment that deters mosquitoes and other insects.
If you are traveling in the rainy season then there are also likely to be more leeches around, so it is a good idea to take some leech socks with you. They prevent leeches from crawling into your trousers.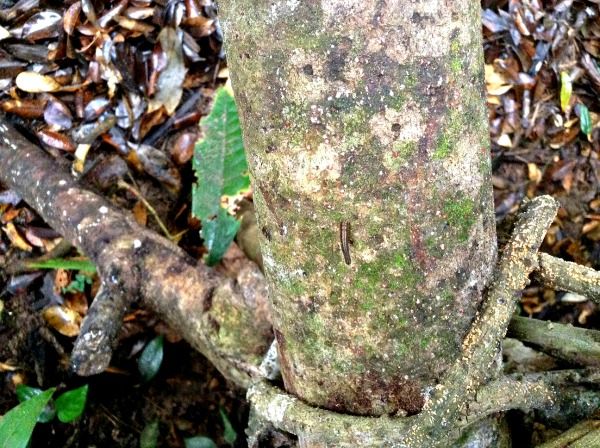 A leech waiting for his next victim
Raincoats or rain ponchos are also handy in case you get caught in a jungle downpour, which can last for hours or even days. They tend to make you feel quite hot though, because jungles are so humid, so try and take a breathable coat with you (i.e. the ones that have zippers under the arms). You can roll up your raincoat into a packing cube without any issues until you need it.
The general rule of thumb for packing clothes for the jungle is not to over-pack, so ideally you take one set of clothes for the day and one for the night. If your clothes get wet during the day then you still have some dry clothes for the night. The next day you can wear your damp clothes again, which may sound horrible, but you will get wet again anyway (either through rain or sweat), so what is the point of wasting a dry set of clothes?
Shoes
If you are doing some serious jungle trekking (i.e. the five-day jungle trek to the Lost City in Colombia), and your tour company will not provide you with rubber boots, then it may be worth investing in some proper jungle boots. The British and US Army produce the best jungle boots on the market at the moment. Their soles help prevent mud clogging and the air vents will keep your feet cool and let moisture out. They also have high laces that will keep leeches and jungle ants out. The tough construction of leather and canvas makes them almost indestructible in the harshest of jungle environments. Normal hiking boots are ok too, but if you need to wade through rivers, deep puddles or muddy terrain, chances are you will ruin your hiking boots.
For the evenings it is nice to have some comfortable yet sturdy sandals with you too, such as Keen or Teva trekking sandals.
Gear
You may have gathered by now that jungles and rain forests are pretty humid and wet environments, so if you are planning to take any electronic gear with you make sure that you protect it from the elements. Dry bags completely seal off everything and you can even let them float in a river without the content getting wet. To protect your DSLR camera you can also bring a plastic shower cap with you and wrap it around the lens and body. It is a cheap alternative to expensive plastic protection covers.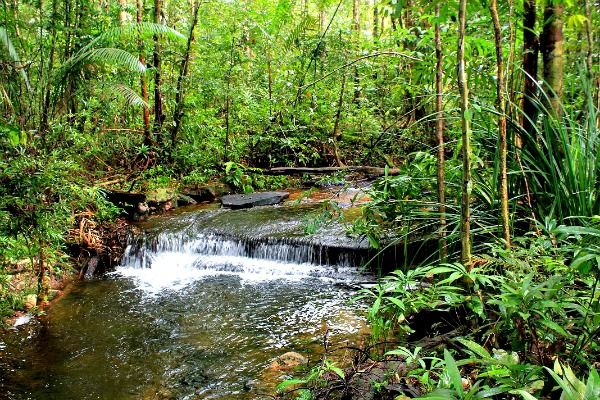 A lot of jungle treks involve crossing streams such as this one
Also make sure your daypack has a rain cover and keep it on all the times, as it will also keep creepy crawlies or snakes out.
Just as with any other treks, whether it is in the mountains or deserts, it is always advisable to take a compass with you. Make sure you learn how to use it before your trek though. It is so easy to get separated from your group, so at least if you have a compass you can find your way back to camp.
Despite the amount of trees that can provide shade in jungles you should always take a sunhat with you too. The sun is strong even in the jungle and a hat can help prevent you from getting a sunburn or sun stroke. I would take a cotton hat, as you can dip it into water and put it back on your head to cool yourself down.
A scarf can also come in handy to protect your neck from sunburn, from insects falling into your shirt and, just like a hat; you can dip it in water and then wear it wet to cool your body temperature down.
Hygiene
A lot of soldiers will not shave in the jungle, because if you cut yourself, that little cut can soon turn into a nasty and infected wound in the jungle. So Ladies, instead of taking a razor with you either get a good wax before you leave or use hair removal gels that will not require any shaving with a razor blade.
Jungles are usually riddled with mosquitoes, so it is absolutely essential to bring some mozzie repellent with you. A lot of people do not like DEET based products, but they are usually the ones that will protect you best in the jungles. Always test the repellent out on a small part of your skin first to make sure you are not allergic to it.
Jungles are pristine environments and any traveler should do their part to keep it that way and not leave unnecessary waste behind. If it is your time of the month, rather then taking tampons with you, which are not easily degradable, try out the moon cup, which is a plastic device that can be re-used over an over again. If you are into survival skills then tampons are handy to use as kindling for fires though.
As mentioned above the sunrays in jungles are pretty intense, so it is important to take some sun cream with you too. As you are likely to sweat a lot or even end up swimming in a river try and take water resistant sun cream with you, so it does not wash off your skin.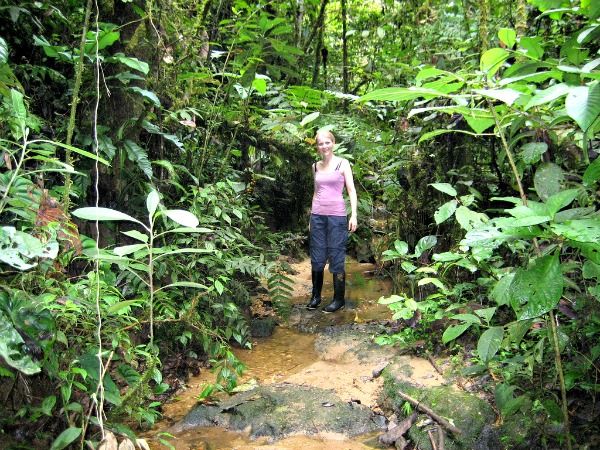 Tammy trekking in the Amazon
If you take this kit with you on your next jungle trek, not only will you be well prepared, but you will probably also get some jealous looks from less prepared and worse kitted out ladies from your tour group. If you think I have forgotten anything, do let us know in the comment section below though.
Shop The Post
---

---
Read these posts foe even more hiking gear:
---
If you found this ultimate packing list for jungle treks helpful, please share it with your friends on Facebook, Twitter and Pinterest. Thanks for reading!
---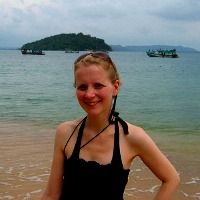 Author Bio: Tammy is a travel blogger and adventure junkie. She has endured the Everest Base Camp trek, abseiled down a skyscraper, cycled down the world's most dangerous road, and trekked through the mosquito infested Amazon jungle. You can follow her adventures on her blog Tammy & Chris on the move or on Facebook, Twitter, Instagram or Pinterest.
---