Support TFG by using the links in our articles to shop. We receive a small commission (at no extra cost to you) so we can continue to create helpful free content. As an Amazon Associate, we earn from qualifying purchases made on Amazon in addition to other retailers featured on the blog. Thank you, we appreciate your support!
Spanx cropped faux leather leggings are our reader's newest travel fashion must-have! These versatile pants are also a personal favorite of TFG's Editor-in-Chief. Find out why in this thorough review!
---
Spanx Faux Leather Leggings Review
---
Table Of Contents
Female travelers love wearing leggings for travel. However, the best styles are the ones that combine fashion with function. 
That's where Spanx comes in! Their faux leather leggings have a serious following and with good reason. They're shockingly comfortable for travel, lightweight, and super stylish.
Our readers rave about these pants, and I equally love them, counting them among my everyday and travel wardrobe favorites. Find out why everyone says these are the leggings to own!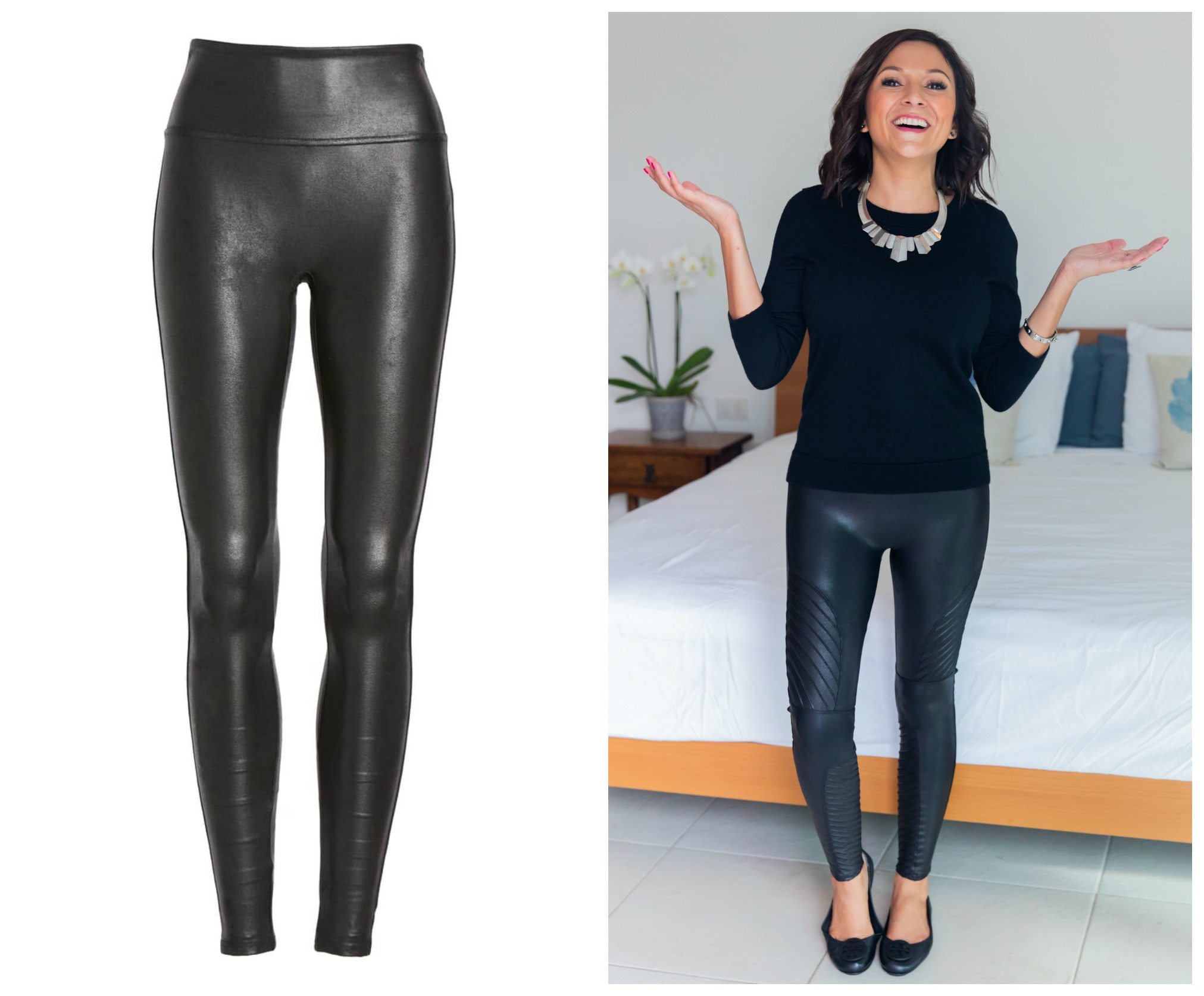 Spanx Faux Leather Leggings | Alex in Spanx Faux Leather Moto Leggings
Faux Leather Leggings Spanx Specs
Brand and Style: Spanx leggings faux leather pants and the moto style! (Pictured above on editor-in-chief Alex.) 
Sizes: Available in sizes XS-XL, petite sizes XSP-XLP, plus sizes 1X-3X. Moto version has regular XS-XL, petite sizes XSP-XLP, and plus sizes.
Fabric: Nylon/spandex
Features: They feature a comfortable pull up waistband, versatile styling options, and a slick finish adds a rock n' roll edge
Colors: Spanx faux leather leggings black, or in other colors like bronze, olive, navy, and wine
Weather: You can pair them with a cozy sweater and boots in chilly autumn, and in the warmer months, they look party-ready with heels and a sleeveless tee or tank
Travel Type: Casual or dressy
Destinations: Dancing the night away in Manhattan or strolling the Covent Garden flea market at Christmas. They are the quintessential city pants!
Faux Leather Spanx Leggings Features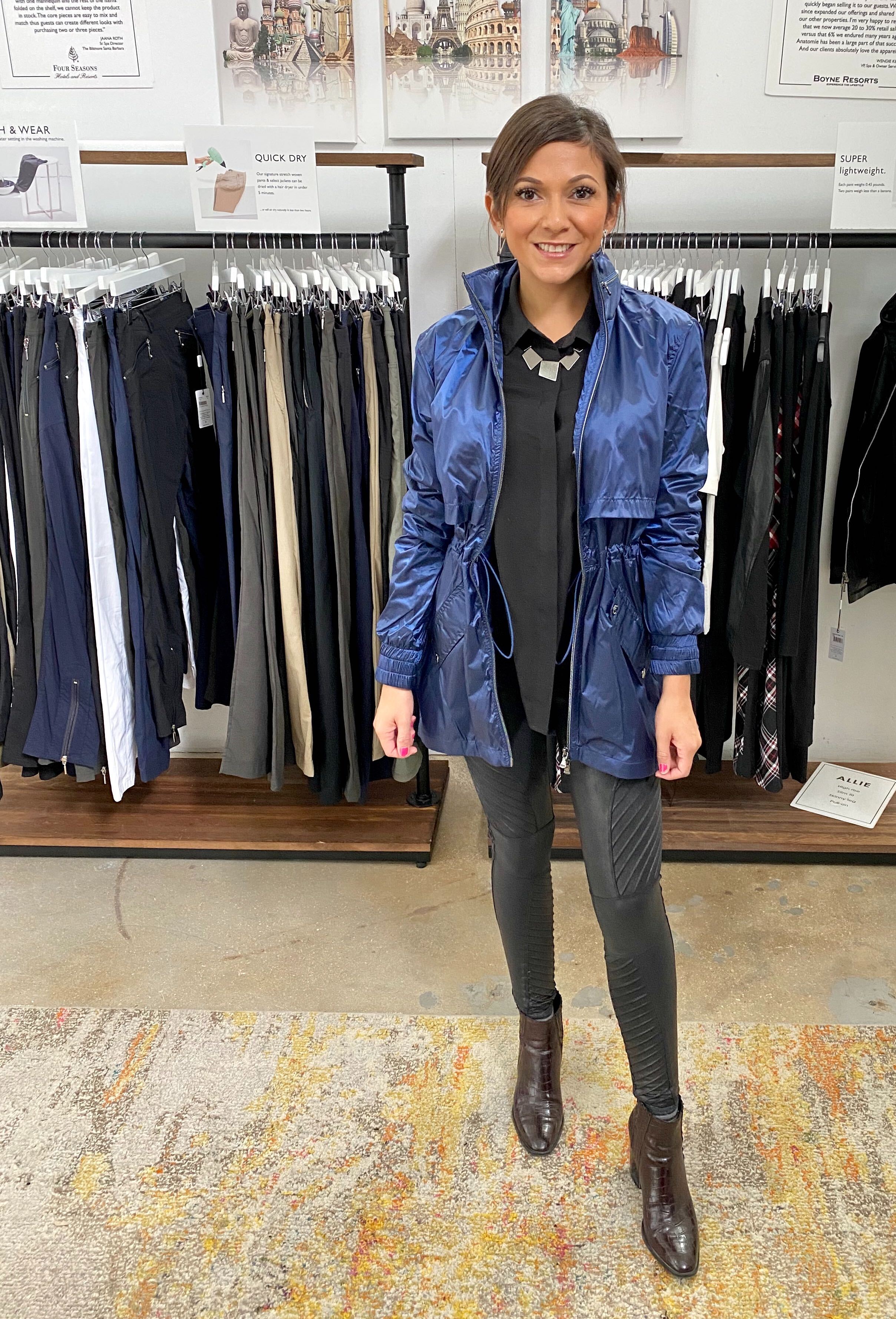 Paired with Anatomie Windbreaker
Styling
The leggings are stylish and ultra-versatile for travel. They can be dressed up for a night on the town or down for a low key look during the day. Whatever way you choose to wear them, you'll always look put together.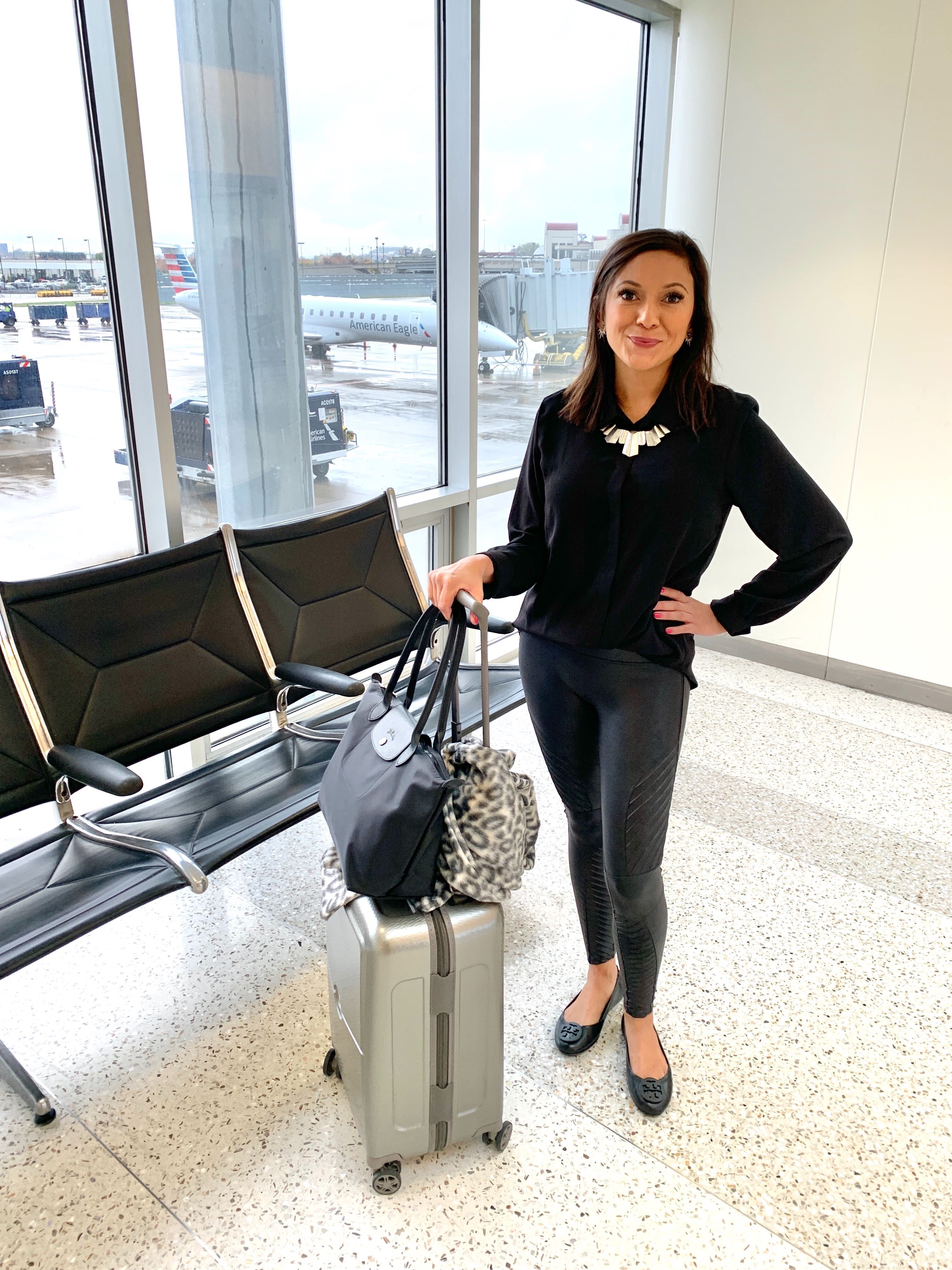 I  wear mine with a longer, button-down shirt or tunic while traveling and some readers agree with this "styling for comfort" notion. One says, "I'm planning to wear them on a flight to Italy with boots and a tunic top." 
Shop Spanx faux leather leggings on Amazon too!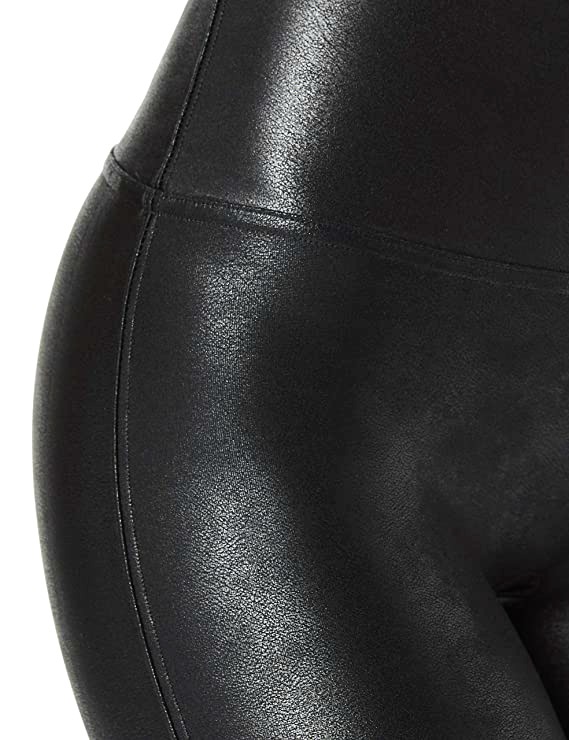 Comfort
These leggings look like leather but don't act like it, which means they're not stiff, thick, and hot. They're breathable and extremely comfy, especially on long haul flights.  
These have seriously become my favorite pants to fly in! They are so comfy, don't compress my waist or stomach area, and the knee is super flexible which is where I usually feel the most constraint while sitting for periods of time.
Readers agree. One says, "My daughter just got a pair. She absolutely loves them and said they are really comfortable for travel."
Our readers share their best tips on how to survive long flights!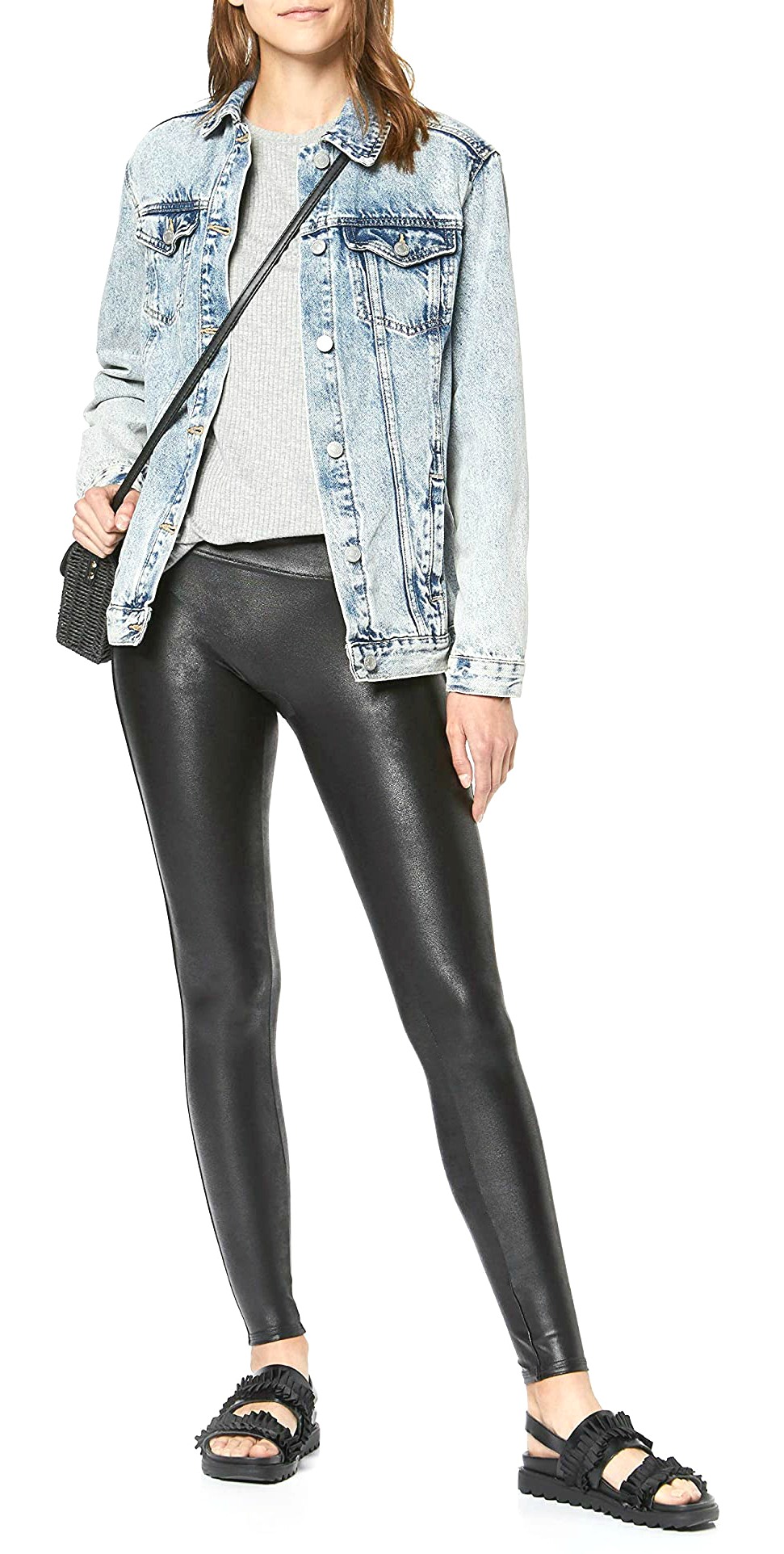 Sizing 
I wear the Spanx petite faux leather leggings in size small, which feels comfortable for me. Full petite sizing includes XSP-XLP. 
The one thing we've heard from readers is that spanx faux leather leggings sizing can be an issue. Many suggest buying them a size up, as they do run small. However, that's to be expected with leggings, as they are not supposed to sag.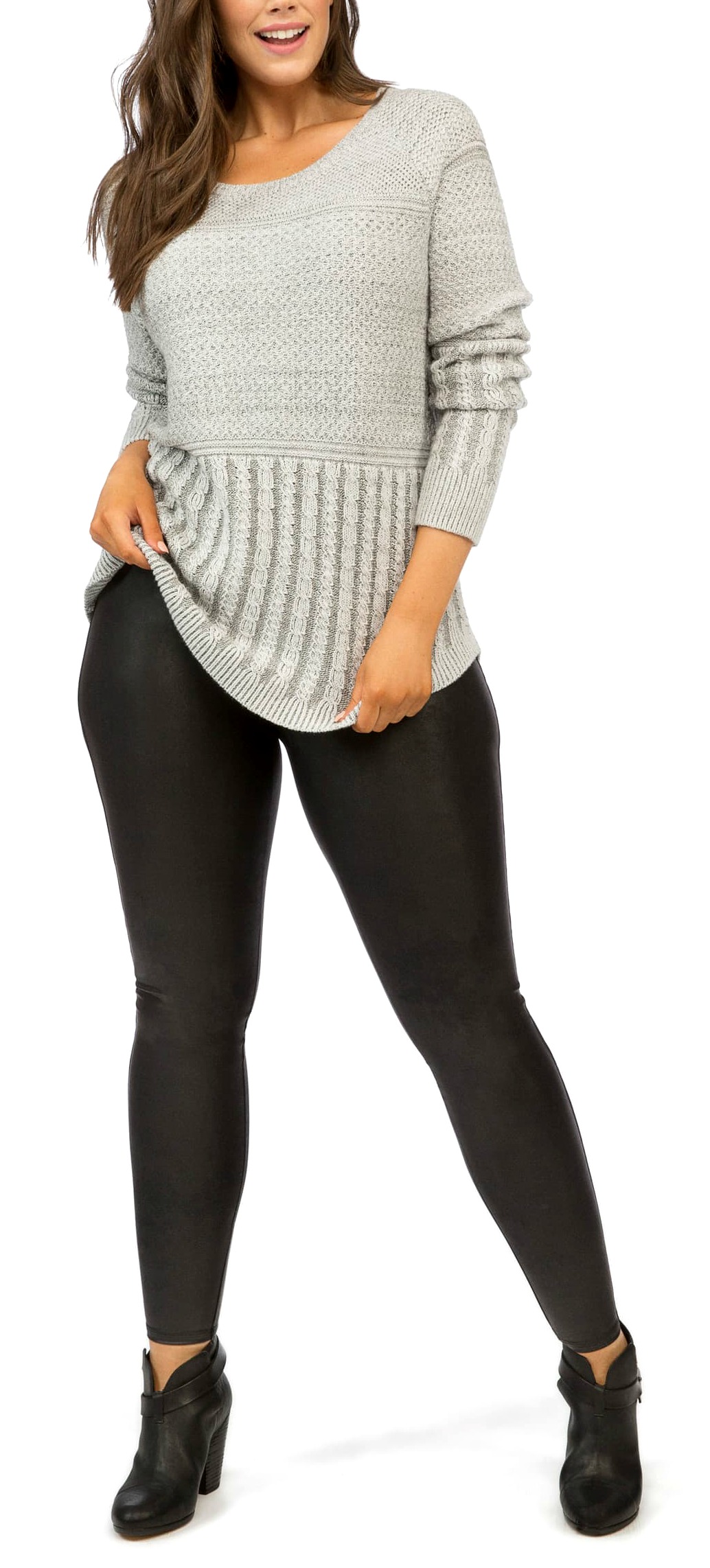 Faux Leather Leggings are also available for plus sizes 1X-3X
One reader says, "The store salesperson said I should get a large, but I liked the feeling of a 1XL better." 
Another concurs, saying they are a tight fit. "I went one size up. I didn't like the fact that whatever I ate last was so visible in my regular size." Plus size Spanx faux leather leggings are available from 1X-3X.
These Spanx leather faux leggings are also available on Amazon!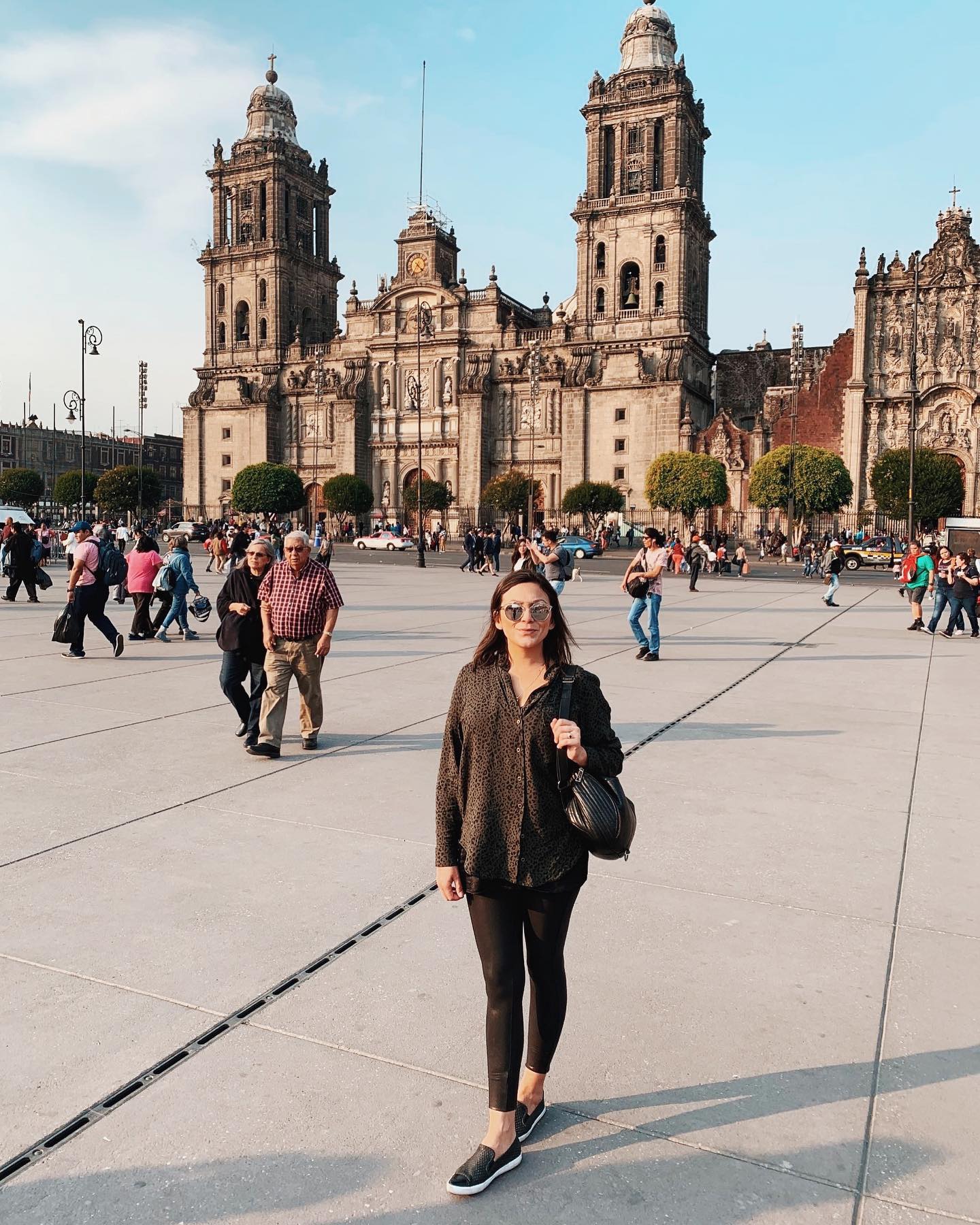 Versatility
According to TFG readers, they are worth every penny when it comes to versatility. They'll last as long as you do on whatever adventure you take. Even after wearing them countless times, they still look new.
One reader says, "I just wore mine all over Spain and did not regret it at all. I spent the money to get quality. I saw lots of cheap-looking leather leggings all over the country and was glad for mine!" 
I personally find them lightweight, cute, comfortable, and interchangeable with a lot of looks. I've worn them with flats, boots, and different tops, or jewelry.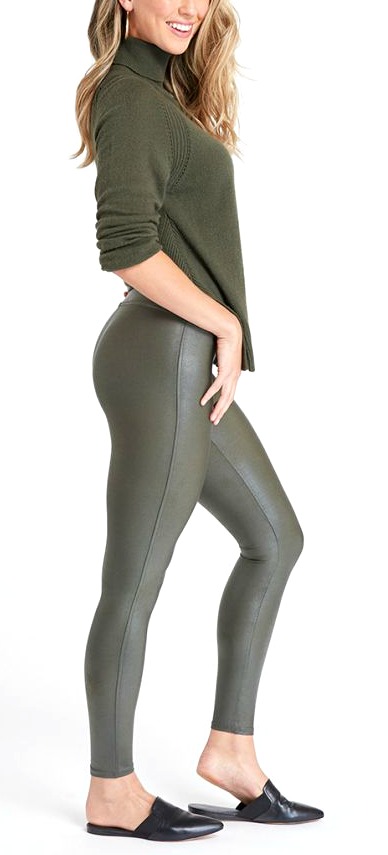 Spanx Womens Leather Leggings in Rich Olive color
I also discovered they are actually perfect for travel between warm and hot weather destinations. I easily went from 35°F in the Midwest to 50°F.  
One reader shares a recent experience."I just bought them for Christmas Eve! They are pricey but worth it, never fell down, and even kept me warm!" They also come in multiple colors so you can find the right ones to match your travel look!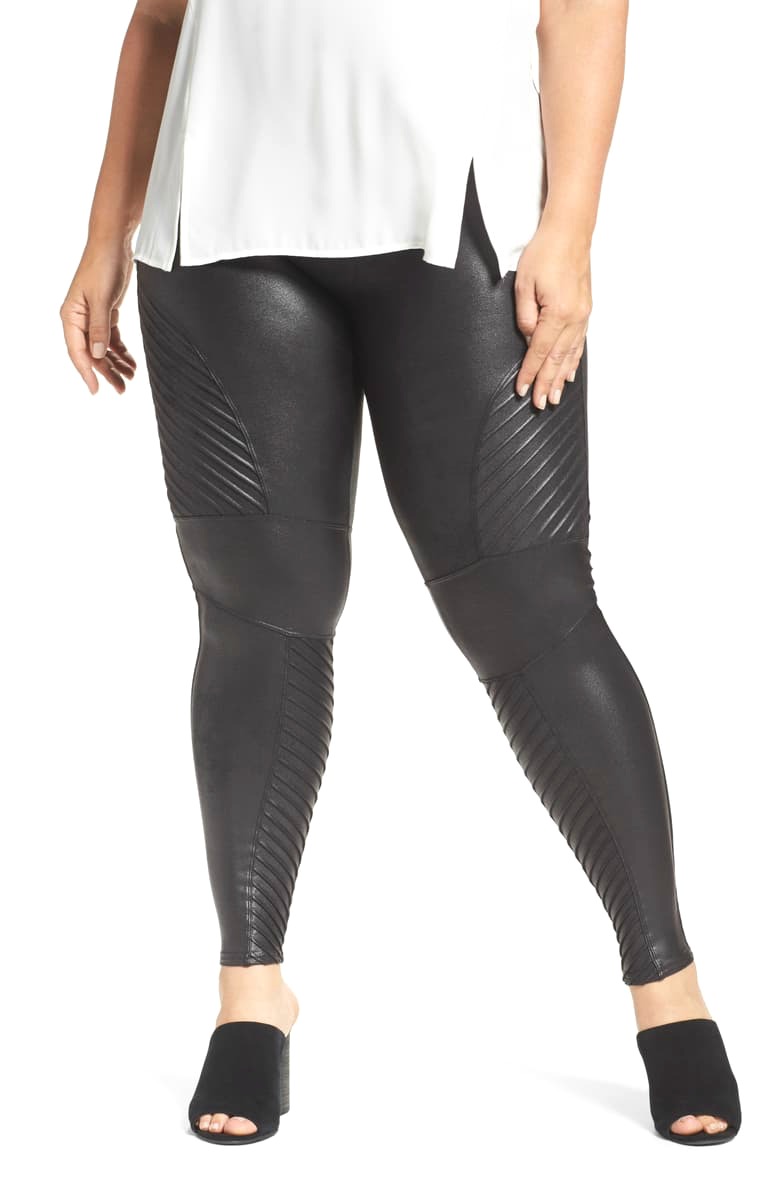 Spanx Faux Leather Moto Leggings in plus sizes 2X-3X
Pros
Basic black leggings go with everything and this brand is top-notch! They're stylish, comfortable and cute, and they quickly become favorites of whoever wears them.
They are perfect for my tummy because they pull on and are stretchy. I need this, especially since I always get bloated while flying! One reader says the same. "Love them—I primarily wear them for travel because they're incredibly comfy."
The pants do surprisingly well in cold weather too. One reader says, "I wore mine in Montreal when it was 30°F over a silk base layer and fleece-lined tights. I was still kind of chilly, but with enough layers, you can still wear them in the cold."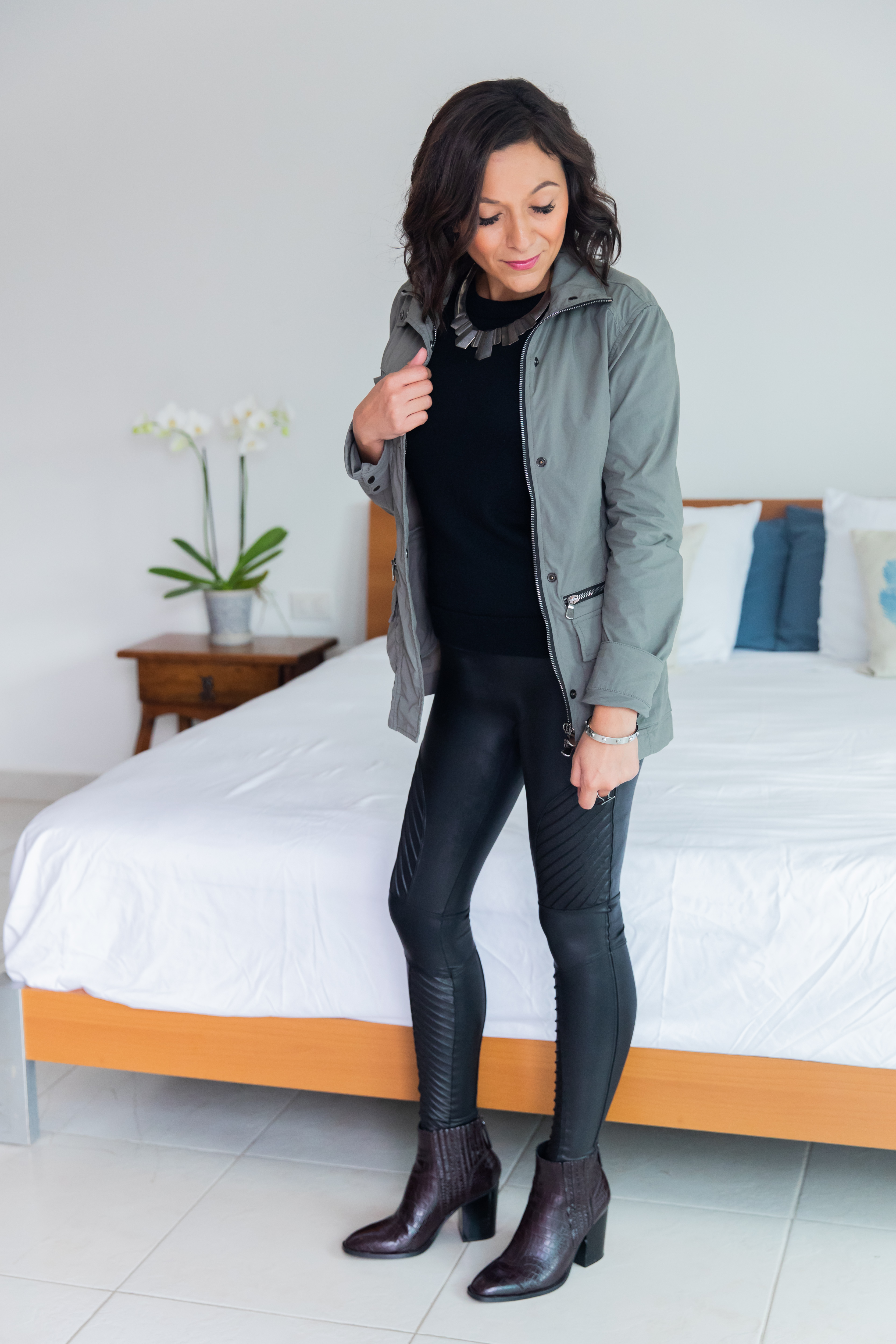 Spanx Faux Leather Moto Leggings with Anatomie Kenya Jacket
Cons

These are about $98, which are a little pricey for leggings. However, readers claim that they are worth every penny. One way to mitigate cost is to also look for a Spanx faux leather leggings sale, as these do get discounted at times.
Another thing to consider is that some women feel that Spanx leggings run small. If you prefer a looser fit with your bottoms, size up. Otherwise, go with your regular size.
One reader says, "l felt like the medium was cutting off my circulation." Another agrees, saying, "Prepare to have a workout getting them on! I love mine, but I sometimes break out a full body sweat in the process of dressing."
If you're interested in buying a pair, make sure to try them on first if you can. Alternatively, buy them from Nordstrom online, who have an excellent return policy. That's our top choice!
Find out why Anatomie Kenya is the best travel jacket ever!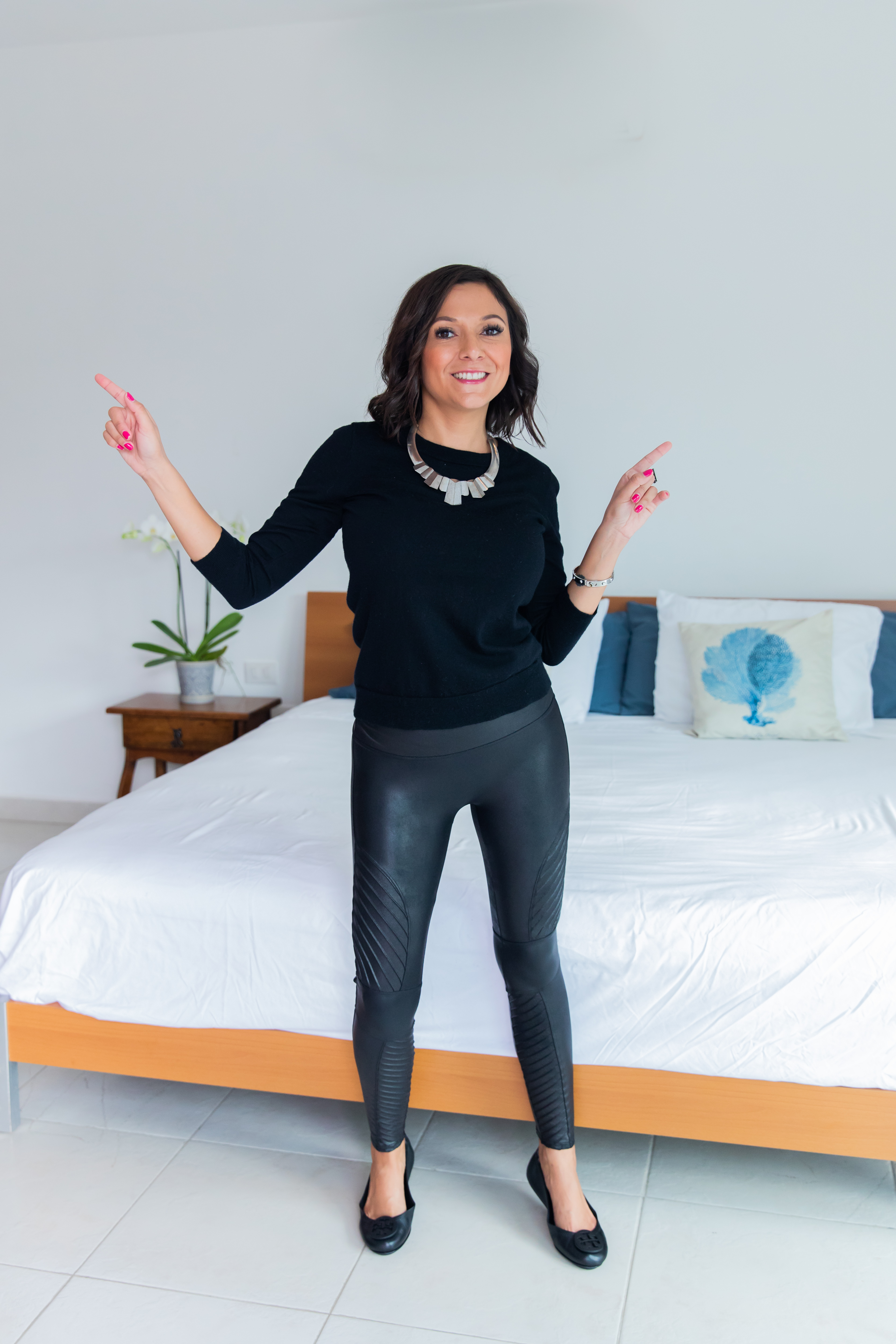 Spanx Faux Leather Moto Leggings paired with J. Crew Sweater
Verdict
Despite the cost and sizing issues, just about everyone agreed that they are worth the investment, including a reader, who says, "I love my Spanx! I am not a small girl, but with a flattering tunic they look amazing."
They have been an absolute game-changer for me—with the comfort of a legging mixed with a dressy faux leather sheen, these have easily become one of my capsule wardrobe staples. 
Another reader recounts her history with these, saying, "I have practically every style they make of the faux leather. LOVE THEM! They are great, hold their shape, and last forever!" Overall, the Spanx faux leather leggings reviews from readers give them a thumbs up.
If you're looking for a go-to pair of leggings that look great and are wearable in just about any environment, give these options by faux leather Spanx a try!
Watch this video for my full Spanx leather leggings review!
Video: Spanx Faux Leather Leggings Review
I adore these leggings so much, I did a video review on why they're super comfy, versatile, and packable for travel!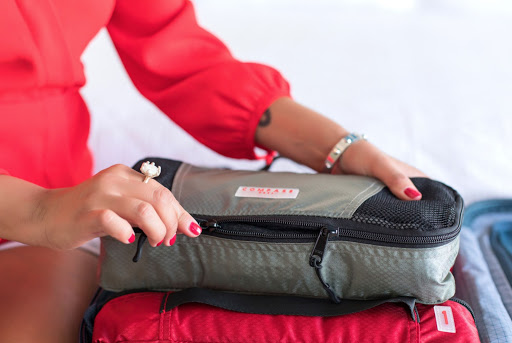 How to Pack Your Leggings
Spanx faux leather pants have the ability to pack light, which is super easy to do with slim packing cubes, along with fitting in the other clothes you plan to bring. The video below demonstrates this.
Learn our hacks with packing cubes in this video!
We also put together a five-part YouTube series showing the different methods to use packing cubes for travel. If you use this specific packing strategy, packing cubes can also compress your belongings. This is the secret to traveling carry-on only!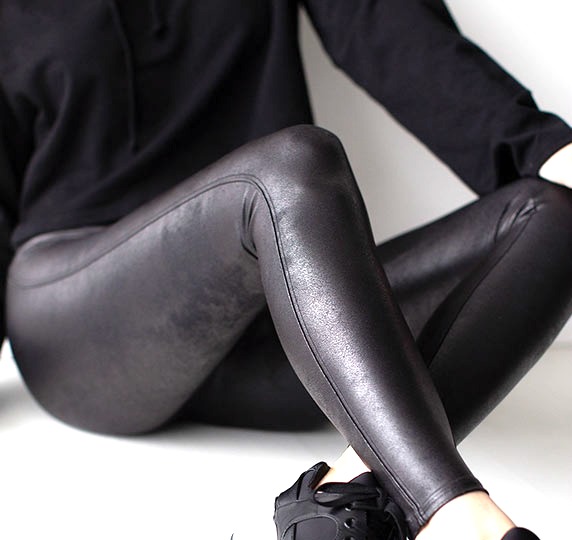 Where to Buy Faux Leather Spanx Leggings
Spanx leather leggings can be found at Nordstrom.com. You can check out regular, petite, and plus sizes. Want the moto version? There are regular, petite, and plus sizes.
You can also buy them directly on the Spanx website or on Amazon if you prefer ordering with Prime. 
How Editor-in-Chief Alex Wears Spanx Leggings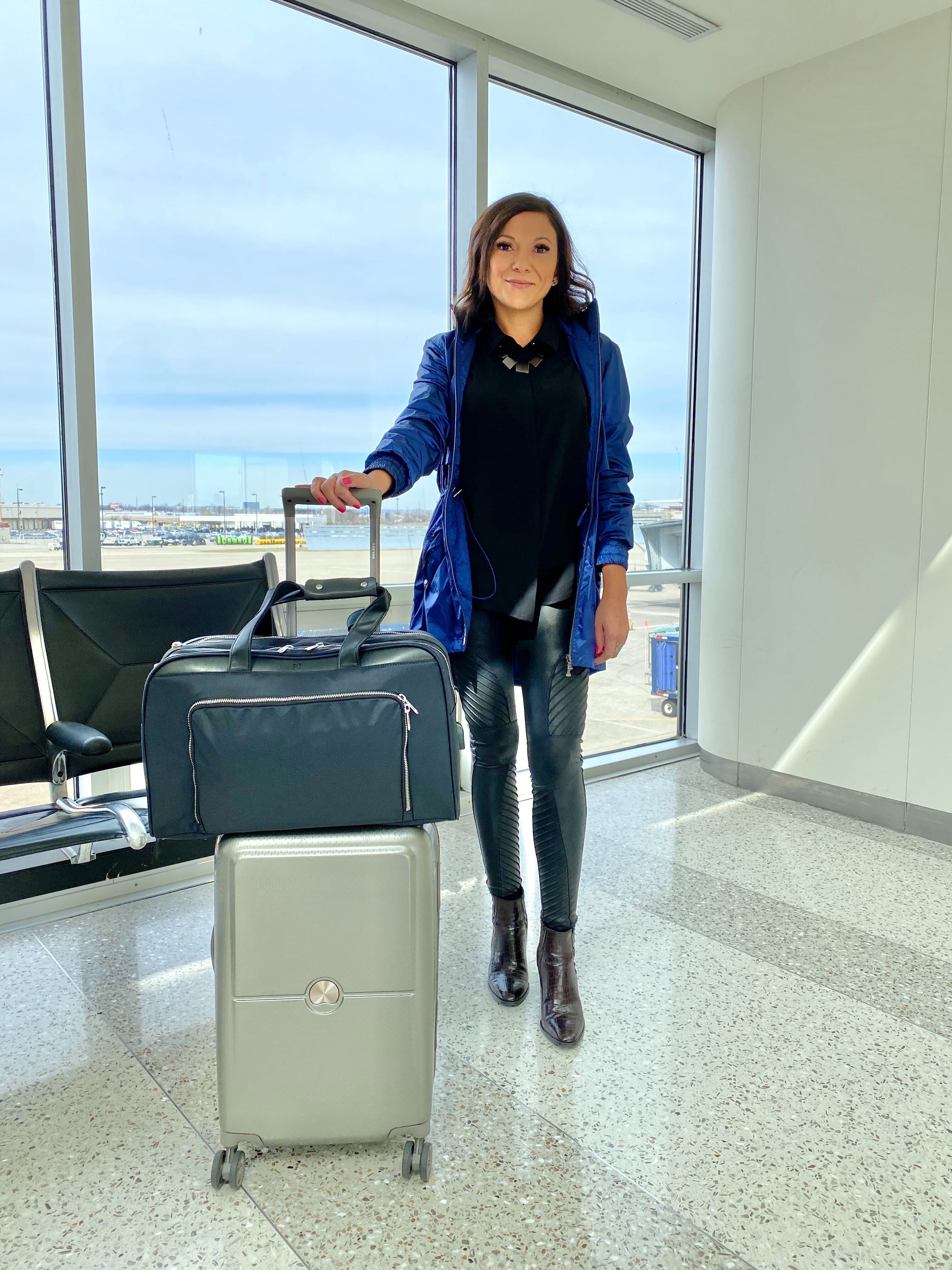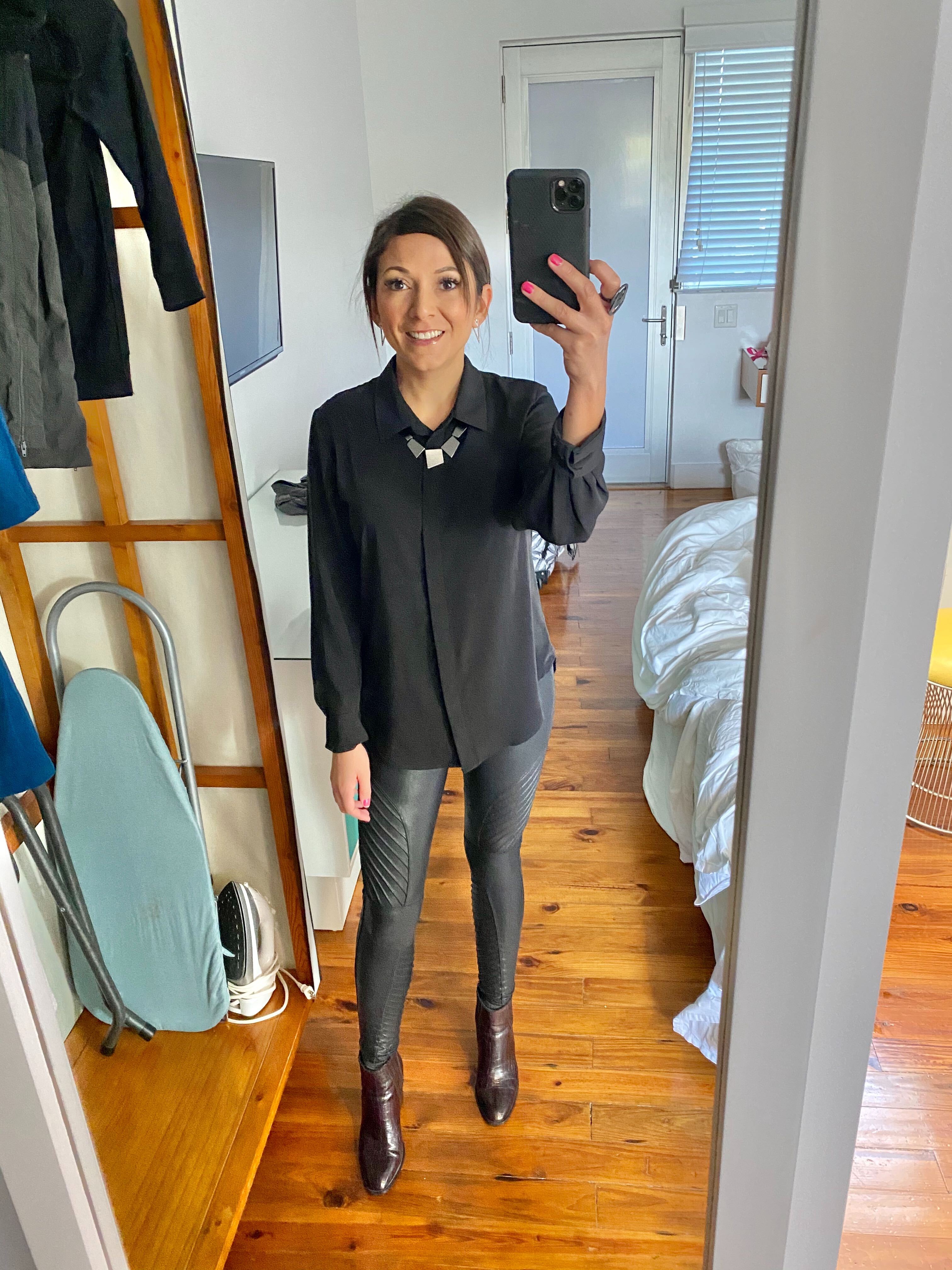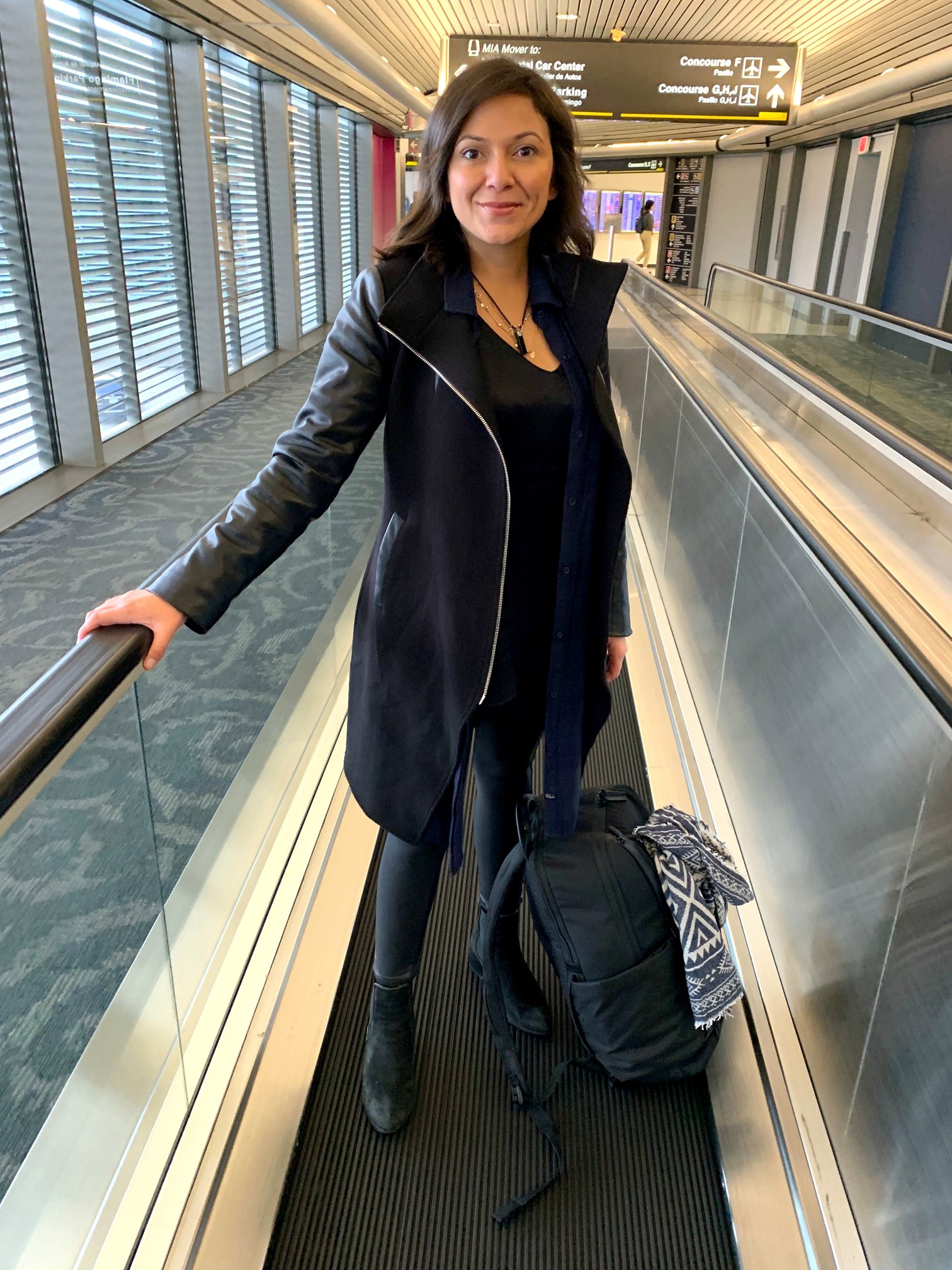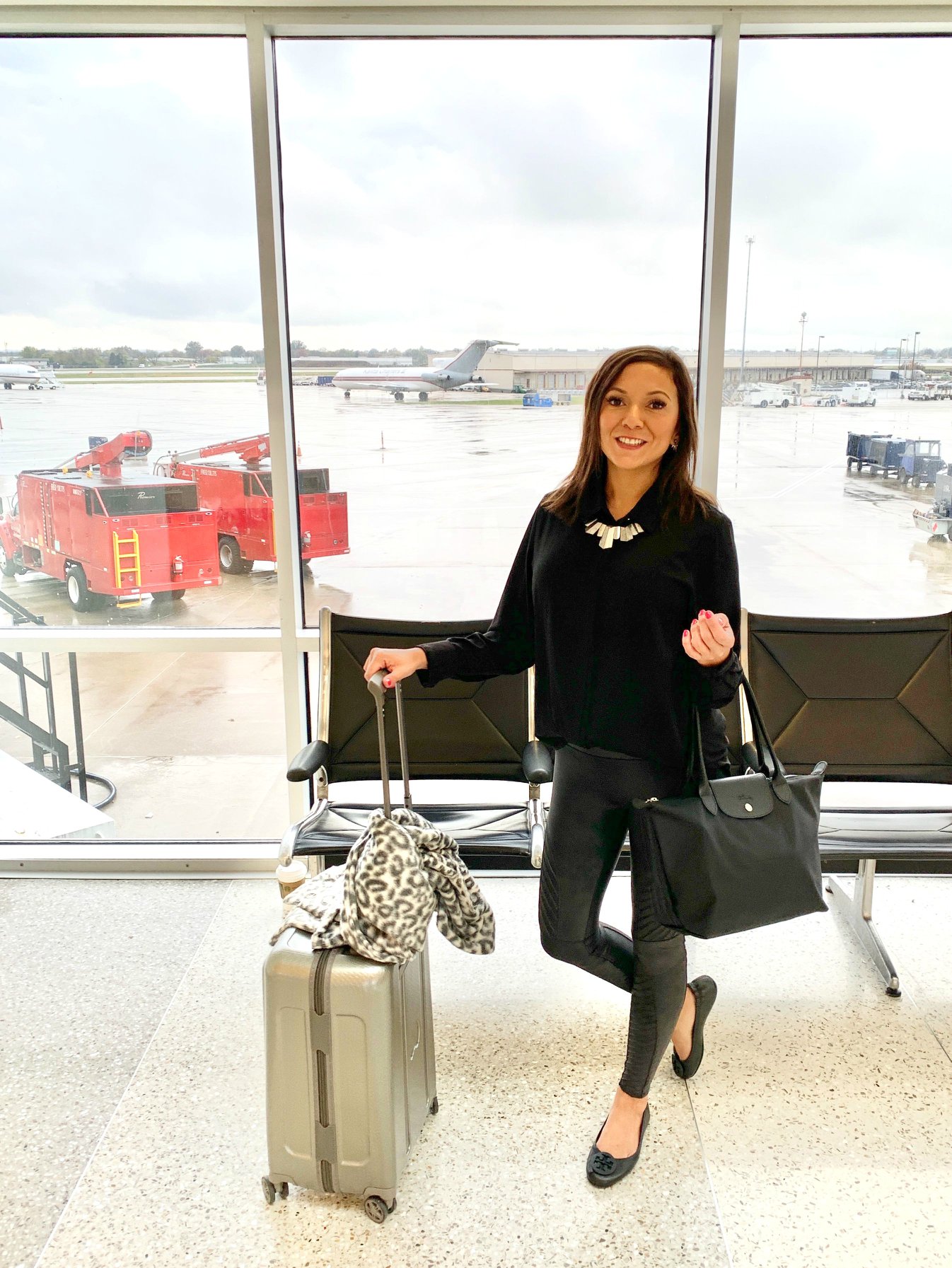 ---
What's your faux leather leggings Spanx review? Share your experience with these leggings in the comments below!
---
For more tips on travel pants, please read:
---
LIKE THIS POST? PIN THIS PIC TO SAVE IT!
---
We hope you found this Nordstrom Spanx faux leather leggings review helpful. Please share with your friends on Facebook, Twitter, and Pinterest. Thanks for reading!
---