Support TFG by using the links in our articles to shop. We receive a small commission (at no extra cost to you) so we can continue to create helpful free content. As an Amazon Associate, we earn from qualifying purchases made on Amazon in addition to other retailers featured on the blog. Thank you, we appreciate your support!
Many travelers find themselves with the dilemma of only being able to take one small carry-on for an African safari. If you've ever accomplished this mission, congratulations! But could pack featherlight as well?
One TFG reader not only packed carryon only for her trip but the final weigh in was under 10lb! Wow! Take a look at her ultra-minimalist safari packing list!
---
Safari Packing List
Written By: Michelle Pettit
---
The allure of an African safari is irresistible. Golden savannah grasses and iconic acacia trees set the stage on the wide open expanses where the sheer plentitude of wildlife ignites a sense of awe like no other place. It's no wonder, then, that earlier this year my mom announced that she wanted to go on a family safari for her 70th birthday.
I was so excited to go. But I knew I needed to pack light—I might be called upon to help my mom out with some of her luggage and I didn't want to be burdened with my own. Plus, the last thing I want on such a magical trip is to be laden with my luggage.
So after spending some time researching our itinerary and the expected weather I developed a strategy for lightening my load and ended up creating a safari packing list that weighed in under 10lb!
Safari Packing Tips
Lodge amenities. Each lodge on our itinerary boasted laundry services and bathroom amenities such as an array of toiletries and hair dryer. I would be able to have laundry done every three days if needed. I also planned on using lodge shampoo, lotion, and soap, so I only packed a small supply of my own favorites.
Since I was going the carry-on route, I only had a Ziploc bag for all my liquids, so cutting back on toiletries saved lots of room here.
Layers. I'm perpetually cold, so this doesn't even seem like a strategy any longer—rather, it's a plan for life. But because safari game drives usually take place in the cooler temps of mornings and evenings, layers offer a good option for everyone. Admittedly, I envied some people donning puffy jackets at dawn, but in reality, another light layer did the trick to keep me warm.
Find out the secret to staying warm and packing ultra-light!
Neutral colors for safari. I may have taken this a little too literally since everything I brought was grey and beige. But it's true that if you are in an area with tsetse flies, darker colors are not your friend. Also, whites show dirt– game drives are dusty!
While this may not immediately seem like a strategy for lightening my load, everything I brought went with everything else so the flexibility of my outfits was plentiful (if not a tad boring).
Creating an interchangeable capsule wardrobe is the key to packing light. Read our ultimate guide!
Scarves for flexibility. I love scarves. Not only do they keep my neck warm (remember, I'm perpetually cold) but they also dress up an outfit for nicer dinners, or, wrapped around my head Grace Kelley style they give more warmth after the sun goes down in the open-top safari vehicles. Finally, they add elegance and a little color in my drab greige safari wardrobe.
Spray clothes with mosquito repellant. OK, so maybe this is a bit extreme, but I sprayed all my clothes with Permethrin before the trip so that I wouldn't have to take as much mosquito repellent (remember the ever-so-small Ziplock bag for liquids).
Safari Packing List
I actually really enjoyed applying all the above strategies in putting together my safari kit. So without further delay, here's the 10lb. safari packing list: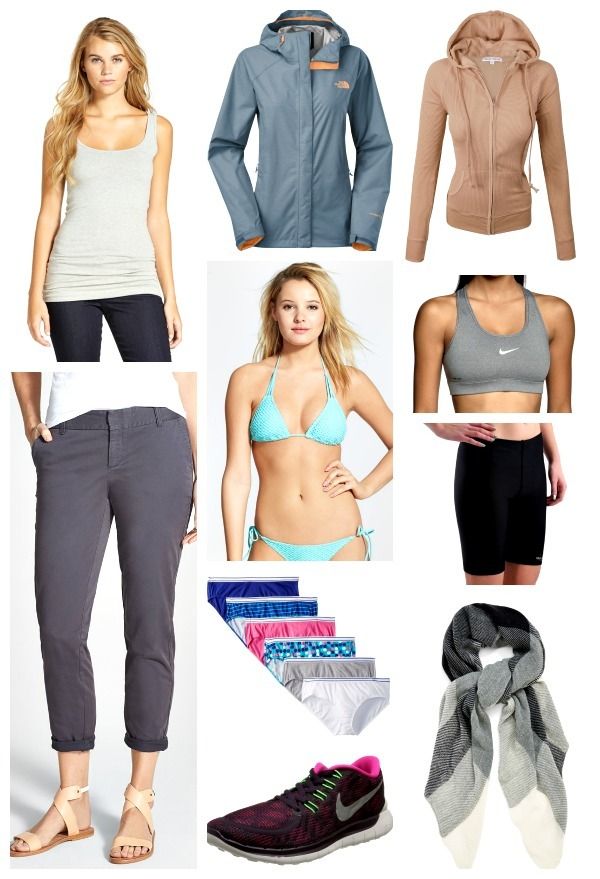 stretch chinos | tank top | thermal jacket | rain jacket | scarf | Sporty Hipster Panty | sports bra | lycra shorts | running shoes | bathing suit
CLOTHING
Pants: two pair, one stretch chinos, one zip-off stretchy hiking pant. I think I zipped off the pants only once to wear the shorts.
Tops: three t-shirts, one l/s shirt, one l/s shirt with hood, three tank tops (for wearing under looser t-shirts, and for additional layers when in cooler temps at higher elevations).
Light thermal jacket with hood: like something you might take running or cross country skiing.
Rain jacket: an ultra-compressible and ultra-light rain jacket (easily tucks into a purse) for a light shower.
Scarves: two.
Undies and socks: four of each.
Bras: two.
Sleepwear: T-shirt, lycra shorts and lycra long bottoms. These also doubled as workout clothes if necessary. (Only a few of the lodges had gyms, but when they did, working out was such a nice change of pace from being in a land rover for 6-8 hours a day.)
Shoes: Two. Nice trail runners were standard day wear (also good in the gym) and flip flops that I could wear to lunch or in the shower.
Bathing suit: I ended up not going in any of the pools, but it was nice to have if I wanted to take a dip.
For travel days, I would wear the trail runners, chinos, t-shirt, jacket and a scarf on the plane, effectively taking out my heavier and bulkier items from the carry-on. All the remaining items fit nicely into two packing cubes.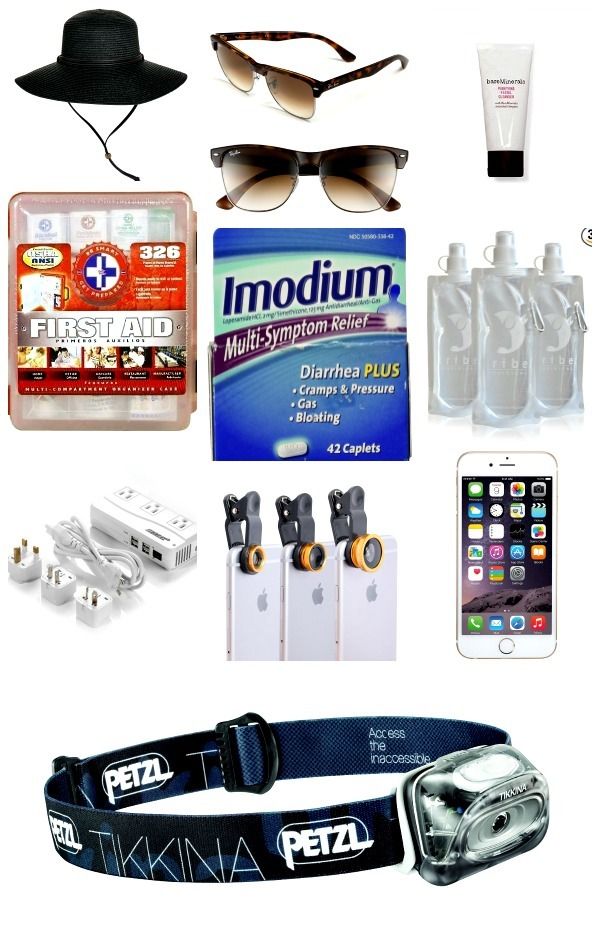 sun hat | sunglasses | facial cleanser | headlamp | first aid kit | anti-diarrhea | water bottle | outlet converter | cellphone camera lens | iphone 6
SAFARI ESSENTIALS
Sun hat (a wide brim is nice, but be sure it has a secure chin strap for poking your head out of the moving vehicle)
Sunglasses
Toiletries (minimal, but a good facial cleanser and moisturizer is heavenly)
Headlamp (the iPhone also came in handy as a flashlight)
First aid items: band aids, ibuprofen, triple antibiotic ointment, Immodium AD, bug repellant, sunscreen
Prescriptions: malaria meds, anti diarrhea meds
Collapsible water bottle
Travel outlet converter
Camera gear (this all went in my handbag)
iPhone

headphones | neck pillow | portable charger
FOR THE PLANE
Collapsible noise cancelling headphones
Inflatable pillow
Portable battery charger for iPhone (Long flights make for dead batteries)
---
Once it was all packed, I HAD to know what it weighed. Under ten pounds! And I had plenty of room for some souvenirs (and even some of my mom's as it turned out). I found the items to be perfect for my traveling style, but maybe you are different.
What items would you add to your safari packing list? Share and comment below!
---
For more Africa packing lists, please read:
Suggested Travel Resources:
---
Hope you enjoyed this safari packing list. Please share it with your friends on Facebook, Twitter, or Pinterest. Thanks for reading!
---
 Author Bio: Michelle mostly travels in the mountains and deserts that surround her rural home in California. But every once in a while she gets to travel further than her feet and car can take her. Her goal is to travel light and have big experiences. When she is not traveling, she is working on building her nest at home and talks about it on her home DIY blog.
---