Support TFG by using the links in our articles to shop. We receive a small commission (at no extra cost to you) so we can continue to create helpful free content. As an Amazon Associate, we earn from qualifying purchases made on Amazon in addition to other retailers featured on the blog. Thank you, we appreciate your support!
Packing for a camping trek in Patagonia can be quite a challenge, and you'll need to be prepared to get sunburned, frostbit, rained on and blown over by the very testy weather.
Read our Patagonia packing list for trekking tips and tricks! (These tips are most recommended for Nov – Feb.)
---
Patagonia Packing List
Written by Nina Thomas
---
Patagonia is located in the southernmost tip of South America, stretching into Chile and Argentina. The area has some of the most unpredictable weather in the world. In one day, you can experience intense heat, rain and winds that can reach up to 100 mph.
If you're planning on hiking the famous route in Torres Del Paine in Chile, either the 'W' or the full 'O' circuit, you'll need to be prepared to carry everything you need with you for the entire trek.
Whether you plan on packing your own tent, renting one, or staying at some of the various lodges called Refugios, you'll still need some gear and all of your other items on your back.
This Patagonia packing list helps you make the most of your space and weight:
Jacket | Fleece | Long Sleeve | Top | Tee | Pants | Pants | Tights | Bra | Socks | Beanie | Gloves | Boots
Clothing Recommendations
Because of the differences in temperatures, you'll want to include lots of layers in your travel capsule wardrobe. Learn about layering here. A mix of short-sleeve and long sleeve basic cotton t-shirts and a few sports bras will be good. You can sleep in one of the t-shirts, or your bottom and top base layer.
Merino wool is the recommended material for the base layer as it's very warm and dries quickly when wet. Read more about how to choose the best fabrics for travel.
Two pairs of hiking pants, hiking socks for each day you'll be hiking, one pair of hiking boots, one warm fleece, and one lightweight jacket with a hood should be sufficient for your Patagonia packing list of 4-6 days trekking.
A hat and gloves are light and may be necessarily depending on the time of year you go. Even if you don't need them during the day, you may need them for nighttime if sleeping in a tent.
Additional tips on layering: It does get hot.  So while hiking, you don't want to wear all your layers.  You want to wear one layer (long sleeve shirt and pants) and save layers for the evenings.
You do heat up while hiking, but you never want to wear a short sleeve shirt because you're right underneath a hole in the ozone layer.  You have to protect your skin.
However, the wind is strong and keeps you cool so whenever you stop moving, you'll cool down which is why having all the layers for after the hike will be essential. So if you feel cold with only one layer on… Just start moving and in 15 min you'll be warm enough!
If too hot, the glacier water is cold and you cold wet a bandana and put it around your neck to cool off.  The cool wind really helps.
Backpack | Sleeping Bag | Pillow | Pad | Towel | Camera | Bottle | Cooking System | Bowl | Poles | Cup
Gear Recommendations
You'll want a sturdy internal-framed backpack and packing cubes to pack all of the items in your Patagonia packing list. You'll want to bring at least two bottles of water with you at all times. The good news is that you can drink water straight from the sources without a filter. This will save some room in your pack from having to carry a lot of extra water and a filter.
You'll want to bring a stove and gas to cook your food because campfires are only allowed in certain areas. A cup for drinking and a collapsible bowl and spork will be good for any type of dehydrated foods you may be eating.
Since there is varying types of terrain, hiking poles will come in handy. Travel towels such as these are essential for the times when you are staying near a bathroom with communal showers. A sleeping bag, sleeping bad and pillow will ensure that you get a good night's rest on your journey.
Planning to rent a sleeping bag? Pack a sleeping liner instead.
Lip Balm | Bandana | Sunglasses | Scarf | Shoes | Sunscreen | Nars | Shampoo | Headband | First Aid Kit | Moisturizer
Other items you may want to consider bringing
You'll want to have at least one extra pair of shoes to walk around with at night to five your feet a break when reaching resting locations. You need lots of sunblock to protect from the rays; a tinted face sunblock will give light coverage for your pictures as well.
Girls that can't live without their beauty products would appreciate the use of a multiple makeup stick, which works well for cheeks and lips; a nice lip balm to avoid chapping; and dry shampoo.
Although a tad bit cringe-worthy, the greenest way for a female hiker to go to the bathroom is to use a rag. I recommend bringing a bandana and tying it on the outside of your backpack for easy access and so it dries in between times. You'll avoid having to pack out lots of toilet paper.
A first aid kit is essential in every Patagonia packing list, and you'll want one that has Band-Aids and blister treatment. A scarf and headlamp are also good items to have for the evenings.
---
These recommendations should assist you in planning for a very challenging, yet rewarding, hiking in the one of the most beautiful landscapes in the world.
What other items would you add to our Patagonia packing list? Share it below!
---
For more South America packing lists, please read:
Suggested travel resources:
---
LIKED THIS POST? PIN THIS PIC TO SAVE IT! 
---
Hope you liked this Patagonia packing list. Please share with your friends on Facebook, Twitter and Pinterest. Thanks for reading!
---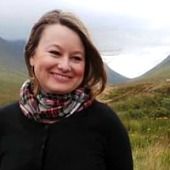 Author Bio: Nina Thomas is constantly looking for a beautiful view and a good adventure. Her travel highlights include horseback riding in the Ecuadorian Andes, hiking on top of Mount Etna in Sicily, and sheep-gazing in the Cotswolds. For more practical travel tips and ideas from a Central Ohio Girl, check out  Traveling with Nina or follow her on Twitter.
---