Support TFG by using the links in our articles to shop. We receive a small commission (at no extra cost to you) so we can continue to create helpful free content. We earn from qualifying purchases made to the featured retailers. Thank you, we appreciate your support!
When volunteering abroad, the clothing you require depends on what type of voluntary placement you are doing. There are placements in offices, animal shelters, schools or even hospitals and each placement will require different outfits or equipment.
The list below outlines some of the bas9ics you need to consider for 5 unique scenarios, but it is always advisable to check with your host organization beforehand what type of clothes or equipment you need to take with you.
---
What to Wear Volunteering Abroad
Written by: Tammy Lowe
---
If your travels are taking a more meaningful turn, and volunteering is your bag, take inspiration from (who else) philanthropist Angelina Jolie.
Inspired by her clean and simple styling, this sample capsule wardrobe can transition from volunteer to leisure travel in many parts of the world. One reader notes to avoid wearing shorts and sleeveless tops in conservative regions.
Stick to neutral basics, you're not there to make a fashion statement after all. Choose high performance clothing that provides comfort, breathability, and easy to care features.
V Neck | Shirt | Tee | Tank | Dress 1 | Dress 2 |  Jeans | Pants | Jacket | Cardigan | Shorts | Skirt | Sandals | Flats | Cap | Backpack
For specific tips, here are five different types of volunteer placements and the type of clothing you should bring to each one:
Volunteering Abroad in Office Based Placements
If you are working for an NGO make sure you find out what the dress code in the office is, as it may be very different to what you are used to from your home country.
Generally speaking it is always advisable to take more business-like clothes with you. That doesn't necessarily mean that you need a suit, but you may want to consider taking some nice blouses, a pair of nice linen trousers and a pair of ballet flats with you.
You are likely to meet with clients during your placement and rocking up to a meeting with hot pants and a vest top would look very unprofessional.
If you need to undertake field trips to local communities then you should also probably take some cargo pants and trekking sandals with you though, as ballerinas won't cut it in remote areas.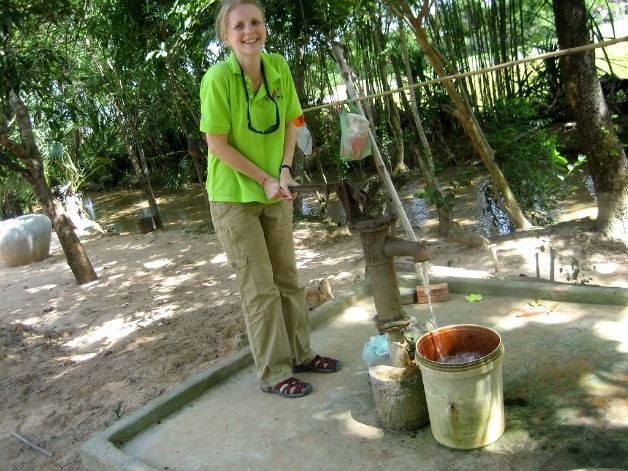 Volunteering Abroad in Animal Shelter Placements
If you are working with animals, chances are that you will get dirty, so take some clothes with you that you don't mind getting dirty or ripped to pieces.
A lot of animal shelters are based in jungle areas, so you may want to consider checking out my jungle packing list to be fully prepared for those creepy crawlies and the rain.
If your organization won't supply you with rubber boots, consider bringing some from home. Your work will probably be in wet and muddy conditions, plus rubber boots make it more difficult for leeches or snakes to crawl up your trouser legs.
TFG Recommends: Leeches can be rather annoying not to mention disgusting so I used leech socks when I worked in the jungles of Borneo. Make sure to wear them tied outside of your pants.
Volunteering Abroad when Working With Children
Consider local cultures and don't run around in hot pants and revealing tops if locals don't wear those type of clothes either. If you are working with children you will need to set a good example.
Also, just like working with animals, you may not want to bring your newest pair of designer jeans with you. Those jeans will be like a magnet to sticky fingers, vomit or other bodily fluids from the little ones. Take comfortable clothes with you that you don't mind being ruined.
Check out these packing tips for teaching abroad!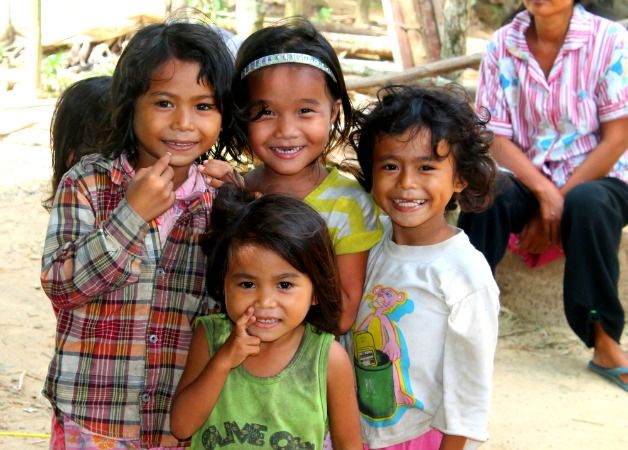 Volunteering Abroad in Manual Labor Placements
Some organizations offer placements during which you can help build shelters or schools for rural communities. If the organization doesn't supply you with safety gear, such as helmets, working gloves or protective shoes, consider taking these.
Health & safety standards in most developing countries are non-existent and believe me, you do not want to end up in a remote jungle hospital with a head injury just because there wasn't a helmet available.
TFG Recommends: I used to wear tough gloves like these when working in promotional jobs with strenuous labor tasks!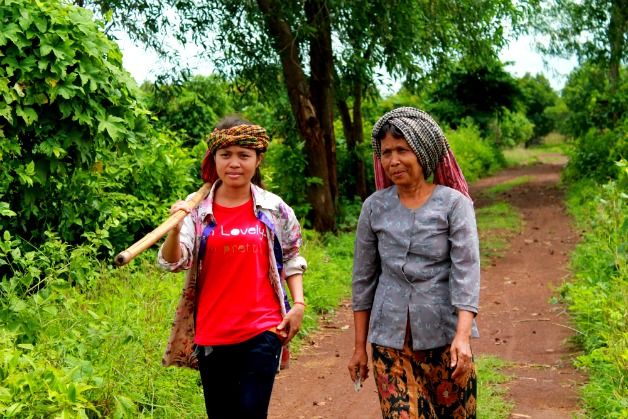 Volunteering Abroad in Hospital Placements
Check before your placement as a nurse, doctor, midwife or physiotherapist if the hospital will provide you with scrubs.
If the hospital is really remote it might not and it also might not have other supplies such as facemasks or rubber gloves.
Bringing a box of those might also be a nice donation for other hospital staff. Also, check what kind of medical equipment is available. From my own experience, I know how difficult it can be to buy a stethoscope for example.
Generic Gear for all Placements
There are some things that are necessary no matter what type of voluntary placement you are doing. A pocket knife, for example, can come in very handy to open wine bottles, screw that little screw on your sunglasses back in, or peel fruits and vegetables.
If you are going to the tropics or mountainous areas make sure you bring sun cream, a wide brimmed sun hat, a scarf and sunglasses with you to protect you from the intense sun rays. If you are prone to sunburn you may also want to bring some after sun lotion with you.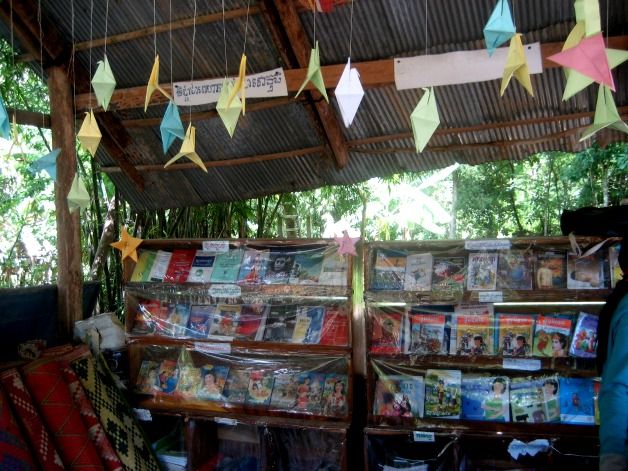 When volunteering abroad, I would always recommend taking a small first aid kit with you. If you are based in a city then you won't have to take as much, but if you will be based somewhere remote you may want to stock up on things like painkillers, Imodium, rehydration sachets, antibiotics, antiseptic spray, and some band aids.
Some communities in developing countries either don't have electricity or it gets switched off after 22:00, so consider taking a torch or headlamp with you if you don't want to end up in the jungle rather then your house after your nightly toilet visit.
And last but not least consider taking some presents for the community or host family with you. Things like crayons, coloring books, rice, cooking oil, clothes or English books can be very welcome gifts and they are also a nice ice-breaker.
A makeshift library in rural Cambodia where English books were most in demand.
Shop The Post
---

---
Have you ever thought of volunteering abroad? If so, what couldn't you live without?
---
For more tips on adventure travel, please read: 
---
If you found these packing tips for volunteering abroad helpful, please share them with your friends on Facebook, Twitter, and Pinterest. Thanks for reading!
---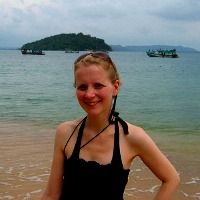 Author Bio: Tammy is a travel blogger and adventure junkie. She has endured the Everest Base Camp trek, abseiled down a skyscraper, cycled down the world's most dangerous road, and trekked through the mosquito infested Amazon jungle. You can follow her adventures on her blog Tammy & Chris on the move or on Facebook, Twitter, Instagram or Pinterest.
---