Support TFG by using the links in our articles to shop. We receive a small commission (at no extra cost to you) so we can continue to create helpful free content. We earn from qualifying purchases made to the featured retailers. Thank you, we appreciate your support!
Packing for Southeast Asia? Expert traveler Lois from award-winning blog We Are Sole Sisters shows you how to travel light with 7 kilograms or less! For more insider tips, download her book "Where Should I Go in Southeast Asia?"
---
Packing for Southeast Asia with 7 Kg or Less
Written by: Lois Yasay Ribeiro
---
My first time packing for Southeast Asia I carried a 15 kilogram backpack for a six month trip. I'm barely 5 feet tall and weigh less than 50 kilograms so you can imagine how dwarfed I was by my luggage. By the end of my trip, I had to bring it down to less than half. I either sold, gave away or threw out nearly half of my luggage. Why?
Because it's really inconvenient to carry around all that weight. Imagine having to run a few kilometers down the road to catch the last bus to your next destination and carrying such a heavy load. You get the picture.
Carrying a lot of weight can be bad for your back. I've had chronic back pain for nearly a year now and I suspect it was from my years of extreme backpacking.
You can visit more places faster when you travel light. When I decided to live a life of a full time traveler, this was my mantra: "If you want to travel for a very long time, remember that you only own what you can carry".
If you also want to save money on airline baggage fees, the most ideal weight for your carry on is 7 kilograms. Find a backpack that fits in the overhead bin and you're sure to be one of the first people out of the airport.
The key to packing light is to use packing cubes to compress your clothing shown in this video!
Another thing you'll learn is that you don't really need all that stuff. The irony is that you'll realize this near the end of your trip.
So what do you need to know when packing for Southeast Asia? Here's the breakdown:
What you really will need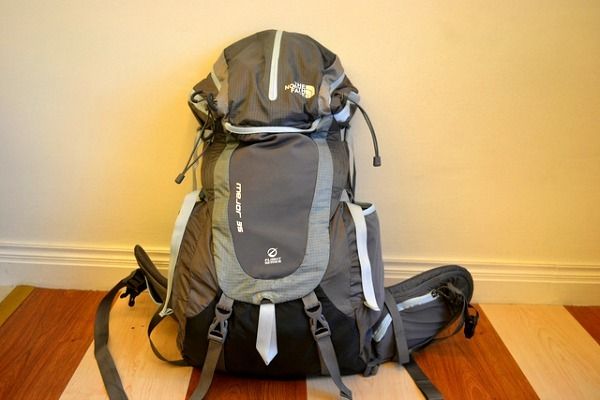 Light and Sturdy Backpack – It took me a while to shop for the right backpack. I started with the North Face Terra 45L and downsized to the North Face Mejor which is only 35L. The material is durable but very light. It was designed for women so it really hugs the female form. If you're going to invest on one thing for your trip, make it your backpack because you're sure to be traveling together for years to come. A lot of women love to travel with wheeled luggage.I've done this myself in some parts of Asia like South Korea and Hong Kong. It works really well when you're just going to cities. But if you plan to visit rural areas where they don't have a lot of paved roads, or if you plan to take a lot of public transportation on your trip, it's better to use a backpack.
 For more tips, please read TFG's Step by Step Guide: How to Choose the Best Travel Backpack.
Toilet paper – This may come as a shock to you, but most toilets in Southeast Asia won't have any toilet paper. Don't ask me why but just make sure you have at least one roll when you're packing for Southeast Asia.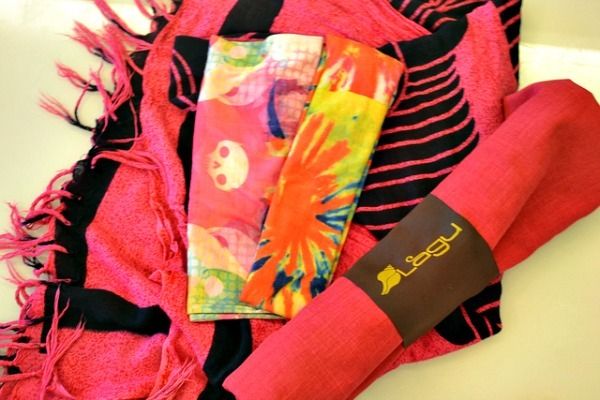 Sarong/ Large scarf – The sarong will be your lifesaver in Southeast Asia. It's such a versatile, lightweight and multi purpose item and you can buy it in most markets in the region. You can use it as a scarf, skirt, dress, head cover, shawl, coverup (for getting dressed in public places like the beach) and even a towel.
Check out these 8 Ways to Use a Beach Sarong Wrap!
Sunblock – You'll be in the tropics so the sun is much harsher here. Protect your skin by putting on lots of sun block every day. If you're not convinced, I have one word for you: wrinkles! You can get sunscreen in most places usually at the pharmacy or grocery. If you prefer a brand from back home, you won't need more than a bottle. And if you're planning to bring it with you on your carry on when you fly, make sure it's 3.4 ounces (100ml) or less per container. Try to always have some on you because they tend to be expensive when you have to buy them at your beach destination.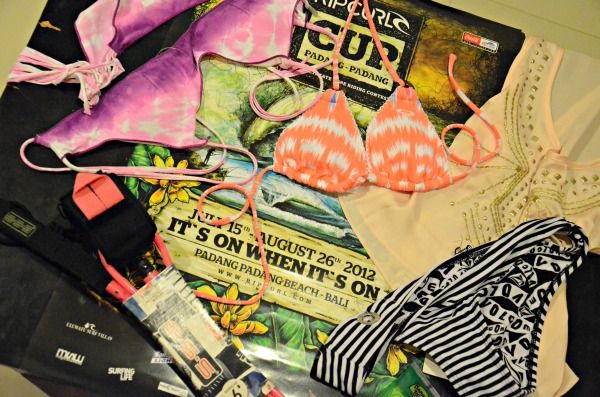 Swimwear – You will be visiting some of the most beautiful beaches in the world so you need at least one swimsuit; two or three pairs if you absolutely insist. I prefer to store them separately in ziplock bags. Do mind the norms in the places you're visiting. Some rural areas encourage modesty and the locals may frown on too much skin exposure. You may have to wear a t-shirt and shorts on the beach in less touristy areas. I know it seems strange, but it's better not to draw too much attention in certain places.
Bug spray – As you start packing for Southeast Asia keep in mind that there will be a lot of bugs so come prepared . If you prefer a certain brand, bring some from home. But it's pretty easy and affordable to buy bug sprays where you're going. Some hostels and restaurants may even have them available for guests. Don't forget the 100ml rule for liquids in your carry on!
Medication – If you need any special medication, make sure to take them with you in the right quantity before your trip. It may be problematic to get the exact brand or dosage in Southeast Asia.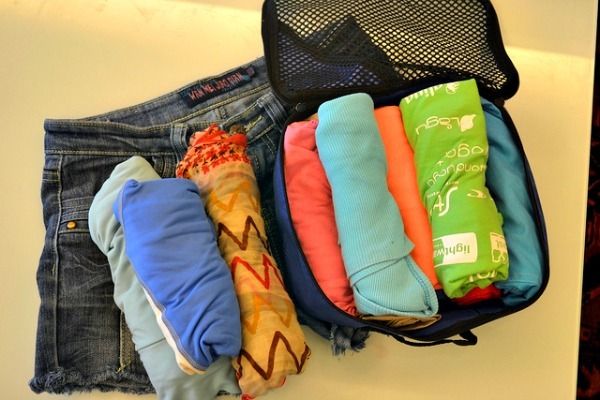 A week's worth of clothing and underwear – This may be the toughest challenge yet. You may want to bring your entire wardrobe when you're packing for Southeast Asia. But here's my advice: whether your trip is 2 weeks or 2 months, just carry enough clothes to last a week. What I usually do is bring detergent liquid and wash my clothes every few days. I also bring basic outfits that are multi-wear or versatile so I can easily mix and match. Throw in a colorful scarf and some accessories from the local shops to spruce up your outfit. And you're set to travel in style! And don't worry, there's a lot of laundromats everywhere and they usually charge only 1 USD for every kilo of clothing- you're safe!Find out why ten is the magic number when it comes to travel underwear.
The secret to traveling light is to create a functional but minimalist capsule wardrobe. Learn more in my guide!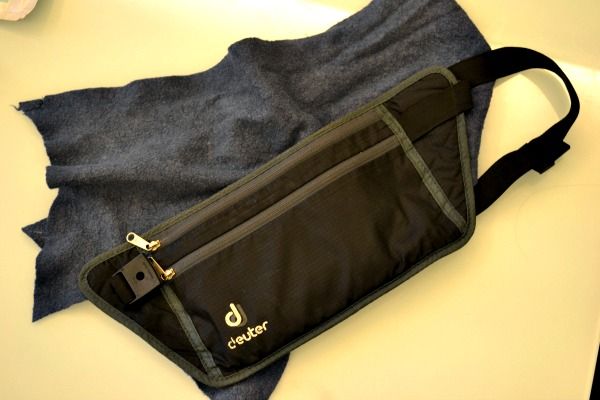 Fanny pack – I know, it really isn't fashionable. I hated bringing a fanny pack with me when I traveled, especially when I want to wear a dress. But it's really essential in keeping your cash, documents and valuables safe- especially if you actually wear it!
Read more tips about how to keep your passport safe while traveling.
Poncho and Backpack Rain Cover – It rains a lot in Southeast Asia especially if you're visiting during the monsoon months which runs roughly between June and October in most countries in the region. Always have a lightweight, waterproof poncho and rain cover for your backpack. There's no need to bring an umbrella and certain airports prohibit them anyway. Always be prepared when traveling during the monsoon season as the weather can change with little warning. Carry rain gear, keep flexible travel plans, and place your important documents in a waterproof pack or even just a ziplock to protect them from the water.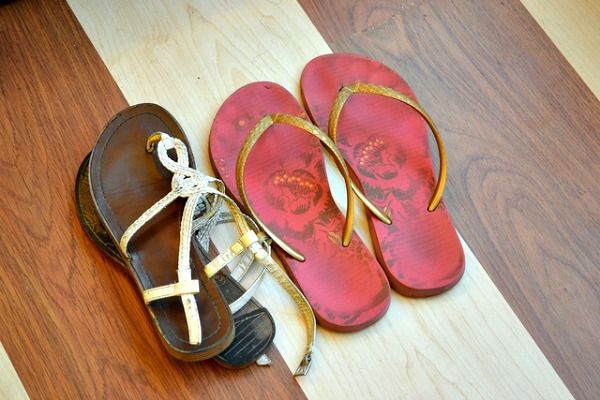 The Right Footwear – When you're packing for Southeast Asia resist to overpack shoes at all costs. You'll definitely need a pair of flip flops- you'll use them practically everywhere. But will you need shoes? It depends on where you go and what you want to do. If you want to do some hiking or mountain climbing, you're better off bringing some boots or lightweight trainers. If you're planning to spend more time on the beach, flip flops are okay but still have a pair of comfortable slip on shoes like espadrilles for the plane ride. If you're going to be in the city, it's always great to have some shoes or sandals that you can also use at a party or formal event.
Read this and this post to find out out favorite shoes for Southeast Asia!
Headlamp – Invest in a good brand like Petzl because you'll be using a headlamp a lot. You might think you'll need this only a few times like when you're caving but you will be using it more than you think. Here are a few more ways:

✓  To read a book on an overnight bus.
✓  To check what's making that weird noise outside your hut.
✓  To find your way back to your hostel after a few drinks with your couch surfing buddies.
✓  To get to your bed at the dorm when you arrive at 4 AM. If you find more scenarios, let me know!
Learn more about why a travel headlamp is one of our top five essentials for everywhere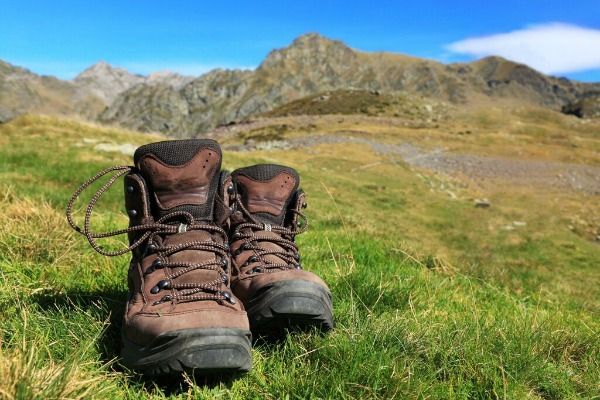 What you might need
Contact lenses/solution – You can easily find an eye doctor or optical shop in most cities. But if you need specific lenses, they may not have it available. Always have enough lenses and contact lens solution with you because they are not easily available in rural areas.
Hiking boots – If you plan to do a lot of hiking, make sure your feet are covered. I've tried to do some hikes on flip flops myself and found myself wishing I had some proper boots with ankle support instead. If you don't want to carry a heavy pair of hiking boots everywhere, consider bringing some running or cross training shoes.
A pair of jeans – I've traveled for months in Southeast Asia without having to wear jeans because the weather is usually warm and humid. But you may consider bringing at least one pair for these situations:

✓ if you're going to the mountains and the weather gets colder
✓ if you're planning to attend some events where you can't the backpacker uniform of shorts, a tank top or flip flops
✓ if you may need to go inside a government office for visa purposes. Many of them (especially in Manila) require you to actually wear a shirt with sleeves, pants and shoes before you can enter. For real.
A more lightweight alternative would be a pair of leggings.
Cold weather clothes – During the monsoon, you'll need at least a raincoat or a poncho. If you're planning to climb a mountain or even a high altitude area, it's best to have thermals, a coat, pants, gloves, and a hat. Otherwise, have at least a sweater or light jacket for the plane ride.
Book/Kindle – You will have a lot of time to read whether you're sitting on a bus or on the beach. I'm more of the book type as I just love the smell and feel of a good book and no digital device comes close. But I limit myself to 1 book and simply trade that at a used bookshop or at the hostel I'm staying next.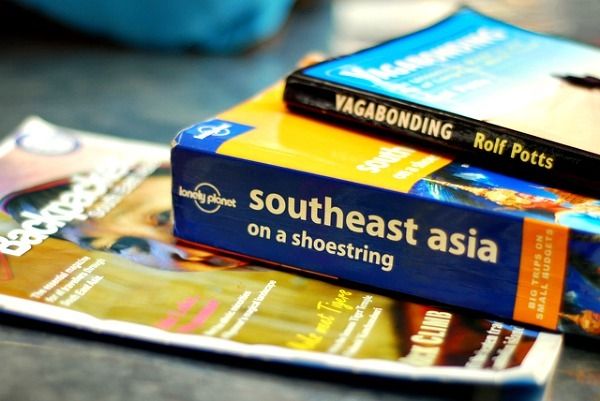 What you seriously don't need:
Guidebooks – I bought a Lonely Planet guide for my trip to Southeast Asia. It was pretty useful for the first few months of the trip. Then we started to get lazy and just asked the locals for recommendations. When we got to Thailand, we sold our guide at a used bookshop. You can just leave the guidebook at home. But here are some alternatives:

✓   Photocopy special sections like maps or places to stay, roll up the pages and strap them to your backpack. You can discard the pages you don't need along the way.
✓ Bring the kindle or digital version of the guidebook.
✓ Just don't bring the guide at all. Be adventurous and rely on other people's recommendation. It will make your trip so much more interesting!
Sleeping bag – When packing for Southeast Asia the first time I brought a sleeping bag. It was an old model, very thick and quite heavy but comfortable. I never got the chance to use it. On the last day of our trip, I decided to throw it into a garbage bin before our flight. We missed our flight and had to spend the night at the airport. I had to sleep on the cold floor with just my sarong on me. True story.But if you don't plan to miss any flights yourself, or won't be doing any camping, you really don't need a sleeping bag. There are mattresses everywhere. If you do bring a sleeping bag, try to invest in something super light and compact or choose a sleeping bag liner instead!
Jewelry – Having any kind of unnecessary valuables will be a burden on your trip. The rule is to keep anything you don't want to lose (like your grandma's heirloom brooch) at home. It's best to just buy trinkets at the destinations you'll be visiting. You can wear them as you travel and they make for great souvenirs to take back home.
Too much Toiletries/Feminine products – Stick to the basics and bring multi use products like coconut oil which can be a moisturizer for your skin and hair. You will find feminine products in most places so there's no need to stock up on them. If you do plan to go off the map, you may want to bring as much tampons as those may not be readily available in certain places in Indonesia.
Find out how to travel size toiletries here.
Hairdryer/Curling/straightening iron – You may think you need it, but you seriously don't. But what about your bangs? They will grow, so don't worry. Plus you may not even notice that you're having a bad hair day when you're having so much fun!
Too much makeup – This one is very tricky. Will you need make up? It totally depends on you. But if you want to travel light when packing for Southeast Asia, just go for the basics: tinted moisturizer, natural looking blush (I prefer to use a cream or liquid because the humidity tends to make any powder based make up look to caked or fake) and lip balm. If you're planning to go to some parties, maybe add dark lipstick and a tube of mascara to your beauty arsenal. But you really won't need more than that. The secret? A great tan, some sunshine and a big smile- and that's all you really need to look gorgeous!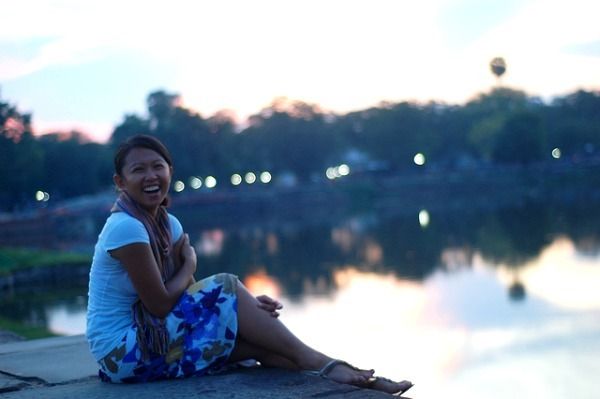 How to still look fashionable with less
Pack some colorful scarves to accentuate your look. This can transform even the simplest outfit and make you stand out. You can also wear them around your neck, on your head, over your shoulders or wrapped around your waist- so many possibilities!
Accessorize with some cheap jewelry and trinkets from your travels.
Bring a lot of basics and a few unique, colorful pieces to mix and match.
Pack multi-wear items like a sarong, or a dress you can wear in several ways. You can also wear a shirt over a dress to make it a skirt. A long sleeved shirt can also be a beach cover up.
Take the Ultimate Girl Thing with you. Whether it's a dress you absolutely love or a skirt that simply makes you feel sexy. Bring some lace underwear or form hugging jeans if you want. When you're traveling for a long time, you tend to blend into a sea of backpackers. And there will be days when you actually want to feel like the sexy, gorgeous woman that you are. And that's when you need the UGT.
 Southeast Asia Travel Outfit Ideas
---

---
Are you planning a trip to Southeast Asia and don't know where to start? Get the ebook "Where Should I Go in Southeast Asia?" and start planning your adventure! Share your own tips below!
---
For more tips on packing for Southeast Asia, please read:
---
Hope you liked this post on packing for Southeast Asia with 7 kilograms or less. Please share it with your friends on Facebook, Twitter, and Pinterest. Thanks for reading!
---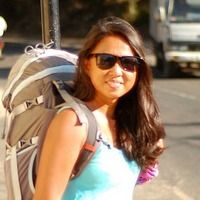 Author Bio: Lois traveled all over Southeast Asia for 6 months across 9 countries with only about 2,500 USD. She is the co-founder and Editor-in-Chief of We Are Sole Sisters.
---