Support TFG by using the links in our articles to shop. We receive a small commission (at no extra cost to you) so we can continue to create helpful free content. As an Amazon Associate, we earn from qualifying purchases made on Amazon in addition to other retailers featured on the blog. Thank you, we appreciate your support!
For a no frills approach to packing, Shara from SKJ Travel shares her practical yet classic travel style and tells you when "practical trumps stylish".  She prefers a blow dryer and tweezers to makeup and has a layering strategy that works for all occasion. Read self-proclaimed professional dreamer Shara's entertaining and helpful interview perfect for women that want to get "off the beaten path" but still maintain a polished look.
---
Travel Fashion Girl Interview: Shara SKJ Travel
---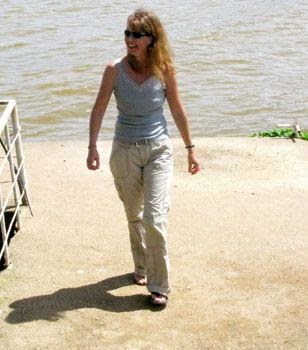 Q; Suitcase or backpack? Do you recommend a brand or specific item?
My favorite is a combo of carry-on size suitcase and oversized daypack. Then you can get around easily all on your own with these two pieces and still have a spare hand. Maybe just because I'm getting older, I'm not so keen anymore on lifting and wearing full backpacks.
Also, then if you choose a short outing from a longer-term base, say a weekend jaunt outside a city, it's easy to choose just one item to get around even easier for "mini-travel." And if you decide to do some hiking, then the daypack is perfect.  There are people who travel lighter than I do, but I'm usually traveling for weeks at a time in extremely varied conditions, and I like to be prepared.
Q: How has your travel clothing changed over the years?
I've gotten more into layering. Being a small-portioned lady on top, I ditched bras altogether and wear camisoles with shelf bras. Costco used to sell packages of colorful camisoles and I just bought a boatload of those, so I have black, white, and every color in between to choose from. In hot weather, I can wear the camisole alone, then if it gets chilly, or I want to be more conservative, or dress up, I can add various layers on top.
I used to carry a bunch of necklaces and bracelets, but now I tend to choose one very basic choker to wear continually, so that I always have something on (even shower with it) …  and one snug-fitting bracelet. I don't know why, I just really like to have jewelry on. It's basic, not flashy, often a type of polished rock/stone. Then I just carry one, or two at most, fancier necklaces/bracelets to add on top for the times when it's appropriate.
Q: What is the most useless item you ever packed?
Ha, that's a fun question, but I really had to think about it. I have certainly packed too many clothes, but that was just too many of a useful thing.  I do remember one time I took this "skin so soft" kit for my hands, I thought I would pamper myself in the evening downtime. Never touched it; completely useless.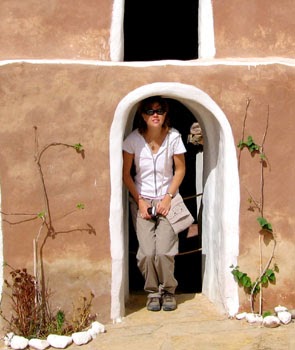 Q: What's your ideal travel outfit for a long flight?
Well, in truth, my general set-up of layering. Because temperatures can vary so dramatically on airplanes from stifling hot to freezing, it's even more necessary. I like to have my passport and plane ticket literally on my body, so I always wear pants with fastening cargo pockets large enough to contain my passport. There are actually some really cute pants that don't look like the ol' utilitarian, quick-dry safari traveling pants, that have such pockets … I prefer those.
Then a short sleeve shirt on top of the camisole, a light long-sleeve shirt, and – this may start to sound excessive — but a medium-weight sweater. My body temperature might swing around more than the average person's, but I don't think I've ever regretted such an ensemble.
Q: Do you have any travel clothing items that transition well from casual to dressy?
I think a simple skirt can look a lot different depending on the top you wear with it. In the day if you wear the skirt with a plain tank top or comfortable tee-shirt, it looks casual. Throw on a pretty sweater or a blouse with a delicate pattern in the evening and you look surprisingly more dressy.
Q: Do you carry a purse when you travel? If so, is it travel specific?
In a city, particularly, I'll carry one around. I detest carrying a daypack around in a city, so I try to cram everything I can into a small purse, and it is travel specific because it's made from a particularly tough nylon material that would be hard to cut through … they say a common way to lose a purse to theft in a large city is by people simply cutting your strap.
I'm not a purse kinda gal … at home I carry everything I need in a little zippered leather pouch just big enough to hold my ID and credit cards, some cash, a tube of lip chap and 4 aspirin, and it's attached to my car keys with a carabineer. So I'm pretty minimalist. My travel purse needs to carry a bit more, but is still relatively low profile.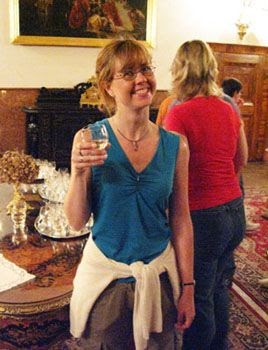 Naturally the one drawback is nowhere to put an extra layer of clothing if I want one … so sometimes, if the temperature might change, I have to resort to the dorky sweater-around-the-waist look or else drape it over the purse. I honestly am OK looking a bit dorky and just tying stuff around my waist. I used to feel self-conscious and touristy doing this in public, but you know what, it's just plain practical. Sometimes practical trumps stylish. But if you're not wearing a football team t-shirt and tying a bulky cotton sweatshirt, but have a more stylish top and delicate sweater, I think it lessens the hideousness of the fashion faux-pas. Though, maybe I'm just lying to myself.
Q: What are your travel shoes of choice?
Tennis/canvas shoes are the only practical choice in a lot of the places I travel. For nicer shoes in cities or evening attire, I usually find myself packing some type of soft-leather clog-style shoes because they can squish down to pack small, or flip-flops in tropical locations.
Q: Do you alter your beauty or skincare regimen for travel? If so, how?
Well, I'm not really a "beauty" kind of girl. I work at home and am pretty much a hermit, so over the years, I just kind of gave up … well, everything. When traveling, the only adjustment is that I care even less. Which is almost hard to do, but I manage. Often I'm traveling "off the beaten path" in places with no running water, or engaging in activities like hiking/trekking. It just isn't very practical to try to keep "a face." A little curl gel and a hairdryer for my hair, and tweezers to thin out my Neanderthal eyebrows, and that's about it. I have a very plain hairstyle so if I don't have electricity for a hairdryer, it's not a big deal. To my way of thinking, the more time spent in front of a mirror, the less time I have to see the sights and drink the local beer.
Q: Do you recommend any specific beauty, makeup, or skincare products that are perfect for traveling?
I'm fond of the Neutrogena "ultra-sheer, dry-touch" sunscreen for my face because it really does stay on pretty well in hot weather without becoming oily or making your skin feel clogged. And they make it in small tubes, small enough to pack in your Ziploc baggie in carry-on luggage. AND it's affordable compared to other high-end sunscreen.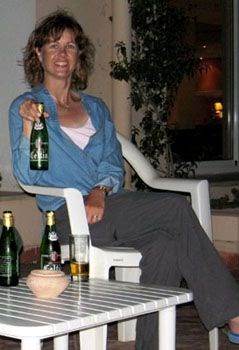 Q: Any travel packing tips for new travelers?
For traveling light, think about what products you can and can't get in your travel destination. For example, if you're going to Italy, you can probably find anything you need/want over there. If you're going to Tunisia, not so much … you'll need to bring any kind of specialized product (outside of basic shampoo/soap). In China, FYI, I couldn't find ladies deodorant anywhere, even in Beijing, that was several years ago.
I think a wardrobe of solid basic colors is best because it's so easy to mix and match based on various conditions. So if you have, say, 3 different-colored camisoles, 2 button-up shirts (leaving the top open), and a couple pull-over v-neck shirts or sweaters, you have a surprising range of permutations. If you wear things like low v-necks and button ups, you can wear one shirt 3 separate days but have it seem like a different shirt if each day you wear a different-colored camisole with it. A subtle color change can make more of a difference than you might realize.
Lastly, remember to consider the culture of your destination when choosing a wardrobe. Going to a Muslim country? Pack long skirts and sleeved shirts. Going to Uganda? Pack smart-looking but practical wear and safari gear, there are no cosmopolitan cities in which you'll wish you had a little black dress and heels. Going to Barcelona? Choose more fashionable or upscale clothes for a night on the town. And most importantly, be comfortable!
I think Shara's pics prove that a little color goes a long way! Even with a basic look, her use of solid, vivid colors in classic cuts create a refined style that's perfect for any part of the world! Thanks for the words of wisdom Shara! Don't forget to learn more about her travels on SKJ Travel and follow her on twitter at @SKJtraveler.
---
If you are interested in sharing your packing tips on TFG, you can download the interview questions and submission guidelines here.
---
Hope you liked this interview with Shara. Please share this post with your friends on Facebook, Twitter and Pinterest. Thanks for reading!
---