Support TFG by using the links in our articles to shop. We receive a small commission (at no extra cost to you) so we can continue to create helpful free content. As an Amazon Associate, we earn from qualifying purchases made on Amazon in addition to other retailers featured on the blog. Thank you, we appreciate your support!
Today's travel fashion girl is Sofia Mendez Shenone, the designer behind Sofia Clothing. She was born and raised in Chile and lived in Italy before making Vancouver, Canada her home.
Sofia loves traveling and believes that there's so much to learn, so much to see, to discover and to live while doing so. She finds great inspiration for her work and lifestyle through it. Keep reading to learn more about Sofia's travel style!
---
Interview: Sofia Méndez Shenone
---
Q: How would you describe your travel style?
Minimal and elegant.

Q: Do you prefer to travel carry-on or with a regular size suitcase or bag?
Regular size suitcase if the length of the trip allows it and if I will have a fairly easy transportation within the different places I will be going on my trip.
Check out TFG's recommendation on the best wheeled carry-on suitcases.
Q: Are you an overpacker or do you underpack?
I tend to under pack if anything, the idea of bringing extra things that I won't use is not quite my favorite. I do a lot of traveling and have managed to get down my basics and make sure they work for me.
Q: How do you stay stylish while traveling without access to an entire closet?
It's all about choosing the right things, everything must look good, everything must be good. Knowing how to mix and match to get the best out of the few things I might have with me. Bringing pieces that will allow me to play around with them a bit, and remembering that I will have to wear them more than once and make them work. Always playing it as every moment, no matter where we are I want to look and feel good for myself, that life it's a celebration.

Learn some tips on how to master the ten piece travel wardrobe!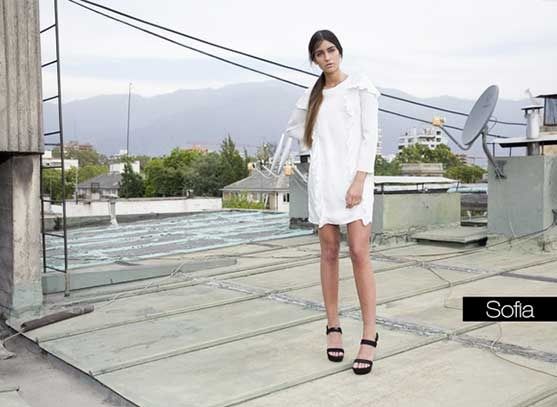 Q: What are your three must have travel essentials?
I wear mostly S o f i a, I always bring the "perfect" dress, top and coat that will allow me to add a little something to different outfits , to play around and dress them up or down.
We love these summer dresses for a trip abroad!
Q: What destination surprised you the most with the ways locals dressed or their type of clothing?
Whenever I travel to Paris, it just never going to cease to amaze me how the locals dress. They look like they are making their every day an event and that they want to make the most out of it. I will always love that. And it's always so fabulous to see that it's not juts women, but men that are so impeccably dress with that casual elegance that's so memorable.

Q: What's your preferred travel outfit on a plane?
Skinny, very stretchy dark pants with a loose cozy sweater and whatever I'm wearing as my "everyday shoe" for my trip. Always making sure I look polished, classy and elegant while feeling comfortable.
Check out some of our favorite airplane outfits.
Q: What are your favorite travel accessories?
Sunglasses, rings, lipstick and nail polish.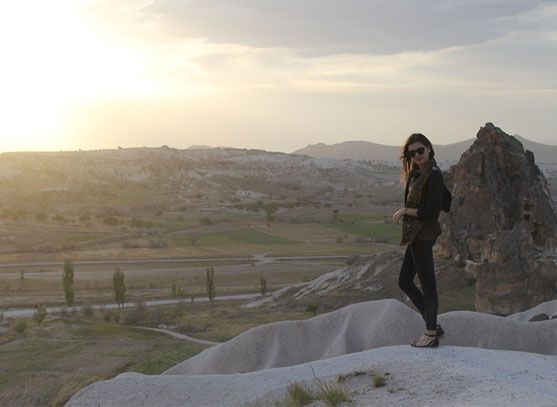 Q: What are your favorite travel beauty essentials?
Always a good moisturizer, concealer, mascara, eyeliner, lip balm, blush and something to make my hair feel good.

Q: Do you have any specific hair or makeup products that work great for travel?
YSL touché éclat works great to hide imperfections and bring light to my face and so easy to carry! MAC Fleeting Romance blush is a good pick me up for all occasions. I get very dry lips and I find nothing better than Blistex Lip Medex. I have very fine hair and just discovered Göt2b powder'ful that's working great to give me volume , it's a powder so easy bring around!

Q: How many pairs of shoes do you travel with and what styles?
It totally depends on where and how long am I going for. But I feel that 3 pairs are perfect. A pair of platform oxfords, ankle boots and a pair of cute heels.
Check out TFG's tips on choosing the best shoes for travel.
Q: Do you have any recommendation for cute or comfortable footwear?
If I had to choose one style for traveling these days it would be the platform oxfords. They are very comfortable (if you are like me, walking is a must and a preferred choice), they look good with everything , from pants to dresses and separates, they give you that tiny little bit more height that's always nice. I would choose a beautiful pair that would having something subtle but different going on and that would be easy to dress up
Find out our top 10 cute and comfortable travel flats.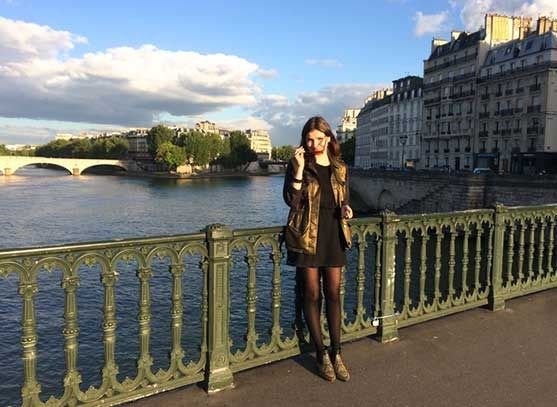 Q: What was your biggest travel fashion or packing mistake?
One time that I brought an amazingly beautiful chunky , very thick sweater… that took so much space that I didn't know what to do with it nor where to put it…. it felt like it's own little suitcase.

Q: Finally, any travel packing tips for new travelers?
Know yourself and your own style, so you make sure that those few times you are bringing with you will make you look gorgeous and comfortable every single second while you are traveling. Bring your preferred products to take care of your skin and hair (travel size). Choose the right basic makeup you will use everyday and add something to dress it up. If you have a rebellious hair, don't forget to plan accordingly to make it work while you are away!

---
If you'd like to be interviewed on Travel Fashion Girl, please submit your details here.
---
For more traveler interviews, please read:
---
Hope you liked this interview with Sofia Méndez Shenone. Please share this post with your friends on Facebook, Twitter, and Pinterest. Thanks for reading!
---