Support TFG by using the links in our articles to shop. We receive a small commission (at no extra cost to you) so we can continue to create helpful free content. We earn from qualifying purchases made to the featured retailers. Thank you, we appreciate your support!
Train travel is one of the most popular and convenient methods of transportation around Europe. What many travelers don't realize, though, is that you need to tailor your packing methods specifically for train travel.
---
How to Pack for an Inter-Railing Trip Backpacking Europe
---
Table Of Contents
I found out the hard way what NOT to pack on an inter-railing trip around Europe. In 2008, my friend and I spent two fun weeks breezing through Italy, France, England, and Spain with gigantic suitcases that were not travel friendly.
As our first time traveling as "independent" travelers, we were extremely unprepared. It pains me to think about the visual of two girls dragging massively wheeled suitcases through the cobblestone streets of Florence, the multiple flights of stairs in the London tube, and trying to store our oversized gear in tiny hostel dorms. Funny sight!
As I get ready to return to Europe at the end of the year, I've put together this handy packing guide for travelers embarking on their first backpacking trip around Europe so you can avoid repeating my packing blunders. Lesson learned: pack light and portable.
Packing for Train Travel
One of the most important things to consider before you start planning your ultra-chic travel wardrobe is the size and type of bag you want to use for your trip.
Trains have minimal storage compartments. Choose a bag that's carry on size if possible and stay away from bulky oversized backpacks and suitcases. A roller suitcase may be convenient when strolling through city streets, but not when you're running and tumbling around train stations, especially those with endless sets of stairs.
I would highly recommend a backpack no bigger than 50L or a hybrid bag that has both backpack straps and wheels for those requiring a bit more versatility. Personally, I am a big Osprey fan – good looking backpacks that are durable and stylish.
In order to maximize the space in your backpack or suitcase I highly suggest you use packing cubes. They are lifesavers and will help you fit all of your clothing into a reasonably sized bag conveniently and easily. Now that I have a front loading 40L backpack instead of a top loader, it's essential to use packing cubes for organization and to squeeze in as much as I can into my small carry on space. Believe me, these little packing cubes do wonders! I use a 3 Piece Slim Set.
Travel Clothing for Europe
Decide what type of activities you want to participate in so you know what type of clothing you need to pack. It is more than likely that you'll be spending most of your time focusing on the beautiful sights of the different European Capitals and you'll need a more polished appearance. Those convertible travel pants we all know and love will look very out of place and jeans are much more preferable.
Select regular clothing items that are both practical and sophisticated. Remember that you want to pack light so quality is more important than quantity. Choose clothing items in a classic styles and neutral colors. Stick to a singular color scheme and use accessories to add color and design to your travel outfits.
When it comes to packing for Europe – layering is essential. The weather can be sunny in one country and below freezing the next. All the clothing that you decide to bring to backpack Europe should be interchangeable and work well together for the cold, and individually when it's warm.
For more clothing ideas, check out this awesome Packing List for Europe.
Essential Travel Footwear
Footwear is really important to consider when traveling through Europe because while you'll want the outmost level of comfort you also want to blend in with the locals who will most certainly not be wearing your traditional Chaco "travel" shoes.
Generally, three shoes is a good rule to follow: a pair of trainers, dress shoes, and flip flops. If you don't expect to do any hardcore trekking, Toms or Converse add the perfect element of comfort and style to your travel clothes.
Carrying stilettos is just not practical in any backpacking situation. Try carrying a set of classic ballet flats like the Ted Baker shoes on Zalando's website so you can dress up at night or wear for a smart look during the day.
Flip flops are always handy especially if you're planning to stay at hostels where it is highly recommended to wear flip flops in the shower. Try to find a "hybrid" flip flop sandal that will work as well for practical reasons as it will for a warm sunny day in the city.
As a personal preference, instead of using trainers, I choose a quality pair of leather boots that I can use to walk, go out at night, and for everything else in between.
Learn more about how to create a capsule wardrobe with just three pairs of shoes!
Additional Travel Gear
In addition to your fashionable and practical travel clothing and shoes, there are other essential items to help make your time traveling Europe via train more pleasant. A travel pillow is essential to help make those long journeys more enjoyable and to also help you snooze in comfort. A sleeping liner is ideal to provide warmth on trains and is also invaluable to use in hostels, too.
Even in the summer, many parts of Europe are still rainy. Check the weather and be prepared for a sudden change by packing a travel sized umbrella and rain coat. If you plan to travel Europe in the winter, consider getting a practical but sleek rain coat that will keep you dry, warm, and stylish, too.
Make sure to add a travel adapter to your packing list!
---
I hope these packing guidelines for a rail trip around Europe are useful and help you avoid a packing nightmare like I had to endure on my own trip!
What are your packing tips for an inter-railing trip backpacking Europe?
---
For more tips, please read these Europe packing lists:
Suggested travel resources:
Please read our Ultimate Packing List for Europe featuring stylish outfits and travel tips for 9 countries.
---
LIKE THIS POST? PIN THIS PIC TO SAVE IT!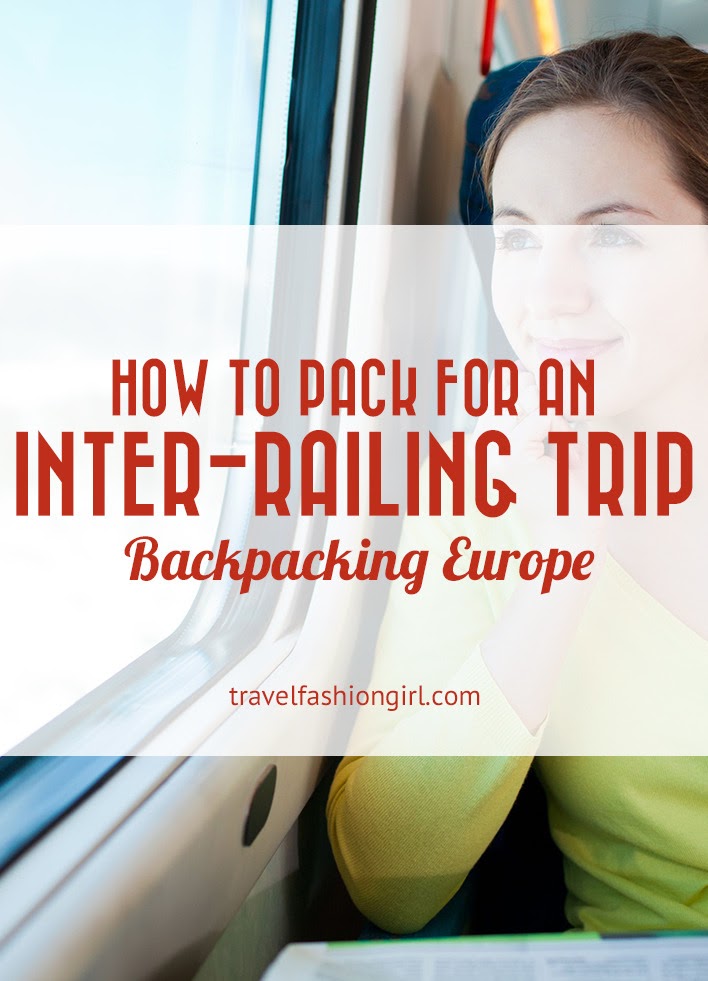 ---
Hope this packing list helps you plan how to pack for an inter-railing trip backpacking Europe. Don't forget to share the love on Facebook, Twitter and Pinterest. Thanks for reading!
---