Support TFG by using the links in our articles to shop. We receive a small commission (at no extra cost to you) so we can continue to create helpful free content. As an Amazon Associate, we earn from qualifying purchases made on Amazon in addition to other retailers featured on the blog. Thank you, we appreciate your support!
Just a few weeks ago I spent two glorious weeks in the Maldives celebrating my honeymoon. One week was spent on the marvelous Adora Scuba Diving Liveaboard and the other in the Cinnamon Hakuraa Huraa Resort – my dream of an over the water bungalow with a seafloor window came true!
I was lucky enough to find out about Vacay Style just in time for this trip. My goal was to pack light but also flaunt pretty honeymoon clothes, too. Keep reading to find out if Vacay Style is TFG Approved as I share my honeymoon packing list and pics with you!
---
Honeymoon Clothes and Maldives Packing List
---
Since I was departing from cold and rainy England I couldn't wear beachy honeymoon clothes to travel to and from the Maldives. Making my way on a train to London in sandals was not my idea of fun – especially with a lunch time reservation at the michelin star Benares.
To solve this issue I traveled with my new favorite, feminine cold weather merino wool dress paired with tights, ankle boots, and nice jewelry. It turned out to be a great choice especially since it seemed almost every other woman in the restaurant was wearing a similar outfit!
Read my full review for the merino wool dress!
distressed jeans worn with versatile scarf
Arriving into the Maldives was a warm welcome from rainy England and I was eager to get back into beachwear. However, the Maldives is a muslim country and modest clothing is encouraged if you're spending any time on the local islands, which I was the first two days.
With this in mind, during my time on the local island of Hulhumale I combined a pair of beach friendly Pull & Bear distressed jeans with the Vacay Style Maui Kaftan long sleeve tunic over one of my must have travel essentials: this bra-friendly camisole.
You'll want to look your best when you travel! Read my travel tips to Pack Light Stylishly!
I was originally concerned the fabric of the top might be too warm for the humidity but my outfit turned out to be perfect for the first few days which were warm but breezy.
I also had a spa day before jumping on the liveaboard and wore the jeans and cami plus kaftan to get me to and from the local island to the resort. Once I got to the resort I simply removed my jeans and cami and was ready to go without the need to have a massive outfit change or bring many items on my day trip.
The key to packing light is to use packing cubes to compress your clothing as shown in this video!
Maui Kaftan with packable hat
In the second half of the trip the humidity soared and the weather was over 90 degrees so I limited the kaftan's use to breakfast time or sunset drinks which worked out well with my wardrobe rotation. The kaftan's versatility was definitely a bonus for this type of trip since I was able to wear it as a top on the local islands.
When you spend a week on a dive boat the dress code is ultra-chill and comfortable which meant that the majority of my honeymoon clothes had to be functional. The days tend to consist of the same itinerary: dive, eat, sleep, repeat – meaning that most of the time you're in a bathing suit and dive gear.
Read more about dive gear for a liveaboard!
This was what I wore for a one week liveaboard:
Two bathing suits: one for diving, one to wear in between dives
Two cover ups: Vacay Style Antigua tunic, Kooshoo versatile garment
One top: Vacay Style Maui max dress top
One jean: distressed Pull & Bear denim
One Roxy black board shorts
No shoes allowed on a boat
You might be surprised to see denim on here but they were actually kinda perfect since I could wear them off the boat in the local islands and casually on the boat in the evenings when I wasn't diving.
I paired the jeans with either of the above mentioned tunics when I wasn't wearing the cover ups alone over a bathing suit.
Antigua tunic with packable hat, Ipanema sandals (beige/bronze)
I also wore the jeans with the Vacay Style Maui max dress top, which I then paired with the Roxy board shorts (as shown in the below image). This ensemble was suitable for breakfast at the resort and liveaboard when things were extra casual.
Rotating between all these items and two bathing suits I had plenty to wear all week without the need for laundry. It was airy and cool throughout the day so humidity wasn't an issue with the clothing.
Maui max dress top with jeans and Roxy board shorts
One of the best and most unexpected of my honeymoon clothes to wear on the dive boat was actually the Vacay Style Antigua tunic shown below. I could've worn this every single day. Not only was it super pretty but more importantly it was so comfortable and ultra-light even when the temperature increased. It was the next best thing to not wearing anything at all.
As an added bonus the fabric's crinkle design perfectly creased even after being rolled and packed away into my slim packing cubes. It is now a permanent staple in my long term travel wardrobe (and so is that cute hat too)!
Antigua tunic with polarized sunglasses, packable hat
After a fabulous time in the beautiful semi-luxury dive boat we made our way to the Cinnamon Hakuraa Huraa Resort where we spent five days, four nights to end our trip in a relaxing setting. It really was the dreamy Maldives you see in the pictures. Absolute perfection!
Maui max dress (top and skirt) 
I didn't wear all my clothing on the dive boat. I saved the Vacay Style Maui kaftan, Maui Max dress skirt, and Antigua black halter top which I wore at the resort along with the Antigua tunic and kooshoo garment.
I wore the Max pieces as a dress and alternated between the Fiji halter and Maui Max tops for two dinners. The fabric really is wrinkle-resistant as it claims and was lightweight and comfortable even in the heat.
I felt resort-ready, comfortable, and lovely with the max dress outfits shown below – just as any girl should feel on her honeymoon!
 Maui Max dress (skirt, top) on left / with the Antigua black halter on right
I do have a secret to share with you. I did pack two "splurge" honeymoon clothes: a beige crochet detailed tunic and a third, sexier swimsuit by Lady Lux to lay out on my private bungalow deck. It was nice to have the extra items in my rotation. This totaled my capsule wardrobe to ten pieces including the "splurge" tunic (minus swimsuits and underwear). Not too bad for two weeks!
For shoes, I brought one pair: the Ipanema Maya thongs in a metallic beige/bronze color. I added bohemian silver and turquoise jewelry plus makeup to dress things up at night for dinnertime.
I was extremely pleased with the final results of my Essentials-sized Packing List I chose for my honeymoon. By carefully rotating pieces I made ten clothing items work for a two-week seaside adventure!
So are the Vacay Style pieces TFG approved?
100% yes!
The Vacay Style pieces were the perfect honeymoon clothes and would work for any beach, resort, or poolside vacation. They're easy to wear, comfortable, wrinkle/resistant, and pretty, too. They've even made the trip with me down to Mexico where I've just relocated for the winter. I am happy that I learned about this line and I'm sure you will be happy with the pieces, too. Read this to learn more about their beach vacation clothes!
Get 10% off your purchase with the code TFG10%.  Visit VacayStyle.com and discover your stylishly simple beach vacation travel wardrobe!
Scroll down for even more honeymoon pics!
---
For this trip I chose my honeymoon clothes based on a capsule wardrobe with blue hues to shine with the sea. Vacay Style designs are inspired by a sailing trip around the world so you're sure to find a lovely color combination for your next trip!
What are your favorite beach vacation clothes? Share in the comments below!
---
 For more beach vacation packing tips, please read:
---
LIKED THIS POST? PIN THIS PIC TO SAVE IT!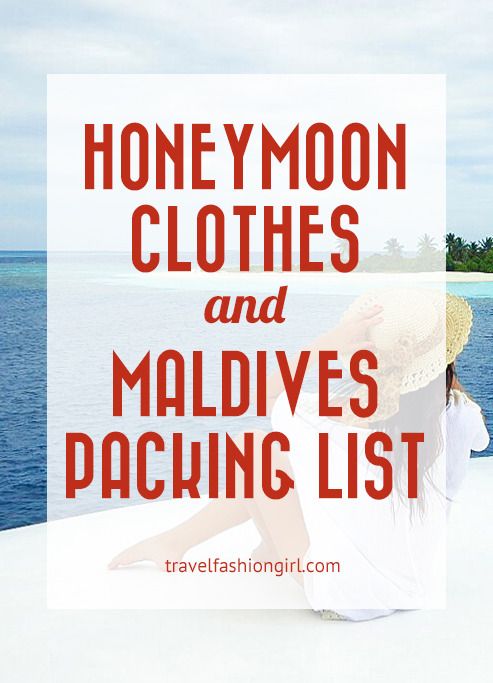 ---
Hope you liked this post on my honeymoon clothes and Maldives packing list. Please share with your friends on Facebook, Twitter, and Pinterest. Thanks for reading!
---
Please note: This has been a product review on behalf of Vacay Style. However, all opinions are my own.