Support TFG by using the links in our articles to shop. We receive a small commission (at no extra cost to you) so we can continue to create helpful free content. As an Amazon Associate, we earn from qualifying purchases made on Amazon in addition to other retailers featured on the blog. Thank you, we appreciate your support!
We want to feature the lovely ladies of our awesome community and that means you! Share your best packing tips and travel style by participating in our TFG Interview Series. It's super easy, just answer the questions here!
Get inspired and read my interview on today's post – learn more about my packing strategies and travel style!
---
Ask Me Anything: Editor, Alexandra Jimenez
---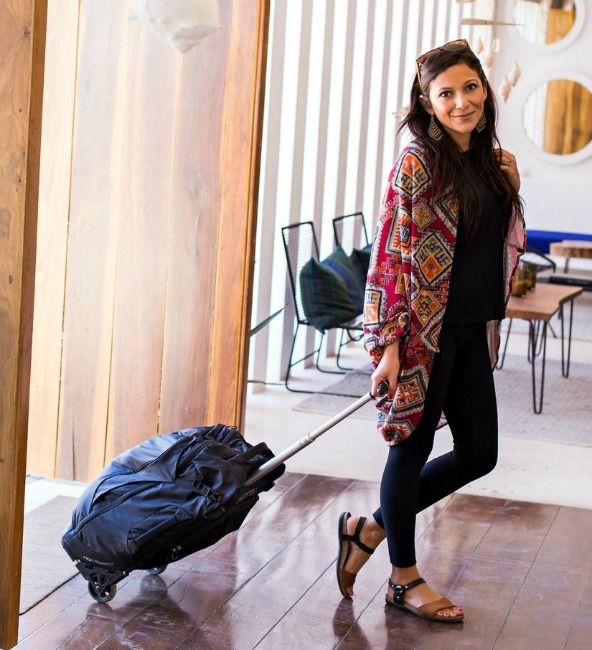 I travel with the carry-on size Osprey 22″ Ozone wheeled bag.
Q: Where have you traveled with just a carry-on and for how long?
I've been traveling carry-on only, full time, since 2013, including 8 months in Southeast Asia in 2013, 8 months through Egypt and Southeast Asia in 2014, 2 weeks in Paris and Italy in 2014, and 4 months in India, Sri Lanka, and Southeast Asia in 2015. Can you tell I like Southeast Asia?
In 2016 I've traveled my lightest ever! See how I went luggage free on a one week summer side trip!
Q: What are the advantages and disadvantages of traveling with a carry-on?
The advantages include the freedom to move from place to place with ease.
After traveling for 4 years with this 65-liter backpack, I was tired of dragging everything with me everywhere I went. It really put a damper on my experience, as I didn't look forward to traveling to new destinations.
The disadvantage to traveling carryon is that you don't have as much of a selection of clothes and shoes. But in reality, I wouldn't wear everything I packed previously in my 65-liter bag, so I don't really miss anything anymore. I just replace my clothes as I go, and when I get bored.
Learn more about how to pack as a long term traveler!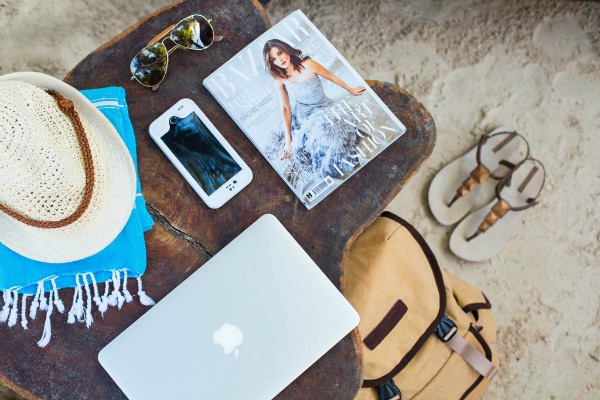 Q: Do you think it's worth it?
It's totally worth it! I would pack even less if I didn't have to haul around my digital nomad and scuba diving accessories, too.
My preference is to travel disconnected, without a laptop, and just enjoy the moments free from online distraction. It's ironic, since I work online! But after eight years, I'm suffering from a bit of travel burnout, so it's a nice change of pace–but, I love what I do!
Q: What luggage do you use and what do you like and dislike about it?
For a backpack, the Osprey Farpoint 55 (40L main pack + 15L daypack) is amazing!
It's super lightweight, has lockable zippers, is made of durable materials, and it's an easy-to-organize space–when you use packing organizers, of course! I wouldn't be able to travel as well without packing cubes and definitely not carry-on only.
Once I started suffering from back issues, I decided to make the move to wheels: I now use the Osprey Ozone 22", which I LOVE! It's like the Farpoint backpack but with wheels!
For a long-term traveler like me, one of the most important features in wheeled luggage is ultra-durable, rugged wheels that I can drag through gravel, broken pavement, and up stairs–without worrying that my bag is going to fall apart.
That's why I travel with this brand and not a regular wheeled suitcase with wheels that are made for smooth sidewalks.
Find the best Osprey backpacks here.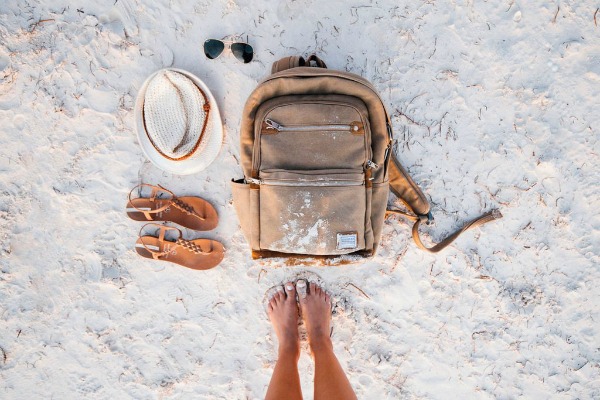 Currently I'm using this Travelon backpack but I just bought this new Jansport for the next travel segment!
Q: Do you travel with a day bag in addition to your main carry-on?
Yes, I have a day bag for my laptop, passport, money, and whenever I need to transfer things from my main bag. Technically, everything fits in my main suitcase, but for security and convenience I keep my valuables separate.
Read about my over the top ways to protect my laptop while traveling!
Q: How do you manage the limited carry-on weight allowance many airlines have? Have you ever been forced to check your bag?
I mostly travel with international airlines, as I do most of my regional traveling overland by bus or train.
The majority of the airlines I use allow for 15-30 kg, but I only have between 7-11 kilos (depending on the trip). If I travel AirAsia, for example, I'll ditch my liquids (and buy new ones upon arrival) and carry my laptop and electronics in my purse since you're allowed one personal item.
I put my daybag into my main bag since it doesn't weigh much, and in total it weighs under 7 kg at check in.
I haven't been forced to check my bag, but sometimes I do–just because I don't feel like dealing with anything other than my valuables.
Read these tips on how to pack for 7kg baggage allowance.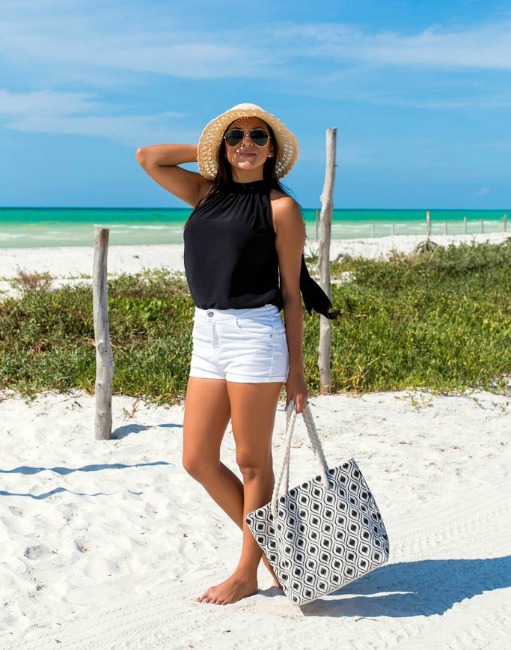 Q: Is it possible to look stylish when traveling with a carry-on? How do you manage it?
I suppose it's possible to look stylish rather than fashion forward. I feel that style is about what makes you feel confident and fashion is following trends.
As a long term traveler, I've worked hard to narrow down my personal style and the pieces that are most flattering to me.
I use these capsule wardrobes to carefully plan my clothing!
The tricky part is that every clothing item I pack also has to make sense for the environment I'm headed to, cultural sensitivities, and the weather. Not to mention, it has to pack light–2oz or less per piece, ideally–and it can't be bulky.
This rigid system narrows down my choices drastically.
In my twenties, I played more with fashion, so I liked having more clothing. But now, in my early thirties, I'm enjoying developing my own signature style and don't need as much stuff.
Long term travelers can't get attached to "things" and need to be comfortable letting go of their belongings.
More about this long term travel packing strategy!
I don't have a problem spending money on the few clothes I do have because I'll wear them all the time. More importantly, I want to wear what makes me feel good even if the price tag is higher.
When I'm in one place for several months, like England or Los Angeles, I'm constantly buying new clothes to keep up with trends, finding new clothes for going out and seeing friends, and this gets even more expensive in the long run.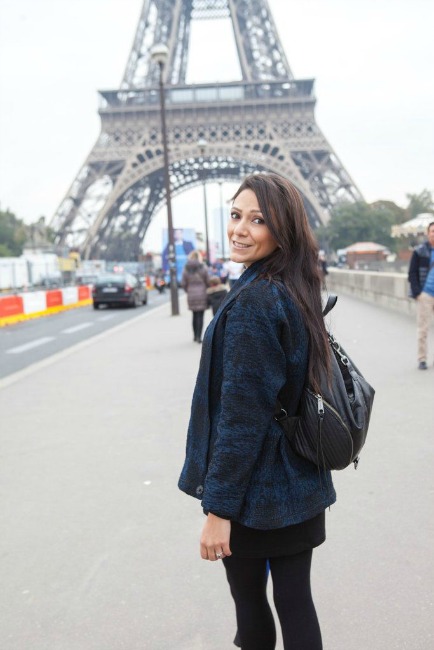 Wearing my amazing Rebecca Minkoff backpack which I used to travel luggage free for one week!
Q: What clothes and shoes do you travel with? Are there any particular brands or fabrics that you recommend?
The clothing choices are based on where I'm going and the weather.
As I created my packing ecourse, I really focused on the personal color favorites that I've discovered I like wearing: black, white, royal blue, vivid green, and the occasional red hue.
Plus, I had a color assessment and learned which colors work best on me, narrowing down my choices further. My clothes now revolve around these principles to ensure I'm happy when I get dressed every day.
I don't travel with a particular brand. I like Athleta, Adea, and Anatomie for technical travel clothes, like basic tops and pants, but the rest is from Top Shop, H&M, or local brands wherever I am.
Shoes are always difficult but I have two styles I always gravitate towards: sandals by the beach and boots in the cold, as my primary footwear.
I must pack super lightweight trainers for the odd hike. And my third pair of shoes is always something I can walk in for hours, so in the cold this is boots with gel inserts and in the heat, Birkenstocks (but I'm bored of these and looking for a replacement).
Check out TFG's tips on choosing the best shoes for travel.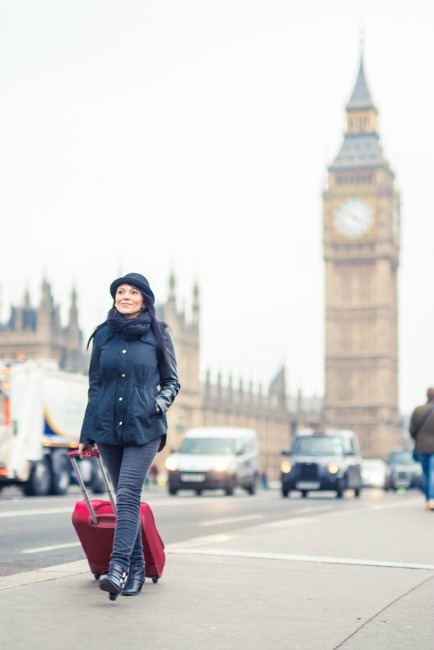 Q: Have you traveled in cold weather and how did you pack for it?
To be honest, I avoid the cold like the plague. But I've spent several winters in England and packed carry-on for local trips to cold weather. This is how I stay warm in England in winter.
To avoid spending tons of cash on new clothes in a cold place, I still stick to my basic capsule wardrobe essentials, plus I test out new things to create ideas for my readers.
In the cold, fabrics are what matters most. I will drop the cash for awesome merino wool or silk thermals. If you wear these under everything, then there's a good chance you'll be much warmer. I also try to choose lightweight but very warm sweaters in merino wool and cashmere so I get the double dose of warm fabrics!
Find out how to pack for cold weather like a boss.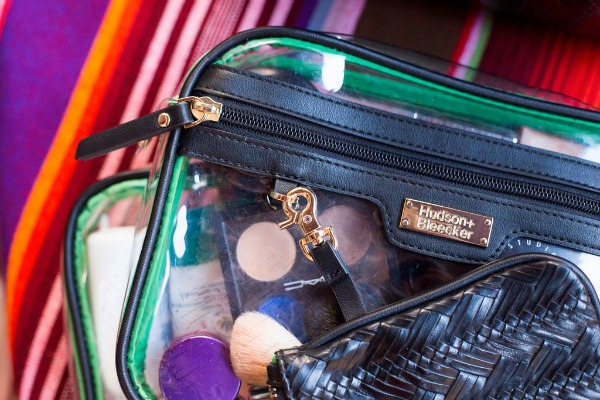 Q: What makeup and beauty products do you travel with? How do you manage the liquids rule on flights?
I buy liquids as I go and I don't usually travel with full-size toiletries. I watched how much shampoo I actually used and a 3oz bottle lasts me weeks (unless I'm diving constantly).
I also decant things, like foundation, which I rarely use. Instead of traveling with a massive glass bottle, I use these travel containers to store a little of the product for the day when I want to turn it up a notch.
For makeup, I have one 4-eyeshadow palette, one eye liner, lip gloss, mascara, blush, a tube of concealer, NARS the multiple for a healthy glow, and 50ml of foundation.
On a day-to-day basis, if I'm wearing makeup, it consists of mascara, NARS, blush, and concealer.
Understand how 3-1-1 Liquids Rule works.
Q: What technology do you pack?
Too much to keep my website going! A MacBook Air, MiFi device, portable charger, smart phone, point and shoot camera, underwater housing for the camera, memory cards, memory card reader (for the laptop), scuba diving watch, portable memory drive…and I think that's it.
Take a look at my full digital nomad packing list here!
Q: Did you pack anything that you regretted or got rid of?
Not anymore. My biggest regret is packing clothes I hated just because I thought that's what travelers should wear. But it's not the brand that matters, it's the functionality.
Read about my travel fashion fail!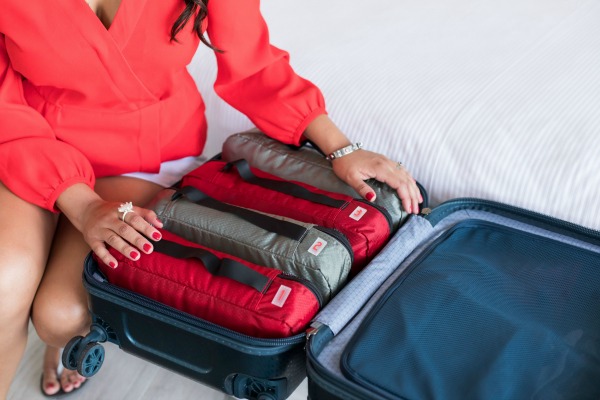 Q: How do you organize your things in your luggage? Do you have any tips for maximizing space?
PACKING CUBES AND ORGANIZERS!
Everything I own has an organizer, so it makes packing and repacking a 10-15 minute task. Learn how to choose the best luggage organizer.
I pick up my packing cubes and fill them with clothes, I gather my toiletries and place them in my toiletry bag, all electronics go in the electronics bag, daypack things go in a clear reusable plastic case, shoes go in plastic bags, jewelry goes in the accessories bag, dive gear goes in the dive gear case and in my interior suitcase pocket, essential travel gear goes on the outside right pocket, and things I might need for the day go on the outside pocket. DONE.
Learn some tips on how to pack your clothing with packing cubes!
Q: Do you have any other tips for packing light? Any other useful items you recommend?
For ladies: plan, research, and choose functional clothing that you actually like. For guys, be aware that you actually have to wear your shirt with your shorts/trousers, so don't go overboard with prints.
Read more mens travel style tips!
The main thing is to use packing organizers. They're a game changer.
Also, choose light luggage because if your bag weighs 4 kg or 7lb, then there goes most of your baggage allowance. 2kg or 5lb is a pretty good max.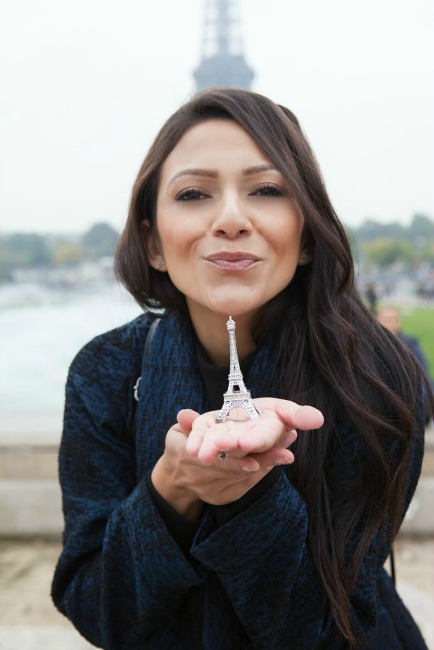 ---
If you'd like to be interviewed on Travel Fashion Girl, please submit your details here.
---
For more traveler interviews, please read:
---
LIKED THIS POST? PIN THIS PIC TO SAVE IT!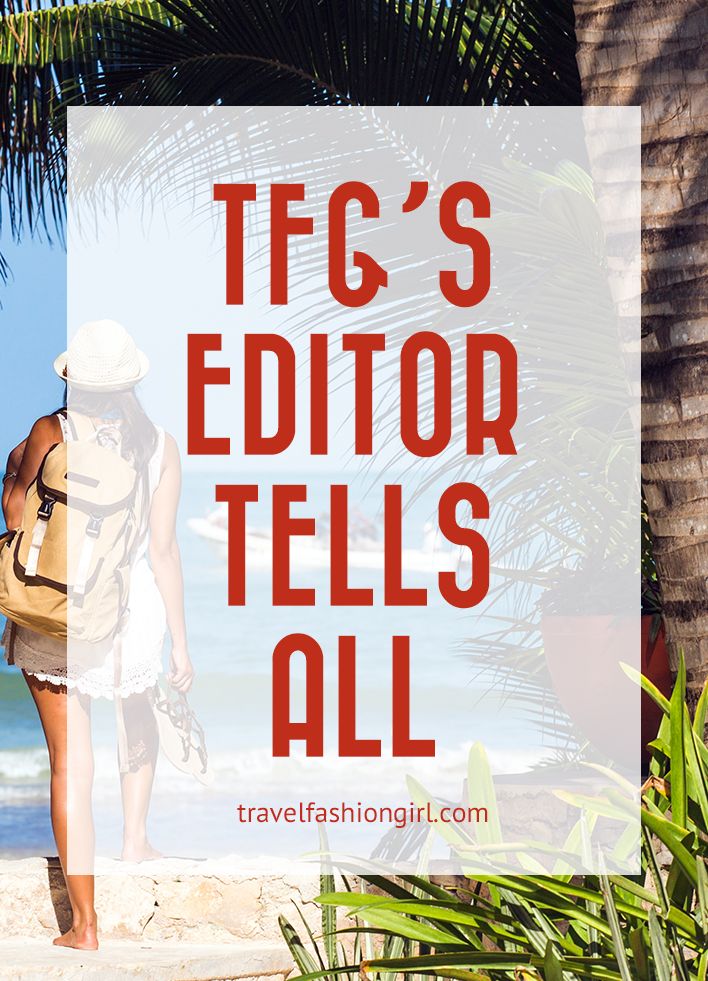 ---
We hope you liked this interview with Alexandra Jimenez, TFG Editor. Please share this post with your friends on Facebook, Twitter, and Pinterest. Thanks for reading!
---