Support TFG by using the links in our articles to shop. We receive a small commission (at no extra cost to you) so we can continue to create helpful free content. As an Amazon Associate, we earn from qualifying purchases made on Amazon in addition to other retailers featured on the blog. Thank you, we appreciate your support!
Heading on an adventurous trip to Central America? Great choice! It's a small region that's home to seven beautiful countries and it's just a short flight from the US! Take a look at our Central America packing list for everything you need to know!
---
Central America Ultra-Minimalist Packing List
---
Table Of Contents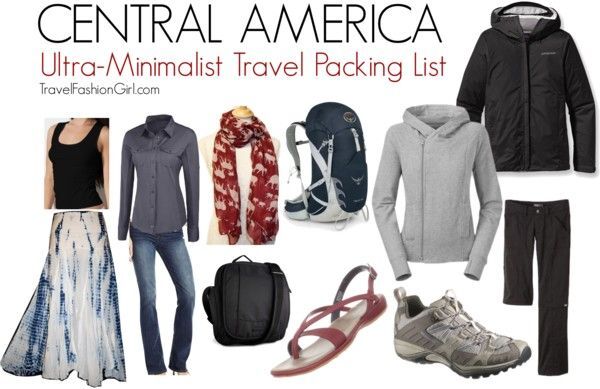 This ultra-minimalist 7-piece Central America packing list is inspired by a traveler I met in Mexico that packed only 4 pieces of clothing for her 5 month backpacking journey.
In this interview with the ultra-minimalist packer, Deanne Ballard, learn how she spent 5 months traveling Mexico and Central America with only 4 clothing items (she added 3 more pieces due to the cold).
To help inspire you on your backpacking travels in Central America or other destinations such as South America, I'm showing you how you too can pack as light as Deanne.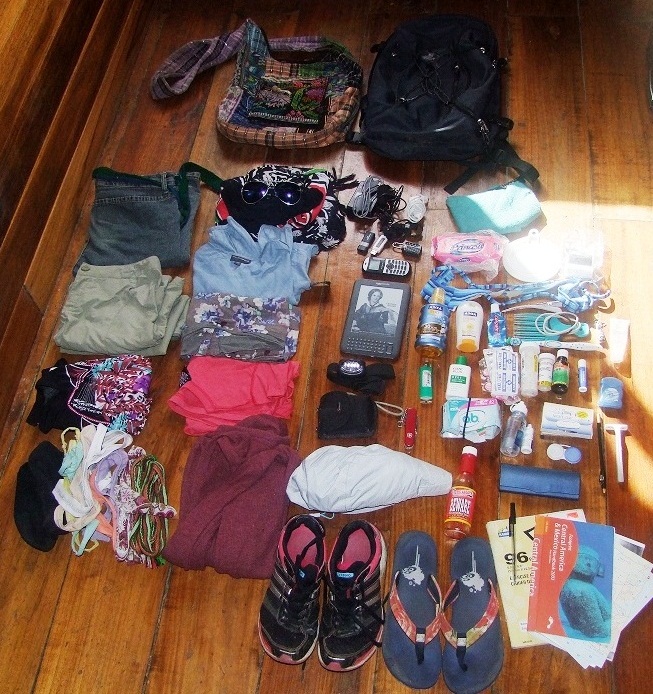 Her 7 essential clothing items were:
convertible travel pants
short sleeve top
long sleeve top
sundress
jeans
hoodie
waterproof jacket
If your aim is to pack ultra-light, your best bet would be to choose travel specific clothing featuring high performance fabrics such as merino wool so you can get the most from your clothing – quick dry would be absolutely essential! However, with the exception of her waterproof jacket and travel pants, the rest of the clothing she packed was not travel specific.
Use packing cubes to help you organize and even compress your belongings to maximize your space.
Weather and activities are two of the most important factors when choosing travel clothing – this packing strategy was originally meant to be used for beaches, ruins, villages, and trekking during the months of October-April.
The secret to traveling light is to create a functional but minimalist capsule wardrobe. Learn more in my guide!
Based on Deanne's experience, this is my interpretation of her ultra-minimalist packing list for Central America:
Shirt | V Neck | Sleeveless | Top | Dress 1 | Dress 2 | Jeans | Pants | Raincoat | Sweatshirt | Shorts | Skirts | Sandals | Shoes | Scarf | Backpack
Central America Packing List
This inspired list shows you all the essential items she originally chose with a few tweaks to make sure you can maximize each piece creating versatile travel outfits for difference settings.
Tops
As with the Minimalista packing list, this one features two tops: one short sleeve and one long sleeve. Button up tops can be worn as light jackets, unbuttoned, and as mosquito deterrents.
Skirt
It features a convertible skirt in a lightweight fabric so you can use it as both a dress and a bottom to match your two tops while staying cool in the heat.
Take a look at the best convertible travel dresses (and skirts)!
Pants
I've also kept the convertible travel pants to maximize travel outfits and added quick dry travel tops for easy and durable wear including the Adea camisole top which I review here.
These are convertible travel pants for women you might actually like!
Although they're not a traveler favorite, in this specific scenario the right convertible pants can be used as both pants and shorts (or capris) depending on your preference. If activities such as trekking are your priority over fashion, these provide a functional option for you.
You might be surprised to see jeans on the list but they're an essential for this region. Not only can you dress them up for a night out in El Salvador's surf hot spot La Libertad but  you also need them to stay warm when traveling to towns in higher elevation such as Lake Atitlan in Guatemala.
(Readers note: it is not advised to trek in jeans because of risk of hypothermia. Editor's note: I do hope you would realize that you should use jeans for city wear not mountain trekking.)
Alternatively, these are hands down the best travel pants for women (and they're not convertible).
Outerwear
When your outerwear options are minimal, make sure they are good quality in order to stay warm with less. Invest in a durable climate-controlled travel fleece or hoodie plus a waterproof jacket. Having the right 2-3 layers is all you need to stay warm when your goal is to pack light.
Shoes
You should always pack 2 pairs of shoes minimum (3 max). In following Deanne's list I've chosen hiking trainers which can be worn in cold areas plus be used for trekking. I've also chosen functional travel sandals with a slightly stylish touch for warm areas.
Find out how to choose the best hiking shoes!
Accessories
A few feminine accessories that I would recommend that don't take up much space are a set of dangly earrings, an makeup  product or two that helps you add a touch of glam every so often, and an always functional and stylish circle scarf.
---
What do you think – would you be able to travel 5 months with just 7 pieces of clothing?
---
For more Central America packing list ideas, please read:
Suggested Travel Guide
---
We hope you enjoyed this functional take on an ultra-light Central America packing list. If you found it useful, please share it with your friends on Facebook, Twitter, or Pinterest. Thanks for reading!
---