Support TFG by using the links in our articles to shop. We receive a small commission (at no extra cost to you) so we can continue to create helpful free content. As an Amazon Associate, we earn from qualifying purchases made on Amazon in addition to other retailers featured on the blog. Thank you, we appreciate your support!
Lisa Niver, co-founder of We Said Go Travel and co-author of Traveling in Sin, has been on the road mainly in Asia since July 2012. She visited Cebu for the first time in August 2013 and we asked her to share about one of our favorite places!
---
Cebu Has it All: Chic and Classy Travel Destinations
Written by: Lisa Niver
---
After a quick and enjoyable flight from Manila to Cebu, we were ready to explore and see this entire city had to offer. If you are seeking a chic and fashionable place while visiting Cebu, look no further than the Be resort situated along a fine white sand beach lining Cebu's coast.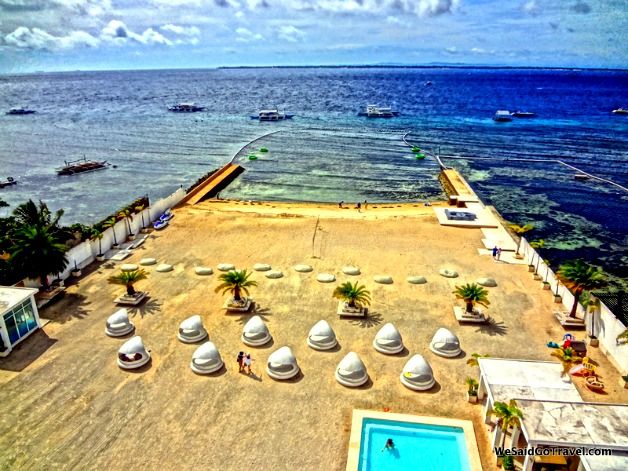 Dine overlooking the ocean while mingling among hipsters from around the world. The lobby area is peppered with famous Philippine designer, Kenneth Cobonpue's chairs and sofas and other contemporary furniture; trendy clientele photograph themselves while sporting fashionable apparel. This boutique resort was used on the set of the film, "Oceans 11." The Be Resort has three pools surrounded by Be Cool rooms with a day bed and city views and Be Chic rooms with ocean views and balconies. The resort caters to the young stylish crowd and families who are looking for an excellent value for their money. This is Cebu's boutique resort to see and be seen.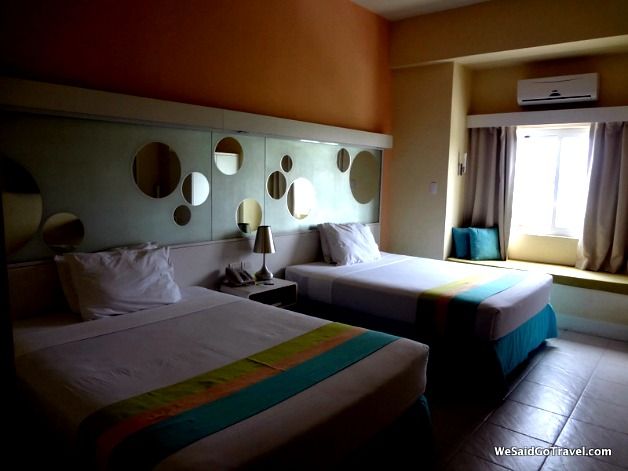 For visitors who are inspired by Kenneth Cobonpue's sophisticated yet comfortable furniture, we recommend visiting Cobonpue's showroom in downtown Cebu. During our visit we met Kenneth who explained, "If fashionable furniture is not also comfortable then it's not design, it's art." We were escorted throughout a showroom that included both indoor and outdoor furniture. I especially loved the chair with the seat made of erect cylinder wooden blocks that was surprisingly comfortable; the unique canopied four-post bed frame was also a favorite. My wife liked Bloom, a plush chair shaped like a flower. All pieces are handmade by the on site staff in 45-60 days. His works of art have taken off internationally in places as far off as New York and Moscow; Kenneth's creations are a 2012 "top pick" in the Architecture Digest Home Design Show. Inspiration for Kenneth's designs typically comes from nature, especially fisherman and fishing nets. He also designed the medal for the 2012 Cebu Triathlon. Overall, his designs are quite organic looking. Kenneth stated, "I am inspired by the tropics but blur the distinctions between indoors and outdoors." His designs are made in the Philippines!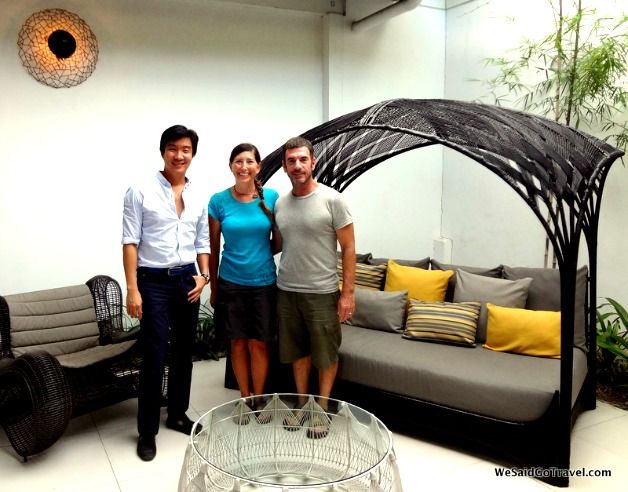 While in Cebu stop by Lapu-Lapu City on Mactan Island to the Alegre Guitar Factory. Fernado Alegre, a third-generation guitar and ukulele fabricator, constructs high-quality models, some with beautiful pearl or abalone inlays. He is respected in Cebu as the premier manufacturer of string instruments. Even though guitars are his specialty, his higher-end ukuleles are true works of art. What makes Fernado unique among family members who passed down their trade secrets before him is that he plays both the guitar and ukulele at a high level. Therefore, he knows true excellence when strumming an instrument. During our visit, he performed ukulele Hawaiian classics and then played Chet Atkins on the guitar for good measure.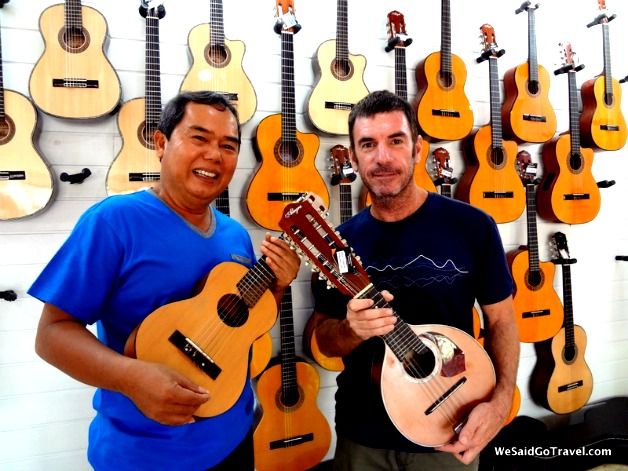 Looking for a tasteful and tasty hotel or restaurant in Cebu, Philippines? Two superb options include the Marco Polo Plaza Cebu and Radisson Blu's fine restaurant.
Marco Polo Plaza Cebu's 360-degree panoramic views from the open deck of the penthouse's Blu Bar and Grill are splendid and unique in that it is the only hotel at the top of the hill. The club level continental lounge also has lovely views and a spacious meeting room. The suites are in the process of being renovated so you might be the first to sleep in an all-new room! Our floor had already been reconditioned so we were able to enjoy all the upgraded amenities including the full-size desk, great view, and plush bedding; all 329 rooms will be updated by December 2013. Marco Polo residences are in the process of being built nearby; hotel guests will soon be able to take advantage of the Zen garden, rock climbing wall and the mixed-use development. The restaurant by the pool has beer below zero and phenomenal Halo-Halo. The delicious breakfast buffet seemed to include cuisine from nearly every continent.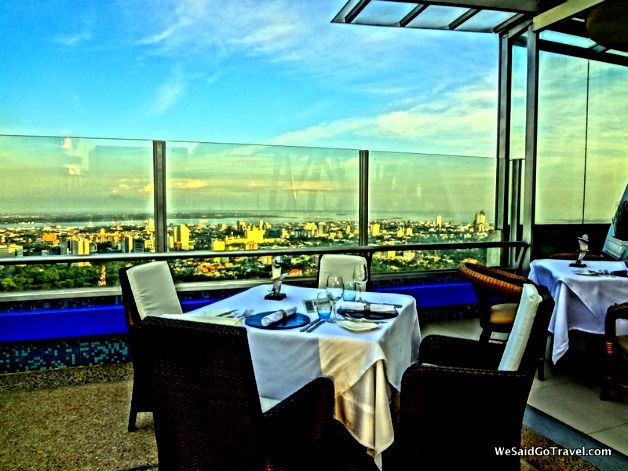 Café Marco's Ensimadas (a cream filled pastry) are super-sized but low in cost and have become a national sensation with over 10,000 sold annually. Due to high demand from guests and flight attendants, there are now special take-away brown boxes perfect for a gift or a take-home goodie. The food at Café Marco is delicious and it is dubbed "the best buffet in Cebu city" for lunch or dinner. Each month there is a different culinary journey to explore which features national and international cuisine. Local dishes recently available from Bicol, Luzon and other regions in the Philippines in addition to international tastes from France, Switzerland, Spain, and China. Plan your next journey to correspond to the next Treasured culinary journey when age-old recipes from prominent Cebu families will be shared.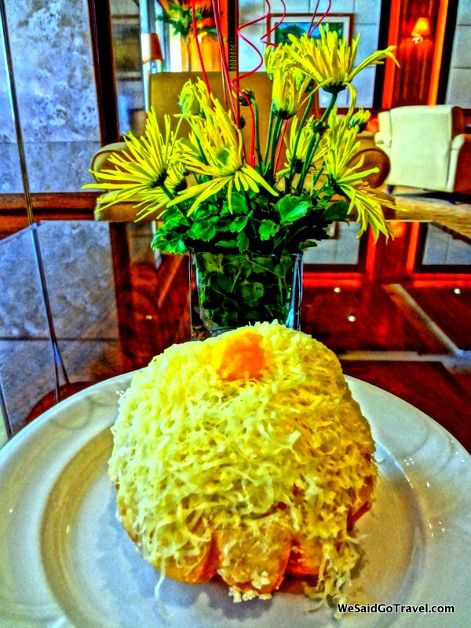 Walking into the magnificent marble lobby of the Radisson Blu set the stage for a special evening. The Radisson Blu in Asia hosts a Tuesday night dining special to encourage the community to sample their international cuisine. We saw several groups celebrating birthdays while enjoying the phenomenal diversity of food. Along with Rica Renee Reyes-Rellon and Ricky Tio from Cebu Holiday Tours, we were invited by Chef Sonny Juanimo to taste test his latest creation; among the strawberry, black velvet, and pistachio cronuts, our favorite was pistachio. If you have not sampled them yet, they are a cross between a donut and a croissant but even sweeter. We enjoyed the dulcet sounds of a music trio as we exited the hotel. With such a grandiose entry hall, it was evident why many brides choose to take wedding photos at this first-rate location.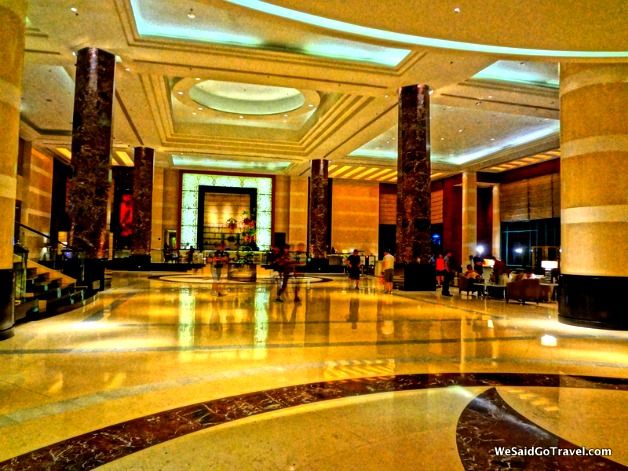 After sampling superior cuisine and viewing these two exceptional hotels, we went for a relaxing Thai foot massage. A traditional treat for the feet was the perfect way to end the day in highly recommend Cebu city. We're planning to return soon to discover more treasures. Several airlines now fly from Koh Samui to Cebu and it sounds like the perfect next adventure. Meet us in Cebu!
With Thanks to Ricky Tio of Cebu Holiday Tours who handled all of our transfers and set up visits to both Kenneth Cobonpue's show room and the Alegre Guitar Factory. For more information on how to prepare for a visit to the Philippines and what to see, refer to Rissa Gatdula-Lumontad's book, "Philippines: 100 Travel Tips."
---
If you enjoy reading this post about Cebu, Philippines, please share them with your friends on Facebook, Twitter, and Pinterest. Thanks for reading!
---
Author Bio: Lisa Niver is a  co-author of Traveling in Sin and co-founder of We Said Go Travel. She is an accomplished writer, speaker, and traveler who is a member of the Traveler's Century Club, a unique travel club limited to travelers who have visited one hundred or more countries. Follow her journey at Facebook, Twitter, and Instagram.
---