Support TFG by using the links in our articles to shop. We receive a small commission (at no extra cost to you) so we can continue to create helpful free content. As an Amazon Associate, we earn from qualifying purchases made on Amazon in addition to other retailers featured on the blog. Thank you, we appreciate your support!
It's always very challenging to find travel brands that make attractive backpacking clothes. It seems that women's travel clothing is synonymous with unflattering box cuts to make us look as unattractive as possible.
There are many benefits to using clothing made specifically for travel. The quality and construction of the products are built to last the wear and tear of our travel adventures which makes the clothing more durable, quick drying, and it also offers you adequate protection from the elements. Unfortunately, all this usually means that function trumps fashion – but it doesn't have to!
During my time in LA, I had the chance to visit the Patagonia store in Pasadena to determine if their backpacking clothes would pass the TFG test. Is Patagonia women's travel clothing TFG Approved? Keep reading to find out!
---
Patagonia: Travel Clothing for Women Review
---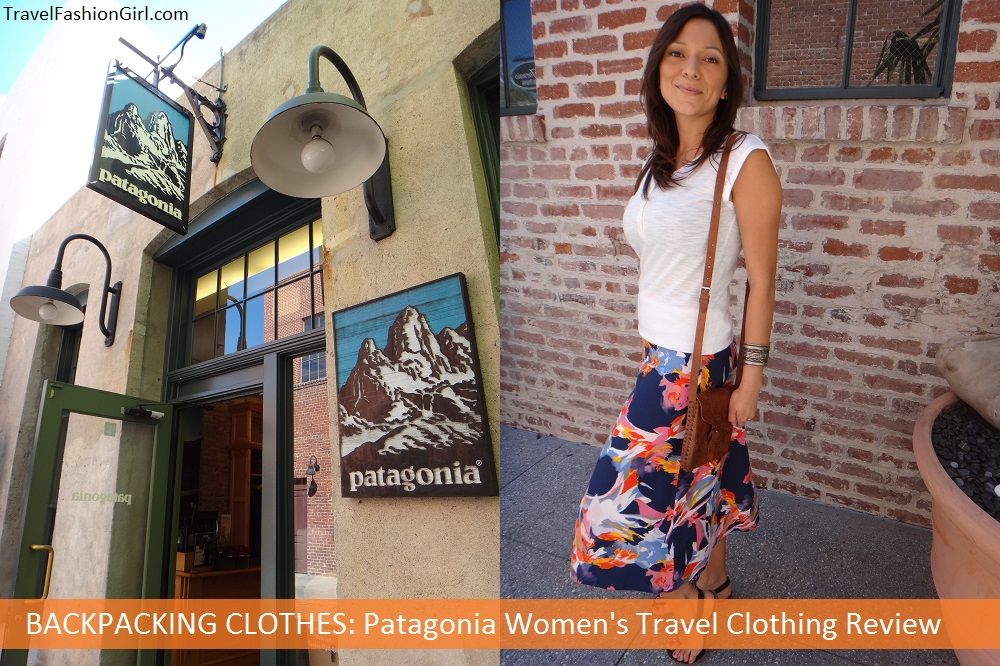 Patagonia is one of the more popular travel brands available in the US offering travel wardrobe staples that can be worn virtually all over the world. Their environmentally conscious and donate We donate our time, services and at least 1% of our sales to hundreds of grassroots environmental groups all over the world.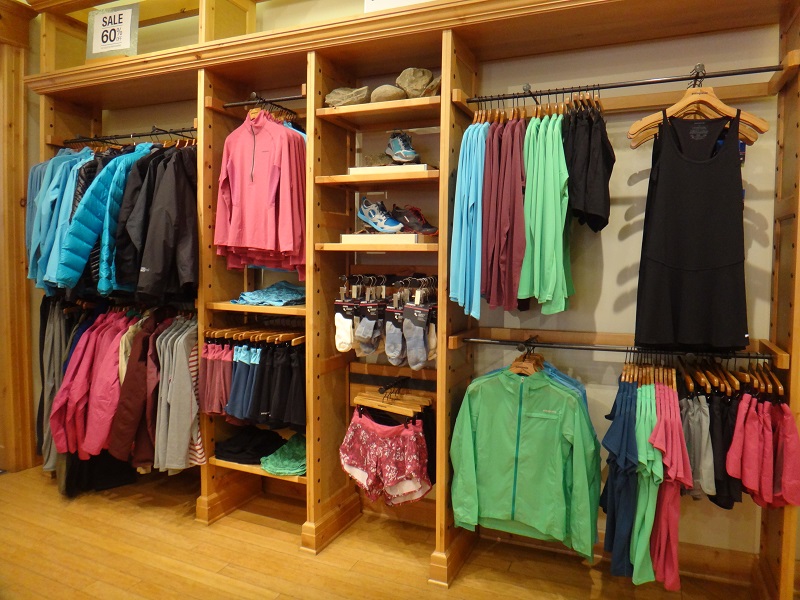 The most important things that were consistent throughout the Patagonia line are the quality fabrics and construction. The clothing meets the general requirements that travelers need: durability, quick dry, climate control, and culturally appropriate.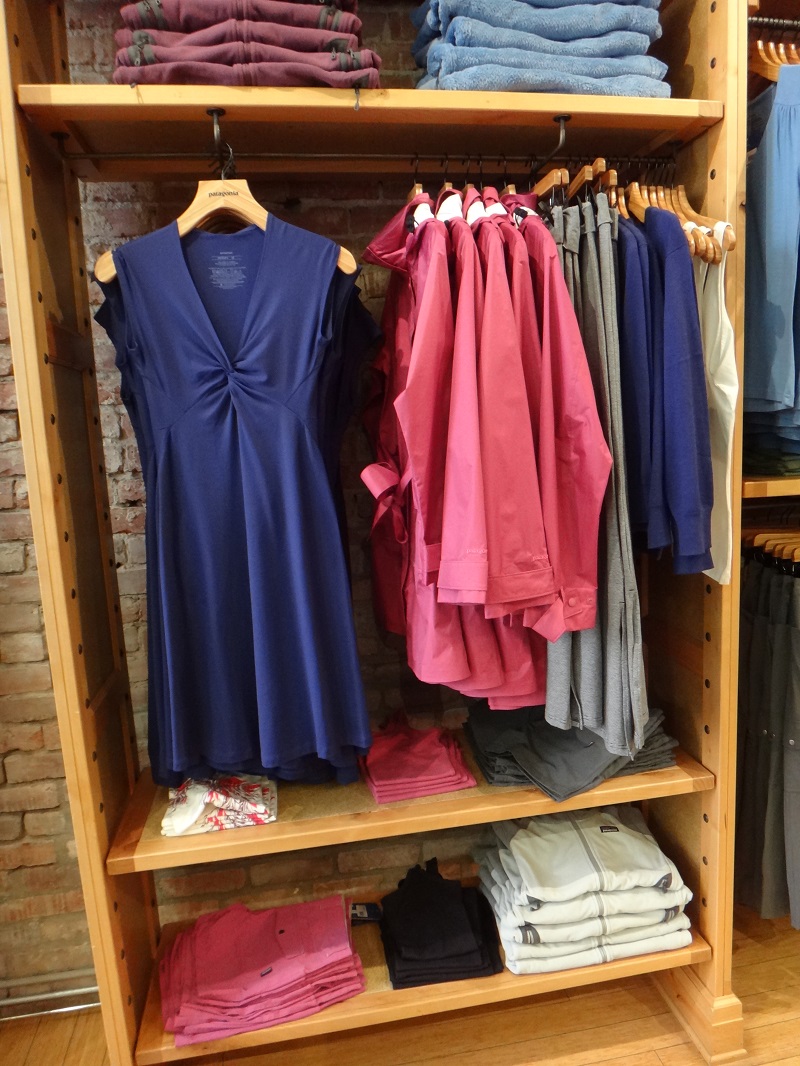 I went through their entire collection picking and choosing the clothing items I thought best provided ultimate travel function along with flattering styles. To show you how to mix and match travel clothing with your regular wardrobe, I've created these travel outfits using my personal clothes along with the Patagonia collection.
Top picks for Patagonia womens travel clothing: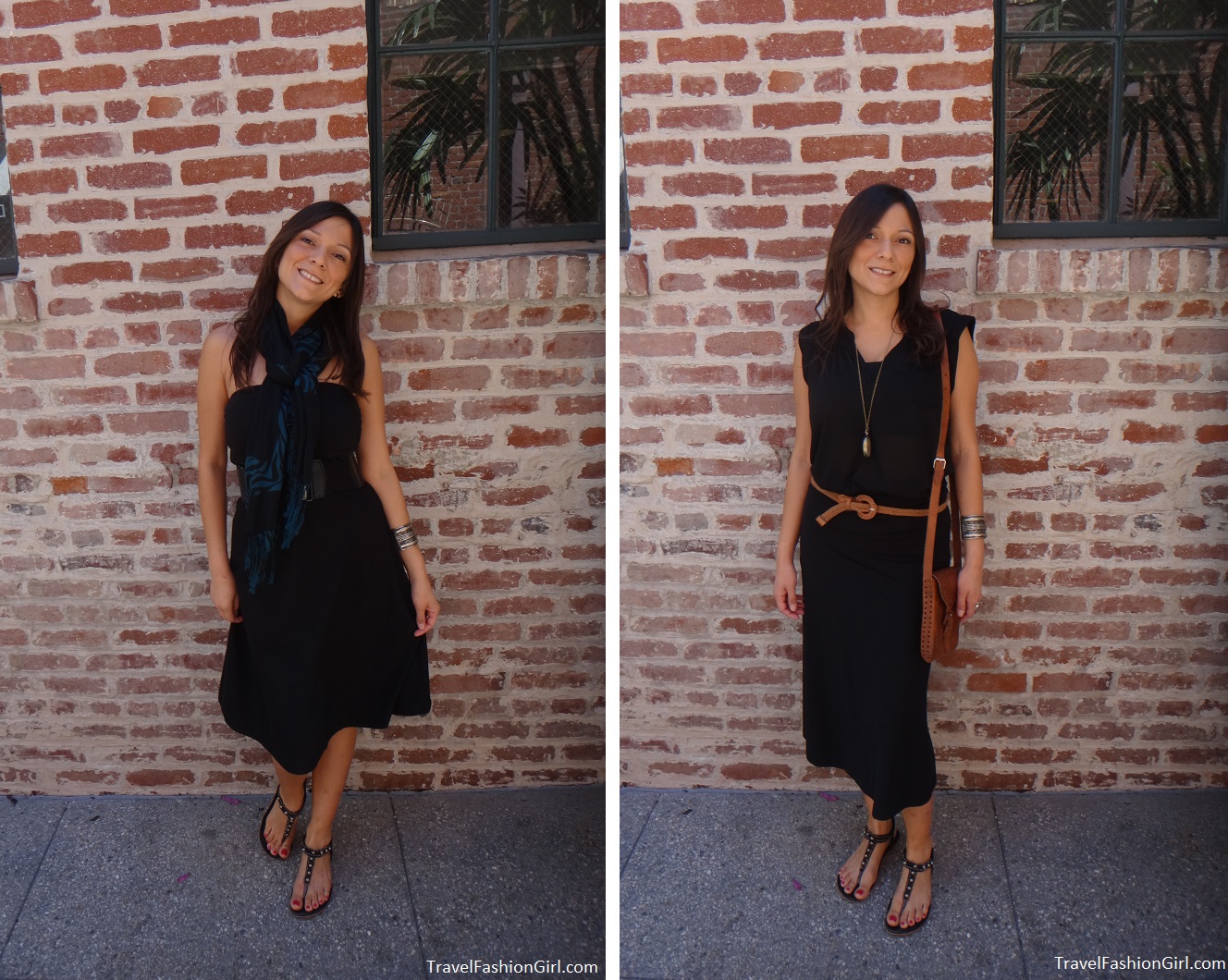 Patagonia Kamala Skirt
This is convertible travel dress that I love to feature in TFG's Universal packing Lists because it's a classic piece that women of all ages can enjoy. It can be worn as a travel dress or travel skirt and it can easily be jazzed up with accessories for easy versatility.
It's a pretty basic piece but offers versatility and durability that is key when packing a minimalist travel wardrobe. The one downside: the fabric is a bit heavy and bulky so you probably want to use this dress with an ultra-minimalist wardrobe such as the TFG Minimalist or Travel Essentials Packing List.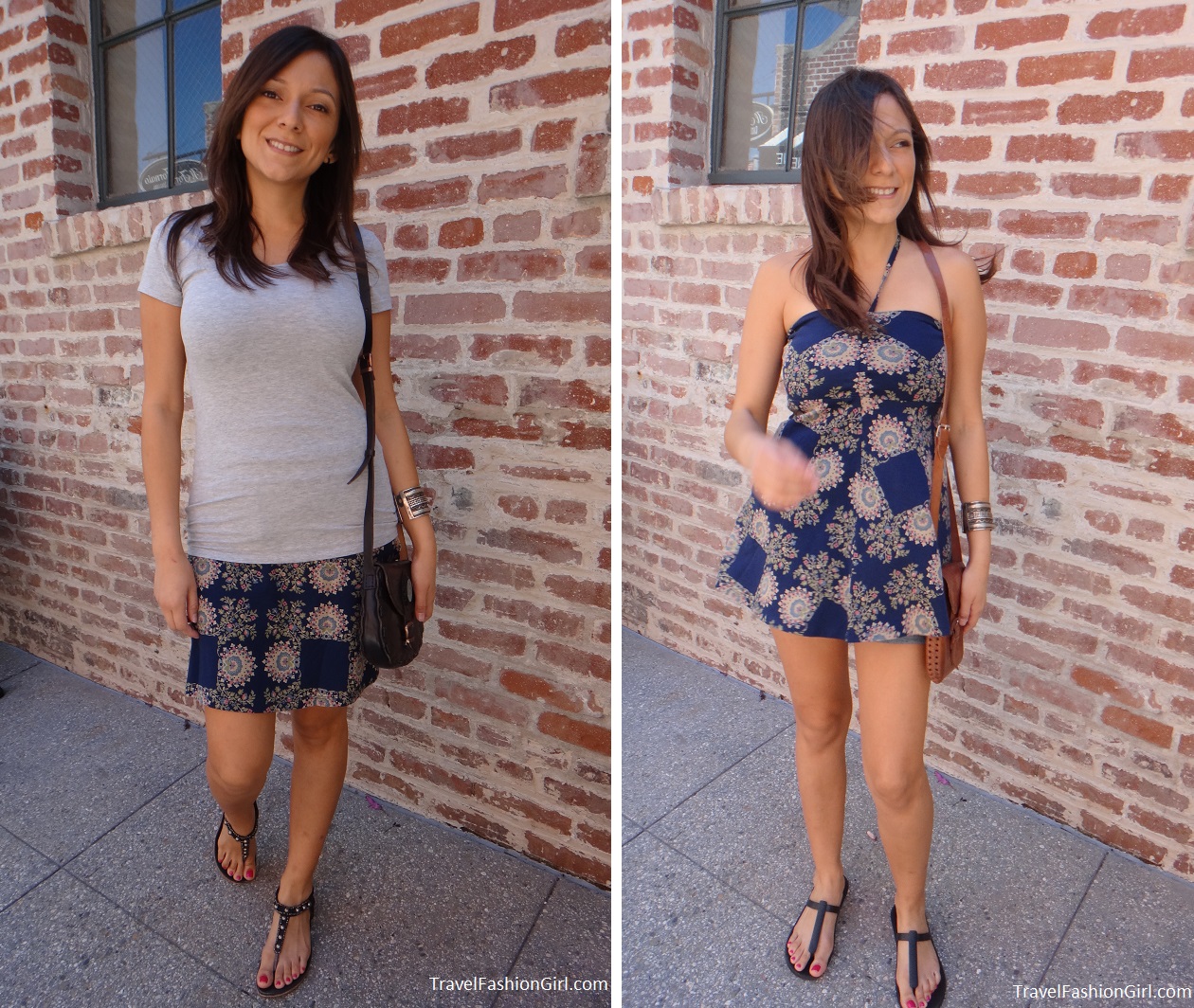 Patagonia Lithia Skirt
Patagonia also offers this basic shape in a shorter length in the form of a convertible travel skirt that can be used as a strapless travel shirt. Also available in solid basics and prints, this is idea for travelers that prefer a shorter cut.
Surprisingly, the blue pattern was my favorite. It looks a bit drab online but in person it's much cuter. For a shorter skirt that can be worn as a top, a print seems like the most versatile option.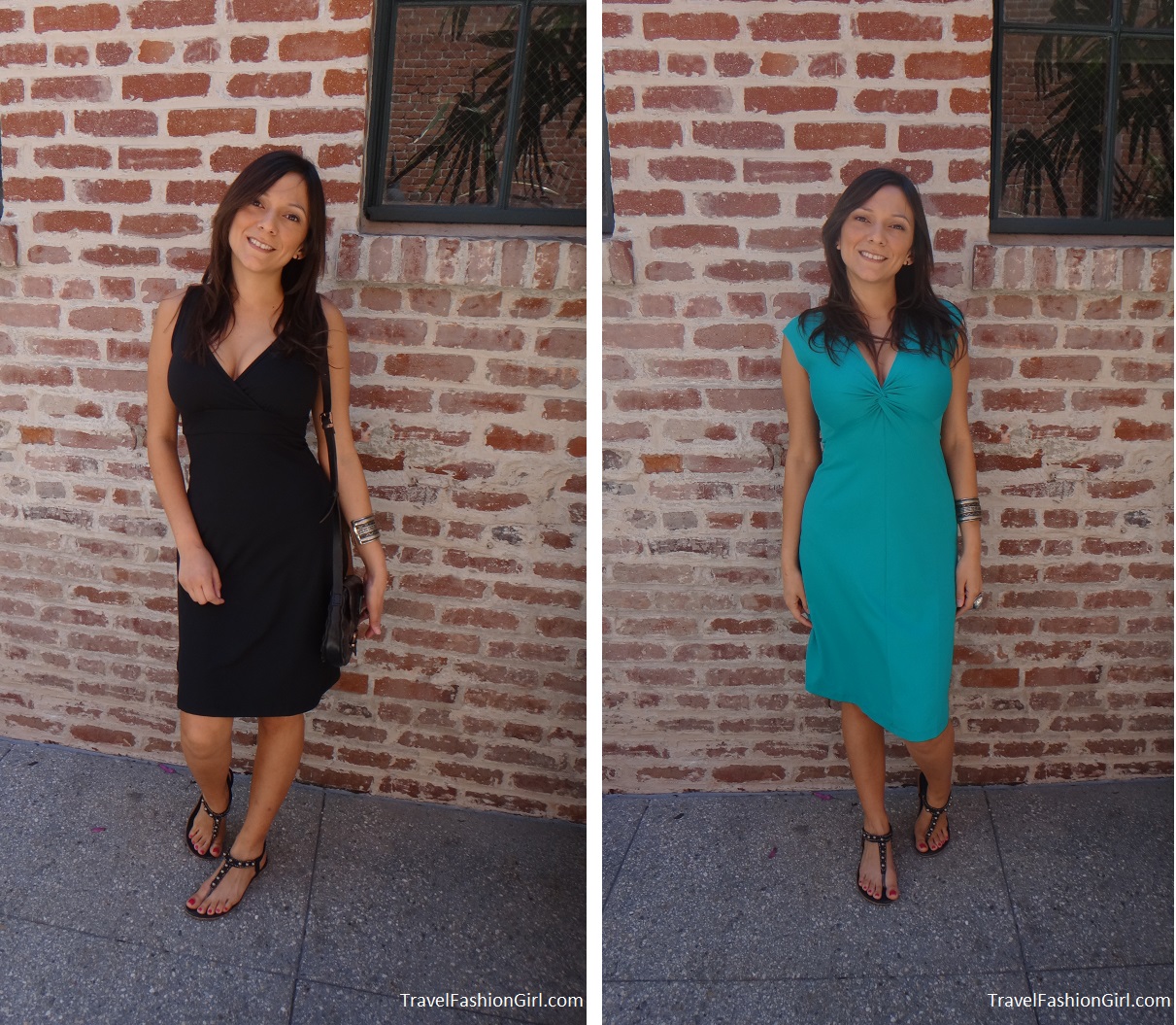 Patagonia travel dresses have top ratings in their online reviews so I thought I'd test them out for myself. I tried on two styles and I must admit that I can see why women love them. The styles are classic and the cuts seem to be flattering to various body types which is what every woman wants.
These dresses are great if you're someone that's looking for a great travel dress with good quality and classic style that can be worn all over the world. Wear them as basic sundresses or style them up at night – you can't really go wrong with these two styles.
Again, the fabric on these dresses tends to be on the bulkier side which is not my favorite feature if your goal is to pack light. I would recommend them for women that are traveling with minimal clothing items and want a classic travel wardrobe staple that will outlast their travels.
I'm 5'2" so if you're taller than me the length would probably fall above your knee.
For more dress options, check out TFG's Top 5 Convertible Travel Dresses.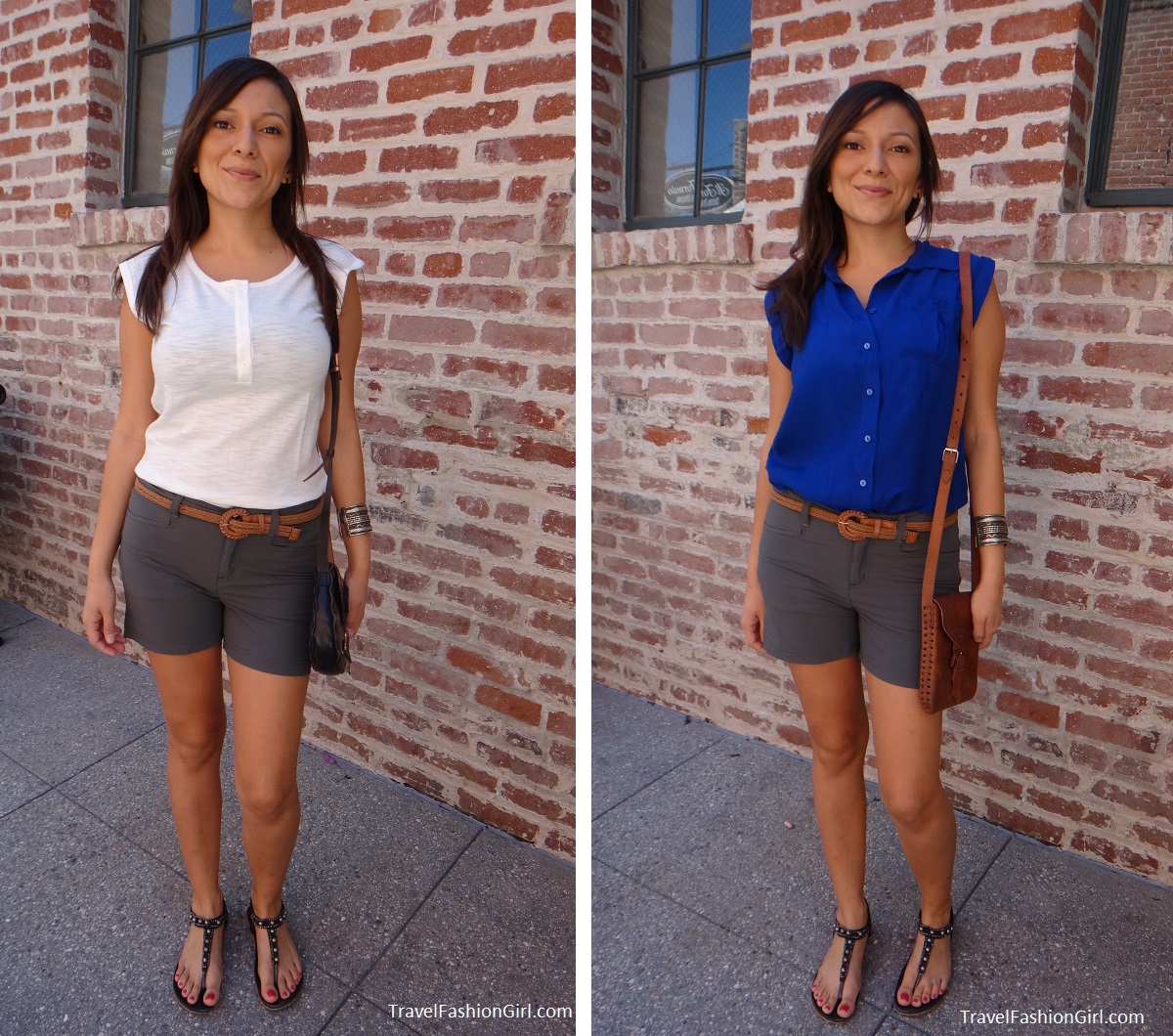 Most travel shorts on the market tend to be boxy and just plain fugly. When I tried out Patagonia's travel shorts I was in for a surprise. Their length is great if you're a girl that wants a classic set of shorter travel shorts (that aren't too short).
They had three colors and I really liked their rose toned pink. For some reason, their size 2 in the grey color fit me while the size 2 in the pink color was too small. Make sure to try these on before you buy.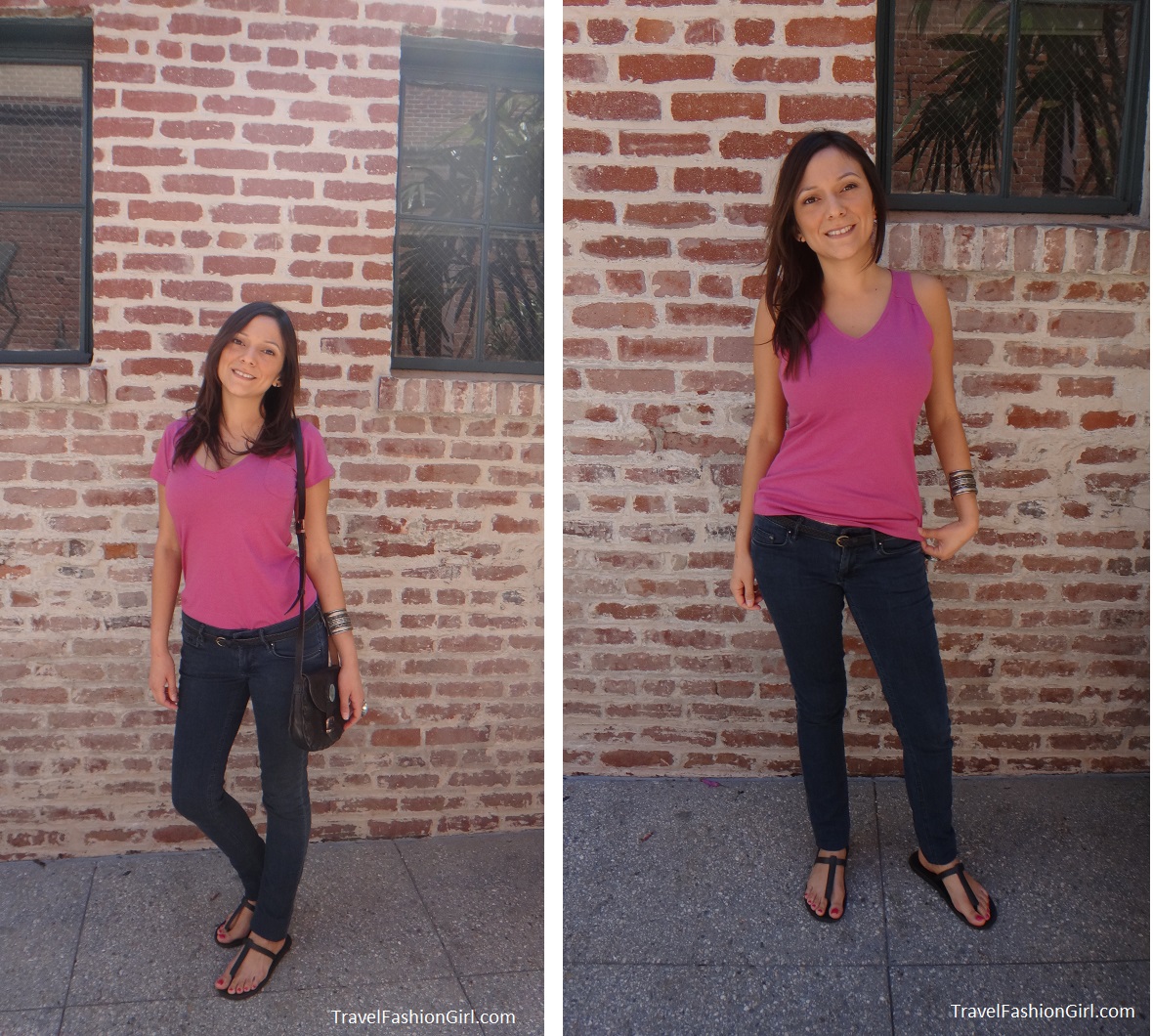 I must admit, I was very surprised at how much I liked Patagonia's travel shirt selection. Their fabrics were really nice and soft and the basic cuts would make a great addition to your travel wardrobe's essentials.
I tried out three styles which I really liked but my favorite was their classic tee which is the perfect travel basic.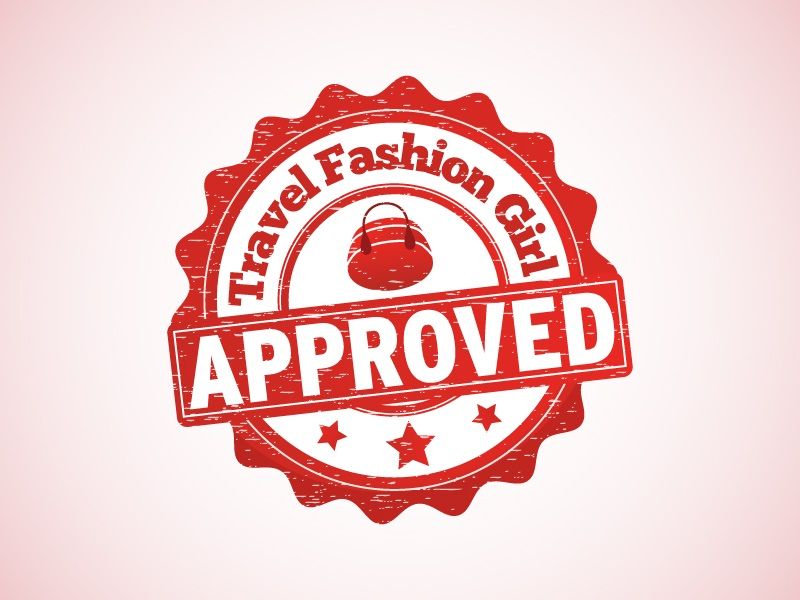 TFG Verdict
Overall, Patagonia offers a great selection of women's travel clothing. Their brand offers the best in functional clothing and their women's collection offers classic styles and shapes that women of all ages can love.The styles shown in this article are my top picks from their entire collection and would make a great addition to your backpacking clothes.
---
What are your favorite travel clothing brands? Please share in the comments!
---
For more posts on travel clothing for women, please read:
---
Hope you enjoyed this post on Patagonia's travel clothing for women. Please share it with your friends on Facebook, Twitter, and Pinterest. Thanks for reading!
---
*Please note: Patagonia did not sponsor this review or provide me with product samples. It's my job to find you the best in functional and fashionable clothes so this review is all for you! Thanks to the Patagonia team in Pasadena for letting me play dress up in their store.*
---