Support TFG by using the links in our articles to shop. We receive a small commission (at no extra cost to you) so we can continue to create helpful free content. Thank you, we appreciate it!
If you're in the need for some gift ideas for the active traveler this holiday season, we've rounded up a gift guide for the outdoorsy type in your life.
Want more? Check out all our Holiday Gift Guides and Editor's Top Picks!
---
Gift Ideas for Active Travelers
---
Table Of Contents
From adventure weekends away to round-the-word trips, these original products are sure to keep the active explorer happy wherever they trek, climb, run, ski, or dive!
Secret Bra Wallet Travel Money Pouch, $14.99, Amazon
RFID Bra Stash
The Compass Rose Secret Bra Wallet with RFID is an anti-theft device that you can use as a second, hidden money stash to store excess cash and cards so you only need to keep the essentials in your wallet. Should your purse get stolen or lost, you will have the bulk of your cash and cards securely stored underneath your clothing so you're never left unprepared.
This is the ONLY bra stash made with an extra long strap to fit DD+cup sizes and a range of bra band widths. PLUS, it's also the only bra stash with RFID protection.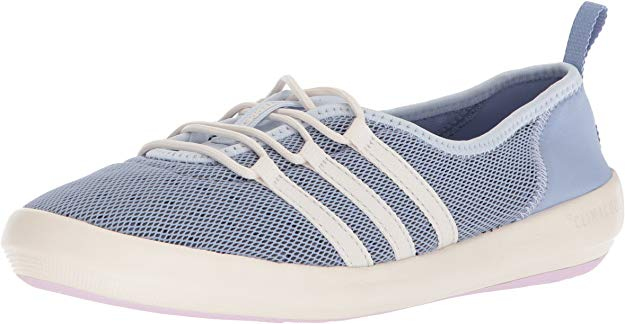 Terrex Climacool Boat Sleek Water Shoe, $29.99, Amazon
Water Shoes
The terrex water shoe from Adidas is a versatile sneaker that packs light and is the perfect all round water shoe for adventures in, on or around the water – the ideal gift for the water baby traveler in your life.
Buying for a person whose ideal trip involves unloading their kayak, traversing the rocky shore and spending the day on the water?
Sleek, sporty and summer-ready, this feminine take on the boat shoe has 360-degrees of climacool® made from perforated neoprene mesh with a soft lining and drainage system. Plus, it has a comfortable tongue material and traxion™ grip.
Eagles Nest Outfitters Hammock, $69.95, Amazon
Hammock
Got a traveling couple to tick off on your holiday gift list? Kill two birds with one stone with the DoubleNest hammock from Eagles Nest Outfitters. It offers an all-access pass to relaxation and is big enough for two and palatial for one. The DoubleNest manages to stuff easily into its attached compression sack meaning it can be taken anywhere and enjoyed.
The two-person hammock is tailored specifically to improve any adventure traveler's experience. Made from a soft and durable parachute nylon, the hammock sets up in seconds and packs down to the size of a grapefruit, while weighing about as much as one, too – only 19oz.
Perfect for an active individual, the attached compression straps allow you to clip the hammock to a bag, carry one in a coat pocket, or stuff one in your hand luggage and have a comfortable relaxation station/bed for the night (for when the hostel bunk beds just aren't doing it for you!) wherever you venture. They even come in a variety of colors so you can match your hammock to your favorite travel case.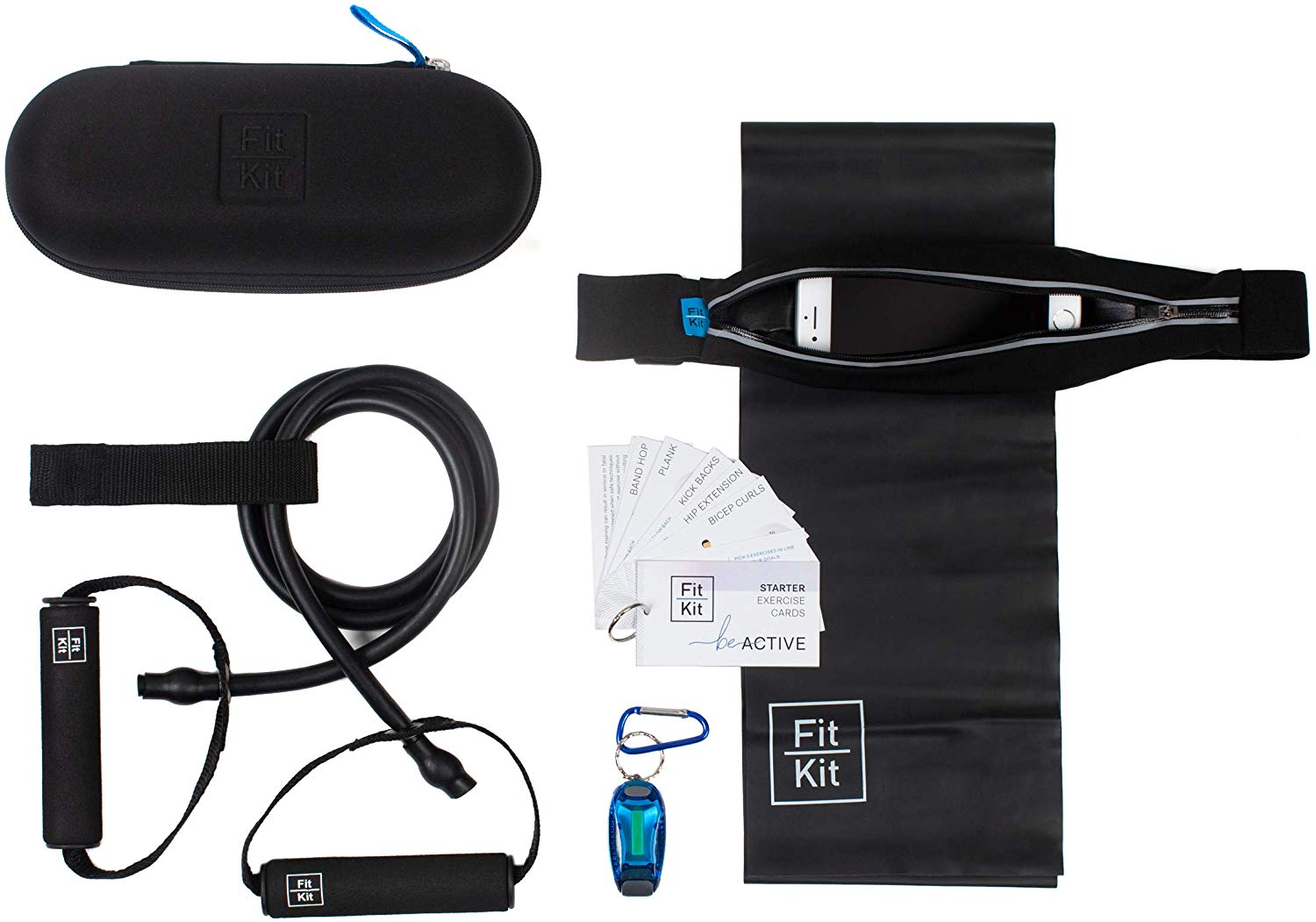 Fit Kit
FitKit is the perfect holiday token for the female fitness-loving traveler. This portable, packable fitness solution comes with all the tools for a total body workout on the go, featuring 250 + exercises including strength, cardio, and stretching to ensure your loved one can enjoy their routine fitness regime anytime, anywhere.
The FitKit is ideal for travel, as it weighs less that two pounds, comes in a sleek, portable case, is TSA-friendly, and fits snuggly into a carry on.
Go Pro Camera, $247.99, Amazon
Go Pro Hero 6
Time and time again, the compact size Go Pro camera makes out holiday gift guides. If you're not an avid photographer and just want an easy-to-use device to capture all your action shots, this is it.
Whether you're mountain climbing, snowboarding, surfing, or diving, strap it on and let it capture your moments.
Scrubba Wash Bag, $54.94, Amazon
The Scrubba
The Scrubba Wash Bag is the perfect gift for all the gadget aficionado travelers out there. This wash bag is the world's first pocket-sized washing machine (yes!) and is perfect for holidays and business trips when you don't want to pay exorbitant hotel laundry fees for your socks and underwear or waste time at a Laundromat.
The Scrubba wash bag is a compact (folds to pocket-size) and lightweight (6 oz) device that enables travelers to clean their clothes anywhere and anytime without requiring electricity and using 10 times less water than a conventional washing machine for small loads. The Scrubba wash bag is great for women who have sensitive skin as it reduces skin contact with water and laundry liquids – a major problem with traditional hand washing.
Yoga Paws Gloves and Socks Set, $27.95 – $37.00, Amazon
Yoga Paws
YogaPaws are the yoga mat you wear! Made with yoga mat material, the revolutionary design provides solid support, extra padding, and fit perfect in your purse, pocket, or travel bag, eliminating the chore of lugging around a bulky mat.
Yoga Paws make a unique gift for all the fitness loving travelers out there. Weighing just 5oz the product totally travels friendly fitting perfectly into your luggage and leaving plenty of space for souvenirs.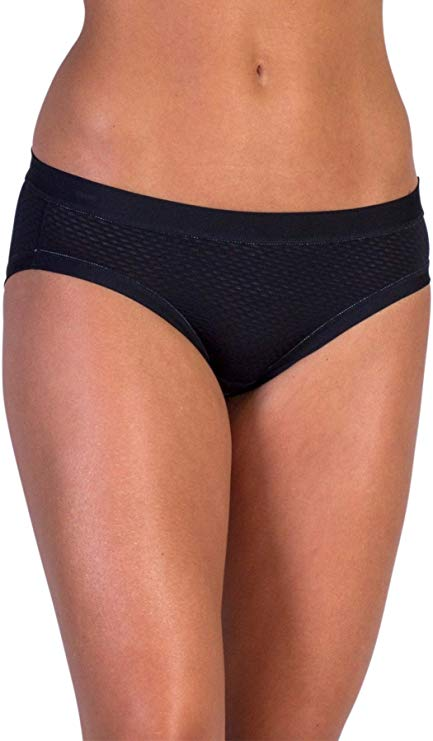 ExOfficio Give-N-Go Bikini Briefs, $11.96 – $26.00, Amazon
Travel Underwear
Looking for the perfect feminine gift for your loved one? Look no further. ExOfficio is a brand that produces pretty tech underwear perfect for the always on the go traveler!
This breathable underwear wicks away moisture and the quick-drying fabric means you're ready to go within hours. Odor-resistant technology keeps you feeling fresher on longer trips.
Aqua Lung HotShot Comb-Strap Diving Fin, $130.00 – $599.00, Amazon
Diving Fins
Aqua Lung is a one-stop shop for travelers with a passion for diving. It's the perfect place to pick something up for the underwater explorer in your life.
Aqua Lung women understand that performance, quality, and style are all about details. From the ergonomic and fashionable designs to the fit and comfort of our women's line, no detail has been overlooked.
A part of Aqua Lung's travel line, the Hotshot fin fits perfectly in carry-on luggage and the foot pocket is designed to be worn with bare feet so you can leave the booties at home.
---
What are your best gift ideas for active travelers? Share and comment below!
---
For more gift ideas, please read:
---
PIN THIS GIFT GUIDE TO SAVE IT!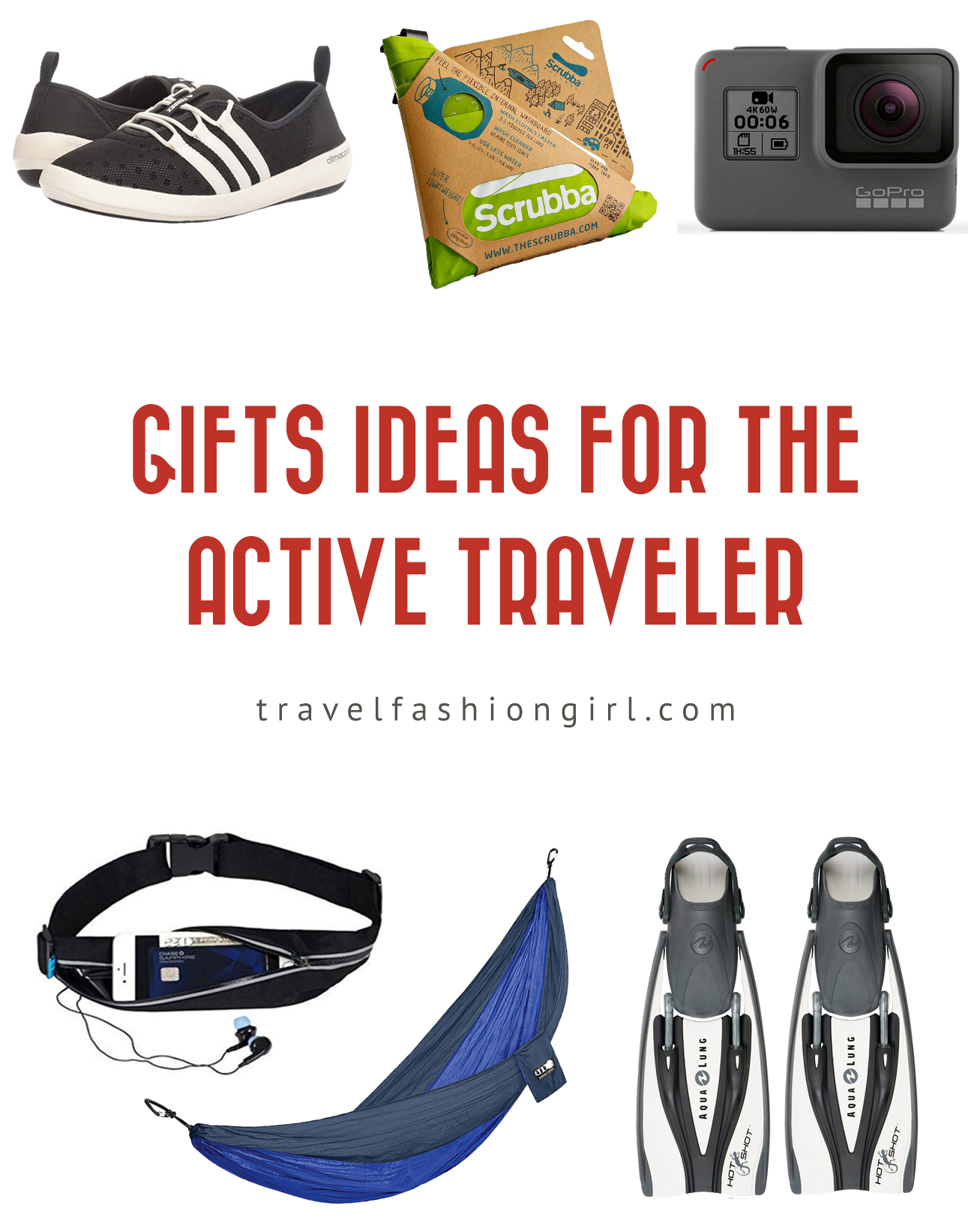 ---
Hoped you liked these gift ideas for active travelers. Please share this post with your friends on Facebook, Twitter, and Pinterest. Thanks for reading!
---