Support TFG by using the links in our articles to shop. We receive a small commission (at no extra cost to you) so we can continue to create helpful free content. As an Amazon Associate, we earn from qualifying purchases made on Amazon in addition to other retailers featured on the blog. Thank you, we appreciate your support!
Every clothing line has something special that makes them unique and for Vacay Style – it's definitely their 2 piece dress sets. Find out why I love them and how they're going to help you pack better than ever!
---
Vacay Style 2 Piece Dress
---
They call them their MAXi dresses and I think they're genius! What's better than a maxi dress for travel? A style that let's you make several outfits not just one. And that's the concept behind Vacay Style's 2 piece dress sets.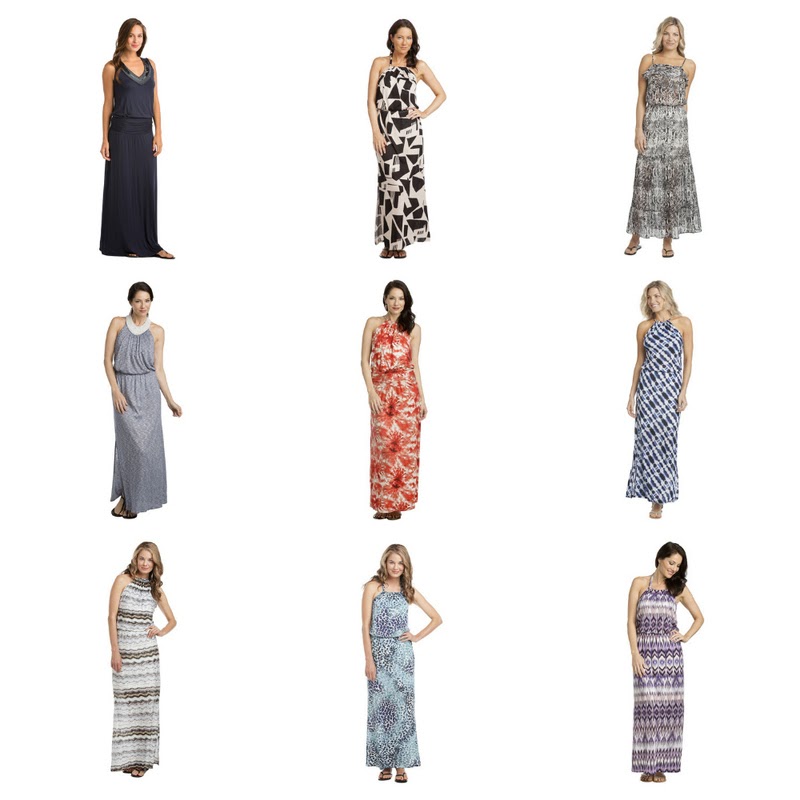 The ultimate in function meets fashion, you get the benefit of the relaxed, feminine fit of a maxi with the additional option to wear the separates as a top and skirt. With nine 2-piece dress sets to choose from, your travel wardrobe just got a makeover!
Dresses are the perfect staple to add to your functional travel capsule wardrobe. Learn more in my guide!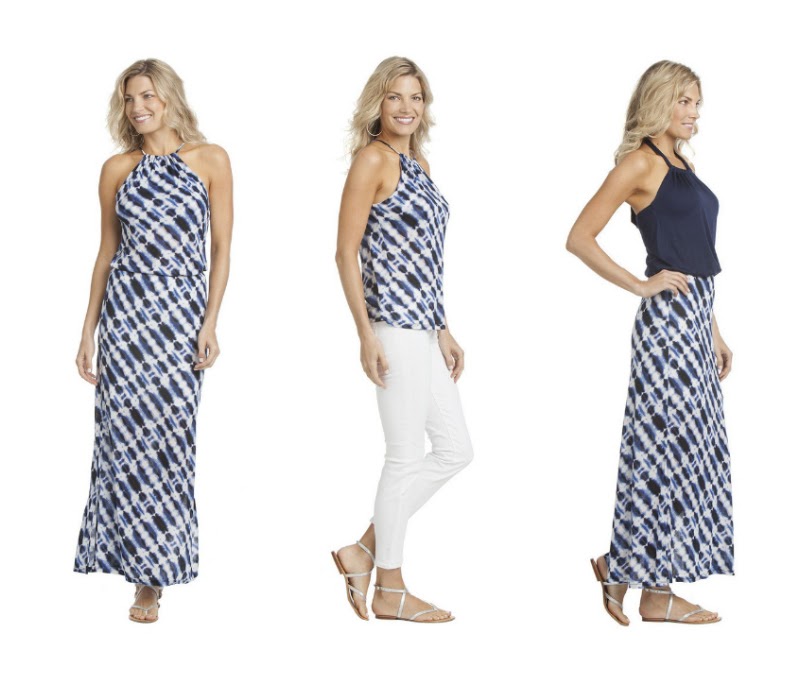 All their dresses come in vibrant prints so pair them with your favorite neutral for a complete transformation! As a bonus, some skirts can even be worn as a strapless dress.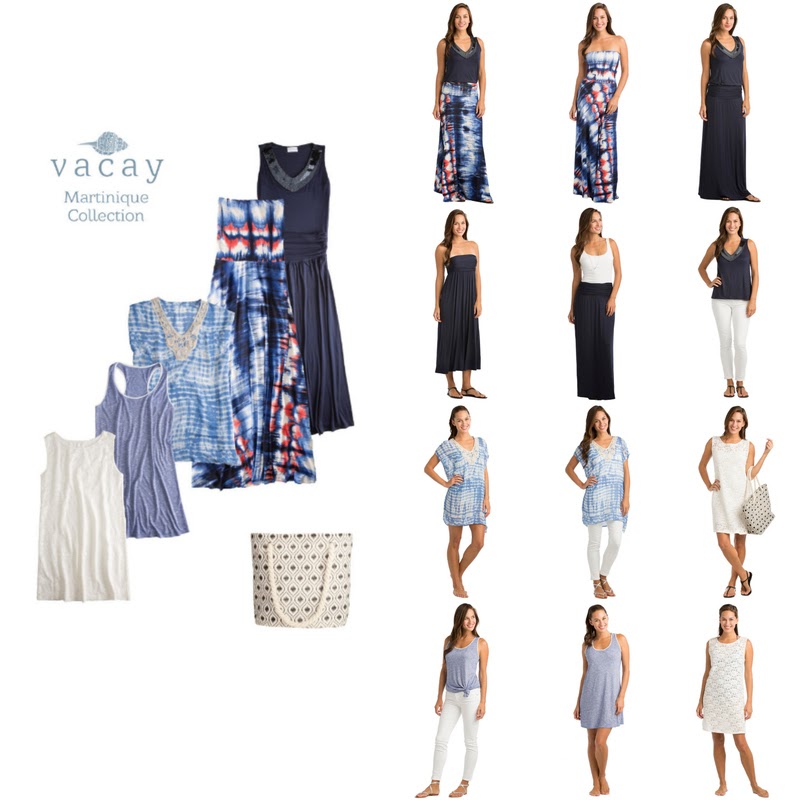 Vacay is dedicated to helping female travelers pull together stylish new looks for their upcoming vacation. Curated capsules such as the Martinique Collection shown above take you from the beach to sightseeing to dinner and more.
Their clothing is designed to maximize versatility and wearability, which makes packing for that next trip a breeze. 
Each of their collections features 5-6 pieces that work together (with a few essentials) to create 12 or more outfits, all of which easily fit into a standard size carry-on and work with one shoe color.
Use packing cubes to pack your dresses and save space in your suitcase!
Recently, I had a chance to test out the Newport 2-piece dress – it's part of Vacay Style's latest Newport Collection, which also consists of a versatile white halter top, 1-piece striped maxi dress, convertible dress, and white textured dress.
The best thing about this brand is their innovative designs. One of the key ways to pack light stylishly is to ensure that all the items in your travel wardrobe can mix and match to maximize your outfits.
With pre-coordinated sets, they make planning a breeze! No stylist needed.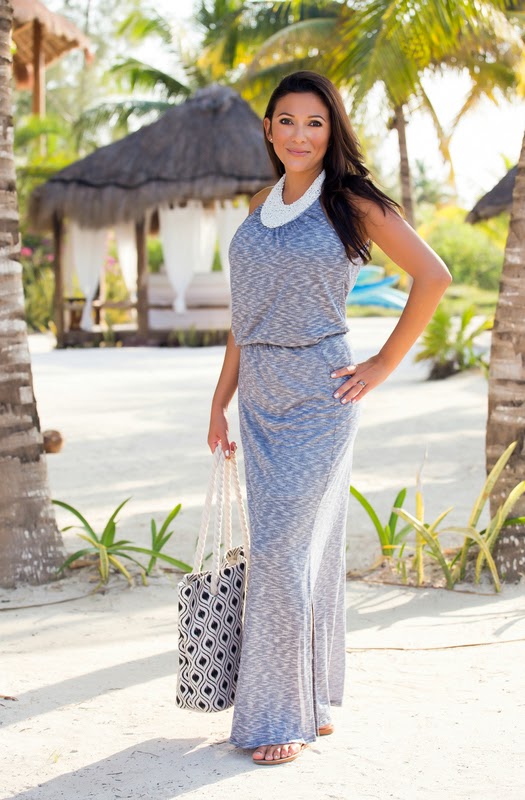 And their MAXi's are truly unique. All you need to do is pair the skirt or top with a neutral solid and you've got three travel outfits instead of just one dress.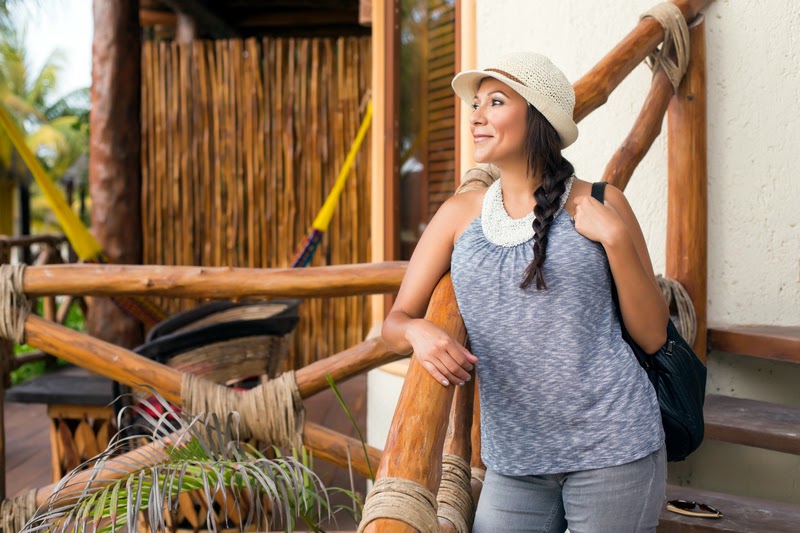 Add a pair of jeans in the city or throw on a pair of shorts, skorts, or capris by the sea.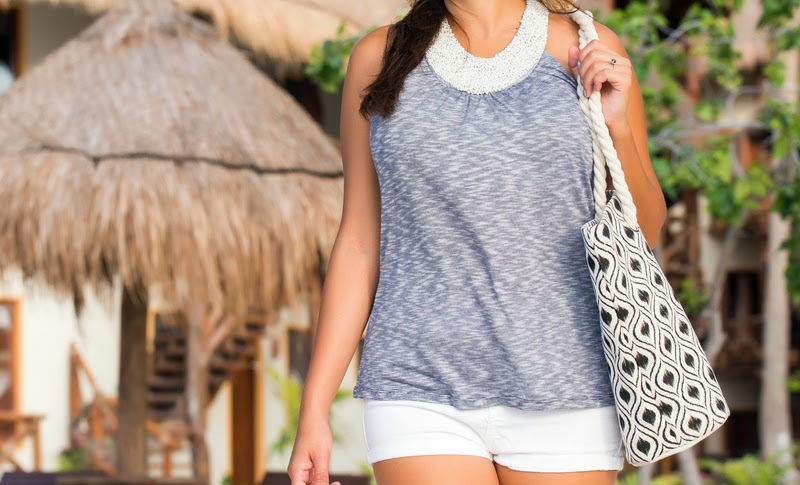 Add heels and jewelry for an evening look…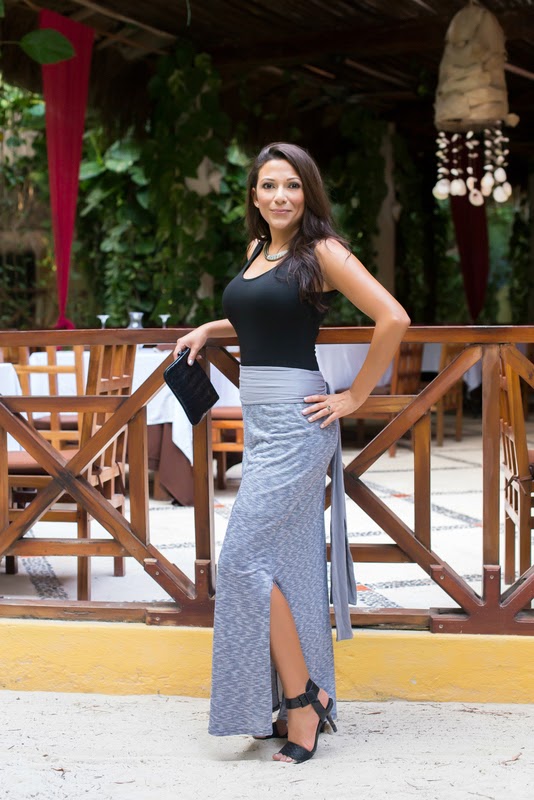 Now before I even continue talking about the dress, can we just stop and admire the beading around the neckline of the top for a moment? How gorgeous is that!
The delicate white beading adds an instant dash of elegance, no accessories required.
The one thing to note is that you'll need to hand wash this but when you're packing as a minimalist, you'll probably already be doing this anyway.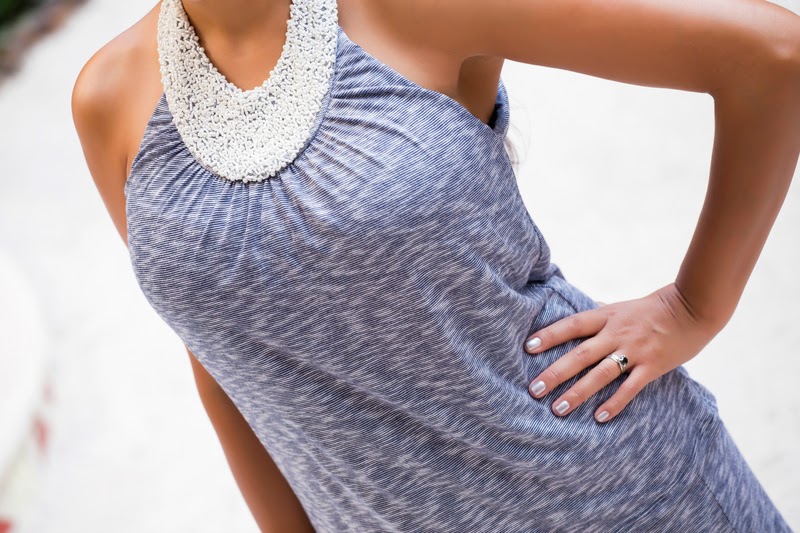 Vacay Style's MAXi's are extremely well thought out. The tops have a built in shelf and the skirts include a built in slip so you don't have to worry about your undies showing. I appreciate that the entire skirt isn't double lined – keeping you covered in just the right places while minimizing the bulk.
Vacay selects only travel friendly fabrics and designs their line to ensure unique, one-of-a-kind looks that are ready to wear right out of the suitcase. Their MAXi dresses are made with either a rayon blend or polyester chiffon fabric.
Their latest rayon/spandex material is my favorite. This is used on this Newport dress. The fabric is as buttery soft as modal or jersey but it's lighter and less bulky.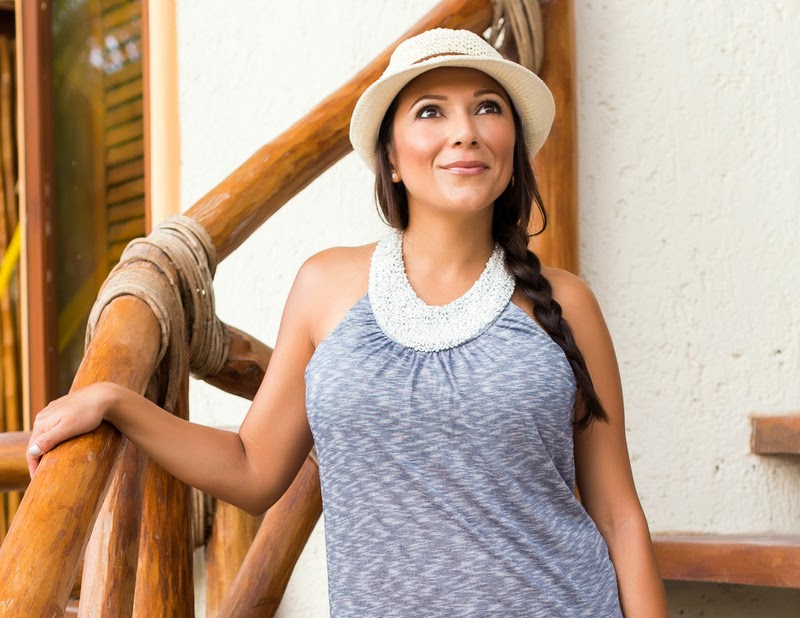 It's the ideal combination of fabric for travel that's easy to wear, not too casual, yet packable. The Cabo, Newport, and Martinique 2-piece dress styles all feature this fabric.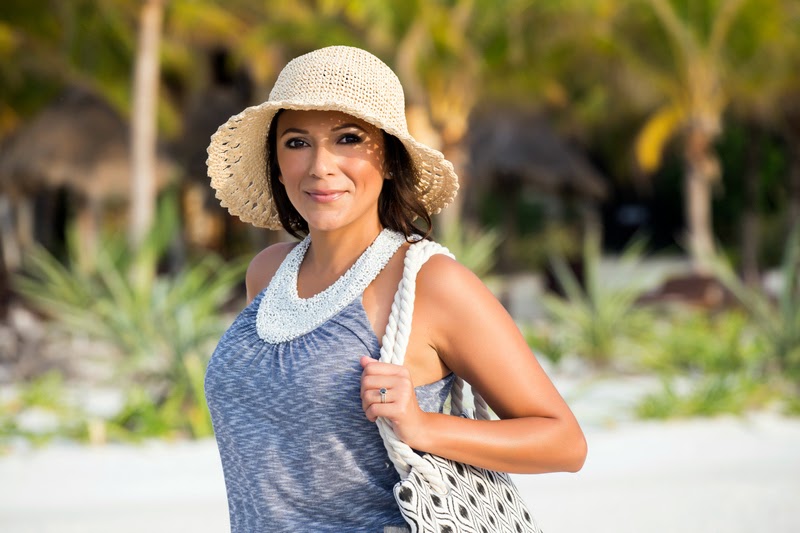 I'd previously worn one of their other MAXi 2 piece dress styles, the Maui (shown below), for my honeymoon in the Maldives. I was extremely happy with the versatility this dress offered.
I attempted a particularly challenging packing mission: to travel carryon only with scuba diving equipment. If you're a diver, you know this is NOT an easy feat.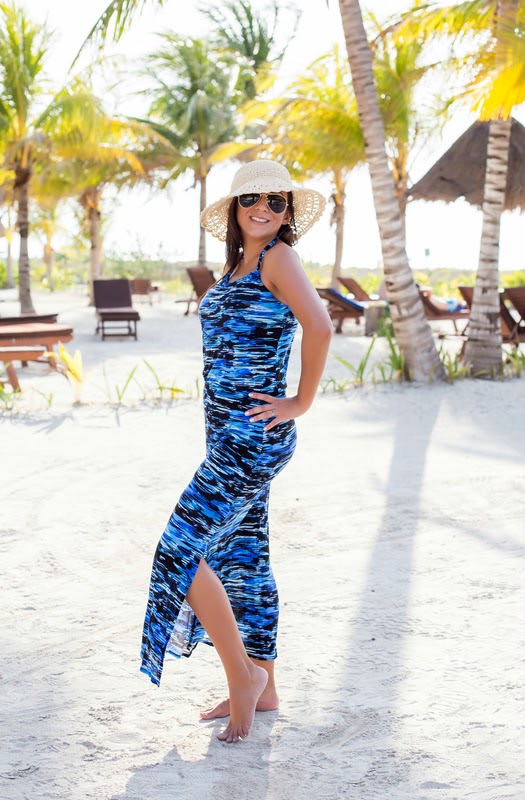 On my honeymoon I spent one week on a scuba diving liveaboard (AMAZING) and then a week chilling out in a resort. I wore the dress as a one piece and the skirt with a solid top for dinners. I paired the top with swimming shorts on the dive boat.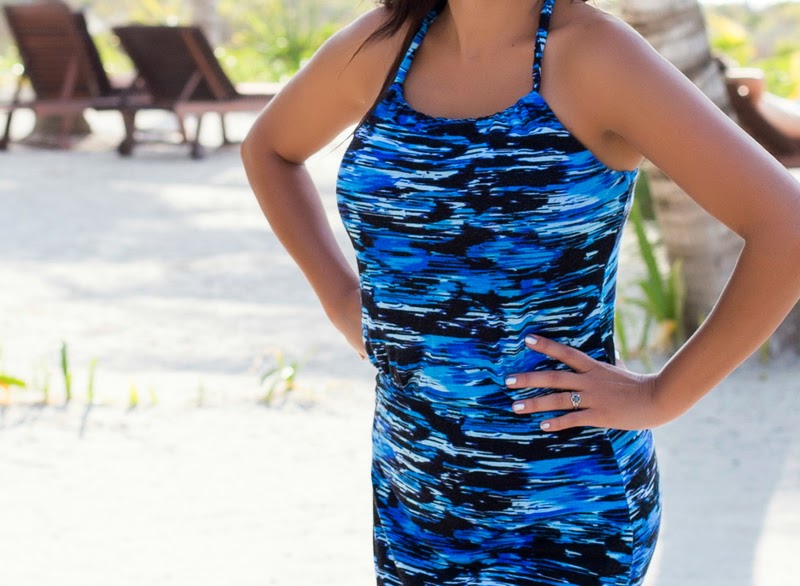 One of the things I forgot to mention is that you have the option to wear the top tucked inside the skirt or worn comfortably on the outside depending on how you feel most comfortable.
I've been looking for the perfect wide belt to wear with it but haven't quite found the right piece. Let me know if you can recommend one!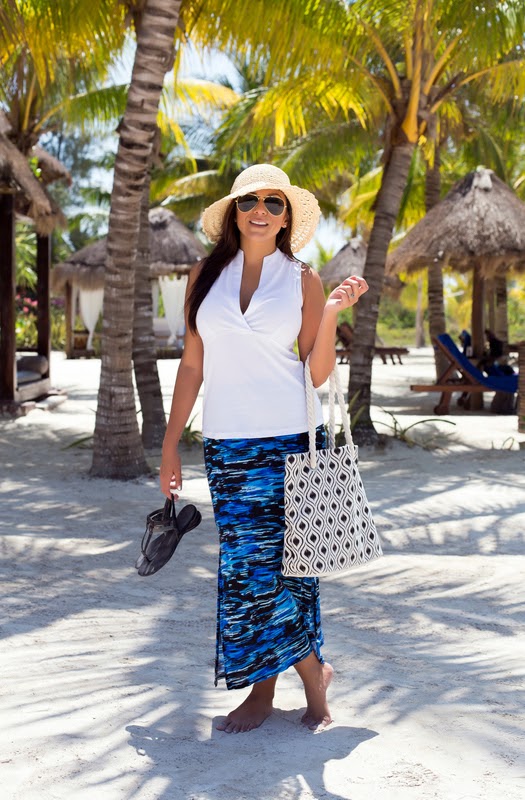 Vacay styles the skirt with a solid black top on their website but you can easily wear it with any of the colors from the pattern: black, blue, turquoise, aquamarine, etc. I love the striking contrast with a solid white top. The one shown here is from this brand.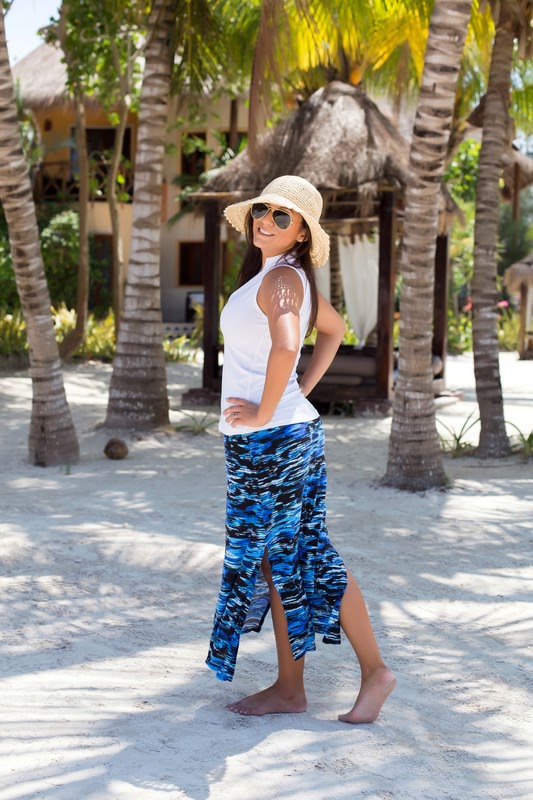 I didn't have a chance to hem the skirt so I've hiked it up a bit here so it wouldn't drag on the floor. However, even at 5'2″, I didn't feel the length of the skirt to be unmanageable.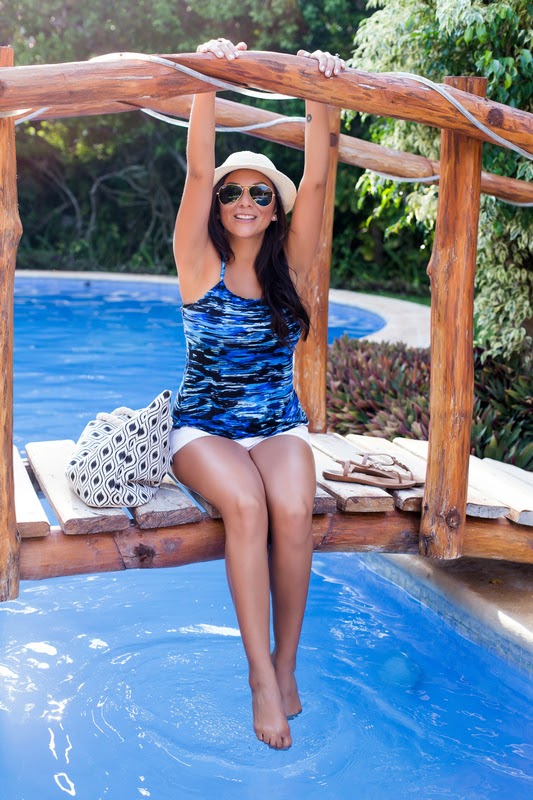 I also like the way the prints on both dresses photograph. After all, your vacation pictures will be a reminder of your special trip and you want them to look bright and cheerful. I like wearing blues by the sea but if you prefer contrasting colors, you'll love this piece.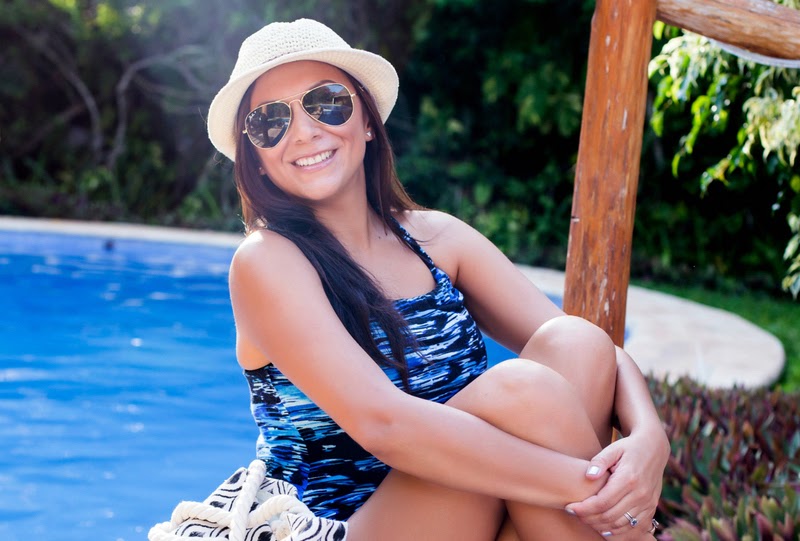 Like the idea of these travel dresses and want to see more colors? They have nine lovely styles to choose from. Take a look!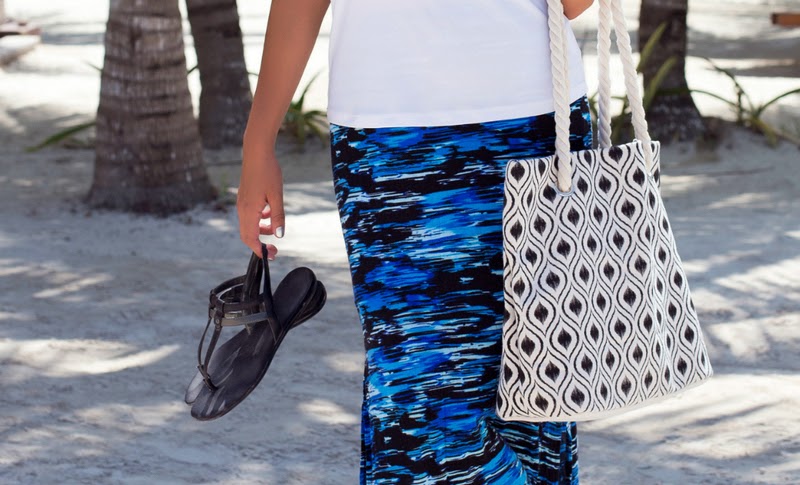 As an added bonus, if you buy a full collection, you get this beach bag FREE! It's exactly what I've been looking for but haven't been able to find here in Playa – even with the multitude of beautiful beachwear shops. I've gotten so many compliments on it. It's packable and could easily be used as an in-flight personal item, too!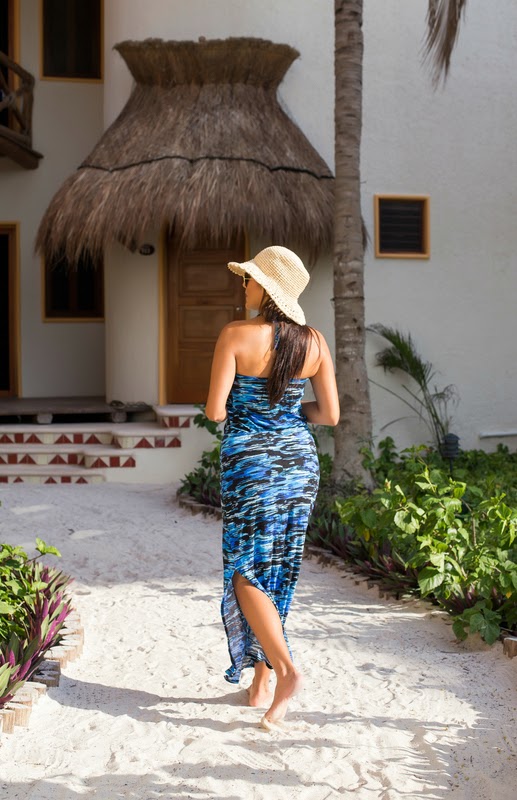 You can see all my Maldives pics and honeymoon clothes here!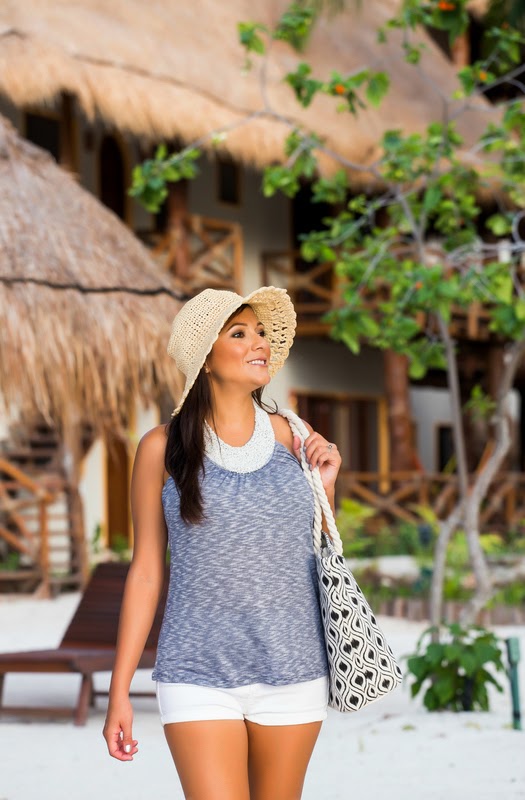 Thanks to Vacay's stylish and curated collections, packing has never been so easy! Vacay….  Look Amazing. Pack Smart.
We love to spoil you so they're currently offering a special discount for TFG readers. Use the code TFG10% to save. PLUS, they also offer international priority shipping. Shop now!
---
Where would you travel with these 2 piece dress sets? Share your wanderlust, comment below!
---
For more tips on packing light stylishly, please read:
---
LIKED THIS POST? PIN THIS PIC TO SAVE IT!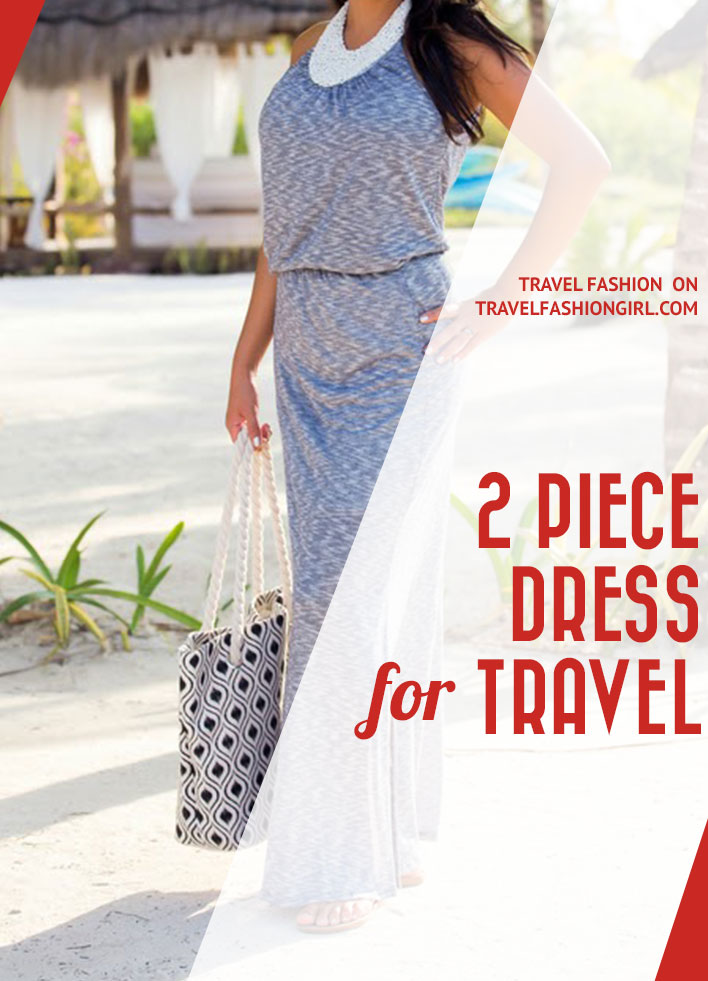 ---
We hope you liked this post on stylish 2 piece dress styles. Please share with your friends on Facebook, Twitter and Pinterest. Thanks for reading!
---
This post has been on behalf of Vacay Style – however, all feedback is my own.