Support TFG by using the links in our articles to shop. We receive a small commission (at no extra cost to you) so we can continue to create helpful free content. As an Amazon Associate, we earn from qualifying purchases made on Amazon in addition to other retailers featured on the blog. Thank you, we appreciate your support!
On the hunt for versatile, comfortable women's travel clothing? Introducing Helene Clarkson – beautifully crafted designs for the savvy traveler. I recently had the opportunity to test out their pieces – keep reading to find out more!
Prices on their website are listed in Canadian dollars so if you're shopping from the US, this means it's about 30% off for you due to the exchange rate! Prices based on rates as of March 2016.
---
Helene Clarkson Womens Travel Clothing
---
Table Of Contents
All savvy travelers know there are certain rules you need to follow in order to create a flawless travel capsule wardrobe.
Comfort is king
Fabric is key
Basics are essential
But basics don't have to be boring
In fact, basic clothing has to be amazing because it has to work extra hard for you. Jetsetters need their basics to perform anytime, anywhere, and never fail.
Helene Clarkson designs are anything but boring while providing maximum versatility, comfort, and quality.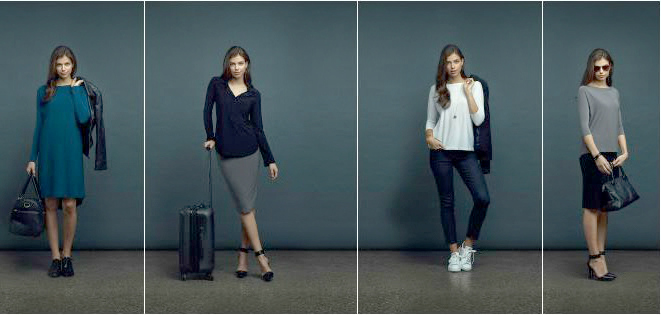 Whether traveling to a neighboring city or across the pond, Helene Clarkson pieces have multi-wear possibilities. They're wrinkle free, wash and wear, always flattering, and easily transition from day to night. They're made for busy, jetsetters that work as hard as they do and want to look incredible.
Mix and match them, flip them and reverse them. They're the basics that help create the core of the best travel wardrobes.
The key to packing light is to use packing cubes to compress your clothing as shown in this video!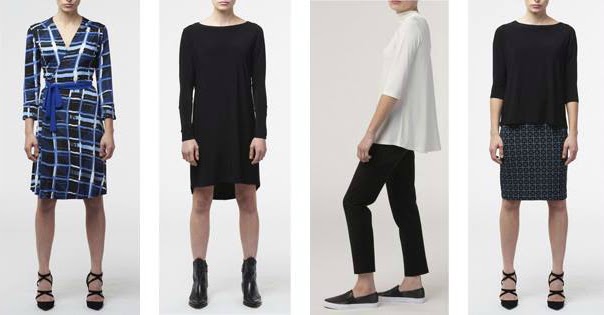 Functional Travel Fashion
It may be surprising but fabrics hold the secret to determining whether a clothing item is good or bad for travel. How it looks, feels, and performs on the road is everything. Not just any clothing item will do and sometimes its the pieces you least expect.
Helene Clarkson womens travel clothing specializes in the best jetsetter fabrics such as super soft knit jersey that is not just practical but flattering on any figure. They are forgiving and light enough to flow and move with you with ease while offering these benefits:
Wrinkle resistant
Quick Dry Functional Fiber
Soft Hand Feel
Easy Wash and Wear
Non-Fading
Learn more about the importance of travel fabrics!
Who This Line is for
Every trip and traveler is unique and not one item is made for all. So who does this line work for?
Women that want their basics to work double-duty
Travelers that want no-fuss versatile clothing
Jetsetters that want feminine silhouettes
Weekend warriors that want the most from less items
Business travelers that want easy to wear, wrinkle-resistant pieces
If you can appreciate the value of owning a quality women's travel clothing item, this line's for you.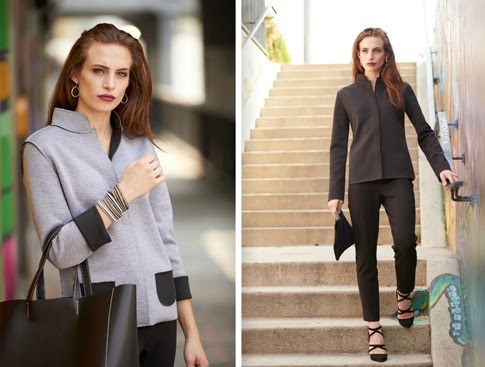 What types of trips is this best suited for
Heading to the beach or mountain top? Give this one a miss. Calling all city girls with trips such as:
Multi-stop trips to European destinations
Metropolitan cities such as New York, Sydney, or Toronto
Trips that require you to dress up or attend a semi-formal event
Business travel where you want clothes you can wear on and off duty
Want to know the best pieces to choose from? Take a look at the three pieces I tested out below!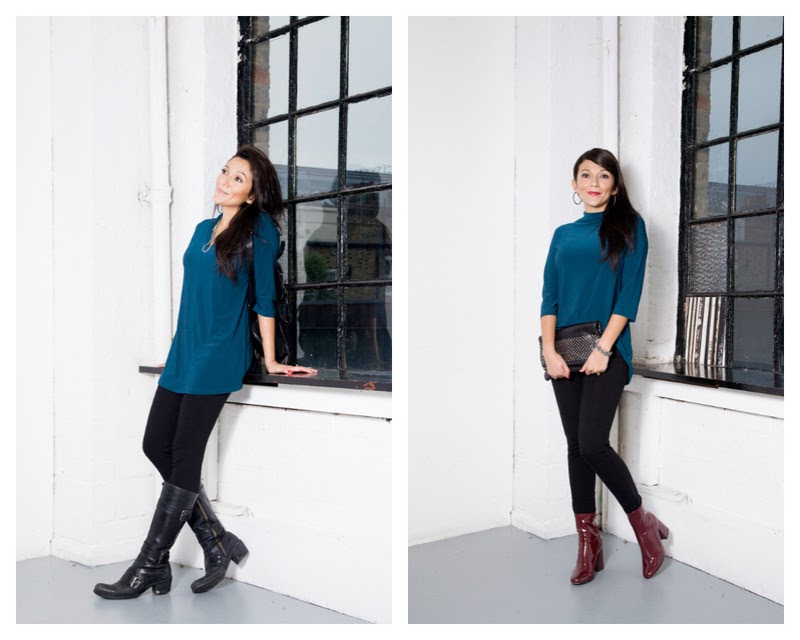 Oulu Reversible Top
The Oulu reversible top is my favorite piece in the collection. I've never seen such a unique clothing item for travel. It has a v-neck design on one side and then you can flip it around to show a turtle-neck style on the other side. Talk about working double-duty. I am a big fan of this top.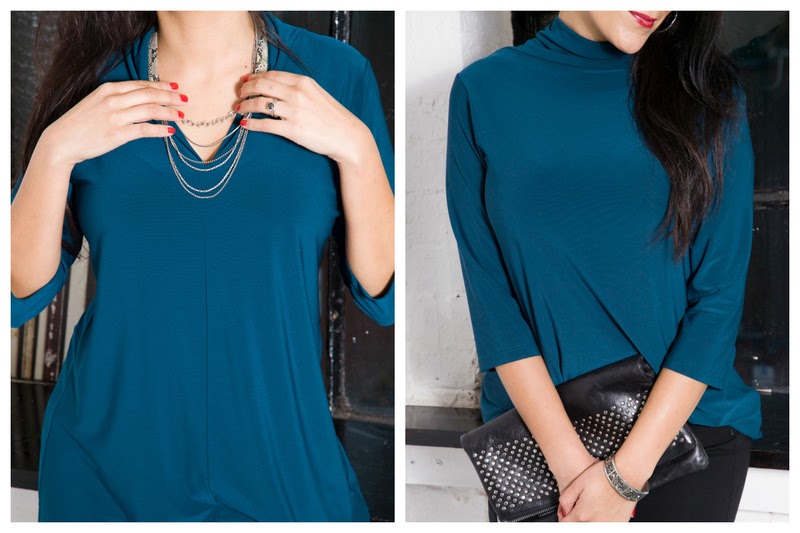 Which way will you wear it today? Try it as a V-neck, which is so flattering, and makes for a classic look that's great with dress pants or a pencil skirt. But flip it around as a turtleneck and you've got a retro silhouette with a dramatic back. Love it with skinny jeans or leggings.

As a jetsetter every second wasted getting ready is a memorable sightseeing experience lost. The faster you get ready the better! I changed in a moment as I'm showing you in the above image where I "reversed" the top without even taking it off. Why can't there be more travel-friendly blouses like this one?
It's very rare to find that one item that should be an absolute staple in every traveler's closet. The Oulu Reversible top is definitely one to add to your wardrobe of essential womens travel clothing.
The color I'm wearing is Sea and they also have three neutrals that can mix and match with everything else you already own: white, black, and charcoal. This is one of those tops that you'll probably want in every color.
Learn more about the Oulu Reversible Top!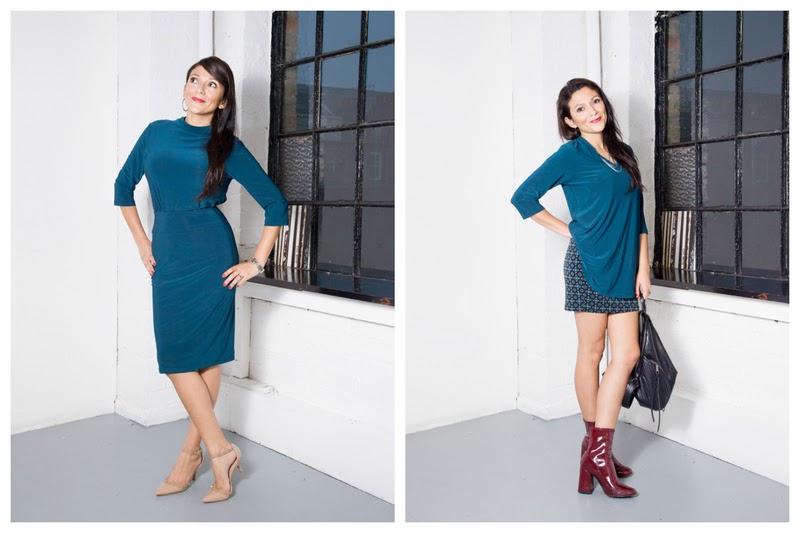 Bria Reversible Skirt
The Bria Skirt is completely reversible and turns from a neutral solid to a modern print. It's easy to change your look and you can even flip your skirt in the ladies' room in a pinch. Rolled up in your luggage, the Bria takes up no more room than a scarf and yet has you ready to go for an afternoon at the park or museum, or night out.
It works beautifully with the Oulu reversible top. Wear the skirt on the printed side with the solid color for a day time look then wear the same color together and tuck in your blouse for an illusion of an elegant dress. I loved the look on the upper left hand image! I felt sexy and sophisticated while wearing two functional clothing items.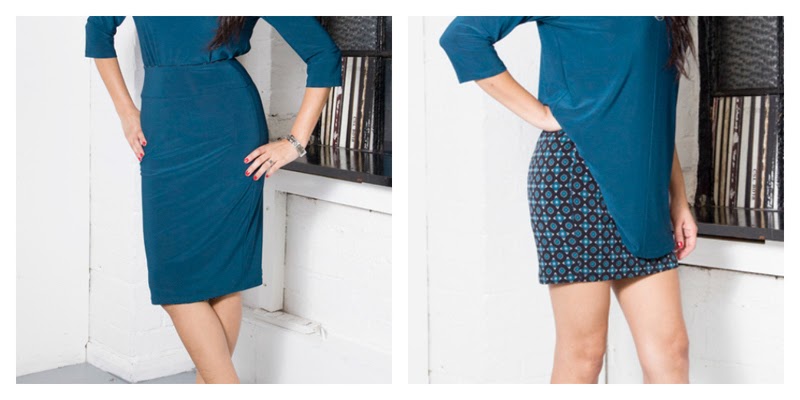 The top is actually mean to be worn outside the skirt, not tucked in the way I've styled it. However, if your aim is to draw attention away from your hips and tummy then wear the top outside the skirt. With my height, I preferred the tucked in look. What about you?
In the upper image you'll notice the skirts are two different lengths. Actually, this was another thing I took creative liberty with.
The skirt is meant to be worn knee length but I wanted to see if it was versatile enough to easily alter the length, too. At my height, I pulled it up to my chest to transform the knee-length to a mini skirt! I know it's not how you are supposed to wear it, but you have to play with your clothes to truly see just how much you can maximize them.
The skirt I'm wearing is the Sea/Diamond print but it's also available in  Charcoal/Peacock, Black/Gunmetal, Chevron/Black, and Black/Blue Night.
Learn more about the Bria Reversible Skirt!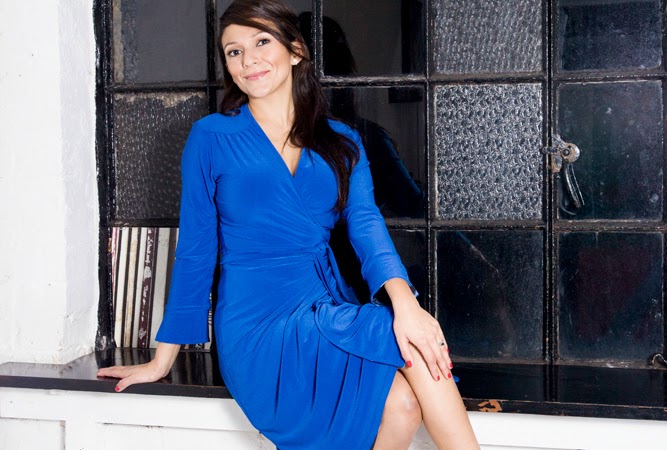 Barra Reversible Wrap Dress
This classic, curve-flattering Barra Wrap Dress is actually two dresses in one. Yes, it's totally reversible, with no tags or seams hanging out. IT'S CURRENTLY ON SALE AT OVER 50% OFF!
Wear the print side during the day for work and a stylish lunch. When the sun goes down, flip it around, pair it with heels, and you're set for an elegant evening out. Pack this travel dress for a weekend trip and you won't need much else. Made of the softest jersey knit fabric that won't wrinkle in your carry-on.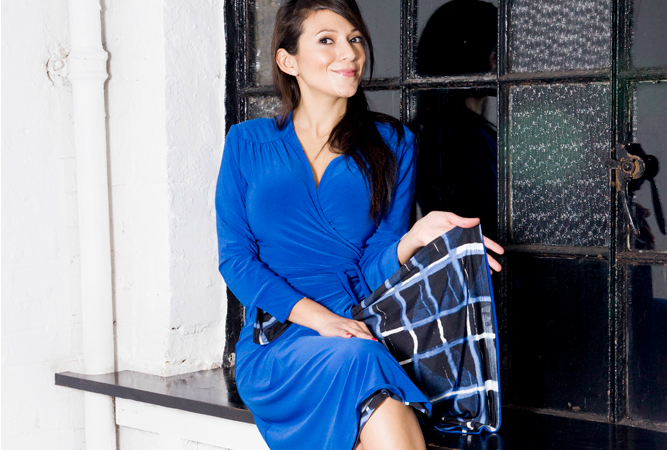 The cobalt color was absolutely gorgeous and the detail on the shoulders was positively elegant. It reminded me of something I've seen Kate Middleton wear and she truly is royalty.
Not only is this dress ultra-feminine but it's also wrinkle free, wash and wear, and a favorite for existing Helene Clarkson customers. This is one of those uncommon womens travel clothing items that you'll be happy to wear at home and won't just own for practical reasons.
Currently it's available in three colors: black or cobalt with the blue night print or charcoal grey with grey night print. You can see the black one in the image below.
One thing to keep in mind is that it is double lined which means the fabric is not lightweight. However, you don't have to worry about anyone seeing your bra and undies underneath or the need for under layers.
If you prefer a hem that's a few inches above the knee or stand tall at 5'2" like me you'll need to shorten or tailor this dress . It's the best way to ensure a chic, effortless look with every outfit!
Learn more about the Barra Reversible Wrap Dress! As of March 2016, it's on sale for more than half off the regular price!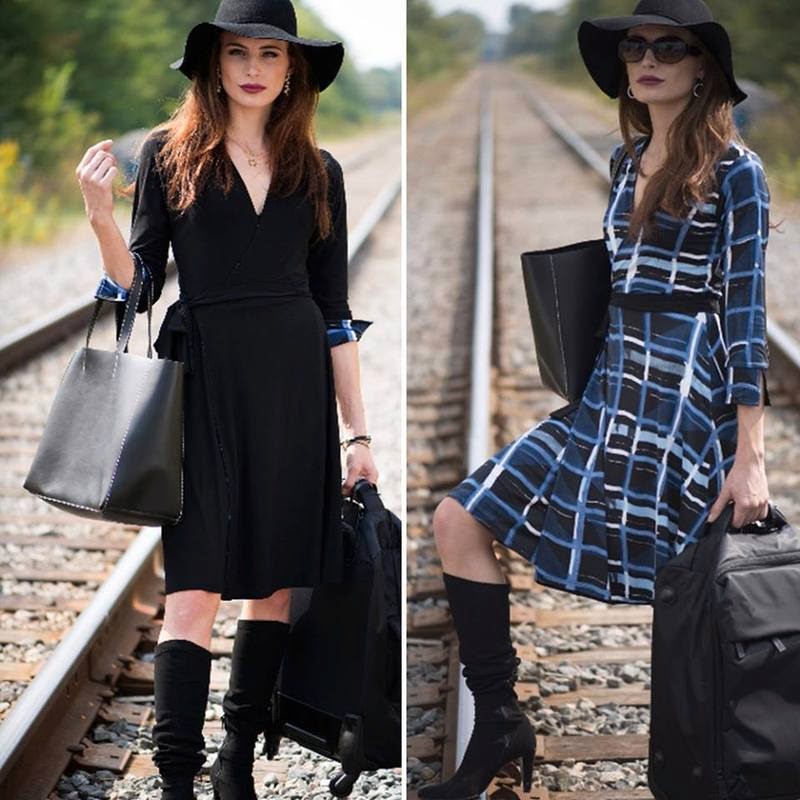 The collection shown above is Autumn 2015 and is best for travel between autumn – spring. One of the most noticeable things about Helene Clarkson's womens travel clothing is how easy they are to work with. I didn't have to press the fabric even after it had been in a suitcase all day and it really was comfortable to wear. Love that!
The fabric is double-lined which means it doesn't show every single bump and lump and you don't have to worry about packing under layers. Each item easily transitions from night to evening and has good quality and construction.
Comfort doesn't have to look sloppy and versatility doesn't have to be gimmicky. Helene Clarkson women's travel clothing knows how to do comfort and versatility with first class style! And don't forget, prices on their website are listed in Canadian dollars so if you're shopping from the US, this means it's about 30% off for you due to the exchange rate! Prices based on rates as of March 2016. Shop now!
---
How do you find a balance between comfortable and stylish womens travel clothing? Share in the comments!
---
For more womens travel clothing, please read:
---
We hope you liked this post on Helene Clarkson womens travel clothing. Please share with your friends on Facebook, Twitter, and Pinterest. Thanks for reading!
---
Please note: This has been a product review on behalf of Helene Clarkson. However, all opinions are my own.
---