Support TFG by using the links in our articles to shop. We receive a small commission (at no extra cost to you) so we can continue to create helpful free content. As an Amazon Associate, we earn from qualifying purchases made on Amazon in addition to other retailers featured on the blog. Thank you, we appreciate your support!
Female travelers tend to generally agree on their opinion about convertible pants for women: disgust. The mere thought of wearing them makes them dread traveling. Why do women hate them and men love them?
To answer that question, Harry Jarvis, the editor of new men's blog Travel Gear for Men, shares why most men can't live without these travel pants.
Read more about the pros and cons of convertible travel pants for women!
---
Why Men Love Convertible Pants
---
Convertible pants, those pants with zip off legs that become shorts in seconds, have often garnered as much criticism as praise. Generally people either love them or hate them, and it's usually right down the gender line.
While most women cannot stand them, most men seem to find them indispensable. But why? Here's one guy's insight as to why he loves convertible pants: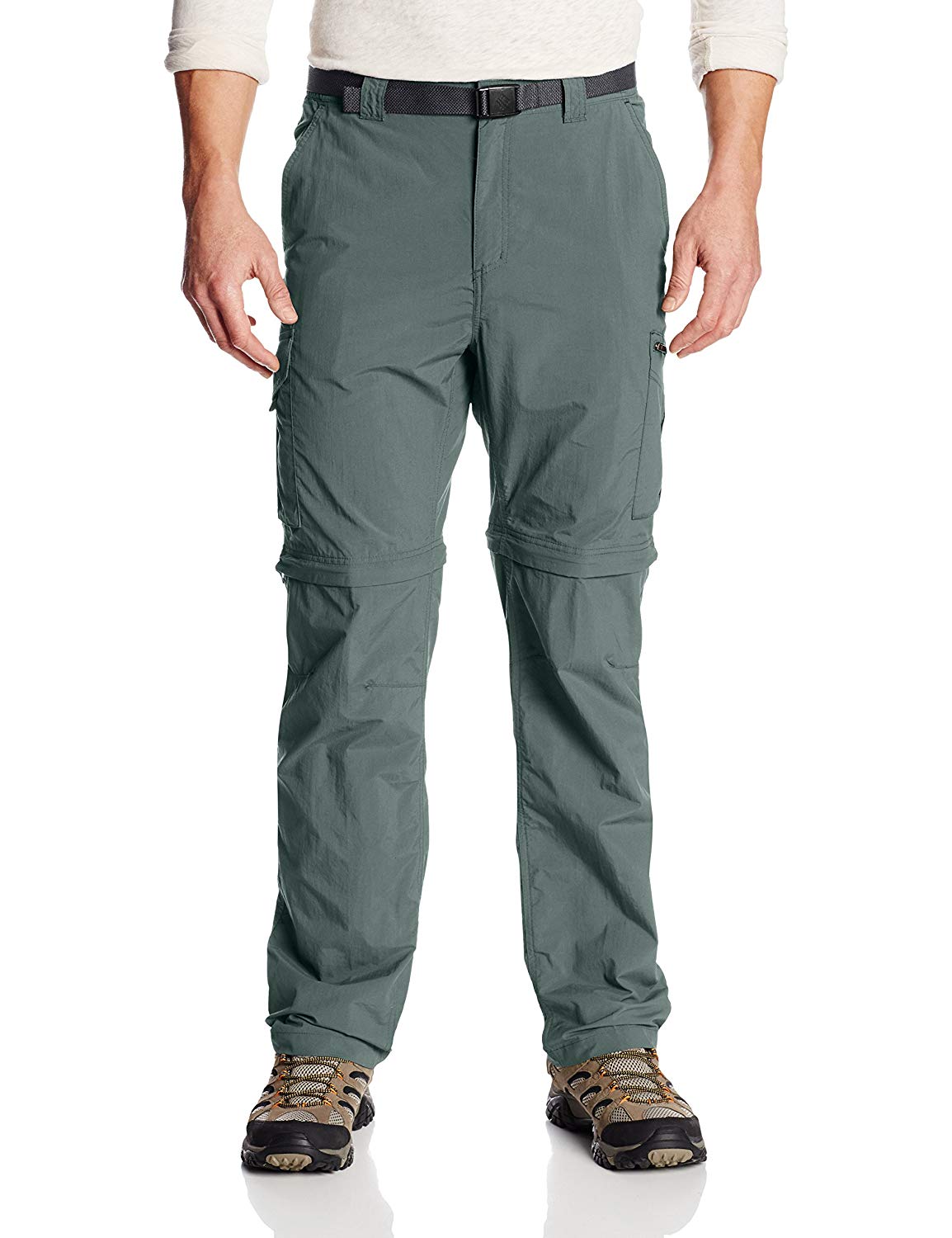 Columbia Men's Silver Ridge Convertible Pant
Ruggedness
I've had the same pair of convertible pants, or zip-offs, for nearly 4 years. I've brought them hiking, camping, trekking, and traveling. They've seen thick undergrowth and arid desserts.
They've made it though mosquito-infested forests and rushing rivers. They have not one rip, tear, hole, or broken zipper. I've had my fair share of bad falls and road rash, and I could still call them "like new."  That alone makes them worth the buy for me.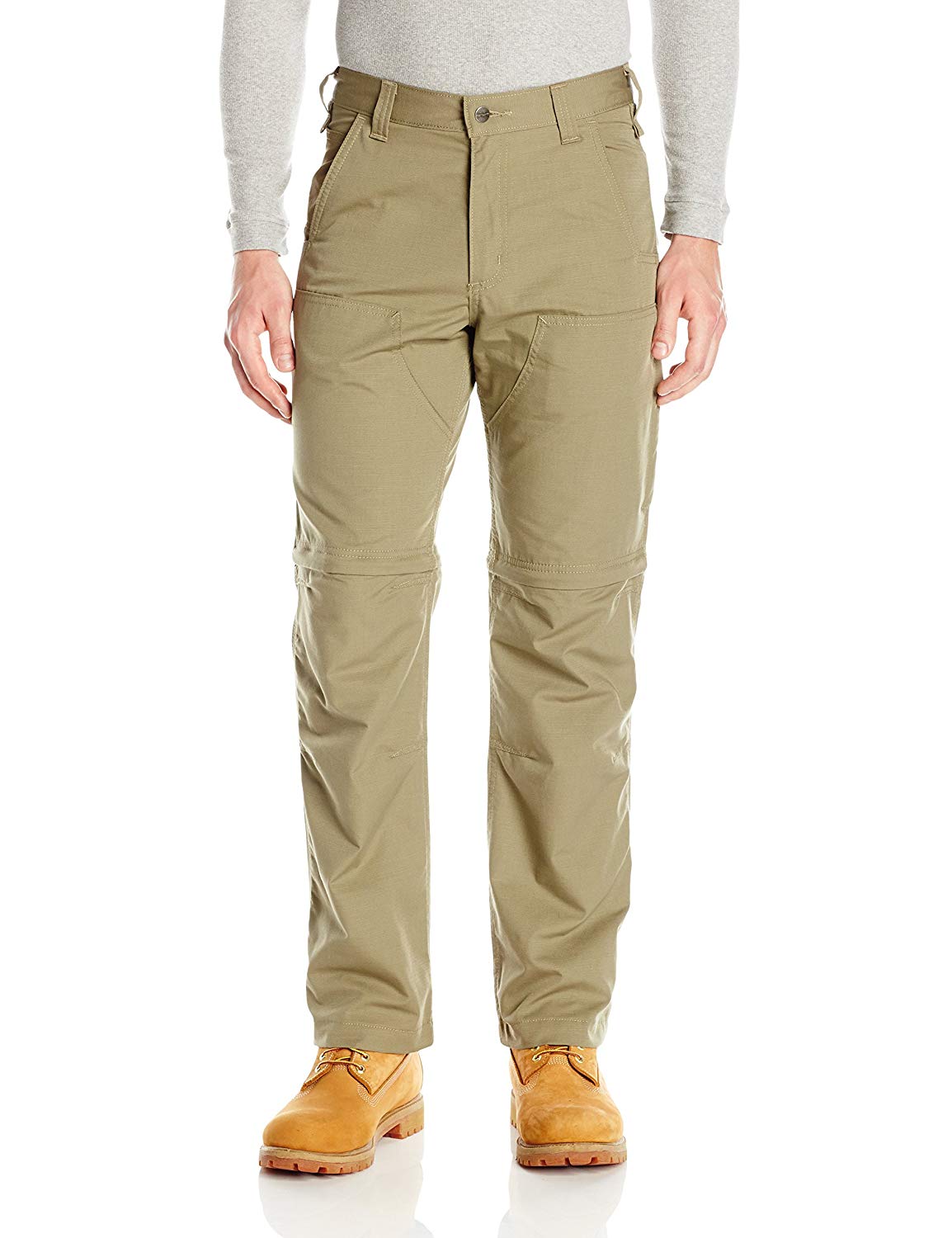 Carhartt Men's Force Extremes Convertible Pant
Versatility
From the time I wake up to the time I tuck into my bag, I have these pants on. I love my desert hikes, so the mornings are cold and the days are hot, so I switch back and forth regularly.
When I'm up in mountain valleys, I zip on the legs in the morning to keep out the chilly wind, zip them off in the midday sun, then back on around dusk when the mosquitoes come out.
No matter where I am, I don't need to change pants. Then again, the ultra lightweight material means I can bring two if I really want to.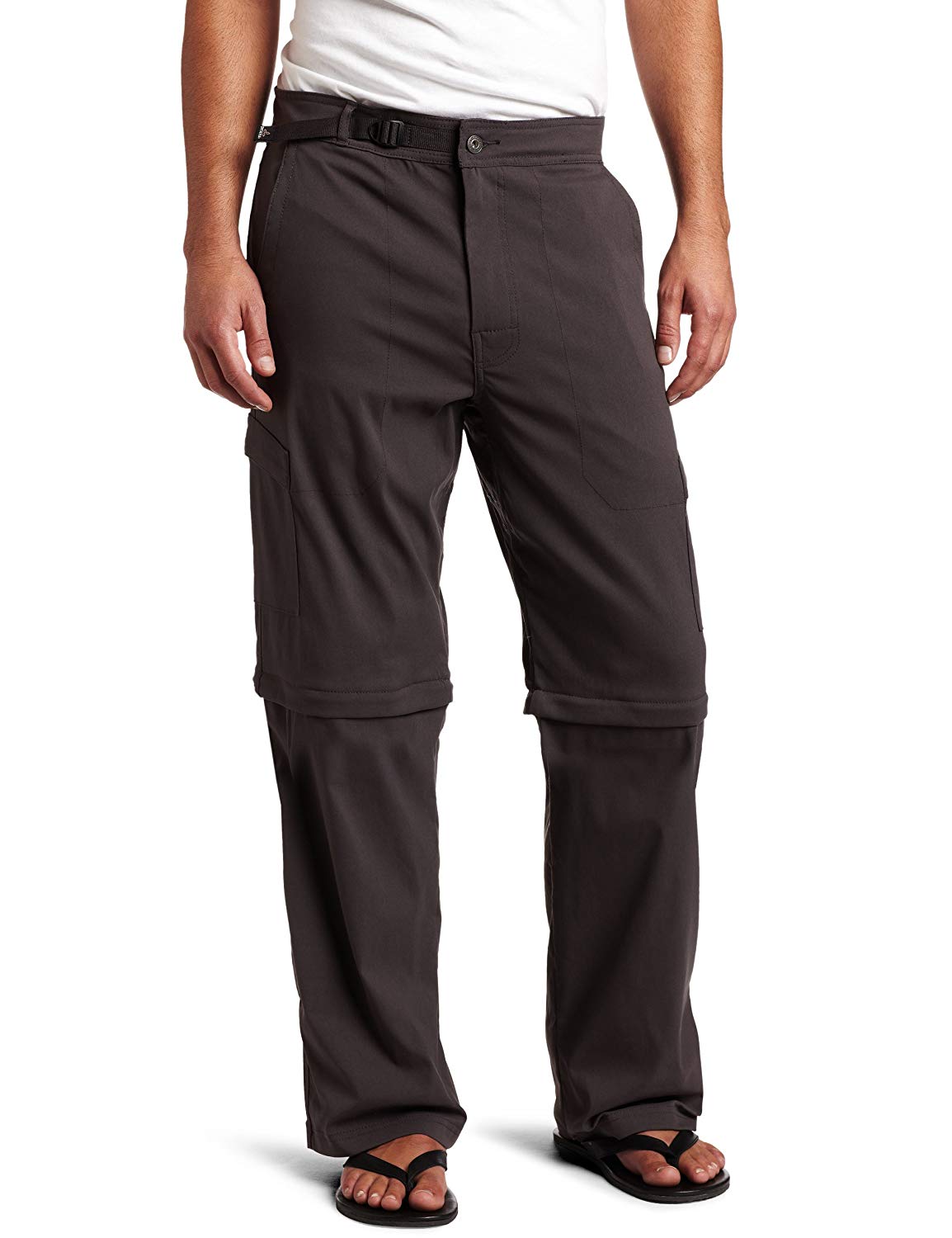 prAna Men's Stretch Zion Convertible Pant
All Weather
Are they waterproof? Not exactly. These pants are, however, both water resistant and quick drying. They won't clog up like jeans or cotton pants, and odds are if your'e going swimming in them they'll dry before anything else you're wearing. I've waded through countless rivers, and have had my pants dry before my wrung-out shirt.
The lightweight material cuts through all but the most bone chilling wind while still being breathable, and therefore temperature regulating. Oh and did I mention that new ones have SPF factors of 15+. Rain, shine, snow, or hail, they've never failed.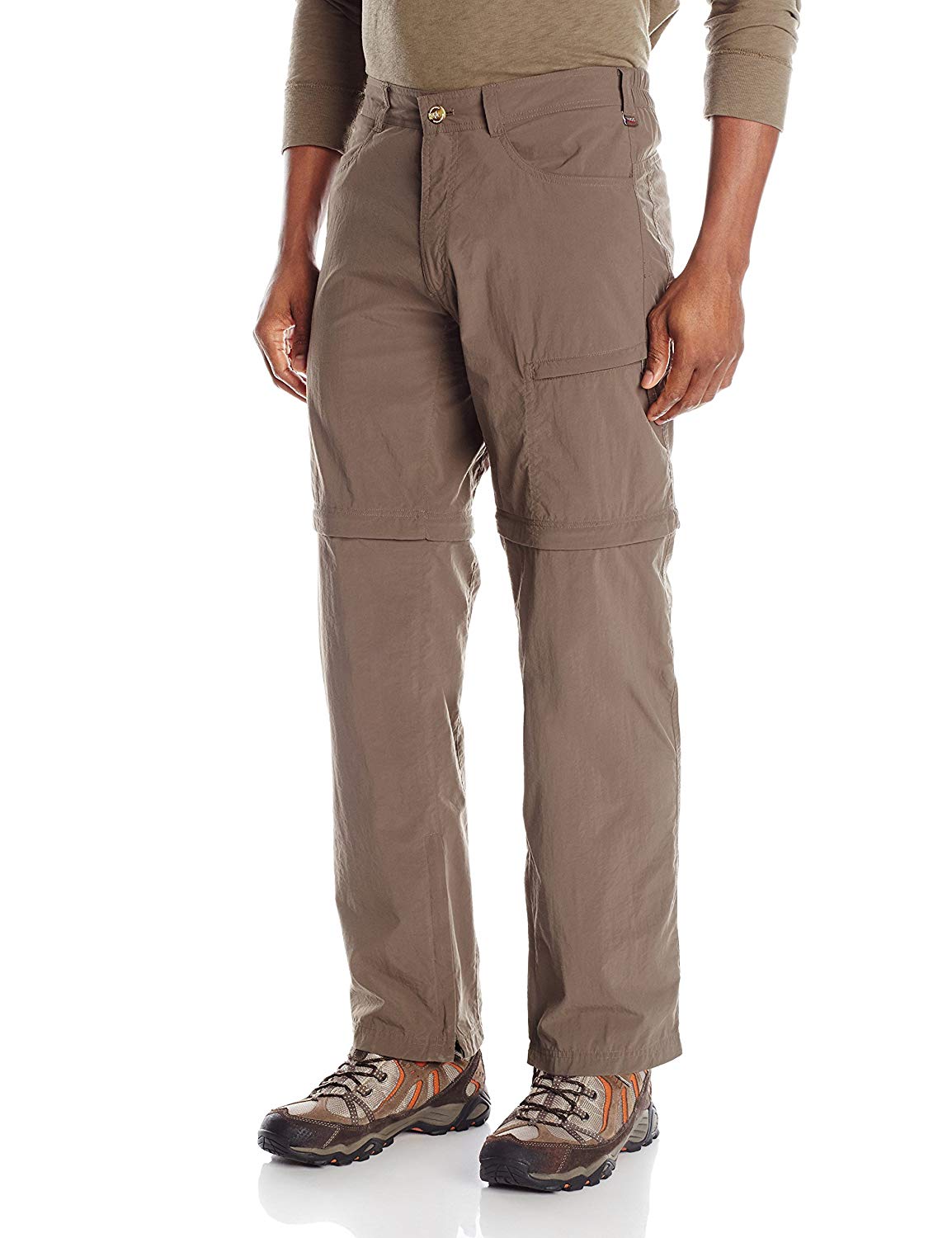 ExOfficio Men's BugsAway Ziwa Convertible Pants
Features
Apart from its most obvious feature, the zip off leg itself, these pants are designed for usefulness from top to bottom. Most come with sturdy nylon clipping belts for precise and easy adjustment. Ample pockets, two hand, two back, and two cargo, give you space for everything.
I generally have my travel wallet in the zipped cargo pockets, a packet of tissues in my back pocket, a light snack in my hand pockets, and a multi tool in another pocket. Sub pockets are great for emergency cash, a lighter, or a spare key.
As most come with Velcro or zippers, everything is secure. Finally, the zip off legs have a zipper running up the side, so they can be slipped on and off over your boots.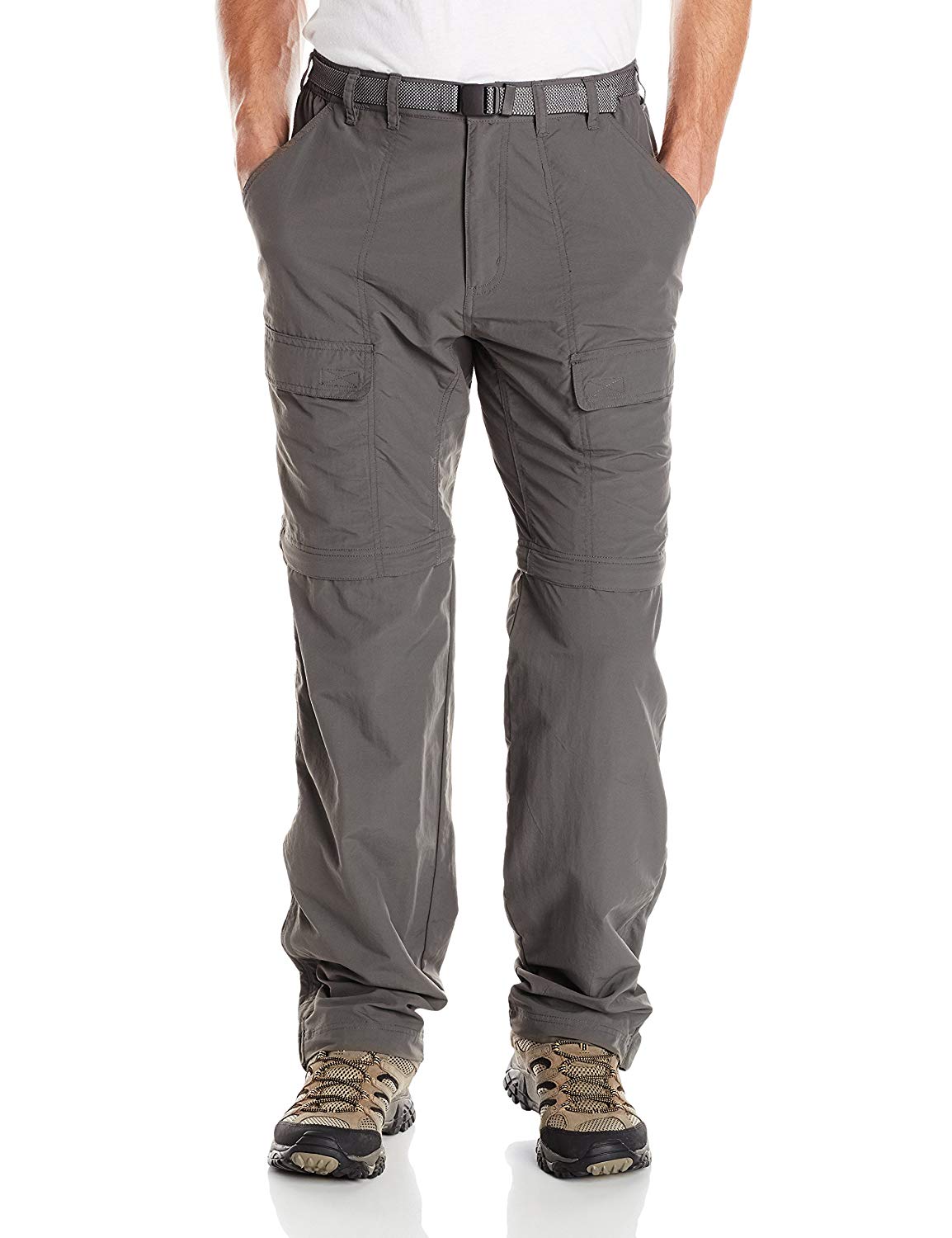 White Sierra Trail Inseam Convertible Pant
Easy Maintenance
Men usually aren't too worried about stains, especially in their hiking pants. But all the same, I've been able to remove sap, blood, juice, grass, mud, and paint.
A quick wash is generally all you need, and even a quick dip in a lake or stream can refresh them for the next day. I wouldn't say they're completely odor free, but I can wear them 3 times as long as any other piece of clothing before they need a change or wash.
So while some may be able to knock off a few points for style (with more and more companies making them, new fits and designs are becoming popular), no one can deny their usefulness.
They are simply the best all around pair of pants for the variety of environments you might run across. I know that if I had to bring just one outfit with me, I'd be wearing these.

Columbia | Carhartt | prAna | ExOfficio | White Sierra
---
 Don't forget to check out the new travel blog: Travel Gear for Men! How do you feel about convertible travel pants for men? Find out what TFG recommends as the best travel pants for women!
What are you favorite convertible pants for travel? Share them below!
---
For more Men's packing list and gears, please read:
---
If you found this post on why men love convertible travel pants helpful, please share it with your friends on Facebook, Twitter, and Pinterest. Thanks for reading!
---
Author Bio: Harry has been living the dream traveling the world since 2010. Like many others what was supposed to be a 'career break' has turned in to a completely new life. A professional Scuba Diver and Editor of Travel Gear For Men, Harry has the passion and experience in helping guys choose the right gear for their adventures around the world.
---