Support TFG by using the links in our articles to shop. We receive a small commission (at no extra cost to you) so we can continue to create helpful free content. Thank you, we appreciate it!
Ok, it's true. I'm an Amazon Prime addict. I told one of my friends and she said she was too. Are you?
It seems that everyone is shopping on Amazon and I finally jumped on the band wagon when I found myself with not enough time and too much to do. Shopping is so easy especially when planning a trip.
---
Why I'm Addicted to Amazon Prime
---
I live a forever nomadic life so when I come "home" once a year or so I replenish my travel gear, clothing, underwear, you name it! To maximize my short spurts in LA, I shop online on Amazon taking advantage of Prime's 2-day shipping.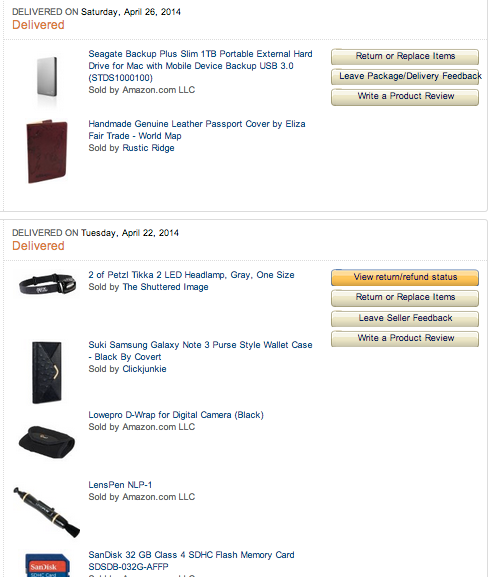 For me, the free 2-day shipping is what makes the membership worth it because of the large quantity of items I order.
Well, the shipping isn't technically free since you pay a yearly membership but for me it pays itself off with the high quantity of item I order. Not only do you end up saving money on standard shipping rates but you also get your products ASAP – I love it!
I am horrible when it comes to delayed gratification so waiting only 2 days for my purchases is totally doable especially when you've got to jump on a plane last minute.
I purchase everything from my favorite travel underwear to luggage, electronics, and beauty products. It's easy to find great deals PLUS you can generally get free returns which makes it a low-risk purchase.
On top of everything else since so many people are shopping on Amazon you can read tons of reviews before you buy and weigh at pros and cons to make an educated shopping choice. I love being in-the-know before I make my final decision.
There are also other awesome benefits like movies on demand. This seems like a great feature if you need some on the road entertainment on days when you just want to chill out.
Another added bonus is instant access to Kindle books which I read from my smartphone using their Kindle App. Genius.
New Amazon Prime Members get a free 30 Day trial! sign up here on Amazon!
---
Where do you love to shop online? Share in the comments below!
---
For more tips on Amazon Prime, please read:
---
Hope you  liked this post on Amazon Prime Day. Please share with your friends on Facebook, Twitter and Pinterest. Thanks for reading!
---