Support TFG by using the links in our articles to shop. We receive a small commission (at no extra cost to you) so we can continue to create helpful free content. As an Amazon Associate, we earn from qualifying purchases made on Amazon in addition to other retailers featured on the blog. Thank you, we appreciate your support!
Sardinia is a beautiful island off the coast of Italy known for its incredible coastlines, sandy beaches, and interior mountains. Before you head to this stunning location, find out what to wear in Sardinia.
---
What to Wear in Sardinia
Written By: Sebrin Elms
---
Everyone knows Italy's famous mainland and the famous island of Cyprus, but Italy's second largest island of Sardinia is getting more and more popular by the year.
Full of ancient sites and incredible beach views, this spot is incredible if you're arriving by port or plane. If you're headed to this island, here's what to wear in Sardinia!
For more ideas on what to wear in Italy, please read this Ten Step Italy Packing Guide!
Sardinia Clothing Style
Sardinia's fashion, like any other destination in the Mediterranean, is known for nautical colors, feminine prints, and breezy fabrics, so this will impact what to wear in Sardinia.
Because the temperature never falls below 50º F, your style can be playful all year-round. Still, the rainfall and somewhat chilly weather during the springtime requires light layers, rainproof clothing and close-toed shoes.
From ruffles to stripes to cold shoulders, we've got the scoop on spring trends!
Sardinia Spring Weather
Sardinia in the spring may be on the slightly cooler and wet side, but it's a prime time to visit for the sake of escaping hoards of tourists.
Start by reading these general tips on packing for spring travel:
Temperatures range from the low 50s to mid 70s, and rainfall occurs for around 30 days between the months of March and May. However, you'll still be able to get plenty of time in the sun or, at the very least, eat and drink with the locals.
Read these tips on what to wear on a rainy day!
Necklace | Earrings | Dress | Cardigan | Lotion | Bag | Sunglasses | Sandals
What to Wear in Sardinia in Spring: Sightseeing
This big-little island is known for colorful prints and an island vibe, however it's pretty chilly. For basking in the sun or wandering around the old city, make sure you bring a lot of layers when deciding what to wear in Sardinia.
A maxi dress with thick fabric and a light cardigan or jacket is perfect for almost any occasion. If you find yourself running cold most of the time, feel free to bring a pair of leggings and skinny jeans, as well.
These are the best leggings for women that travel as voted for by our readers!
Due to the uneven terrain and pebbly beaches, sandals are absolutely necessary when choosing your outfit for what to wear in Sardinia. But to keep your toes warm, bring your favorite pair of sneakers.
Along with knowing what to wear in Sardinia, know what not to wear. Avoid heels as the cobblestone streets and various hills aren't very forgiving on your ankles.
Here are some tips on how to choose the best shoes for Italy:
What to Pack for Sardinia: Essentials
You'll want to pack a few essentials when choosing what to wear in Sardinia, including:
1-2 light jackets (preferably rainproof, like a leather jacket)
3 pairs of shoes (fancy flats, sandals and sneakers)
Light scarves, various hats (from straw to messenger), sunglasses, and appropriate jewelry
5-7 tops
2-3 dresses
2 shorts/skirts
2 pants (1 leggings and 1 jeans)
1-2 swimsuits
1 cover up
When it comes to tops, feel free to bring a plentiful variety. During the day (and depending on the weather), you're going to need a comfortable, yet versatile top. Make sure it's one that can shelter you from cold, yet still be comfortable under the sun. Tanks, tees and light long sleeves are perfect.
When deciding what to wear for Sardinia for nights out, you're going to want a long-sleeved blouse or dress in layers to keep warm.
You can't go to an Italian island without packing a few dresses. However, unless you pair your sundress with tights or high socks, stick to maxi dresses to keep you warm.
Find out how to turn any one of your dresses into versatile dresses!
Sardinia Accommodations
There are an incredible amount of accommodation options in Sardinia. Like the rest of Italy, Sardinia is no stranger to fabulous villas and Old World hotels.
But if you're looking for a more local scene, homestays and vacation rentals are a big hit on this island!
Most people who decide to stay in an Airbnb do so because of access to a kitchen. Sign up here for a free $40 credit! Read these Airbnb tips for more info!
Sardinia Transportation
Renting a car is preferable if you want to see every part of the coastline on your own time. The roads aren't too tricky, so most travelers are comfortable driving on their own.
However, Sardinia's main public transportation system by bus, known as ARST, is a great way to get around from coast to coast if you're looking for a less expensive option or don't want to drive.
There is also train transport, but it does not necessarily hit every single part of the island, so you may only want to use this option for traveling to and from major spots.
Because of the incredible hiking and nature spots found across Sardinia, it's also ideal to walk, hike, or cycle around the island. It's the perfect way to stay in shape after eating all of that pasta!
What To Do in Sardinia
Sardinia is the perfect retreat for both history buffs and nature lovers. Head to the crystal blue waters of Cala Goloritze, the hidden Grotta del Bue Marino or the famous Neptune Caves. Much of the terrain is rocky within the island, so prepare for short bursts of hiking.
If you're more into the history scene, Sardinia is dotted with thousands of nuraghi, which are mysterious, Bronze Age stone ruins shaped like beehives.
The most famous is the UNESCO site of Nuraghe of Barumini. In addition to these sites, enjoy wandering through the several churches and cathedrals, the ancient ruins of Nora or the old, Medieval town of Castelsardo.
For more ideas on what to wear in Italy, please read this 10 Step Italy Packing Guide!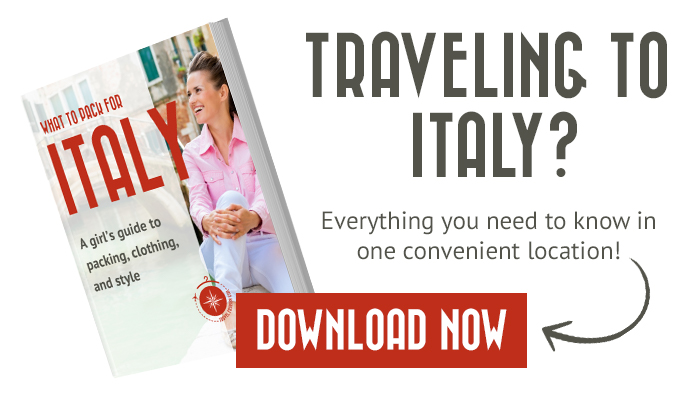 ---
What are your tips on what to wear in Sardinia? Please comment below!
---
For more Italy packing tips, please read:
Suggested travel resources:
---
LIKED THIS POST? PIN THIS PIC TO SAVE IT!
---
I hope you liked this post on what to wear in Sardinia. Share it with your friends on Facebook, Twitter, and Pinterest. Thanks for reading!
---
Author Bio: Sebrin is a newlywed, flower child, and travel-obsessed blogger. When she isn't traipsing the globe with her husband, you can find her curled up with a book, snuggling with her kitty babies, or binge-watching Netflix. Follow along her travels on her blog or instagram!
---