Support TFG by using the links in our articles to shop. We receive a small commission (at no extra cost to you) so we can continue to create helpful free content. As an Amazon Associate, we earn from qualifying purchases made on Amazon in addition to other retailers featured on the blog. Thank you, we appreciate your support!
Traveling to South America? Find out what to wear in Brazil!
Brazil is an all-year-round destination because of its tropical climate. The Brazilian winter lasts for only three months and is from June to August. During the winter the temperature varies with monthly averages in winter between 13 and 18 degrees Celsius (55 and 64 degrees Fahrenheit).
---
What to Wear in Brazil
Written by: Tammy Lowe
---
During the summer however, temperatures can reach 30 to 40 degrees Celsius (86 to 104 degrees Fahrenheit) with frequent showers and strong humidity.
So depending on what time of the year you are visiting you need to take slightly different items of clothing with you when considering what to wear in Brazil.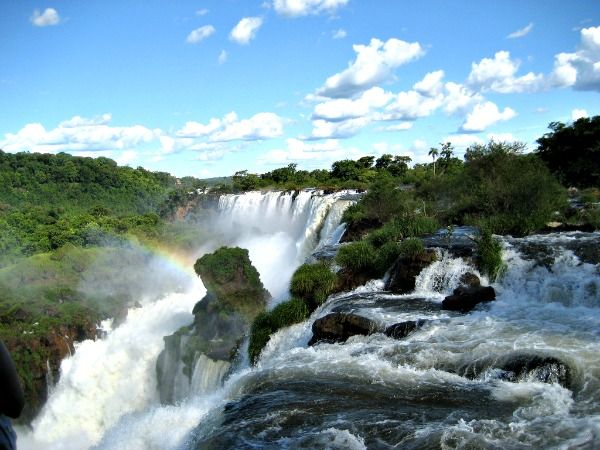 The Iguassu Falls in Brazil
Clothes for the Summer
The good news with high temperatures is that you can pack really lightly. I went on a two week holiday in Brazil during the summer and only traveled with a carry on. It was actually really liberating not having to carry a heavy backpack all the time and what to wear in Brazil wasn't too much of an issue with the warm weather.
I used the Berghaus Capacitor 35l backpack which is especially designed for women and I love this backpack as it is really comfortable and it is actually quite roomy too.
In terms of clothes try and bring clothes with you that are airy and dry quickly, because in that humidity and at such high temperatures wearing anything too clingy is going to be too hot.
High wicking material such as merino wool is perfect as your clothes won't be wet despite transpiration. I have mentioned Icebreaker in many other posts before, but I will give them a special mention again. Icebreaker is in my opinion the best clothes brand for travelers. The clothes may be a bit pricier than your regular H&M tank top, but they are of high quality and the material is just genius. What I also like about their products is that although they are technical clothes, they don't look like them.
I took my trusted Icebreaker Villa Dress with me and because it was green with a bit of yellow the Brazilians loved it too as those are the same colors as their flag.
On top of a summer dress I bought two tank tops and two T-Shirts with me, one of them was a going out tank top. If you don't like the sun and would like to protect your skin you could also bring a long sleeve lightweight blouse with you.
For bottoms I only took one capri leggings and one pair of denim shorts with me. Anything else would have been too hot. If you don't like shorts though you could bring a pair of linen trousers with you. They crease quite a lot, but they are lovely and airy.
For shoes I bought some Havaianas flip flops locally as they are cheaper in Brazil and I also bought a pair of foldable ballerina flats with me for going out at night. Believe me dancing Samba in flip flops is almost impossible and once you lost one of your flip flops on a busy Brazilian dance floor once you will not make the same mistake again. 🙂
If you are doing sporty activities, such as jungle trekking, you may want to consider bringing some sports sandals from Teva or Keen with you though, as they will protect your feet better.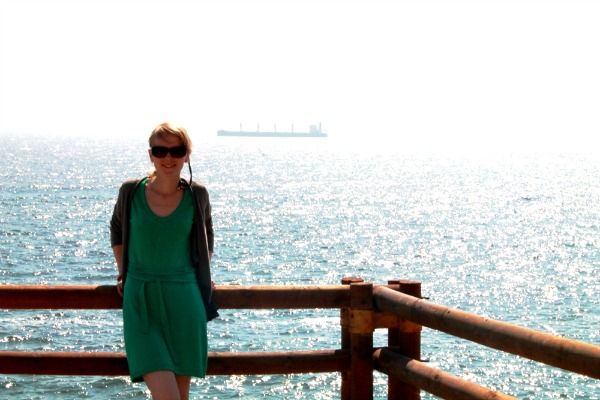 Clothes for the Winter
On my most recent visit to Brazil for the World Cup I also traveled with a carry on only, even though when planning what to wear in Brazil I had to take some warmer and therefore heavier clothes with me.
During the day it was usually warm enough to wear shorts and a tank top, but at night it got really chilly, so I had to wear a pair of Jeans and a warm fleece on top. When I went out partying I was still able to wear my Icebreaker dress as the merino wool was so warm, but I had to wear some tights with it and a cardigan.
Beach Wear
No visit to Brazil is the same without a visit to one of Brazil's famous beaches. Because of petty crime on the beaches I wouldn't recommend bringing anything valuable with you.
Take a sarong, which you can turn into a dress and wear it over your bikini. You can also use it as a beach towel. You may notice that Brazilian ladies don't care much for traditional bikinis and their bikini bottoms are usually thongs.
It is up to you if you want to try the local style when deciding what to wear in Brazil (or maybe not wear), but don't forget to apply plenty of sun lotion on your bum too. I have seen a couple of foreign girls who didn't and while they had a lovely tan otherwise their bum was burnt, as they forgot to put sun cream on it. 🙂 (TFG: haha this happened to me in Indonesia and I was not happy!)
Which brings me to after sun lotion. If you are prone to sun burn bring some after sun lotion with you too. You may also want to protect your face with a nice sun hat or cap (available locally), as well as some good sunglasses.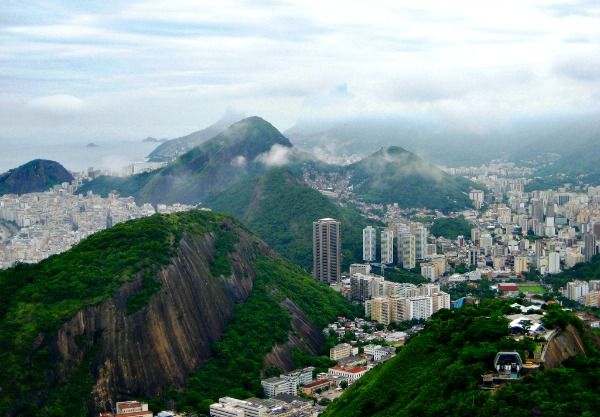 Rio de Janeiro
Security
Brazil has got a soaring crime rate and so I would advise to not bring anything valuable with you when you go out at night, as you will be an easy target otherwise. If you have to bring your smart phone with you put it in a money belt under your clothes.
The same goes of course for your money or credit cards. When planning what to wear in Brazil consider some accessories as theft deterrents.
There are popular travel purses on the market that can be attached to your bra. A bra pouch won't be big enough for a phone, but it will hold a credit card and notes. Also don't wear any expensive jewelry. Brazil has got some fantastic artisan markets where you can buy cheap but beautiful jewelry, so you don't need to bring any jewelry from home really.
Shop The Post
---

---
I hope you find this post on what to wear in Brazil useful. What your your Brazil packing tips?
---
 For more on what to wear in Brazil, please read:
Suggested Travel Resources:
---
I love Tammy's awesome tips on what to wear in Brazil. Please share this post with your friends on Facebook, Twitter, or Pinterest. Thanks for reading!
---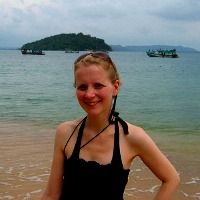 Author Bio: Tammy is a travel blogger and adventure junkie. She has endured the Everest Base Camp trek, abseiled down a skyscraper, cycled down the world's most dangerous road, and trekked through the mosquito infested Amazon jungle. You can follow her adventures on her blog Tammy & Chris on the move or on Facebook, Twitter, Instagram or Pinterest.
---