Support TFG by using the links in our articles to shop. We receive a small commission (at no extra cost to you) so we can continue to create helpful free content. As an Amazon Associate, we earn from qualifying purchases made on Amazon in addition to other retailers featured on the blog. Thank you, we appreciate your support!
Traveling with a toddler? We've got some awesome tips to help you pack light and even travel carry-on only. Find out more!
---
Traveling with a Toddler, Carry-on Only!
Written By: Joan Powell
---
2014 was our first time traveling with a baby. Oh man, did my husband and I OVERPACK. I somehow packed five suitcases–four of which had to be checked in.
It wasn't even "baby stuff" taking up so much room, it was clothing for me and my husband. To make it even worse, when I looked at our vacation photos after our trip, I noticed that my outfits were so BLAH, so uninspiring.
After that vacation, I started researching ways to pack lighter for our next trip, and I came across Travel Fashion Girl. I wish I had found it sooner! I had no idea you didn't have to pack five to seven suitcases for a beach resort vacation in Mexico.
I mean, it's pretty much chill on the beach, eat, sleep, and repeat! What was I thinking bringing all of that luggage, just for one week?!
For our Cancun trip the following year, in February 2015, our packing situation improved drastically, thanks to TFG's packing tips.
But it wasn't until Alex's honeymoon clothes post in November 2015 that I had an "Ah-ha!" moment. I should not only pack–and wear–functional clothing that can be mixed and matched, but I should still feel cute and sexy in it, too!
So, I started my Cancun 2016 packing list a month before our actual trip. I know it sounds crazy, but I wanted to shrink my packing list and make sure I was wearing clothes that fit well and made me feel great. My husband and I are only able to take a trip like this once a year, so I wanted to make the most of it.
Also, my toddler-age son is not fully potty-trained, so there had to be room not just for packing cubes, but for diapers, a packable hat, toiletry bags, etc.
It took some tweaking, but I'm getting better with packing light! Here are the things I've learned which enabled me to go carry-on only while traveling with a toddler:
Pack for the Weather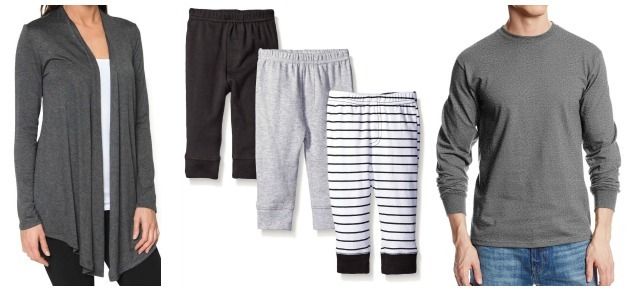 Open Front Cardigan / Baby Boys Ankle Pant / Long-Sleeve Cotton Tee
Even though Cancun is hot around May/June, it's a bit cooler in February. I packed a lightweight sweater to throw on in the evenings over my dresses, and I made sure my son and husband had a couple of pants and longer-sleeved shirts.
But for the most part, we were at the beach! We wore swimwear, shorts, and UV shirts/cover-ups during the day, then dressed up a bit for dinner in the evening.
Read this packing list for Cancun and Playa del Carmen!
Plan a Mix-and-Match Wardrobe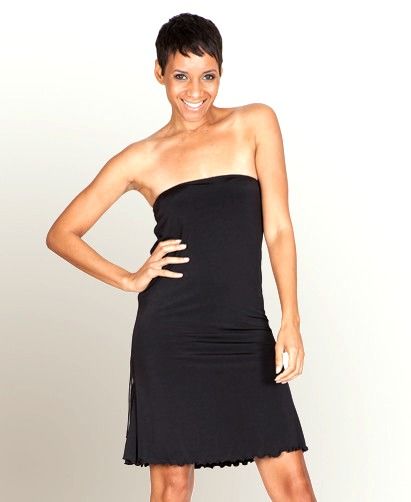 TwelveWays
Mixing and matching allows you to pack less clothing, since you can wear a top or a bottom with other items you've packed. This is where multi-purpose garments come in handy.
Read more about mixing and matching here!
I took my TwelveWays dress on our Cancun trip; it's great as a strapless dress and different length skirts.  Make sure the clothes you pack are clothes you feel awesome in–clothes you would wear regularly at home. If you're not comfortable at home, you won't wear it on your vacation.
Read our full review for the TwelveWays convertible travel dress!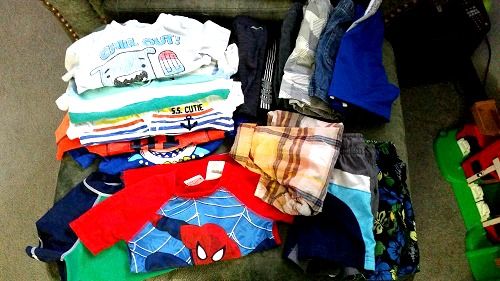 My son's clothes are small enough that I didn't worry too much about quantity. With the help of packing cubes, I packed for him:
3 short-sleeve tees
2 button-ups
2 rash guards
2 swim shorts
3 shorts (1 dressy)
2 long pants (1 for travel)
1 long sleeve shirt (for travel)
He wore sneakers on the plane and Crocs at the resort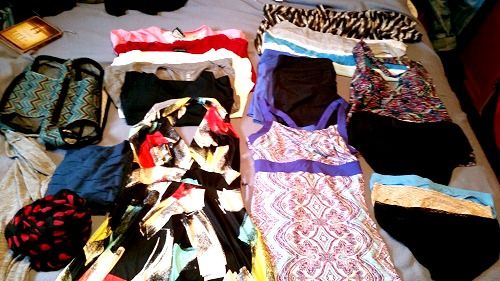 I used the TFG Classic packing list:
2 shorts
4 tops
3 dresses
a couple cover-ups
a couple tankinis
longer tee for sleep
I wore sneakers on the plane
Crocs slip-ons and wedge sandals at the resort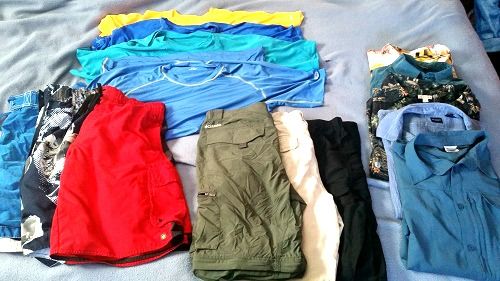 My husband even came around to the TFG way of thinking for packing! All of his clothes fit into a large packing cube and packing folder and went into a hard-sided spinner suitcase.
As you can see in the photo, he packed:
UV shirts
swim shorts
pants
some button-up shirts
Read these tips on mens travel style and how to avoid a color disaster!
Quick-dry Items are a Plus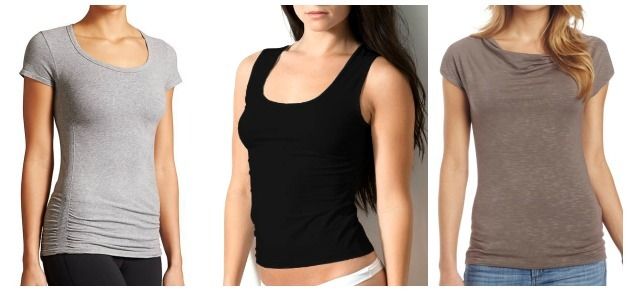 Pure Tee / Easy Track Short / Adea Cami / Royal Robbins Tee
Even though I didn't think I'd do laundry for the week we were at the beach resort, I packed quite a few quick-dry items. With a super-active toddler, a little mess here and there on my clothing is to be expected.
I did wind up hand-washing a couple of times during the week, and the clothing took a very short time to dry.
The quick-dry items I packed and wore on this vacation were: an Athleta tee, Athleta shorts, TwelveWays dress, Adea cami, and Royal Robbins tee. My son and husband also had a few quick-dry shirts in their travel wardrobe.
Read our review on the Adea bra-friendly camisole tops!
Downsize and Decant Wherever Possible

Packing Cubes / Travel Spray / Travel Bottle
I used minimizing tactics like packing cubes, travel-sized perfume, decanting a big bottle of sunblock into 2 oz. bottles, and so on. All our toiletries, including first aid and medications for the family, fit into toiletry bags.
Read this post on the best travel containers to use when decanting toiletries!
When everything was packed, I had used two slim cubes for my clothes and one small cube for my son. In total, we had two carryon spinners and a weekender bag.
For personal items, we had a backpack, book bag, and my son's kid-sized suitcase with extra diapers, his collapsible bucket, and swim rings.
Watch this video for the TFG rolling packing cube method!
Don't Pack to the Gills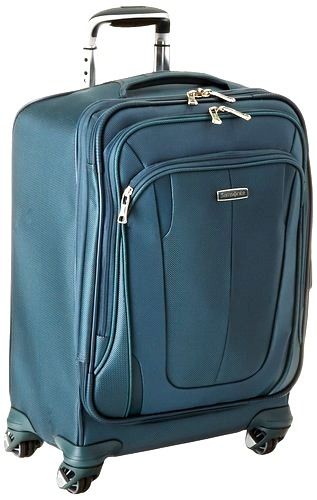 I used to think I needed to fill every inch of my luggage; now I know to allow room for laundry (because you can never seem to pack your suitcase the way you did originally!), souvenirs, and other odds and ends.
Plus, with carryon only, be mindful that everything you bring has to be easy to move with you while in transit. Purchasing spinner carryon suitcases was super-helpful for us, especially when rolling down the aisle of the plane.
 Find out the best carry-on suitcases!
You Can Make a Few Exceptions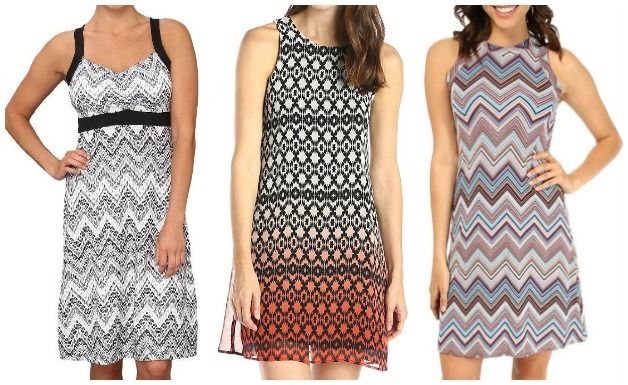 Amaya Dress / Halter Dress / Print Dress
Since I was on a beach resort vacation over Valentine's Day, I wanted to look super-nice at least a couple of times during the week. So, I packed a couple of "splurge" items, like cute dresses to wear to dinner. (PrAna Amaya sundress, multi-color halter dress).
Always make room for clothing items that make you feel pretty. Check out my honeymoon clothes!
You Might Need Extra Items for Your Toddler(s).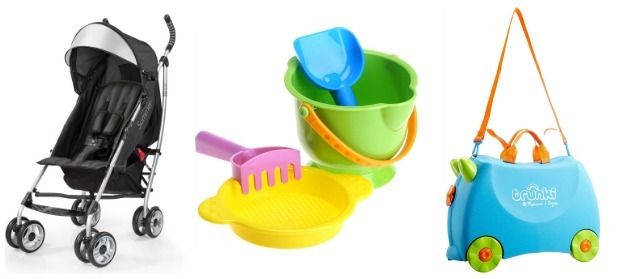 Lite Convenience Stroller / Bucket and Shovel / Kids Luggage
We went without a stroller this time, but used one previously. I would recommend bringing one if you can. A lightweight, umbrella stroller helps you breeze through the airport, and they're easy to collapse at security. Plus, the stroller can serve as your child's "seat" at restaurants.
If you have a toddler, you know it doesn't take much to fascinate and entertain them. I packed:
a few reading books
small bucket and shovel that fit easily into his kid-sized luggage
and his favorite stuffed animal for the plane rides and relaxing in the hotel room
Our luggage was so manageable! While at the airport, my husband and I could wear the backpack and book bag, put the weekender bag and our son's small suitcase on top of the spinner suitcases, and still have hands free to carry our little boy.
My dramatic improvements in packing are attributed to the Travel Fashion Girl site, which has grown in popularity and readers in just the two years that I've been a follower. We're now able to travel with a LOT less weight, even if we're now traveling with a toddler!
---
If you're traveling with a toddler or baby, I hope these tips will help!
What are your packing tips when traveling with a toddler?
---
For more family travel packing tips, please read:
---
LIKE THIS POST? PIN THIS PIC TO SAVE IT!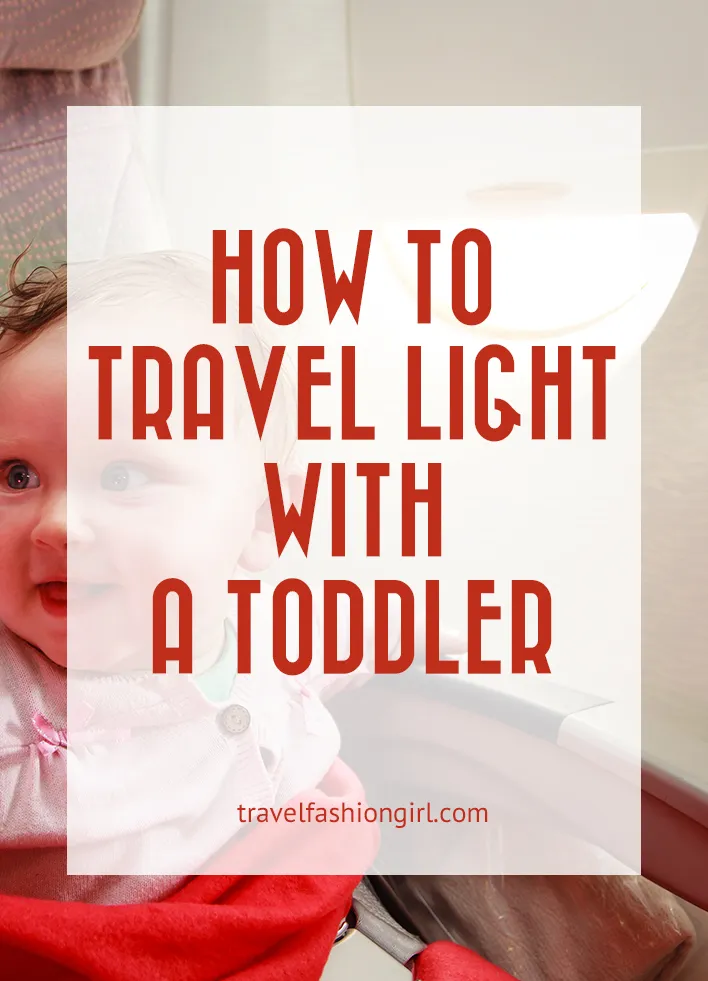 ---
Hope you liked this post on traveling with a toddler. Please share it with your friends on Facebook, Twitter, and Pinterest. Thanks for reading!
---

Author Bio: Joan Powell is a wife and a working mom with a 2-1/2-year-old son, and a 4-year-old dog. You can find her at Late Bloomer Moms, a blog for "older" mommies, as well as Facebook and Twitter.
---