Support TFG by using the links in our articles to shop. We receive a small commission (at no extra cost to you) so we can continue to create helpful free content. As an Amazon Associate, we earn from qualifying purchases made on Amazon in addition to other retailers featured on the blog. Thank you, we appreciate your support!
Let's face it. Not all aspects of traveling are glamorous and sometimes they're just downright grungy. Find out how to stay clean on the go with these travel hygiene tips!
---
Staying Germ-Free on the Go
---
On my first big international adventure to India in March of 2008 I quickly learned the importance of having your own soap as many bathrooms here (and in many other countries) don't have any.
Whether they don't provide it or they've just run out, it's handy to have options to be able to clean your hands while on the go.
Washing your hands regularly, before meals in particular, is one of the best ways to stay healthy on the road and avoid contaminating yourself and others around you.
This may sound gross but some travelers can even infect themselves with "food poisoning" because they didn't disinfect their own hands (with soap or antibacterial items) after using the bathroom.
While you can't control the way your food is made you can take your own measures to remain hygienic yourself. Plus, who wouldn't want to wash their hands with soap after the bathroom, that's pretty gross abroad or at home, too.
These tips may not necessarily apply to all types of travel but they should more or less be relevant to any sightseeing day or the time you spend getting from one place to the next on buses, planes, and trains.
These are a few options to stay germ free while traveling.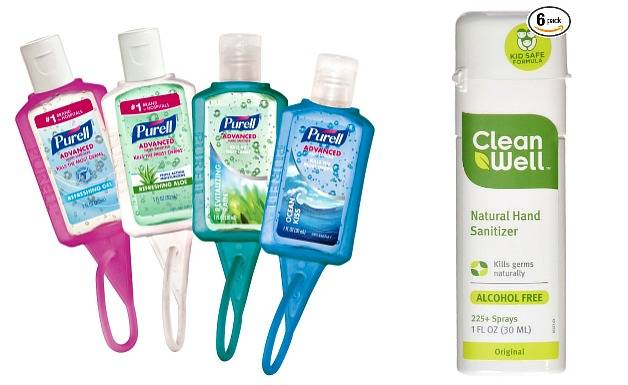 Purell Hand Sanitizer | Cleanwell Sanitizer Spray
Antibacterial Gel
Antibacterial gel is probably the easiest and most accessible item to easily disinfect your hands when you're on the go. Even though it counts as a liquid in your carry-on, all you need is a small drop and you're good to go.
For a natural option, try this product!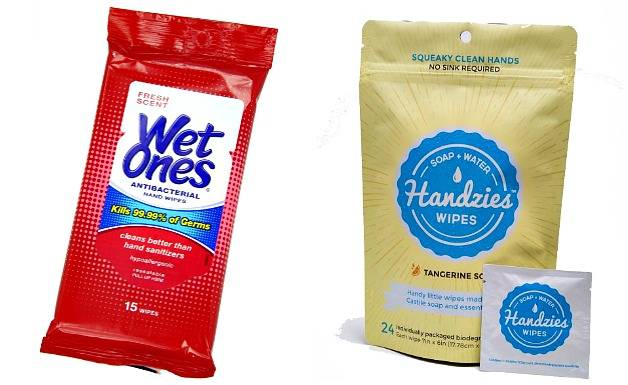 Antibacterial Hand Wipes | Handzies Hand Wipes
Antibacterial Wipes
While antibacterial gel should suffice anywhere in the world, there are some times when it's not just bacteria that you want to remove from your hands but also dirt as well.
Whether you're on safari, camping, trekking, or just globetrotting in dusty cities, antibacterial wipes are a more effective option in these cases. You can buy individual packets like these from Savvy Travelers or a compact multi-pack like these from Wet Ones.
I always take a couple of these packs before departing for a trip. They come in handy so many times and you can even use them to wipe your plane tray or disinfect electronics!

Dove White Bar Soap | Pure Olive Oil Bar Soap
Travel Size Hand Soap
This may have the potential to get messy, but it's one of the cheapest and most effective options available. Bring a small bar from home if you're staying at hostels and airbnbs or keep the ones offered at hotels.
Because soap gets sudsy when wet pack a couple of small resealable bags from home or reuse a plastic bag.
This is actually one of my favorite ways to stay germ free on the go because nothing beats the feeling of water and soap to freshen up!
It also helps you save money instead of continually buying antibacterial products and in some places, wipes are not readily available. A small travel-size soap lasts ages and also helps you get rid of dirt on your hands and feet (and face) in dusty regions.
A FEW MORE TIPS TO AVOID GERMS
Another item you might find unavailable in bathrooms is toilet paper. Always pack a few tissue packets – they have endless uses as you can read in this article including doubling as toilet paper. But don't worry. You can also buy a roll or a packet at your destination.
I have a little "bathroom" kit that include a packet of tissue, antibacterial wipes, and toilet paper stored in a discreet LeSportsac multi-use pouch.
Use a sleeping bag liner so you have your own travel sheet to sleep in no matter the quality of the accommodation.
If you skip the liner, add a silk pillow case to your packing list! This is a small luxury that makes me feel more comfortable wherever I am. Not only is silk lightweight for travel but it also helps keep your hair smooth and frizz-free. Plus, it helps you avoid wrinkles. Works a charm!
Take a look at a few more budget travel essentials!
---
What are your tips on travel hygiene? Share them below!
---
For more toiletry tips, please read:
---
LIKED THIS POST? PIN THIS PIC TO SAVE IT!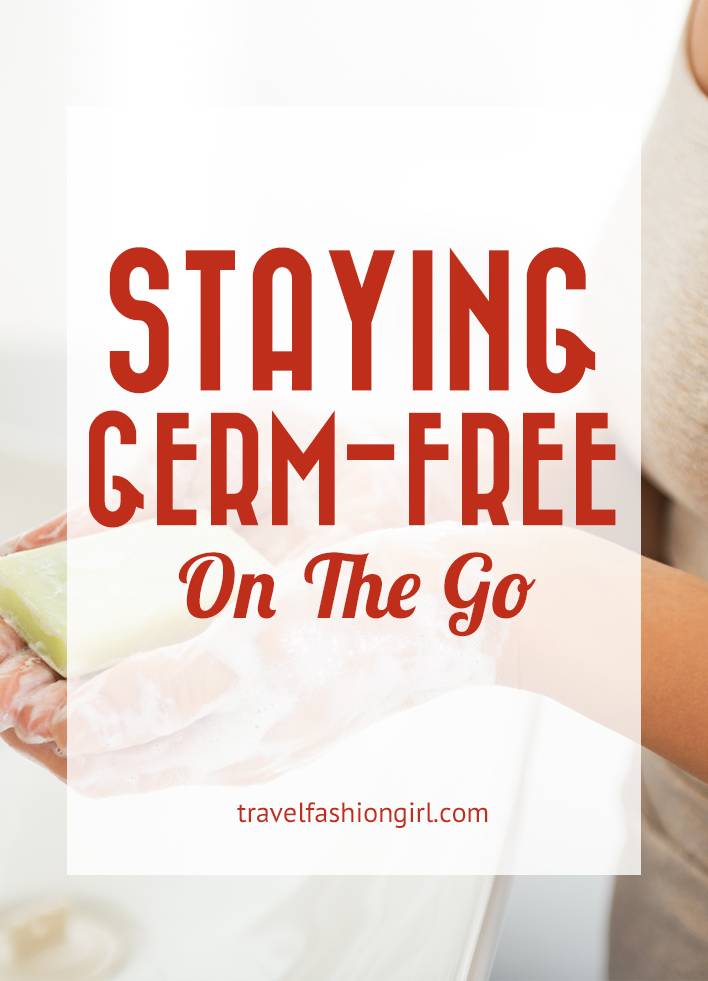 ---
Hope you liked this post on travel hygiene. Please share with your friends on Facebook, Twitter, and Pinterest. Thanks for reading!
---