Support TFG by using the links in our articles to shop. We receive a small commission (at no extra cost to you) so we can continue to create helpful free content. As an Amazon Associate, we earn from qualifying purchases made on Amazon in addition to other retailers featured on the blog. Thank you, we appreciate your support!
Miamica offered to send me a bag of goodies to review and I've decided to share them with you! Read on to learn about their travel accessories for women and also to find out how you can win some of them!
---
'Miamica – Your Passport to The Art of Packing'
---
Miamica are self-confessed obsessed with packing organizing and travelling. The brand has made it their mission to create the most stylish, functional and fun travel accessories for women to help organize all your travelling things. Their original designs feature amusing graphics and are created to make your packing process painless and simple yet fun and stylish. They offer the perfect travel solutions to help compartmentalize all the contents in your handbag, suitcase, or overnight bag and their unique products are created for people who crave practical yet fashionable accessories.
Miamica means 'my friend' as the brand consider their products as your ultimate travel companion. Their varied and distinctive range of accessories comprise of products such as cosmetic bags, cases to organize your chargers, clear cases to meet security regulations and rules at airports, bags to protect accessories such as electrical items (hairdryer) and shoes, bathing suit/lingerie bags with separate compartments for clean and washable garments, and beach bags that separate volatile sun tan lotion from towels, magazines and sunglasses.
They sent me a variety of items including: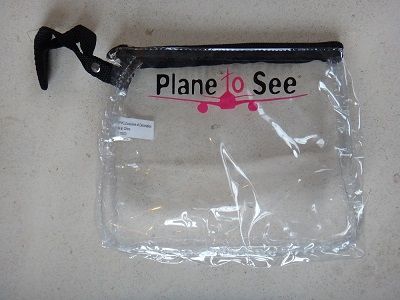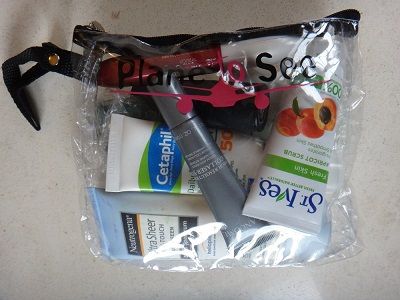 Plane to see – plastic case
This is the one item I was most interested in reviewing and it came just in time for my 5 day trip to Tulum where my mom and I both flew carry on only. It was really convenient to have a reusable bag like this one for my toiletries and it felt roomier than the quart size ziplock bags. It was easy for TSA to inspect and I wasn't worried about product leaks.
I've only used it once so I'm not sure about its longevity but this travel accessory will definitely be joining me on my travels. The one detail that I will note is that it's construction is a bit odd – the plastic has been sewn together in a way that bunches at the seams. I'm not sure if it's designed this way for a specific reason.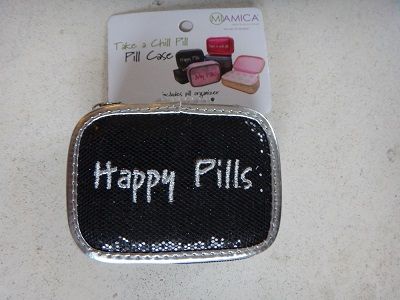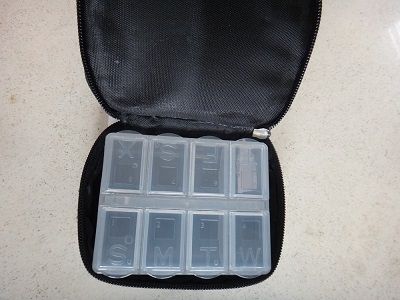 Happy pills – pill case
This is a cute pill case to help organize medication and has 8 individual compartments. It's about the size of my palm and has a glitter fabric making it convenient for everyday use in a purse or for travel. The pill case itself is removable so you could use it to store other items as well.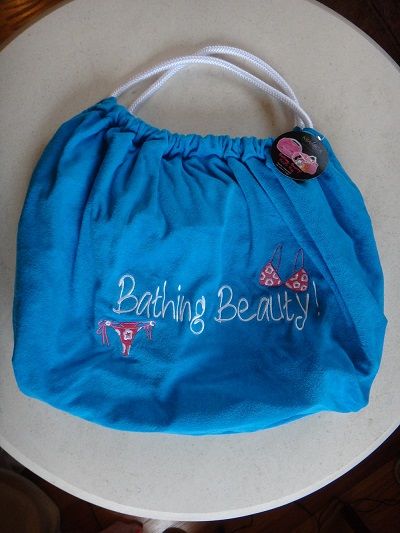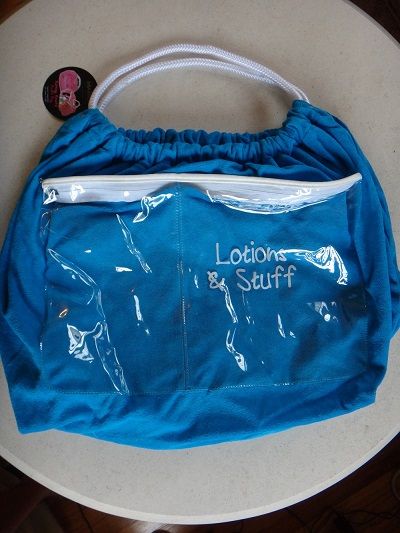 Bathing beauty – beach bag
This beach bag is super cute and very spacious. It has a terry cloth type fabric on the outside and a nylon fabric on the inside making it easy to wipe clean. It has two compartments: a pocket on the inside and a clear plastic pocket on the outside. Great for vacation by the pool or beach day.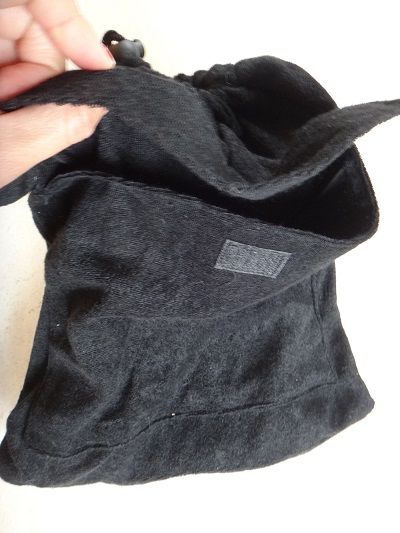 Good hair day – hair care bag
The hare care bag is cute and has a terry cloth type fabric on the outside and nylon on the inside. It features a draw string closure with velcro pocket on the exterior. Because of its inner nylon lining, it can probably also be used as a shoe bag or laundry bag as well.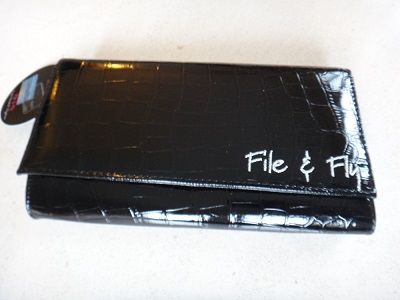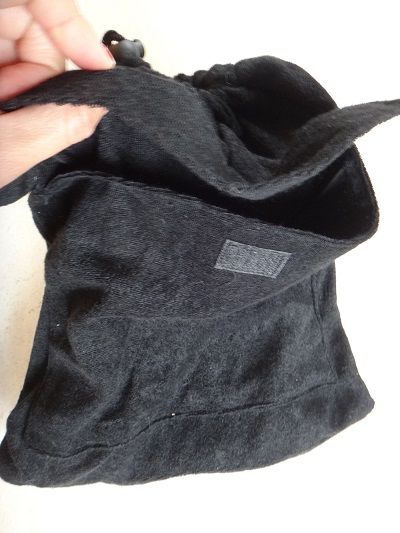 *File and fly – filing wallet
This is a travel document organizer that features space for your boarding pass, a zippered space for money, and four files for: tickets, passport, documents, and receipts. It also has a removable handle.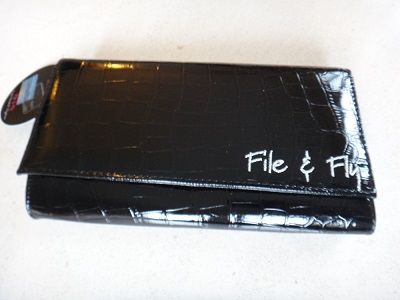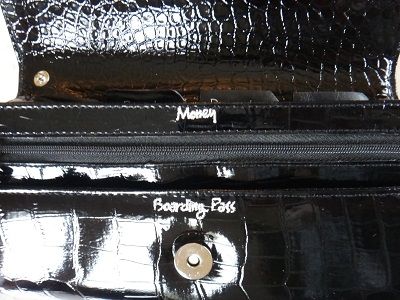 *Take charge – large black canvas bag
This organizer has ample space for chargers if you need to travel with many electronics. It has four compartments to keep everything in place and avoid tangled cords. It's clear top makes it easy to see the contents.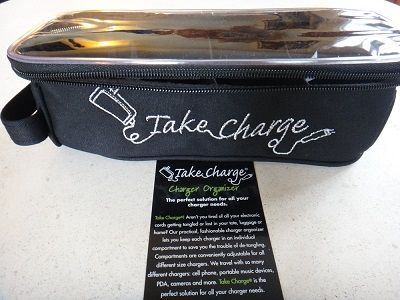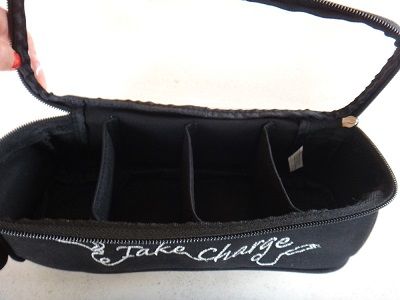 *Kiss and makeup – makeup bag
This cosmetic bag has a soft vevlet type terry cloth fabric with "kiss and make-up" written in rhinestones. It has two compartments, a mirror, and nylon interior making it easy to clean makeup smudges.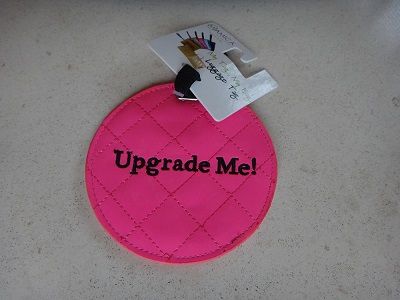 *Upgrade me – luggage tag
This is a fun luggage tag to help you identify your bag from the sea of suitcases on the carousel while also adding a bit of flair. It's roughly 4 inches wide and 4 inches long.
TFG Verdict:
Overall, the accessories are cute and girly. I would say that the majority of the items are fun for a vacation or holiday. They would also work well for women that want organizational aids for their handbag or car when they're not traveling. The price is pretty affordable and the feminine products would make cute additions to a suitcase.
If you have an all-girls getaway, bachelorette party, or a destination wedding they'd make fun gifts for the party or even as a going away gift for a bride to be.
As for backpacking trips longer than a couple of weeks, I wouldn't really recommend some of the items when function trumps style and more hard core travel materials are in order. Their novelty items aren't constructed to withstand the abuse backpackers place on their belongings.
If you're interested in getting more information about Miamica Trendy Travel Accessories for women, check out their website and if you'd like to purchase any items, they're available on Amazon
.
Please note: items with an asterisk are part of a giveaway
---
DON'T FORGET TO ENTER THE ULTIMATE BACKPACKING TRIPS GIVEAWAY FOR A CHANCE TO WIN MIAMICA TRAVEL ACCESSORIES* AND A BUNCH OF OTHER AMAZING PRIZES! ENTER NOW BY CLICKING THE IMAGE BELOW: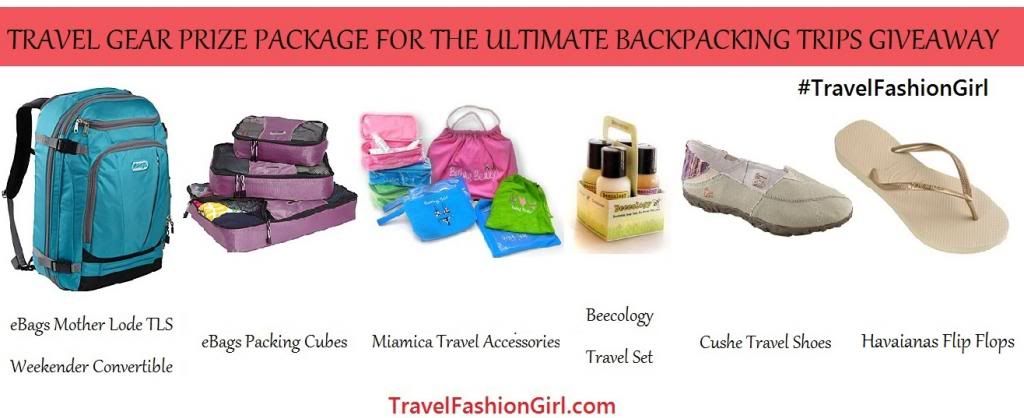 ---
Hope you've enjoyed this post. Please share with your friends on Facebook, Twitter, and Pinterest. Thanks for reading!
---
 I received complimentary samples to review from Miamica Trendy Travel Accessories for women but most of them are going to be given away to you!
---