Support TFG by using the links in our articles to shop. We receive a small commission (at no extra cost to you) so we can continue to create helpful free content. We earn from qualifying purchases made to the featured retailers. Thank you, we appreciate your support!
Whether you're heading to a tropical island for fun in the sun or planning adventure travel abroad, a durable and versatile camera is an absolute must! 
After I dropped my camera in the toilet just 2 weeks into my 9 month RTW trip in 2010 and saw my fellow travelers taking memorable ocean pictures with their waterproof cameras, I vowed to get a waterproof camera for my next trip and I'm so glad I did.
Not only have I been able to use my waterproof camera to capture beautiful marine life all over the world but it's also been convenient to have a camera that's built to last and won't get easily damaged if dropped or dirtied. It's been an absolute asset when traveling during monsoon season when rain can destroy the most precious of electronics or prevent you from capturing that once in a lifetime shot.
And at the end of the day, most travel gear takes a beating on any trip – you might as well choose a camera that can handle it.
To help you choose your next camera for your travels, here is a list of the top waterproof cameras on the market right now that offer you the best in function and style.
---
5 Top Waterproof Cameras
---
Sony Cybershot TX20
This is the camera that I use to travel as I'm a long time Sony fan and love their stylish cameras and ultra-quick shutter speeds to capture that quick shot. I first purchased the TX5 model and was then upgraded to the Cybershot TX20 through their warranty program. While the TX5 was great, the TX20 is awesome and it's first choice in this list of top waterproof cameras!
Ultra sleek, compact and easy to use the TX20 comes in a range of colors and is packed with features including full HD movie shooting, a 3" LCD touchscreen display, 4x optical zoom and a burst mode of 10fps which means you'll never miss those all-important shots. With a 16.2MP CMOS sensor and 27mm Carl Zeiss lens, plus the fact that sand, dust, or drops won't ruin this camera, it's the perfect choice for an active traveler. It's stylish looks will win it as many admirers as your photos.
The newer model came out recently: Sony DSC-TX30/B
Olympus Tough T-2
This series is a very popular choice for travelers that are into activities such as rock climbing or snowboarding and need a rugged camera to match their lifestyle.
As tough as they come the Olympus Tough T-2 is also versatile, hard-wearing and can handle almost any weather condition thrown at it. You can soak it, drop it or freeze it and this 12MP, 4x optical zoom, HD movie shooting; GPS, 15m waterproof bad boy will just keep coming back for more. Perfect for those hedonistic, adrenaline junkies out there who want pictures to go with their stories.
Panasonic Lumix TS5
The Panasonic Lumix series takes shots as good as DSLRs and the travelers carrying these sleek compact cameras seem to get perfect pictures every time.
Another versatile, solid effort from this series, the Panasonic Lumix TS5 is waterproof to 43 feet and like the others is shockproof, dust sealed and freeze proof so great not just for the beach, but the winter ski season too.  Probably the most durable of all these cameras (it's crush-proof up to 100 kilograms of force) and full of easy to use features. GPS, a compass, altimeter and barometer built in means you will know exactly where you are and what the weather is doing at any given time. All this and it looks good too.
Nikon AW 110
This is Nikon's second effort at a rugged, compact underwater camera that offers built in Wi-Fi. Not as stylish as the Sony (but nothing is), it has very similar spec in that it holds a 16MP CMOS sensor, GPS, 3" screen and full 1080p HD mode. The Nikon AW10 has a strong design and good range of capabilities, comes in 2 different colors – sleek black or metallic orange – and is a solid performer, as you would come to expect of the Nikon brand. You can even use it whilst wearing gloves should the need arise.
Canon Powershot D20
With its stylish blue/black design, curvy shape and full range of features – including GPS, 5x zoom, 3" LCD display and 12MP sensor – this compact, fashionable and rugged model is waterproof to 10m, shockproof to 2m and temperature resistant from 14°F – 104°F. Slim, sturdy and sexy to boot the Canon Powershot D20 is great for using outdoors and takes fantastic underwater photos. Another high quality offering from Canon.
If you're looking for a camera to take scuba diving, I use and highly recommend the Canon PowerShot S100 with its Underwater Housingwhen I go diving. Check out this post on What to pack for a Scuba Diving Liveaboard for more packing tips on diving trips.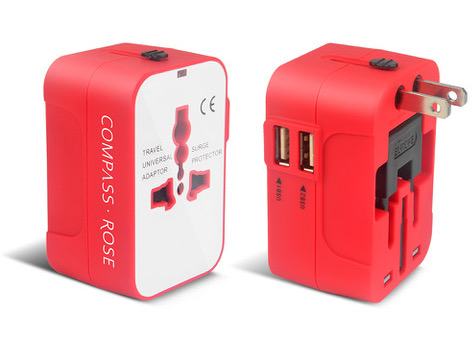 Compass Rose Dual USB Port Travel Adapter
Universal Travel Adapter with Two USB Ports
If you're traveling to multiple countries in Europe or around the world, for example, you'll want to bring a universal adapter, which is much easier than taking several different adapters for each country. Plus, this one by  Compass Rose International Travel Adapter (our brand!) will allow you to charge three devices at once so you can keep all your camera batteries fully charged!
This is a product by Travel Fashion Girl! You can also use it in over 150+ countries. Plus, it's red so you won't leave it behind on a white hotel room wall. Buy it here!
---
Priced between $200 – $400 any one of these choices for top waterproof cameras are affordable, easy to use and boast sleek and stylish designs. Whether you're a water lover or adrenalin junkie, waterproof cameras are the best choice for any traveler. Happy snapping!
What are your top waterproof cameras?
---
For more tips, please read:
---
Hope you liked this post about our top waterproof cameras. Please share it with your friends on Facebook, Twitter, and Pinterest. Thanks for reading!
---