Support TFG by using the links in our articles to shop. We receive a small commission (at no extra cost to you) so we can continue to create helpful free content. We earn from qualifying purchases made to the featured retailers. Thank you, we appreciate your support!
While Mexico is a massive vacation destination for North Americans, Thailand is a travel must for Europeans on holiday. Thousands of travelers head to the Thailand Islands in search of sun, fun, and relaxation.
With dozens of tropical islands and epic limestone cliffs overlooking the aquamarine waters; you will not be disappointed. Use this Thailand packing list to prepare for your beach trip!
---
Thailand Packing List
Co-Written By: Julia K
---
Table Of Contents
Whether you want to island hop the well trotted Samui islands in the Gulf, party in Koh Phangan, or chill out in beautiful Railay; planning your Thailand packing list is relatively simple.
With a temperate climate, you can fit your travel capsule wardrobe quite easily in a carry on suitcase or travel bag with the help of packing cubes to compress your clothing. It generally stays hot in the evenings but you can layer if it gets cooler.
While backpackers seem to rule the majority of Thailand's islands including Koh Tao and Koh Phi Phi, the upscale crowd leans towards the resorts in Phuket and Koh Samui. While these destinations have some of the best beaches in Thailand, there are many more islands to choose from.
That is not to say that you will not see your favorite elephant pants. You will.
Tank | V-neck | Blouse | Top | Dress | Playsuit | Shorts | Pants | Poncho | Vest | Blouse | Skirt | Gladiator | Sandal | Hat | Tote
10 Piece Thailand Packing List
If you're heading to South East Asia this holiday season, here are some tips on how to pack for a 2-week beach holiday in Thailand.  For other parts of Thailand, read What to Wear in Bangkok and Chiang Mai.
Here is the comprehensive guide on what to wear in Thailand's islands: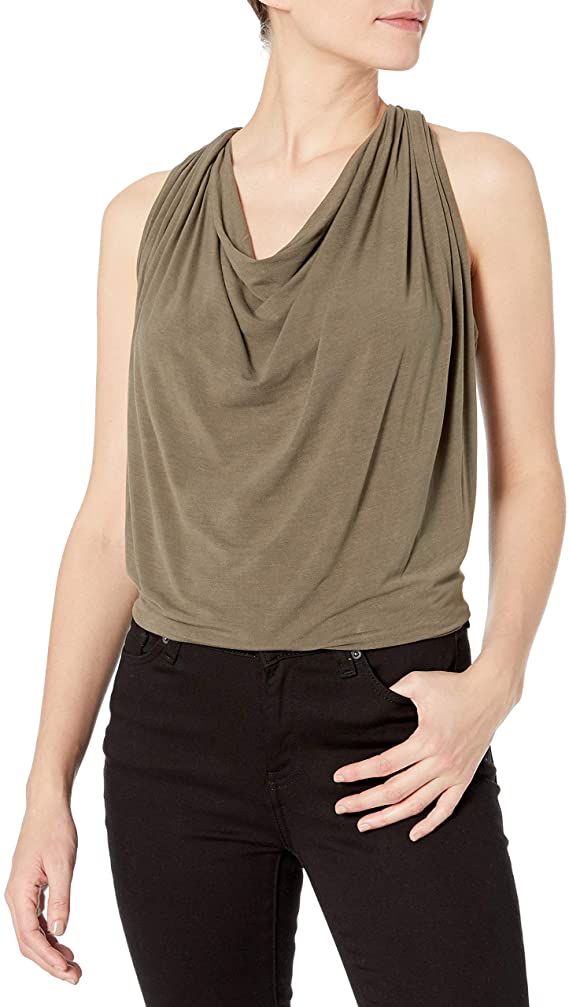 5 Tops
Add a basic tank and tee plus two additional tops you can dress up with shorts or your maxi skirt. Pack a light ¾ sleeve or long sleeve top that gives you extra coverage in temples or smaller villages.
A great option is a top that you can also wear on the beach when you want to have a break from the sun. Play with your travel outfits to make sure your tops are interchangeable with the rest of your travel wardrobe.
A fun idea: choose a scarf with a great print and work your color story around that! You can use it to add coverage when visiting temples or small villages.
These are my favorite travel accessories for chilled out SEA style.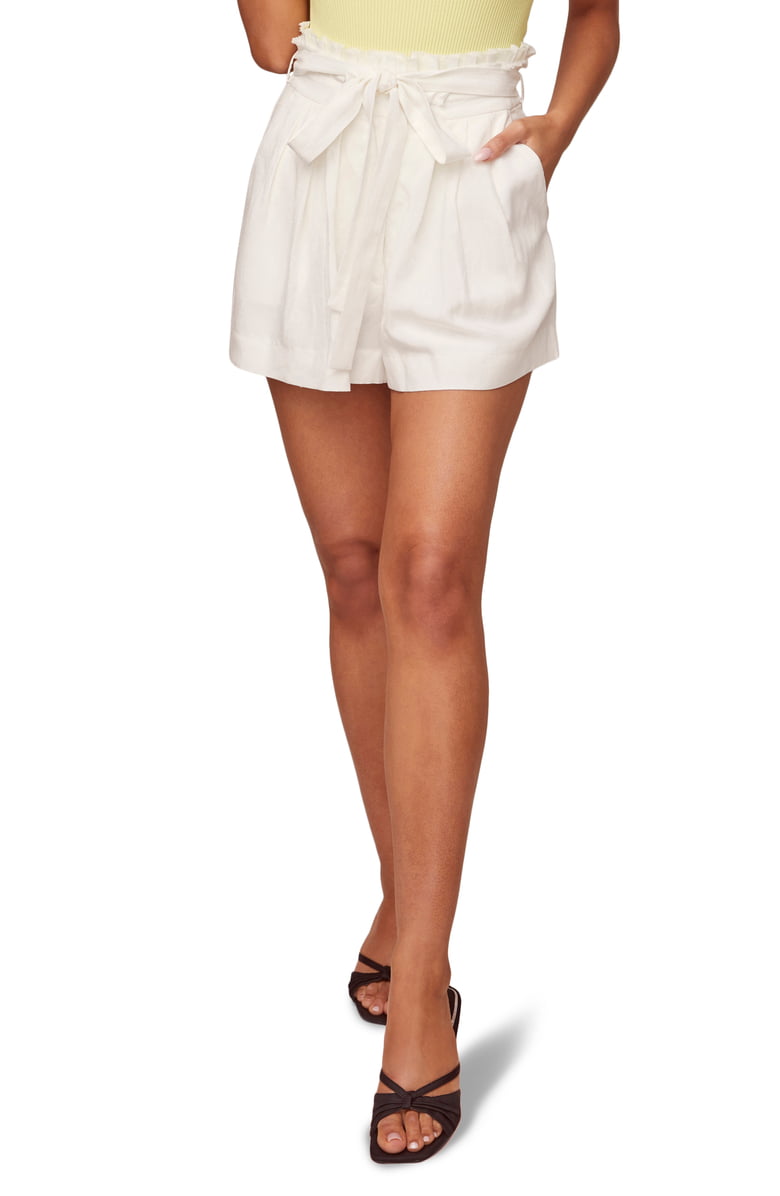 1 Pair of Shorts
Denim shorts are a staple in a Thailand Packing List. If you don't pack your own you can buy them here starting at $3. They're easy to wear and can usually be worn several days without needing a washing. Not a denim kinda gal? Choose a neutral color that you're okay taking to the beach.
Check out TFG's DIY tutorial to create your own denim shorts for women.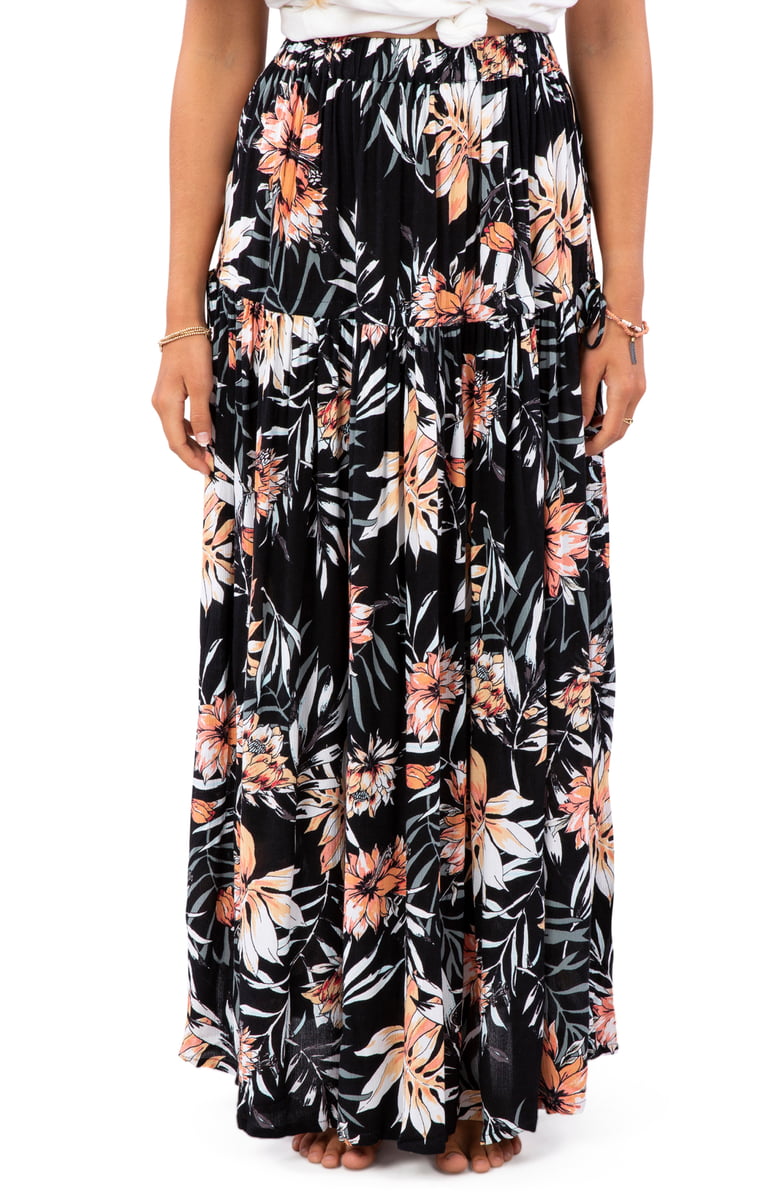 Playa Blanca Floral Maxi Skirt
1 Maxi Skirt
A nice maxi skirt in a light fabric keeps you cool and can be worn in different settings if you choose to venture further into the inland of the Thailand. You can usually find cute maxi skirts available in the tourist shops and markets for $5-$10.
Alternatively, use a light and airy maxi dress or trousers.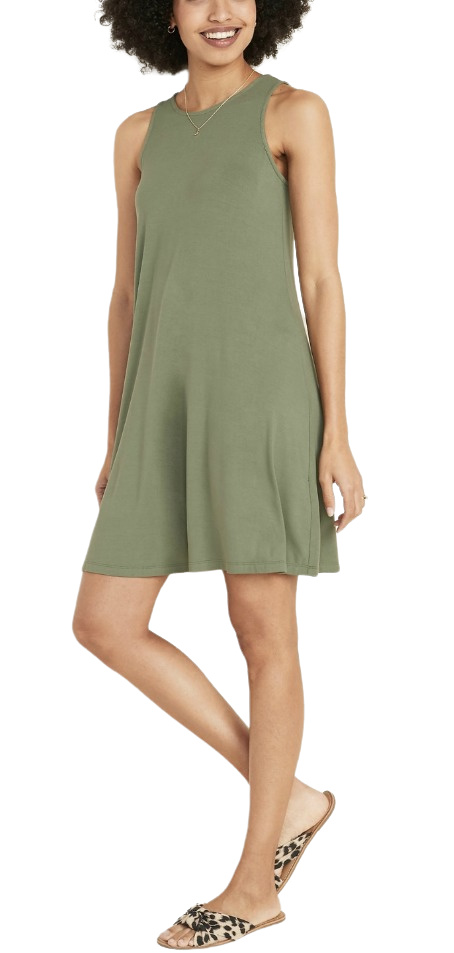 1 Sun Dress
Nothing better than to slip into an easy lightweight sun dress for a day out. Pair with flip flops such as these iPanema sandals during the day for a casual look and add sandals at night to take it up a notch. Add a scarf for style and extra coverage in the mainland. Respecting the local culture should always be priority when traveling.
This is a must for any Thailand packing list!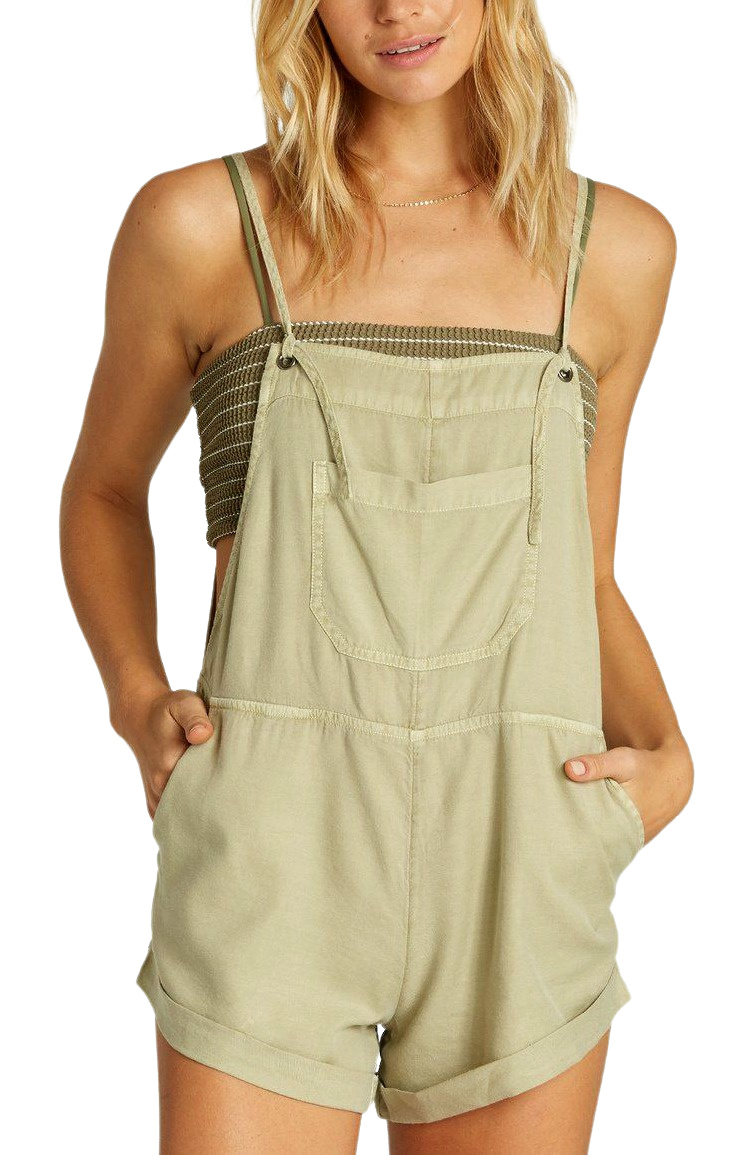 Billabong Wild Pursuit Short Overall
1 Dress/Playsuit
This dress can be a basic cotton LBD you can dress up or down or a sexy number you picked out especially for your holiday. You can also go with something fun and classic like a black playsuit that can be worn anywhere.
You want something you feel comfortable wearing out to dinner and on the dance floor. However, unless you're planning to attend a very formal event or upscale dinner, you'll also be good to go with a pair of shorts or sun dress – just add some nice sandals and accessories and you'll have a dressier look in seconds!
Want more travel dress ideas? Check out TFG's Top 5 Convertible Travel Dresses.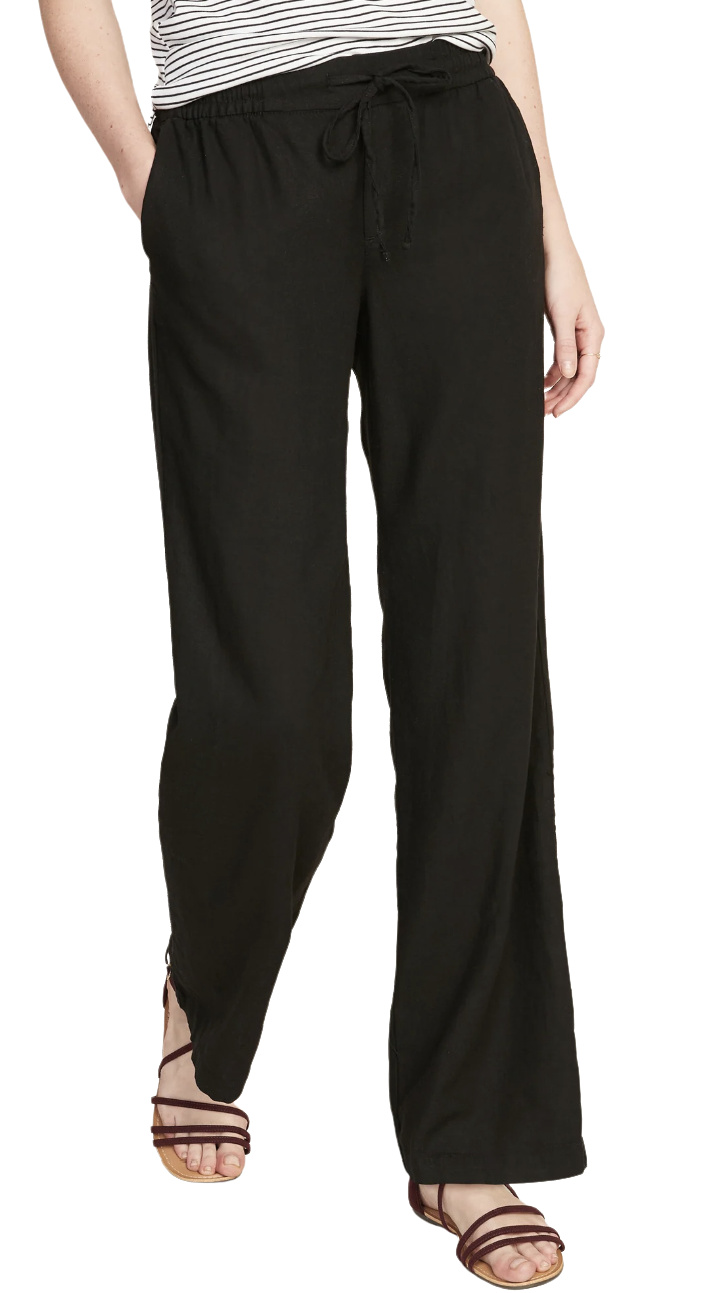 Mid-Rise Wide-Leg Linen-Blend Pull-On Pants
1 Pants
You should have a pair of light weight pants or even a playsuit during your time in Thailand if you'll be in Bangkok or in other mainland towns. While many backpackers wear shorts everywhere, it's good to be mindful of the local culture.
Locals make exceptions for tourists, but being respectful is important. Grab a pair of casual or fisherman's pants in any tourist shop or market if you want light, airy, and comfy pants that will keep you cool in the high humidity.
If you want something you can also use for activities such as jungle trekking, check out my favorite travel pants for women.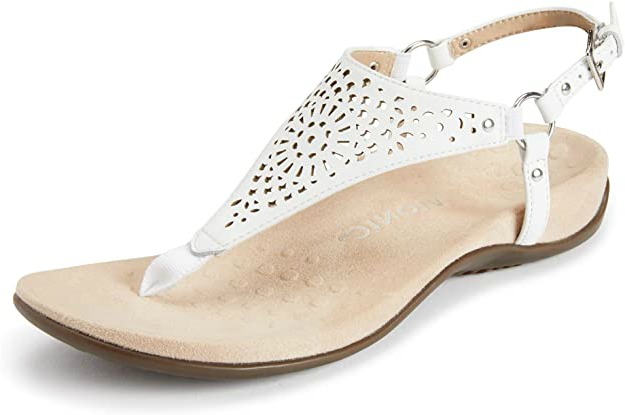 2 Pairs of Shoes
A pair of dressier sandals is a must in most packing lists especially by the beach where heels aren't always the most convenient for some bars and restaurants. Skip the heels unless you have plans that require formal attire. A must in every travel bag, these are essential if you're hitting the beach. If you're an ultra-light packer and only want one pair of shoes, splurge on a hybrid pair that you can dress up or down.
In addition to flip flop type sandals, you'll also want a pair of walking sandals. The Birkenstock Gizeh are popular with fashionistas and Teva Sandals are the top choice for active women.
Read this for more ideas on how to choose travel shoes.
Travel Outfit Ideas
In addition to the above Thailand packing list, we've also put together various travel outfits: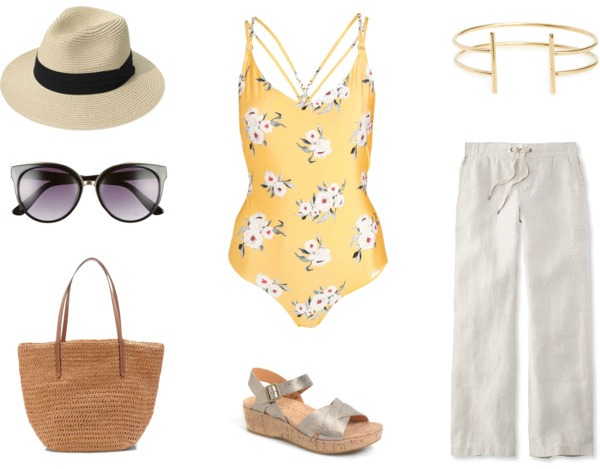 Hat | Sunglasses | Tote | Swimsuit | Wedge | Bangle | Pants
Bottoms
Keep it simple and take three pairs of shorts. Perfect colors are black, army green, white or denim. One to wear at home, and two other options for walking around.
Two piece romper that can be matched to itself and everything else on the list.
These stylish summer shorts for women will take you from day to night, city to sea, and so much more!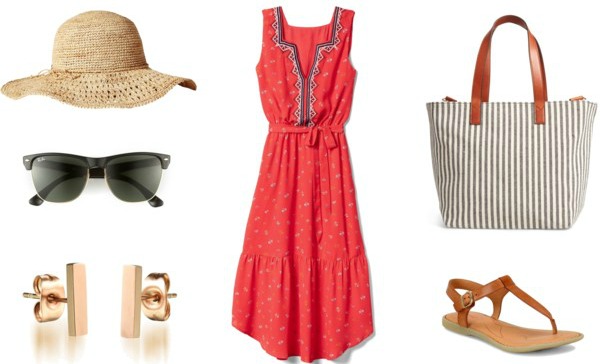 Hat | Sunglasses | Earrings | Dress | Tote | Sandals
Tops and dresses
Three T shirts: black, white, and gray are ideal because they match everything.
a day dress
a fancier restaurant dress
a beach cover up.
Tip: Please do not walk in your bikini anywhere but the beach. It is very disrespectful to walk more than half naked into restaurants or city. It is also very unsanitary as well.  Linen clothing is perfect for summer and warm weather travel!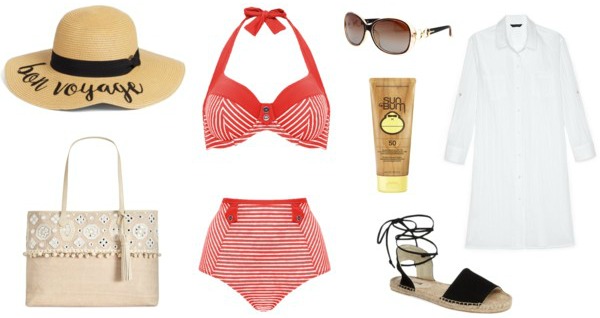 Hat | Tote | Swimwear | Sunglasses | Sunscreen | Flats | Cover Up
Accessories
A hat
Two pairs of sunnies: one simple for beach and activities, another for the fancier dresses and walks on the beach
A pareo. A simple 3'x5′ pareo made out of light material like linen will be a saviour in many situations like a cover up for temple visits, picnic on the beach or a sun protection when you forgot your hat.
A light beach bag that can stand on its own or a back pack. You will be going with this bag everywhere, not only the beach but also night market, tours, and walks so make sure it is light and sturdy. I would pick something that can be carried as a cross body and a purse.
An evening mini wrist-let to fit your cash and credit cards, phone, and lipstick.
These are the swimwear styles we're loving this season!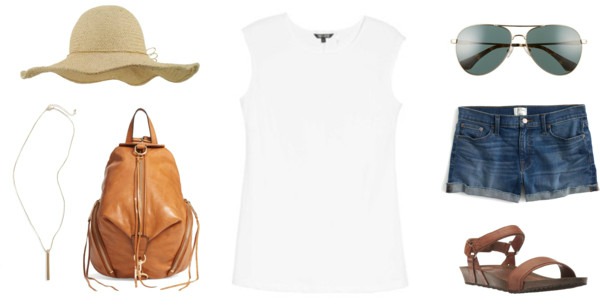 Hat | Necklace | Backpack | Top | Sunglasses | Shorts | Sandals
Comfortable shoes
One pair of everywhere shoes for activities in the jungle and may be some horse back riding on the beach,
I would stay away from closed shoes because of the humidity and high temperatures.
Flat sandals that match everything
Fancier pair of sandals for dinner dates or a club
Tip: Thailand is known to have no sidewalks. Save yourself a strained ankle and some luggage space by not packing heels. Our readers share their top twenty brands of most comfortable shoes for travel, check this post!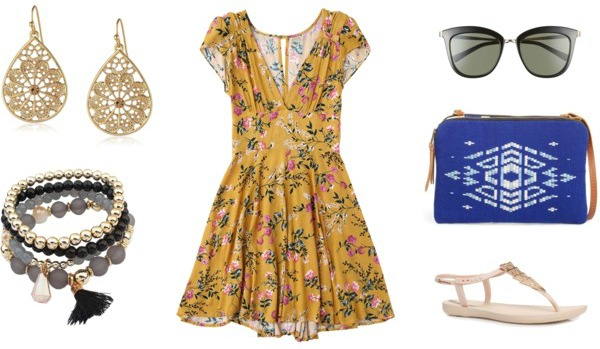 Earrings | Bracelet | Dress | Sunglasses | Pouch | Flip Flops
Jewelry
Don't take your gold and diamonds as the atmosphere suggests a relaxed mode. If you want to bring a memorable souvenir you can shop some trinkets in their abundance of accessory shops.
The choice is limitless and the prices are good. Three pairs of earrings for three dollars? Kind of wish I bought more…
Read this packing tips on how to travel with jewelry!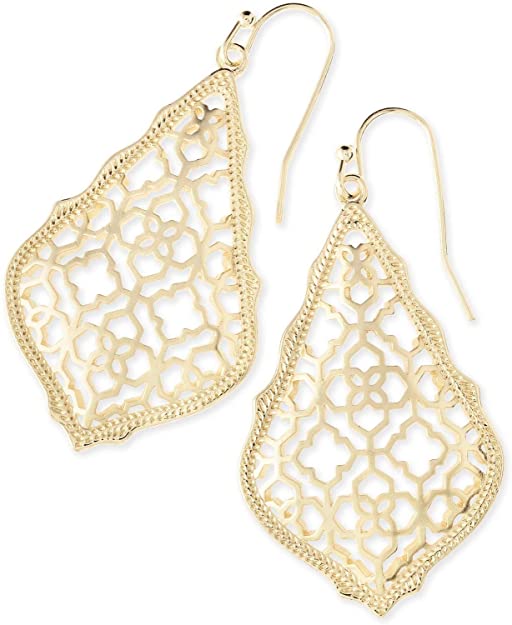 Kendra Scott Addie Drop Earrings
If you still want to take some with you. Take a something that you can wear everyday and that is humidity resistant or that cannot get stuck on you swollen from heat body parts.
A cocktail ring that you know you will wear more than once.
A couple of bracelets,
One pair of Everyday earrings,
One pair of Statement earrings for dinner dates
Use these accessories and hats for a fun and stylish way to update your vacation do!
If you're traveling with your family, while there are various things to do in Phuket with kids, the nighttime atmosphere probably isn't one of them.
AIRPORT OUTFIT:
Pants/Maxi Skirt + Top + Long Sleeve Top + Scarf + Sandals
BEACH OUTFIT
Shorts + Top + Flip Flops
SIGHTSEEING
Pants/Maxi Skirt + Top + Long Sleeve Top + Flip Flops
Maxi Dress + Scarf + Flip Flops
DINNER OUTFIT
Maxi Skirt + Top + Sandals
NIGHTLIFE
Dress + Sandals
If you don't think 10 pieces of clothing is enough for you Thailand packing list, don't worry; you can have your clothing washed for about $2 or save space to go on a shopping frenzy in this shopping mecca.
Remember to cater your packing choices to what fits your needs. If you plan on exploring temples and working out, add a pair of trainers. If you don't plan to leave the beach, add a bathing suit and a kaftan in place of a dress.
Thailand Travel Tips
Cheap Airfare
My favorite airline to fly economy to Southeast Asia is Japan Airlines and China Airlines has a very comfortable Premium Economy – it's more like business class!
I always browse for the cheapest dates to fly using Skyscanner.net then purchase my ticket on Travelocity.com or CheapOair.com.
 for the best deals. (Travelocity has a 24 hour refund policy for women that find it hard to commit to a flight, like me!)
Read this post for my five step process to find the best flight deals.
Accommodation
When traveling to less expensive destinations such as Southeast Asia or Central America, I prefer to stay in local guesthouses rather than Airbnb because they're more cost effective. I book guesthouses and hotels or resorts, using Booking.com or Agoda.com. Depending on how long you're traveling you can also walk around to find good deals upon arrival.
You can stay in a lovely place for under $30 a night depending on the location. Anything 1000-2000 baht ($30-$60) is more than enough. no need to spend hundreds of dollars on a hotel room. I would usually spend between 500-750 baht. you get alot of value for your money.
OR if you want to splurge on a four star hotel, you can stay at one here between $150 – $250. Many people do this for the last couple of days of their trip to experience a luxury hotel much cheaper than anywhere else in the world. I like the Conrad Hotel.
Suggested 2-Week Itinerary for Thailand (December – April)
Bangkok 2 nights – fly to Chiang Mai (4 nights) – fly to Phuket (4 nights) – Bangkok (1-2 nights)
In Bangkok: Khao San Rd is the party backpacker area but it's very convenient when you're short on time. You can find cheap eats, cheap shopping, convenient tours, and a good time if you're looking for one. See the Grand Palace nearby, visit the floating market, and then take a tour to Ayutthaya amongst many other things.
In Chiang Mai: Do a 2-night trek with family homestay. Book the trek in a travel agency there for cheapest price. Do this cooking class – it's INCREDIBLE. Be aware of animal tours as some hurt the animals. Book reputable companies by doing your research.
In Phuket: fly into Phuket BUT DO NOT stay in Patong (it's a shady area). From Phuket go to Krabi instead and visit beautiful Raleigh Bay. (Phuket is pronounced poo-ket.) You can also go to the Phi Phi Islands from here (pronounced pee-pee). The island itself might be busy but the boat tour around the islands is phenomenal! You can also scuba dive here, too.
Rainy season in the South lasts from May – November in the West Coast and December to April in the East Coast. Rainy season in the North (generally anything North of Bangkok) is from May to November.
Suggested 2-Week Itinerary for Thailand (May – November)
Bangkok 2 nights – fly to Chiang Mai (4 nights) – fly to Koh Samui (4 nights) – Bangkok (1-2 nights)
Follow the same tips mentioned above for Bangkok and Chiang Mai but instead of going to Phuket, go to the islands on the other side. You can fly into Koh Samui but you can also visit Koh Phangan (Full Moon Party) or Koh Tao (learn how to scuba dive).
Koh Samui is for families, honeymooners, and vacation-goers while the other two islands are more backpacker-oriented. Yoga is very popular in Koh Phangan. If you stay in Koh Samui, this sailing tour is AMAZING!
For more travel tips, check out the this Southeast Asia Packing List!
Suggested Travel Resources:
---
What are the essentials in your Thailand Packing List?
---
For more Southeast Asia packing list, please read:
---
LIKED THIS POST? PIN THIS PIC TO SAVE IT!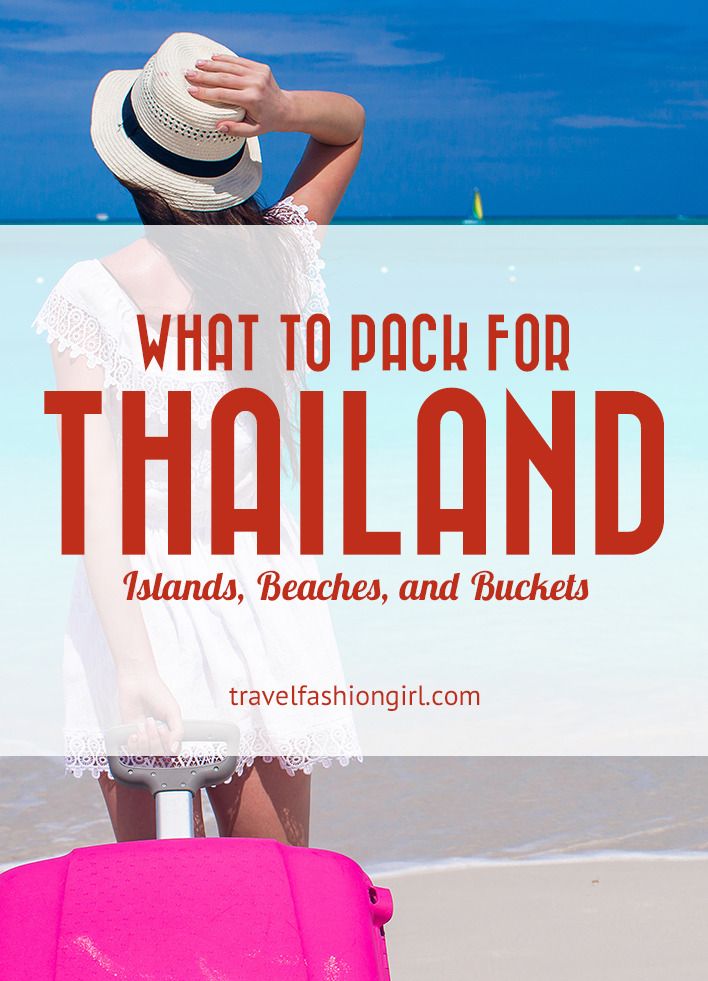 ---
Hope you liked this  Thailand packing list for beaches and islands. Please share this post on Facebook, Pinterest, or Twitter. 

Thanks for reading!
---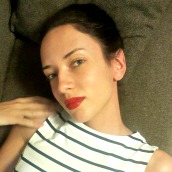 Author Bio: Julia K is a travel blogger who believes in utilizing every item in her luggage 101%. When at home, she likes to explore what's new in the world of travel fashion, food, and travel gadgets. Follow her on Instagram, Facebook, Twitter and her blog.
---