Support TFG by using the links in our articles to shop. We receive a small commission (at no extra cost to you) so we can continue to create helpful free content. We earn from qualifying purchases made to the featured retailers. Thank you, we appreciate your support!
One of the most important aspects of learning to pack light stylishly and efficiently has to do with creating a capsule wardrobe. If you're looking for inspiration just look to the setting of your destination!
Let this ocean-inspired color story rule your spring and summer capsule wardrobe, it's all about my favorite type of travel: sun, sand, and sea!
---
Summer Capsule Wardrobe Color Inspiration
---
If you're after an editorial worthy look or perhaps some photos you won't cringe at several years from now considering your clothing and color story is absolutely essential.
Start by considering these tips:
When traveling to a beach, primarily a resort vacation, stick to hues that complement that ocean. The below tips apply to tropical waters where teals and turquoise water dominate.
If you're visiting colder navy, grey waters of the pacific for example – another color story is better suited for you such as deep red and navy
When considering your color story of choice for your summer capsule wardrobe, find inspiration from your setting but also choose shades that complement you.
If you haven't experienced a color analysis think about the clothing you feel most confident and radiant in. What makes you feel good?
Use the below guide to find a happy balance between color inspiration and what's true for you.
Complementary Summer Capsule Wardrobe Color: Blue

Cotton Maxi Dress / Knitted top / Pleated Maxi Skirt / Flip Flops / Sunglasses / Necklace / Earrings / Bracelet / Hydrating Sunscreen Lotion / Nailed Lacquer
Blue seems like an obvious choice and truthfully it's one of the easiest for an ocean-side trip. However, the hue of blue you choose is essential.
Go for bright and vivid blue tones and skip pastels or dark shades. Think aquamarine, turquoise, and royal blue. Pair these items with neutral such as tan, beige, white, khaki, or even a dash of black.
Accessorize with contrasting jewelry such as elegant coral and gold or complementary such as boho inspired turquoise and silver.
As for footwear, it all depends on the rest of your accessories but copper, silver, and white are all easy to pair colors. Avoid contrasting colors for a crisp, clean look.
Contrasting Summer Capsule Wardrobe Color: Coral

Crochet Tunic / Sundress / Bikini set / Tory Burch Flip flops / Floppy hat / Sunglasses / Necklace / Earrings / Bracelet / BB cream / Lip balm / Camera
If reds, oranges, and pinks are more your style you may prefer coral instead of blue. The shade you choose is important because it's right in the middle of a tropical red and orange. Make sure it's not too pale or peachy for a successful contrast.
Pair with a white, black, or navy blue neutrals and accessorize with gold, sea blue, or black. For shoes, the above colors would also work but stay away from the sea blue for a chic look.
Monochrome Summer Capsule Wardrobe: White and Black
Maxi dress / Tunic top / Linen dress / White shorts / Flip flops / Straw hat / Aviator / Necklace / Earrings / Starfish ring / Lipbalm
White can look stunning by the sea especially against a golden tan with turquoise accessories. Nothing beats an airy cotton tunic with a straw hat to match. It's the epitome of resort wear.
However, like black, this color can also wash you out if's not your corresponding color season various (based on skin tone, eye color, and hair color).
As for black, as much as I love it, it can be tricky for most color seasons to pull off but when it works – it works. Contrast with silver or copper jewelry for a mysterious look. Use sparingly unless you know how to rock black anywhere you go.
Black also works great when worn with contrasting white when by the sea. A solid black tunic tucked into white tailored shorts offers a minimalist sophistication while a tropical inspired black and white print can add a flair of fun to your look.
Neutral Summer Capsule Wardrobe: Earthy Tones
Embroidered top / Ripped shorts / Bikini set / Tong sandals / Black belt / Floppy hat / Sunglasses / Necklace / Earrings / Bracelet / Starfish ring / Moisturizer
For neutral tones use the various shades of sand as your inspiration. Think tan, khaki, and white. Boho lovers will be in their element with this color story and makes for a cool and unexpected resort wear look.
I love the idea of pairing turquoise silver jewelry with an airy tan tunic and straw hat. Think festival style without the gladiator sandals or boots. Go barefoot or copper toned sandals for this look.
---
What are your tips on summer capsule wardrobe color inspiration? Share in the comments!
---
For more capsule wardrobe tips, please read:
---
LIKE THIS POST? PIN THIS PIC TO SAVE IT!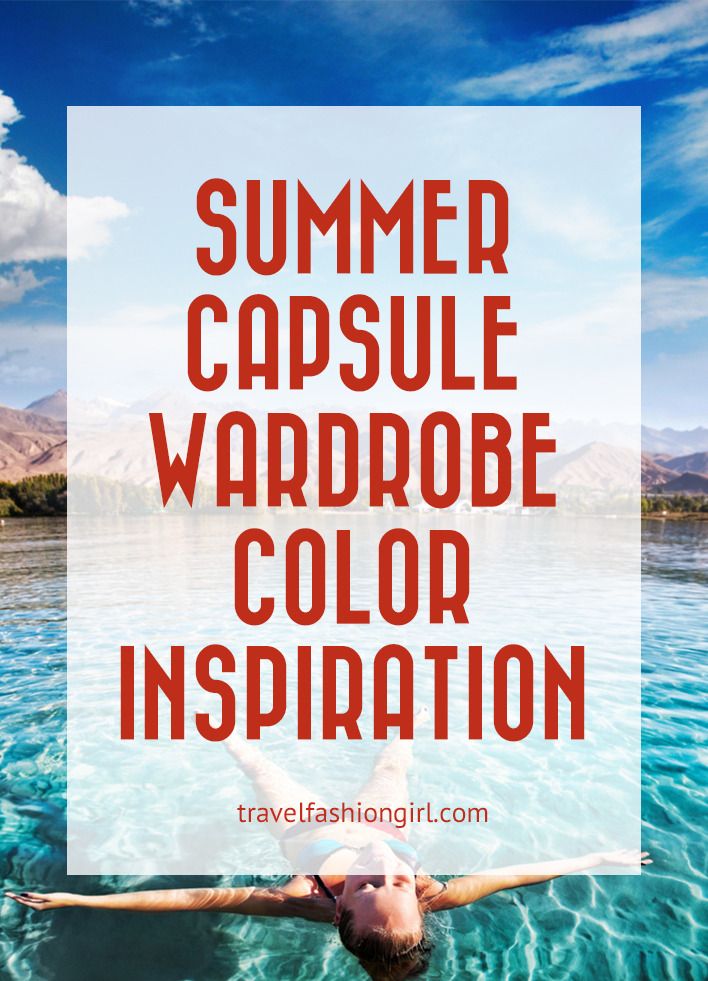 ---
Hope you liked this post on capsule wardrobe color inspiration: sun, sand, and sea. Please share it with your friends on Facebook, Twitter, and Pinterest. Thanks for reading!
---