Support TFG by using the links in our articles to shop. We receive a small commission (at no extra cost to you) so we can continue to create helpful free content. As an Amazon Associate, we earn from qualifying purchases made on Amazon in addition to other retailers featured on the blog. Thank you, we appreciate your support!
The good news with a Southeast Asia packing list is that you can travel fairly light, as you don`t really need to pack any warm clothes. Read on to find out what to wear in Southeast Asia!
---
Southeast Asia Packing List
Written by: Tammy Lowe
---
Weather
Temperatures in Southeast Asia are either hot or very hot with daytime temperatures ranging from 30 to 40 degrees Celsius.
As the climate is so hot and humid you should consider creating a travel capsule wardrobe with clothes that are airy and quick drying, as you are very likely to sweat a lot.
What to Wear in Southeast Asia
Top | Tunic | Tank | Tee | Dress | Maxi Dress | Pants | Shorts | Poncho | Jacket | Dress | Leggings |  Sneakers | Sandal | Hat | Tote
Tops
Start by adding about 5 tank tops and T Shirts to you Southeast Asia packing list, so that you have enough tops to change into after a sweaty day of sightseeing.
Consider bringing some tops made out of technical material, such as merino wool tees, as those materials will wick away the moisture, which means you won`t have to wear a sweaty top clinging onto your skin all day.
Please read this post for more tips on how to choose the best fabrics for travel.
If you are fair skinned or would like to protect yourself from the intense sun you could also bring a couple of tunics or blouses with you. Again they will be nice and airy, so won`t be as hot as tight tops.
Tunics are also nice to wear over a bikini if you decide to get some beach time and they will come in handy if you are visiting a temple, as women usually need to cover their shoulders in temples.
Although the weather is very hot and humid you may want to consider adding a fleece jacket to your Southeast Asia packing list. The air con on buses is usually inhumanely cold and you can get very sick if you don`t put on some warm clothes. It's also handy if you go to colder, mountainous areas such as Sapa, Vietnam where the temperature plummets.
Get additional clothing ideas in this Thailand Packing List.
Bottom
I am usually a jeans lover, but apart from some denim shorts, you should leave your jeans at home. They are just far too hot for the weather so leave them out of your Southeast Asia Packing List. Instead of denim, bring leggings, shorts and/or linen trousers (try and buy some that don`t crease as much) with you.
A lot of female backpackers also often buy some hippie pants at one of the many markets in South East Asia as you can see in this Bangkok Backpacker Street Style post. If you buy one as well you will end up looking like every other female backpacker, but they are actually perfect for the hot climate in South East Asia, as they are so airy. They are also very handy for temples, as you need to cover your knees in temples.
I would also recommend adding a couple of summer dresses and a skirt to your Southeast Asia packing list. They will be nice for going out at night, on the beach and even for sightseeing. I personally love dresses from Icebreaker, as the merino wool material keeps you really cool.
TFG recommends: my favorite travel pants for women are incredibly cool in the Southeast heat too!
Beachwear
You will be spoiled for choice when it comes to beaches in Southeast Asia. Whether it is the famous Maya beach in Thailand, the dive paradise of Indonesia or the deserted beaches in the Philippines. If you are a beach bum then I would consider bringing at least two bikinis or swimming suits with you, so you have a spare one when your other bikini is wet.
A sarong will come in handy to wear as a dress on the beach or to use as a towel but you can buy this anywhere so you can leave it out of your initial Southeast Asia packing list. To protect your eyes bring some sunglasses with you. You may want to consider bringing a cheap pair for the beach, so if it gets stolen it is not the end of the world, and a more expensive pair with proper UV protection for sightseeing.
Also bring a nice sun hat or cap with you to protect your head from the sun and to avoid sun stroke. You can usually buy some nice and cheap headwear locally. Also don`t forget your sun cream and after sun lotion.
In the two years I lived in Southeast Asia I have seen far too many victims of sun stroke and severe sun burn, which really spoiled their holidays for them, so don`t be one of them.
Check out the Ultimate Backpacking Southeast Asia Packing List for even more tips!
Shoes
Apart from a few volcanoes in Indonesia and Borneo, there are not major hiking opportunities in Southeast Asia. So unless you are planning on doing some hiking on these volcanoes or in the jungles you can leave your hiking boots at home and instead just bring some trainers with you.
Trainers will not be suitable for jungle treks though, as it tends to be quite muddy in the jungles, so your trainers would soon be covered in mud, and so would your socks. Sometimes you can rent rubber boots from tour operators though. Packing cubes make the perfect shoe bags to protect your luggage from dirty shoes.
TFG recommends: while not the lightest or smallest shoes, New Balance cross trainers have always worked great for me plus they've always dried overnight even when full of mud. Alternatively, they now have super lightweight trail shoes too.
Everybody in Southeast Asia wears flip flops including the locals, so you won`t look out of place if you wear them all the time. These are an absolute essential in any Southeast Asia Packing List!
For sightseeing they might not be as comfortable though, so you could consider bringing a nice pair of walking sandals with you, i.e. from Teva or Keen. Some walking sandals have such a nice design these days that you could even wear them for a night out, i.e. the Teva Kayenta suede range.
TFG recommends: These are my absolute favorite travel sandals and pretty much all I wear when living in Southeast Asia (and everywhere else too). For comfort, try these Birkenstock sandals.
Toiletries
If you leave your toiletries out of your Southeast Asia packing list, don't worry – you can pretty much find anything and everything you need in Southeast Asia. The 7-11 shops in Thailand have it all plus they are cheap. You can find one on almost every corner! They have similar stores in neighboring countries.
The hot and humid air, as well as salt water can be a killer for your hair, so I would recommend using conditioner or leave in conditioner with you. Your hair will thank you.
You can leave things such as nail polish and nail polish remover at home, as you will be able to get cheap pedicures and manicures around every corner. I find foundation or powder useless as well, as you will sweat it off after 2 minutes, even in the evenings.
TFG recommends: I love by NARS multiple for light and glowy cheeks that won't streak all over my face!
Tampons are hard to come buy or are very expensive, so you may want to bring plenty of those with you. If you want to save some room you could consider the moon cup instead. A lot of female travelers swear by it.
A lot of toilets in South East Asia are squatting toilets and the ones you end up using on a bus break tend to be pretty horrible.
To make these visits as painless as possible I always have a little toilet kit in my daypack which included a toilet roll, hand sanitizer, a shewee and tiger balm to rub under your noise to block out any strong smells. Tiger balm also works wonders on headaches and itchy mossi bites.
Strong mosquito repellent is also another must have in your Southeast Asia packing list. There are mosquitos everywhere – and when I say everywhere I mean everywhere. Some people don`t like deet based products, but they are usually the ones that protect you best. Test it out on a small part of your skin first to make sure you are not allergic to it.
TFG recommend: If you wish to pack light, the key is to use packing cubes to compress your clothing as shown in this video!
Shop The Post
---

---
What your must have items in your Southeast Asia Packing List?
---
For more Southeast Asia packing list ideas, please read:
Suggested Travel Resources:
---
LIKED THIS POST? PIN THIS PIC TO SAVE IT!
---
I love Tammy's awesome tips in this Southeast Asia packing list. Please share this post with your friends on Facebook, Twitter, or Pinterest. Thanks for reading!
---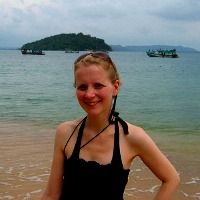 Author Bio: Tammy is a travel blogger and adventure junkie. She has endured the Everest Base Camp trek, abseiled down a skyscraper, cycled down the world's most dangerous road, and trekked through the mosquito infested Amazon jungle. You can follow her adventures on her blog Tammy & Chris on the move or on Facebook, Twitter, Instagram or Pinterest.
---