Support TFG by using the links in our articles to shop. We receive a small commission (at no extra cost to you) so we can continue to create helpful free content. As an Amazon Associate, we earn from qualifying purchases made on Amazon in addition to other retailers featured on the blog. Thank you, we appreciate your support!
Toronto is a city of neighborhoods. Each has a little downtown of its own, with shops, grocers, salons and dry cleaners. Shopping in Toronto varies along a spectrum that includes dollar and thrift stores all the way to high end designer boutiques.
Depending on your style there is a Toronto Shopping neighborhood, you just have to know where to look. Find out where to shop when you travel to Toronto.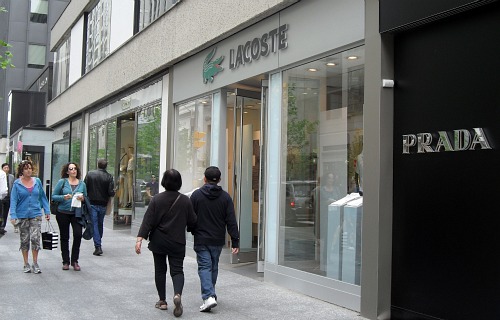 ---
These are Five Neighborhoods You Should Know When Shopping In Toronto
---
Bloor Street – this is Toronto's Rodeo Drive, it's Madison Avenue. Designer boutiques line the sidewalk from Yonge to Avenue along Bloor Street West. You can find everything from Canada's high end department store Holt Renfrew, Prada, Chanel and Gucci. Yorkville is directly behind Bloor Street and is full of independent boutiques. Many carry designer labels as well, but others are chain stores like Anthropologie, Diesel and Free People.
West Queen West – I am not sure if Queen Street or Yonge Street has more boutiques per square feet but this particular stretch of Queen West has great selection of shopping. Mostly independent boutiques with everything from Vintage Wedding gowns to designer resale, party and even some super affordable trendy shops, there is something for everyone. Queen has more to the West in Parkdale and to the East all the way to Leslieville and the Beach.
The Danforth – The East side of Toronto has a different vibe than the rest of the city. It's a smaller town, a bit more "granola", but still has great shops. Plus the further east you go across the Danforth you hit Greektown. No wonder there are boutiques with a heavy European influence here.
The Eglinton Way – The shops tend to be pricier than in the last two neighbourhoods I mentioned but sometimes it is fun to just walk around admiring luxury. Special occasion dresses, kids and bakeries tend to be the norm. Plus you can find one of Toronto's top maternity boutiques on the Eglinton Way.
The Eaton Center, Yorkdale & the Shops at Don Mills – I hate to send people to the mall when in Toronto, but sometimes you just need a fix. Both the Eaton Center and Yorkdale are currently undergoing major renovations and adding all sorts of new stores. Yorkdale is notoriously more upscale, whereas the Eaton Center is downtown and has more of a mix of price points. The Shops at Don Mills is a different concept for a Toronto Mall, it is all outside. Lovely to walk around and has a great mix of restaurants. Even in the winter there is incentive to visit because there is an outdoor skating rink.
---
Thanks Jane for sharing your expert shopping tips with Travel Fashion Girl! Now we know exactly where to go when shopping Toronto!
---
If you've visited Toronto and have your own shopping tips you'd like to share, please comment! If you found this post helpful, please

re-tweet

and share.
---
Author Bio: Jane is the founder of Toronto Shopoholic, one shopaholic's guide to shopping in Toronto neighbourhood by neighbourhood. She is also a personal style blogger and shares her favourite trends at torontoshopoholicblog.com.
---