Support TFG by using the links in our articles to shop. We receive a small commission (at no extra cost to you) so we can continue to create helpful free content. As an Amazon Associate, we earn from qualifying purchases made on Amazon in addition to other retailers featured on the blog. Thank you, we appreciate your support!
Packing for multi-season trips is never easy especially if you want to pack light. Whether your trip is 12 days or 12 months, these packing tips will help you plan your travel wardrobe so you can pack the right clothing and still travel carry-on only!
---
Packing for Multi-season Trips
---
There are several factors that will impact how you pack for a multi-climate trip:
Length of trip
Planned Activities
Budget
Travel itinerary
Let's review each one in detail.
Length of Trip
Whether it's 1 week or 10 months, the amount of time you'll spend in each climate will help you decide how much gear you need for each destination. Let's say you're planning to spend 50% of your trip in the cold and 50% in the heat, pack evenly or plan two capsule wardrobes:

This RTW Packing List features 15 clothing items that can mix and match and offers the ideal balance of clothing options for multi-climate trips. The trick for a trip with varied climates is to ensure that all of your clothing mixes and matches so you can layer accordingly and make use of everything you bring.
Travel Activities
Think about what you will be doing on your trip and where you will spend the majority of your time. Will you be doing mostly sightseeing and walking…adventure activities in the outdoors…lounging on the beach…temple tomb raiding…or a little bit of everything.
Plan your clothing options accordingly and if you're unsure of your exact plans choose items that serve different purposes. My favorite travel pants, for example, can be worn to trek, in the snow, to sightsee, and for nice meals. Learn more about The Best Travel Pants for Women.
Budget
Everyone has a different budget when they're traveling. When you want to pack light, it's worth investing some cash on quality items. You don't have to spend a fortune on every clothing item, but certain pieces are worth the cash:
Backpack
Waterproof Jacket
Fleece/Hoodie/Soft Shell
Travel Pants
Merino Wool Thermals (for the cold)
Shoes
You have to think about these items as an investment. If you do it right the first time, you can re-use them every time.
Travel Itinerary
As with my RTW trip, the direction in which you travel can strongly influence your packing strategy.
You may want to consider this as you plan your travel itinerary. If you like snow activities and cooler weather, plan your trip to travel to your destinations during the Winter. If you're a beach bum or outdoors enthusiast, you probably want to schedule your trip based on Spring and Summer.
Please read How to Pack for Multi-Season Trips based on your Travel Itinerary for full details.
How to Choose the Right Clothing for Multi-Season Trips?
The key to packing for multi-season trips is to pack a travel wardrobe that coordinates so you can layer as needed. By choosing quality items for cold climates, you can avoid packing bulky clothing and pack light. For warm climates, choose light and airy materials that dry easily and will keep you cool.
Please refer to this post to learn more about The Best Fabrics for Travel!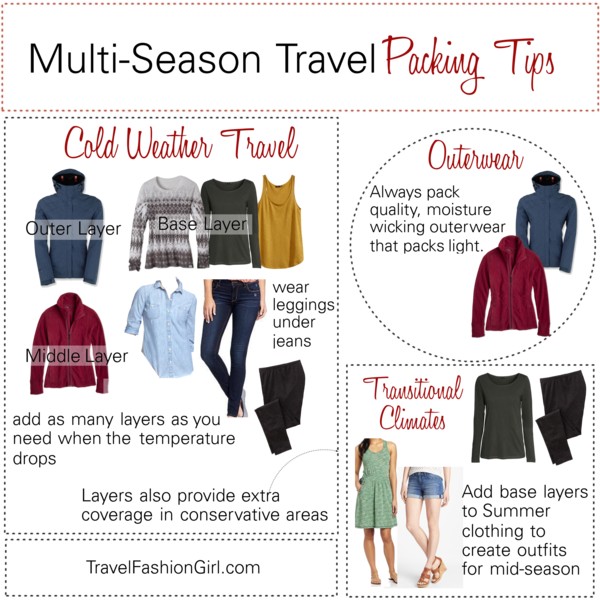 Here are 7 tips to keep in mind when planning your travel wardrobe for multi-season trips:
Fabric
Avoid choosing clothing items with bulky fabric. You don't want to pack a heavy maxi dress with layers of fabric for your warm weather clothing because you'll take up much needed space. Instead, choose a lightweight airy dress or maxi skirt. Likewise, for cold climates avoid thick sweaters and purchase light long sleeves in merino wool and synthetic blends that offer maximum warmth yet take up minimal space.
Layer Summer Clothing
You can always layer your clothing in mid-season locations which is another reason why it's a good idea to make sure each item can mix and match with the rest. Add leggings and long sleeve tops under shorts and dresses. This also works well when traveling in conservative areas that require that you cover up.
Layer Winter Clothing
Make sure to wear your leggings under jeans or pants for extra warmth. If you're not used to the climate, add additional layers until you feel warm. Don't forget essential winter accessories like a scarf, hat, and gloves!
Merino Wool
Merino wool thermals are the perfect inner layer – they're light, thin, and pack in maximum warmth. If you choose selectively, you can find styles that don't look like thermals and can be worn on their own as leggings and long sleeves like this set from Ice Breaker:  Oasis Crewe Top
 and BodyFit 260 Legging
Quality Outerwear
No matter what, always carry two quality outerwear items that can be worn together in the cold. Depending on your trip, this should consist of one piece that acts as an outer layer to offer protection from wind and rain and one middle layer to insulate and provide warmth. For more details, stay tuned for TFG's Cold Weather Packing post.
Pack Essentials
If you are only spending a short amount of time in cold weather or if you're unsure if you will encounter cold weather on your trip, pack only the essentials: two outerwear PLUS two additional items: long sleeve top and leggings.
Buy As You Go
If you find that will need warmer clothing as you travel, you can just buy a few pieces at your destination including hat and gloves. For example, it's common to see many backpackers in Peru wearing traditional Alpaca sweaters/hoodies/gloves/hats because they may not have had enough warm clothing. However, it's inexpensive to buy a few items that you'll use daily and will also make a great souvenir!
---
What are your best tips to packing for multi-season trips?
---
Please read the other tips in this series:
---
Hope you enjoyed this post on packing for multi-season trips. Please share it with your friends on Facebook, Twitter, and Pinterest. Thanks for reading!
---