Support TFG by using the links in our articles to shop. We receive a small commission (at no extra cost to you) so we can continue to create helpful free content. As an Amazon Associate, we earn from qualifying purchases made on Amazon in addition to other retailers featured on the blog. Thank you, we appreciate your support!
Traveling with carry-on bags only isn't just about avoiding expensive airline fees. There are many benefits to packing light that far outweigh monetary savings. Whether you're a long term traveler or are going on a short vacation holiday, these reasons will have you singing praises that you chose to pack light!
---
5 Reasons to Travel with Carry-on Bags Only
---
Compass Rose Carryon Size Packing Cubes
Saving Money
Flying by air seems to be getting more and more expensive every year with skyrocket taxes and unknown airline fees. No one wants to pay the airlines even more money to fly to your favorite destinations so the best way to save cash is by flying carry-on only.
At least flying within the US we have a bit of room in our carry-on luggage allowance but in Europe and Asia, budget airlines only allow you one small carry on bag and nothing else so your purse has to be able to fit into that bag or it's not going on. Plus, the carry-on size restrictions are smaller than ours so if you plan on using budget carriers abroad, make sure your bag meets the individual airline's requirements.
Watch the packing tutorial on Youtube!
In 2017, I launched Compass Rose Travel Accessories and my very first product was a 4-Piece Set of Carryon Packing Cubes. These are the only packing cubes sized to fit the exact width of a carryon suitcase and they also have a unique color-coded and numbered organization system – the only kind currently available anywhere on the market.
I put together a five-part YouTube series showing you the different methods to use packing cubes. If you use this specific packing strategy, they can also compress your belongings. This is the secret to traveling carryon only!
Priority Boarding
Some airlines like American Airlines are now rewarding passengers for flying light by allowing them to board before other passengers. They've recently announced this new policy which can be a bonus when you're not in the mood to fuss around with the antsy impatient passengers. Go on in and get yourself settled.
Read this post to learn about Frequent Flyer Mile Programs.
Convenience
This is ultimately the most important reason you need to travel carry-on only! Traveling with a small bag is extremely convenient. You can move around quite easily without having to lug an enormous bag around. It's easy to store on a plane, in small hotel or hostel spaces, and doesn't take up much room in public transportation.
On a 2 week trip to Europe with a friend, we both had large suitcases that we then had to maneuver through tiny staircases in Italy, endless flights of stairs on the Tube in the UK, and over wobbly cobblestone streets in Spain. Not only was this a good reason to travel Europe with a backpack but also to use a smaller size bag.
Learn more about What to Pack for Europe.
Weight
Generally, a smaller bag will weigh less than a larger bag and because of space limitations, you can't pack as much as you would therefore limiting your weight. A lighter bag helps avoid excess baggage fees on flights saving you money that you can spend on your trip instead. If you're carrying a backpack or shoulder bag, a heavy bag can injure you or strain your back and shoulders.
As a backpacker, one of the main reasons I decided to downsize my baggage was from sheer exhaustion from having to pick up and drag my bag around from place to place. A smaller bag is much more manageable when you're moving from city to city in unpredictable transportation modes with varying comfort levels. I ditched my 65L Osprey Aura bag in exchange for the carry-on sized Osprey Farpoint 55. Great move!
Read my review for Farpoint Osprey Packs!
Personal Restraints
I was an overpacker when I began traveling. It wasn't so much what I started off with; it's what I bought along the way. I loved to shop and stuffed my bag to the brim with all my new souvenirs including clothes, jewelry, and home decorations.
If you're a chronic overpacker this is a good method to avoid packing all those extra unnecessary items. By limiting your space you're also placing limits on yourself. If you have a bigger bag, the temptation is too great to fill every crevice just because you have room for your "just in case" items – a big no-no.
To maximize your newfound smaller space, use Packing Organizers to fit all your belongings.
For tips on packing clothing in travel organizers watch my video tutorial showing you how to use them to fit the amount of clothing featured in TFG's Maximista Packing List.
Travel Tips
Don't worry. If you want to do some shopping at the end of the trip, buy a souvenir bag or use a packable travel bag like the Baggallini Luggage Large Bag In A Pouch
you can use at the end of your trip. Restrain yourself from purchasing in the beginning, though, or you'll be back to square one with an overweight and oversized bag.
Check out these suitcase recommendations featured in 20 Travel Experts Reveal Top Luggage Brands.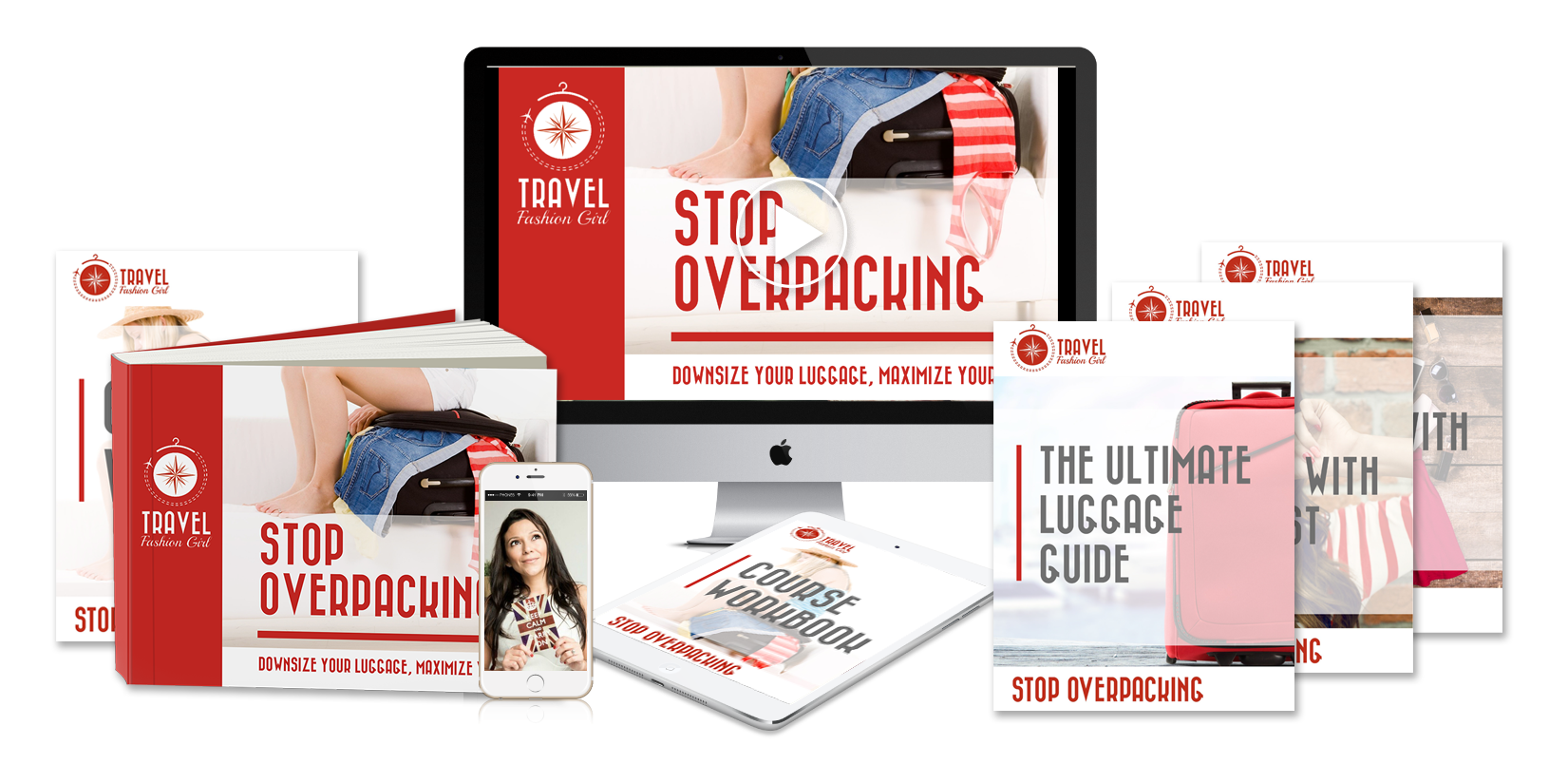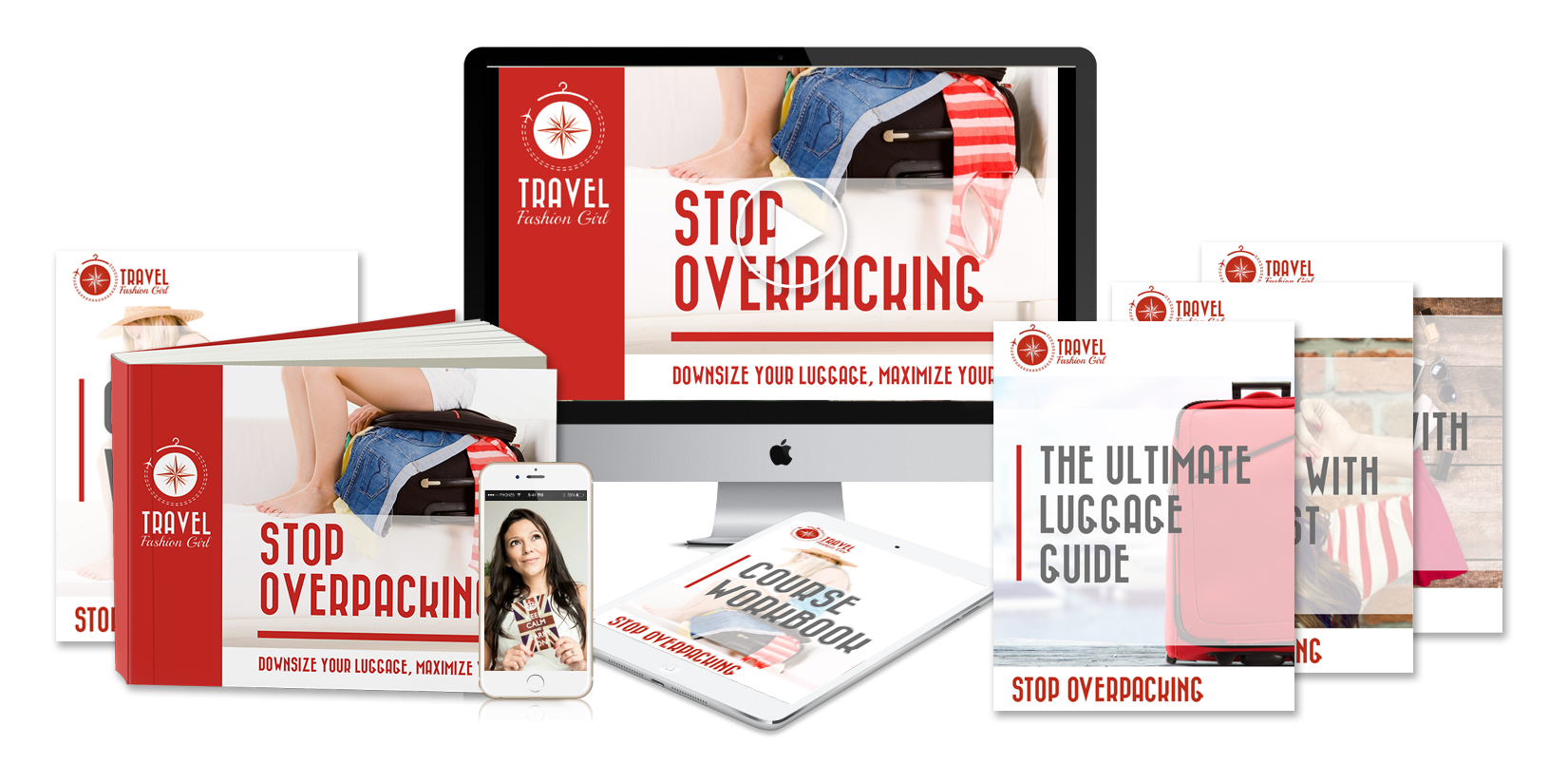 And for every single trick in my packing book, read my full course "Stop Overpacking". I created the STOP OVERPACKING program to teach you my exact packing process. Every secret, every detail, nothing is spared.
Learn more about Stop Overpacking here!
---
Still unsure about whether or not you can travel light? Check out TFG's Universal Packing Lists that offer you minimalist options that you can customize to fit your own travel wardrobe needs. 
What are your tips for packing light? 
---
For more tips on packing light and choosing carry-on size luggage, please read:
---
Hope you enjoyed this post on packing light and traveling with carry-on bags only. Please share it with your friend on Facebook, Pinterest, or Twitter. Thanks for reading!
---