Support TFG by using the links in our articles to shop. We receive a small commission (at no extra cost to you) so we can continue to create helpful free content. As an Amazon Associate, we earn from qualifying purchases made on Amazon in addition to other retailers featured on the blog. Thank you, we appreciate your support!
This week's travel fashion girl is Ty Allen and she's recently completed her studies in Psychology at San Francisco State University. Traveling has always been on her "Bucket List" but like many, she thought it was too expensive and out of reach for a starving student.
All of that changed when she had the opportunity to study abroad… twice! (South Africa & Japan). Now, she can't wait to travel the rest of the world! Keep reading and find out the important lessons she learned about packing.
---
Interview: Ty Allen
---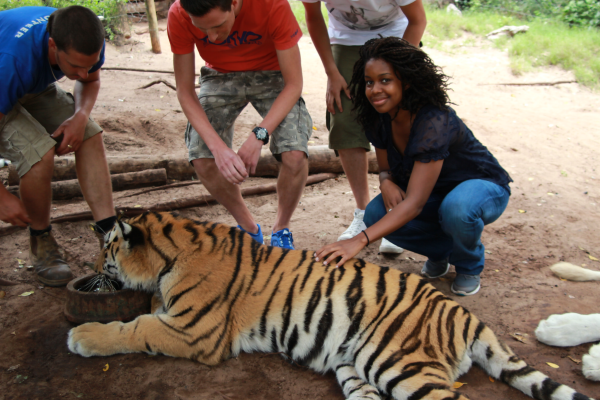 Q: How would you describe your travel style?
My style is very simple. I tend to stick to neutral colors and I have fun with colorful/printed scarves and accessories.
Q: Do you prefer to travel carry-on or with a regular suitcase bag?
Through trial and error, I have learned that "less is more"… Try lugging around 3 overweight suitcases in South African heat… no bueno!
I really love my Samsonite Featherlite medium suitcase; it weighs less than 10 pounds, and allows me to pack everything I need, without going overboard. For carry-on luggage, I've really enjoyed my High Sierra 22″ Wheeled Backpack; it features a detachable daypack which comes in handy for sight seeing! You get 2 bags in one!
Take a look at our step by step guide for choosing luggage.
Q: Are you an overpacker or do you underpack?
I admit I am an over-packer. I am doing my best to whittle back the "just-in case items" because I find that I don't use them and it pains me (literally) to carry excess items for nothing.
Q: How do you stay stylish while traveling without access to an entire closet?
I bring key items that mix and match well with one another, and I do laundry!
Q: What are your three must have travel essentials?
I must have a flashlight! Black outs are common in South Africa, and I'm a scary cat when it comes to the dark! I must also travel with my sleep cocoon, and a versatile scarf!
Q: What destination surprised you the most with the ways locals dressed or their type of clothing?
Japan! I was so surprised by their quirky style of dress in Tokyo and how it differed from other cities like Sapporo or even Kyoto! Sometimes I felt like I played it too safe in terms of fashion while traveling there.
Q: What's your preferred travel outfit on a plane?
A loose white tee, cozy scarf, leather jacket, black pants, and a pair of Chucks!
Check out some of our favorite airplane outfits.
Q: What are your favorite travel accessories?
1 or 2 colorful scarves, sunglasses, and perfume… an outfit is not complete without a great fragrance!
Check out the lazy girl's guide to stylish travel accessories.
Q: What are your favorite travel beauty essentials?
I really love Dr. Bronner's 18-in 1 Pure-Castile Soap line because not only can I wash my body with it, it serves as a facial cleanser, gentle shampoo, cleanses fruits and veggies, degreaser, household cleaner, and more! I personally love the Lavender and Peppermint scent! I can find just about the other beauty products I use in the country I'm traveling to.

Q: Do you have any specific hair or makeup products that work great for travel?
I usually bring my own hair products with me, as it can be difficult to find products suited for Afro-textured hair while abroad. As for makeup, pressed-powder foundation, a compact eye-shadow pallet, brow pencil that doubles as eyeliner and mascara.
Q: How many pairs of shoes do you travel with and what styles?
I've learned my lesson, too many shoes equal a nightmare, and I'm sticking to TFG rule of no more than 3 pairs!
Check out TFG's tips on choosing the best shoes for travel.
Q: Do you have any recommendation for cute and comfortable footwear?
Believe it or not, I love my Doc Marten Serena's! I broke them in while trekking around for a week in Tokyo so now they feel like edgy-badass-slippers! Chucks are always a classic as well.
Find out our top 10 cute and comfortable travel flats.
Q: What was your biggest travel fashion or packing mistake?
I realized I packed too much when I traveled on the Tokyo metro. There were no elevators/escalators to be found…anywhere (or so I thought). My friend and I had to lug our two 50 pound suitcases up and down flights of stairs; I wanted to cry!
Find out 5 reasons why packing carry-on only is a must!
Q: Finally, any travel packing tips for new travelers?
Save yourself from frustration and backaches by packing light, no one is going to care if you are an outfit repeater and be sure to pack extra undies ladies!
---
If you'd like to be interviewed on Travel Fashion Girl, please submit your details here.
---
Hope you liked this interview with Ty Allen. Please share this post with your friends on Facebook, Twitter, and Pinterest. Thanks for reading!
---