Support TFG by using the links in our articles to shop. We receive a small commission (at no extra cost to you) so we can continue to create helpful free content. As an Amazon Associate, we earn from qualifying purchases made on Amazon in addition to other retailers featured on the blog. Thank you, we appreciate your support!
Today's travel fashion girl is Louise, the Founder and Editor of The What Now Blog, a positive thinking work and lifestyle focused blog. Aiming to provide a little insight and inspiration into the working world, plus with fun and motivational ideas for life outside of the 9 to 5. Also a keen traveler and explorer, Louise has traveled fairly extensively on adventures that include the Trans Siberian Express, South East Asia, Mexico and Central America and coming up soon Australia and Dubai so can often be found packing a backpack for 3 months on the road or perhaps a suitcase for a fancy hotel!
---
Interview: Louise Matthews
---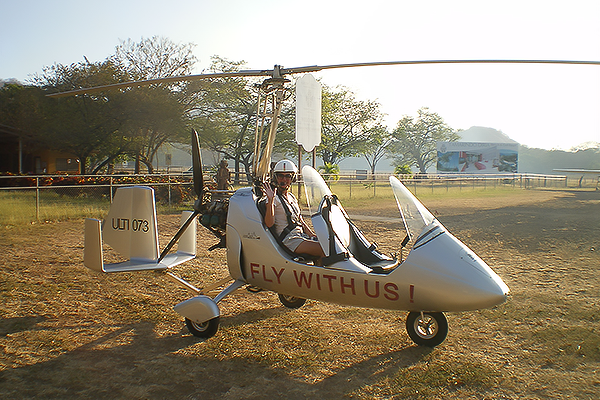 Q: How would you describe your travel style?
It depends on where I'm going and what type of trip it will be but usually my style is simple and comfortable. Although I have been known to pack too many evening outfits and forget to pack sensible clothes for the day – that was in my younger years!
Q: Do you prefer to travel carry-on or with a regular suitcase bag?
Despite having traveled quite a lot I'm still a notorious over packer! So you'll pretty much always find me with a regular (usually overfilled) bag.
 Take a look at our step by step guide for choosing luggage.
Q: Are you an overpacker or do you underpack?
Ooh as mentioned above – unfortunately despite trying every time to pack light and efficiently I am an over-packer. I panic about not having everything I might possibly need! Funnily enough though if I'm going away for an extended period of time and can only take a small backpack I tend to pack incredibly light and still find I have everything I need so it's really all about mindset.
Q: How do you stay stylish while traveling without access to an entire closet?
To stay stylish I try and pack items that will fit into multiple outfit combinations. I avoid fabrics that crease easily or don't wash well and I'll give outfits a twist with a statement necklace or a bright lipstick in order to make something plain look a little bit brighter.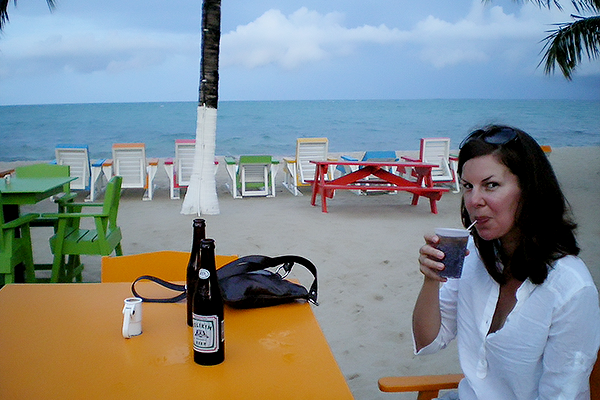 Q: What are your three must have travel essentials?
My three must have essentials are a good waterproof jacket, hairdryer (yes even when backpacking I take a travel hairdryer) and a comfortable pair of shoes or flip flops that have already proven themselves not to give me blisters.
Q: What destination was the most fun to dress for?
The most fun destination to dress for – well that's a tricky one. I love putting together outfits for traveling in Europe in say France or Italy. The women there always dress so chic and I always love the challenge of trying to emulate that kind of effortless look.
Q: What destination surprised you the most with the ways locals dressed or their type of clothing?
During my travels I've come across many wonderful traditional styles of dress such as the Mayan Tribes in Mexico and Central America with their beautiful weaved fabrics. I was amazed when trekking in Vietnam to be accompanied by the local children of the villages, helping me navigate steep hills and difficult terrain while all the time trekking the route themselves in bare feet without a second thought. Just a wonderfully different way of life.
Q: What's your preferred travel outfit on a plane?
My preferred travel outfit on a plane is something comfortable like loose but tailored joggers or leggings with say a striped top, a casual blazer and a big warm scarf. That way you're comfortable on board and have the scarf to keep you cosy if it's cold (as it usually is!) but when you disembark you can throw on the blazer and instantly smarten yourself up a bit.
Check out some of our favorite airplane outfits.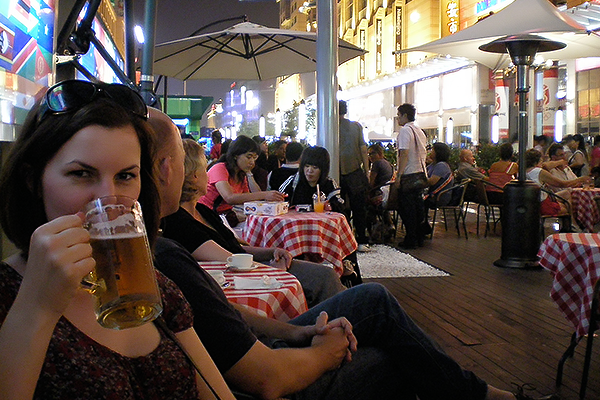 Q: What are your favorite travel accessories ?
Sunglasses are great for making you feel immediately like you're on holiday and are a great accessory. I also love colorful scarves as a great way to brighten up a plain look as well as having such a multitude of other uses – a great tool! I also can't be without a decent day bag. Something stylish, secure and practical that I can throw all my stuff in, throw over my shoulder and head off for the entire day without any worries.
Check out the lazy girl's guide to stylish travel accessories.
Q: What are your favorite travel beauty essentials?
My top travel beauty essentials would have to be a decent facial moisturizer as I get terribly dry and red skin from flying, a great perfume – my go to scent for travel would most likely be the Stella EDP and finally my favorite red lipstick Mac Ruby Woo because it never fails to smarten me up no matter what state of disrepair I might be in!
Q: Do you have any specific hair or makeup products that work great for travel?
I love the Nars Tinted Moisturizer with SPF 30 especially for city travel. It's very light but gives you just enough coverage as well as having the added benefit of SPF. You'll often also find me with a can of the Percy and Reed Shine Spray to keep my locks from looking too lacklustre! Ooh and I can't live without the Liz Earle mini travel kits when it comes to skincare. The cleanser and toner are just brilliant for my sensitive skin.
Q: How many pairs of shoes do you travel with and what styles?
Probably way too many pairs but I usually try to have 1 casual flip flops, 1 smart flip flops, 1 trainers, a pair of heels and a comfortable pair of easy slip on shoes or loafers. If I'm going to a city and it's going to be a bit colder then I'll have a good pair of ankle boots in tow as well.
Check out TFG's tips on choosing the best shoes for travel.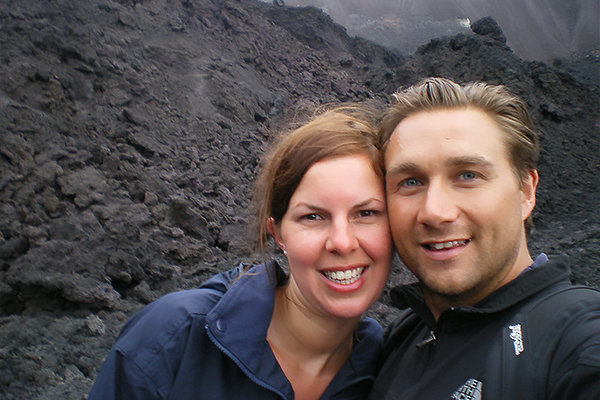 Q: Do you have any recommendation for cute and comfortable footwear?
I just can't live without the Accessorize plain seagrass flip-flops. I get through two or three pairs each summer but they're just so comfortable, go with anything and weigh nothing in your suitcase plus at £8 a pair you can't really go too wrong.
Find out our top 10 cute and comfortable travel flats.
Q: What was your biggest travel fashion or packing mistake?
My biggest mistake was probably the first time I went with my husband's family on a trip to Portugal in April. I assumed it was going to be boiling hot and only packed very summery outfits. Unfortunately it rained quite a lot of the time and even when the sun was out it wasn't warm enough for my tropical outfits! Always be aware of what the weather is doing before you travel!
Q: Finally, any travel packing tips for new travelers?
My top travel tip would probably be for people considering going backpacking for the first time. Firstly roll all of your clothes as you'll fit much more in but really don't be tempted to take too much. Remember you're going to have to carry that bag around with you, sometimes for long periods of time, for the duration of your trip. You can always get your clothes laundered or buy and replace items at the local markets if necessary.
---
If you'd like to be interviewed on Travel Fashion Girl, please submit your details here.
---
For more traveler interviews, please read:
---
Hope you liked this interview with Louise Matthew. Please share this post with your friends on Facebook, Twitter, and Pinterest. Thanks for reading!
---