Support TFG by using the links in our articles to shop. We receive a small commission (at no extra cost to you) so we can continue to create helpful free content. As an Amazon Associate, we earn from qualifying purchases made on Amazon in addition to other retailers featured on the blog. Thank you, we appreciate your support!
Today's Travel Fashion Girl is Breanna, a travel writer based out of Los Angeles. She is constantly jetsetting around the world, finding the best things to brag about in each destination.
She's currently writing for Entrepreneur, MTV Travel Co., Société Perrier and runs the websites BreannaJWilson.com and ABNSave.com. She's always looking for 'like a local' experiences, interesting foods and she has never met an adventure she didn't like — just ask her about the time she sat on the edge of Victoria Falls.
Try to keep up with her if you can.
Follow her adventures at BreannaJWilson.com, Facebook, Twitter and Instagram.
---
Interview: Keep Up With Breanna
---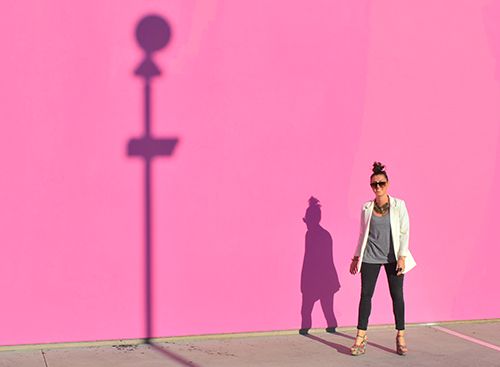 Q: How would you describe your travel style?
A: When I travel somewhere, I want to experience that place like a local. I want to go to the beaches that the locals go to and the restaurants that they eat at. I like to get a sense of the people, not just the place.
Check out TFG's lazy girl's guide to style.
Q: Do you prefer to travel carry-on or with a regular size suitcase or bag? Do you recommend any particular bag or suitcase?
A:  Carry-on only. Always. I love, love, love my Samsonite Silhouette Sphere 20" wide body spinner. It's big enough to comfortably fit my essentials and still small enough to easily travel with. The things I love the most about it are the padded handle (a small detail that makes a big difference when walking far with your luggage), the 4 multi-directional wheels and the bottom handle that makes it easy to throw it into airplane overhead bins.
Find out TFG's secret to packing into a carry-on size bag!
Q: Are you an overpacker or do you underpack?
A: I love this question because it really tells you a lot about a person's travel experience. I think most novice travelers over pack (guilty as charged!) and travelers with some miles under their belt tend to pack more conservatively. These days I'm more of an under packer. I avoid packing clothes with patterns and bright colors and instead go for solids and neutrals. That way I can mix and match throughout a trip without others noticing I'm wearing the same few pieces.
I also only pack enough Q-tips, toothpaste, shampoo, etc. to last me through the trip, that way I don't have to carry them back home and I can use that space for souvenirs.
Q: How do you stay stylish while traveling without access to an entire closet?

A: Like I mentioned above, packing only solid and neutral colored clothing really helps. A black blazer is another good secret. My black Theory blazer is so versatile and I can use it to dress up any outfit.
Like taking my day outfit of a t-shirt and jean shorts to a night outfit — I just throw on my blazer and a pair of heels and I'm ready for dinner. A few great staple pieces are all that you need to look good during an entire trip.
 Learn how to master a capsule travel wardrobe.
Q:What destination was the most fun to dress for?

A: Florence, Italy. The style there is so chic, so clean and so amazing. I had to emulate it. I think I did a pretty good job, especially after I picked up a few pieces while I was there.
 Learn how to dress as a local in Italy.
Q: What are your three must have travel essentials?
A:  1. No matter what time of year it is, I always travel with a scarf. When I fly I use it to drape over my head so that people don't bother me, or just to keep warm — I always freeze on flights!
2. Band-aids. Blisters are inevitable.
3. Face wipes. I keep them in my purse to freshen up with on the plane or when I'm out exploring during the day. They instantly make me feel better.
Check out TFG's My 5 Must Have Travel Essentials.
Q:  What's your preferred travel outfit on a plane?

A: Scarf, black Theory blazer, cotton shirt, Madewell black legging jeans, boots.
Learn TFG's top 5 international flight essentials.
Q: What destination surprised you the most with the ways locals dressed or their type of clothing?

A: Cape Town really impressed me — I was totally loving the street style there.
Learn the Cape Town Fashion.

Q: What are your favorite travel accessories?
A: I love accessorizing with big, gold jewelry. Usually stuff that wasn't too expensive so I'm not bummed if it breaks or I lose it. Tobi.com is great for getting that stuff. I try to always be conscious of where I'm traveling and the local style. In certain places I'll leave my flashy jewelry at home and in other places I'll pile it on!
More travel accessories here.
Q: What are your favorite travel beauty essentials?

A: L'Oreal True Match super-blendable concealer, Stila natural finish oil-free makeup and Benefit's Hoola matte bronzer are my saviors. They help keep me looking fresh even if I have some serious bags under my eyes.
More travel beauty essentials here.
Q:  Do you have any specific hair or makeup products that work great for travel?

A: The travel size Moroccanoil treatment is amazing. I especially love it when I'm somewhere beachy and my hair starts to dry out – it helps keep it from feeling like straw.
Q:  How many pairs of shoes do you travel with and what styles?

A: Three pairs max. One pair of heels, typically black so that they can go with any outfit. One pair of Nikes or Toms. And one pair of flip flops for the hotel room and just in case my blisters are too bad to wear anything else.
For tips on choosing travel shoes, check out this 10 step guide!
Q:  Do you have any recommendation for cute and comfortable footwear?

A:  Toms are great for traveling – they're light, comfortable and super easy to pack. The downside to them is the traction on the bottom – they aren't great for anything beyond walking around town.
These are TFG readers top pics for cute and comfortable travel shoes for sightseeing.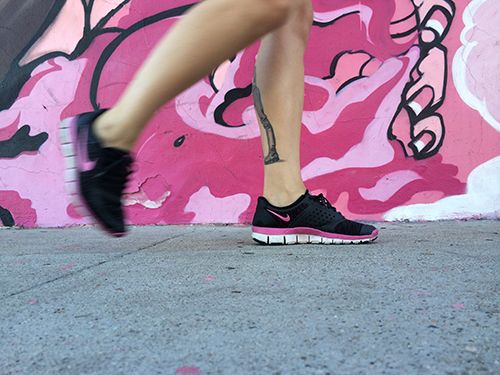 Q:  What was your biggest travel fashion or packing mistake?

A: One of my first international travel experiences was going to Italy. I took the biggest suitcase I owned, which was such a nightmare. It was so hard to get it on and off of the trains and up and down steps. The worst part was that I didn't wear half the things I brought.
Q:  Finally, any travel packing tips for new travelers?
A: Roll your clothes for more room and less wrinkles. Pack only what you'll need toiletries wise, you don't want to bring anything back home – the Target travel bins are great for getting this stuff for about $1 -$2. Wear the shoes and jackets that would take up the most space in your suitcase when you're traveling.
---
If you'd like to be interviewed on Travel Fashion Girl, please submit your details here.
---
Hope you liked this interview with Breanna. Please share this post with your friends on Facebook, Twitter and Pinterest. Thanks for reading!