Support TFG by using the links in our articles to shop. We receive a small commission (at no extra cost to you) so we can continue to create helpful free content. As an Amazon Associate, we earn from qualifying purchases made on Amazon in addition to other retailers featured on the blog. Thank you, we appreciate your support!
Today's travel fashion girl is Jasmine,  a pharmacist, foodie, and fashionista from Canada living the sweet life in Bergamo, Italy.
She has been blessed to travel extensively and her favorite worldly moments include singing Aerosmith under the Eiffel tower , dancing in gay bars with bouncy floors in Beijing, learning to drink vodka straight on the Trans-Siberian railway, and bungee-jumping on the border of Tibet and Nepal. She currently curates her blog and drinks lots of red wine.
---
Interview: Jasmine Mah
---

Q: How would you describe your travel style?
Glam backpacker. I adore clothes but have also backpacked Europe, China, Russia, and Monglia so I developed a very particular style that involved an ever-essential pair of stilettos jammed in my backpack next to a pair of hiking boots. I absolutely cannot bear to not blend into a city that I am visiting so whilst traveling, I become a bit of a style chameleon!
Q: Do you prefer to travel carry-on or with a regular suitcase bag?
I can do both, when I have to travel Ryan Air or Easy Jet inter-Europe, I obviously prefer a carry-on. It also depends which country I'm flying to, for example, when I fly into any city in southern Italy, I tend to jam-pack my carry-on so it weighs a ton. Why? There will always be a gracious Italian willing to hoist it up into the overhead bins for you so why not make the most of it! However, if I'm staying in one city, I will do a regular-size suitcase in order to maximize outfit options.
Take a look at our step by step guide for choosing luggage.
Q: Do you recommend any particular bag or suitcase brand/model?
No, it really depends on your destination. I think backpacks are handy for Asia and South/Central America and even for Europe. But nowadays at my ripe old age of 26, I would rather have a cute roller to tote through Malpensa airport amongst all the Prada luggage and the jet set crowd. It's less conspicuous.
Check out TFG's recommendation on the best carry-on suitcases for traveling Europe.
Q: Are you an overpacker or do you underpack?
I am a notorious overpacker but you can accomplish amazing feats with rolling or vacuum packing clothes so no one will have to know…
Q: How do you stay stylish while traveling without access to an entire closet?
It is important to bring along key pieces that are timeless and universally classic. An example is make sure you have a great handbag, it instantaneously ups the ante on any outfit. And don't forget accessories, you can pack a couple sets of statement earrings or necklaces (they don't have to be expensive at all) which have the power to completely change the look of even a plain t-shirt. What's even better is they take up minimal space in luggage.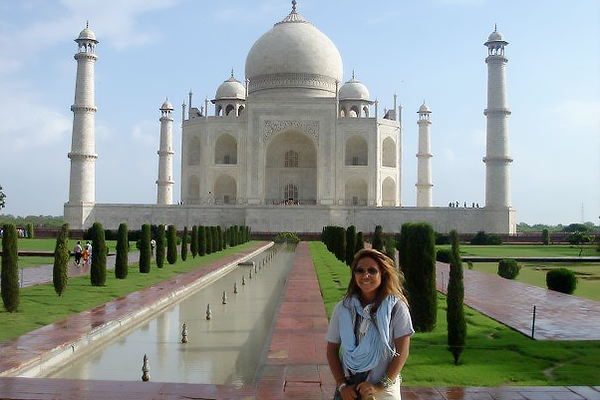 Q: What are your three must have travel essentials?
Nude heels (sorry, you'll never get into Lux in Lisbon wearing flats unless you're Jessica Alba, I know this from experience!), folding Ray-Ban aviators (they literally fold into a square and will fit into the tiniest clutch), and a pashmina (you can use it as a head scarf, scarf, blanket on the plane, blanket for a picnic next to the Eiffel tower, and to cover your shoulders on an impromptu trip to the Vatican).
Q: What destination was the most fun to dress for?
I could give the stereotypical answer, Italy, but I actually had the most fun dressing in Nepal. I think this is because the group I was with all bought saris and we would wear them out to the bars in Kathmandu. They are just so elegant and a joy to dance in.
Q: What destination surprised you the most with the ways locals dressed or their type of clothing?
Moscow, Russia. The Russian girls look like and dress like models every moment of the day, not just for going out in the evenings. On a normal weekday at the grocery store it would not be uncommon to spot a Russian girl teetering in the cheese section in sky-high stilettos and the tightest tube dress you've ever seen. Talk about intimidating. My girlfriend and I traded in our Birkenstocks after that trip.
Q: What's your preferred travel outfit on a plane?
I like a shift dress with wiggle room and non-strappy wedges. I prefer dresses because they are easier to maneuver in bathroom situations, especially when we're talking about squat toilets. It's rather tricky trying to hold onto your pants and not pee on them at the same time!
Check out some of our favorite airplane outfits.
Q: What are your favorite travel accessories?
I essentially addressed the main ones in question #5 however I adore the Modalu Pippa bag for traveling. It comes with a long cross-body strap so no worries about someone snatching it, as well, it has multiple compartments which are ALL zipped. My favorite feature is that the backside of the bag has a zip compartment which lies securely against your body, perfect for your high priority items like passport or credit cards- negates the need for an annoying money belt.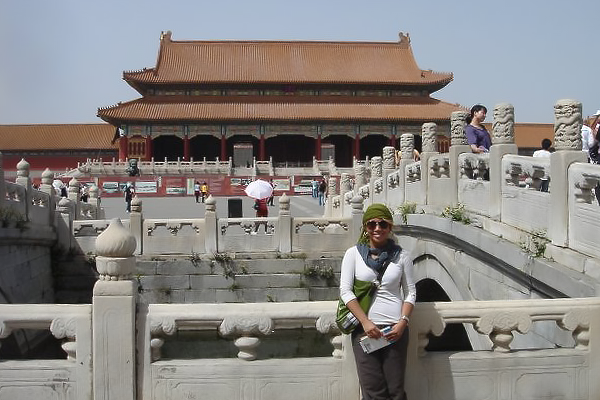 Q: What are your favorite travel beauty essentials?
Blotting papers and Caudalie Beauty Elixir– pretty much my two secrets to not looking like a grease-ball from humidity/hours of running around to tourist attractions and refreshing your skin post-12 hour flight to Beijing, respectively.
Q: Do you have any specific hair or makeup products that work great for travel?
The travel Tangle Teezer which comes with a handy cover so you can just throw it into your bag and when the Mediterranean sea breeze gets your hair in knots, one swipe of the Tangle Teezer is all you need! Oscar Blandi Dry Shampoo– a lifesaver when you haven't been able to secure a spot in the hostel shower or you spent all night dancing and are now catching a flight to your next destination and don't want to look like grunge is making a comeback.
Q: How many pairs of shoes do you travel with and what styles?
Minimum three to four pairs. Wedges, pumps or stilettos (very unusual I know but I hate going out dancing in wedges), Hogans (it's a brand made in Italy known for a very odd hidden platform sneaker), and a pair of jeweled but water-resistant sandals/flip-flops for the beach.
Check out TFG's tips on choosing the best shoes for travel.
Q: Do you have any recommendation for cute and comfortable footwear?
Corkswoon wedges by Stuart Weitzman or something like it. These are the shoes Kate Middleton wears to every major 'casual' engagement. She even hurdled over tin cans in a sporting event once. If she can do that, you can wear them on Roman streets.
Find out our top 10 cute and comfortable travel flats.
Q: What was your biggest travel fashion or packing mistake?
I backpacked France after spending three months in Nepal and India. When I arrived in Paris for the first time, my outfit consisted of hiking boots (probably caked in dirt from treks in Nepal), water-resistant pants and a fleece top. Needless to say, I made an emergency trip to the nearest Mango.
Q: Finally, any travel packing tips for new travelers?
It's an oldie but a goodie- always pack one or two outfits in your carry-on along with change of undergarments. I have been stuck without luggage on numerous occasions, one of which included my first trip to Italy.
---
If you'd like to be interviewed on Travel Fashion Girl, please submit your details here.
---
Hope you liked this interview with Jasmine Mah. Please share this post with your friends on Facebook, Twitter, and Pinterest. Thanks for reading!
---