Similar to gray, olive green is a refreshing neutral color that's extremely popular this season. There are so many options to incorporate this classic hue into your travel wardrobe. Find out how to wear olive green in your travel wardrobe!
---
How to Wear Olive Green for Travel
---
The easiest way to incorporate olive green into your travel wardrobe is to use it as an accent color in your accessories. I like wearing a military style vest similar to this one to add a little interest to my standard pieces such as my LBD or jeans and tee (as shown in the main image of this post above).
If you're tired of dull all-black outfits, you can also replace any black clothing items with olive green. It's a neutral color so it is interchangeable with other neutrals. As a bonus, the color can easily be re-worn while hiding dirt, dust, or constant wear!
From accessories to clothing, learn how how to wear olive green in your travel wardrobe:
Shoes

Dolce Vita Paris / Dolce Vita Lola / Loeffler Randall Hana / Keds Chillax
From high-end streets to dusty, cobblestone paths, walk around in style with olive-green colored shoes. This versatile military motif complements all skin colors: it flatters cool tones and brightens warm hues.
If you're on the lookout for the perfect pair of olive green kicks, take a peek at our selection.
ANKLE CUFF STYLE SANDALS
Instead of the usual delicate varieties of sandal, why not choose a chic, ankle cuff style? The bold design brings attention to your feet. Ankle cuff sandals look great paired with shorts and summer dresses. For dressier destinations, choose wedges; they are a staple in a woman's luggage and never go out of style. Select pairs with eye-catching patterns for a more unique look.
For more ideas, take a look at these ultra-cute lace-up sandals for vacation!
GLADIATOR SANDALS
Here's another suggestion for standing out: try a lace-up, gladiator sandal. Show off your gams as you walk from airport terminal to terminal by pairing them with cropped pants and a smart blazer. Lace-up gladiators also work beautifully with dresses.
SNEAKERS
How about something more active? An olive green sneaker is reminiscent of tropical tones, yet still keeps you in the fashion comfort zone.
For more style inspiration, take a look at these womens casual sneakers!
Dresses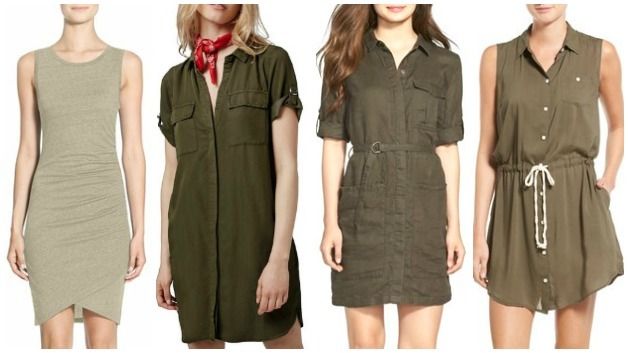 Ruched Bodycon /Pocket Shirt / Roll Sleeve Dress / Sleeveless Shirtdress
If the thought of how to wear olive green overwhelms you, the easiest place to start is with dresses since you don't have to mix and match them with anything else. Pair it with any neutral color shoe or accessory but the easiest is black, nude, or tan. Adding olive green to your wardrobe made easy!
RUCHED BODYCON
Go from sweet to military with different dress styles. Among our favorites: a ruched bodycon number that can be worn for classy, formal events, as well as casual days out. Dress it up with heels and a blazer, depending on your itinerary.
POCKET SHIRT DRESS
It's safari-inspired but meant for the city not the jungle. A pocket shirt dress is a timeless piece you can wear anywhere. Pair with a comfy sneaker and a backpack for villages or a dainty crossbody and sandals in a seaside town.
Want something more versatile? Pack one of these tunic tops for women!
SHIRT DRESS
Shirt dresses in olive green exude a cool but classic military look. Show off a strong yet sexy vibe with a belted frock, matching it with cuff sandals. Another tip: tie your hair back for a sleek, fashionable airport look paired with cute ballet flats.
CHIFFON DRESS
For a packable option, a chiffon shirtdress is a great choice. An airy fabric makes it wearable in many destinations.
For longer styles, take a look at our top summer maxi dresses 2016!
Tops

Mosaic Print / Plus Striped Linen & Cotton / Plus Textured Shirt / Crochet Off-shoulder
If you're wondering how to wear olive green with separates, pair it with other neutral colors for the easiest ensemble. It can easily be mixed and matched with various bottoms. Take a look at some of our best olive-toned tops!
PATTERNED SHIRTS
Light-colored but subtle patterns are fashionable in every destination. A basic-constructed top, adorned with eye-catching designs, can be worn on different occasions. Mix it up with various styles: wear it with a cardigan, scarf, denim skirt, or white pants.
BREATHABLE FABRICS
Choose breathable fabrics when trotting off to tropical and desert areas. Linen and cotton are some of the best materials for hot weather travel. A round-neck shirt with a striped design is a classic choice. Go for a relaxed, solid tee with demure, dolman sleeves for a stylish option that is easily re-worn various times before the need to wash.
Read more about how to choose the best fabrics for travel.
OFF-SHOULDER TOP
For a feminine flair, an off-shoulder top with a crochet design is a perfect addition to your wardrobe. It's on trend for the season and can be worn with skirts, shorts, and loose pants when cruising by the sea.
Bottoms

NYDJ Cropped Pants / Skinny Jeans / Cotton Shorts / Zella Drawstring Shorts
Don't be scared of packing pants with a different color than your normal black, blue, or khaki. Olive green might just become your next bottom favorite especially because it masks dirt and dust extremely well!
CROPPED PANTS
This earthy hue blends well with many basic colors. One example: this casual olive cropped pant by NYDJ shown above. Cuff your pants to ankle length to update your look this summer!
SKINNY JEANS
Another great option: a pair of olive skinny jeans. Complement it with a loose chambray top or a fitted, neutral colored sleeveless. Finish off with chunky cork sandals or sneakers.
Read this post for help choosing the best pants for travel.
CARGO SHORTS
How about an updated, modern take on traditional military-style cargo shorts? Feel like a true adventurer as you travel comfortably to your favorite summer destinations. Choose a pair with handy pockets for easy access to a few essentials.
GYM SHORTS
Working out? Stay classy on sweaty days. Gym shorts in this classic olive tone can also be used as regular bottoms for casual walks. They're also light and packable, too.
Looking for a super-light but cute option? Loving these stylish summer shorts for women!
Accessories

Vince Camuto Floppy Hat / Scarf / Travelon Mini Shoulder Bag / Convertible Bag
As we know, the easiest way to figure out how to wear olive green for travel is with accessories. We've found four interesting items for you, all in olive tones.
PACKABLE FLOPPY HAT
First up: a packable floppy hat that works well with every style and color. These hats are perfect to shield your eyes from the strong summer sun. Loving the fact that designers are creating more suitcase-friendly fashionable styles like the one shown above!
ANTI-THEFT BAG
Keep your essentials in check with an anti-theft bag that flatters most of your clothing. This dark olive number keeps your wallet, cards, and phone safely stored in its compartment. Made with a slash-proof construction, you might feel more comfortable walking in a crowded area. (However, you should always be cautious!)
Take a look at more anti-theft travel bags for women!
SCARF
A scarf is among a woman's best accessories, and a neutral-colored design makes a versatile pick. Silk or satin scarves present a glowing, polished look. We have chosen this snake skin print design that can be wrapped and tucked for various looks.
CONVERTIBLE BAG
Maximize your bag by getting two styles in one with a convertible design. We have chosen a faux leather, backpack that transforms into a messenger bag. You can easily switch styles while you travel, without compromising your fashion.
Here are a few more convertible backpack purse for you to choose from!
---
What are your tips on how to wear olive green for travel? Share in the comments below!
---
For more travel fashion tips, please read:
---
LIKE THIS POST? PIN THIS PIC TO SAVE IT!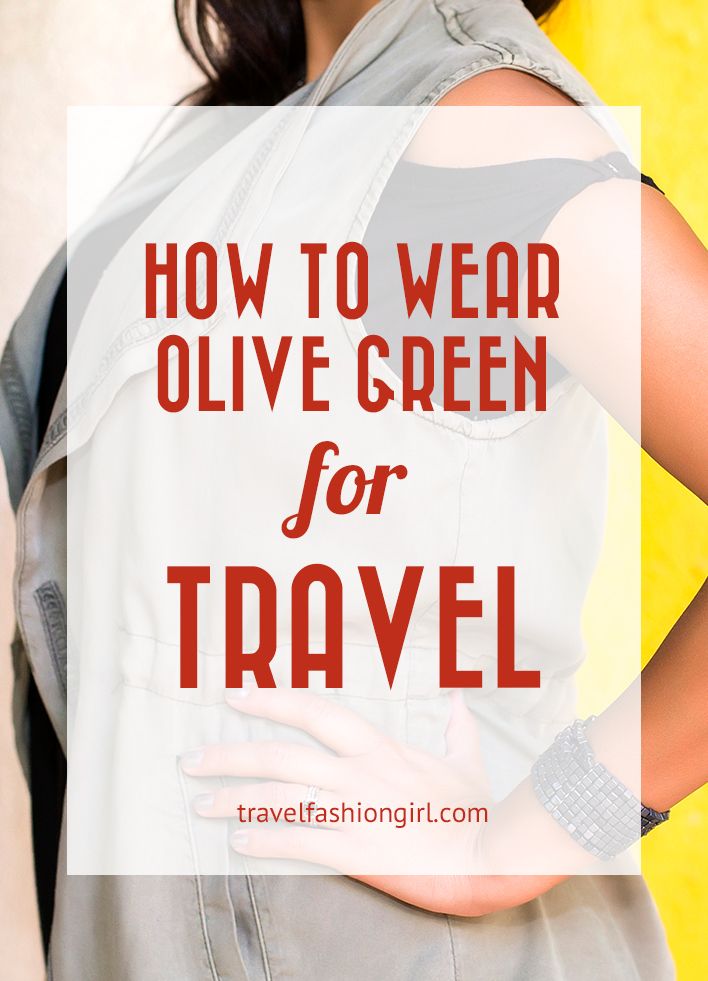 ---
Hope you liked this post on how to wear olive green for travel. Please share with your friends on Facebook, Twitter, and Pinterest. Thanks for reading!
---