Support TFG by using the links in our articles to shop. We receive a small commission (at no extra cost to you) so we can continue to create helpful free content. Thank you, we appreciate it!
Israel has never had a hard time garnering tourism. Even during the most turbulent political times, travelers have always flocked to see its holy sites and impressive natural surroundings. After a full day of the western wall, the Dead Sea, hummus and falafel, you'd trek back to a fairly generic hotel and munch on casual street food for dinner. There was never an emphasis on fancy restaurants or design-focused hotels. And that was fine. Until now.
---
Experience the Best of Tel Aviv Street Style
By Chloe Popescu
---
I kept hearing from friends that a style renaissance was happening in Tel Aviv. Modern boutique hotels aimed at the design-conscious traveler, ambitious food, drawing from cooking traditions from all over the Middle East and to-die-for fashion finds. I decided it was time to check it out for myself and put together my own Best Of Tel Aviv list, for the design-conscious traveler:
Fly With Class
First thing first, sorting out the air. I needed to find a reasonable ticket to Tel Aviv without suffering through the sardine can that is coach. Enter Fly With Class, a first class travel concierge that offers customers up to 70% off of published prices for first and business class airfare. Through the transfer of airline miles and access to consolidator fares, I snagged round-trip first class airfare (first, not business) for around $4,000. Not $12,000.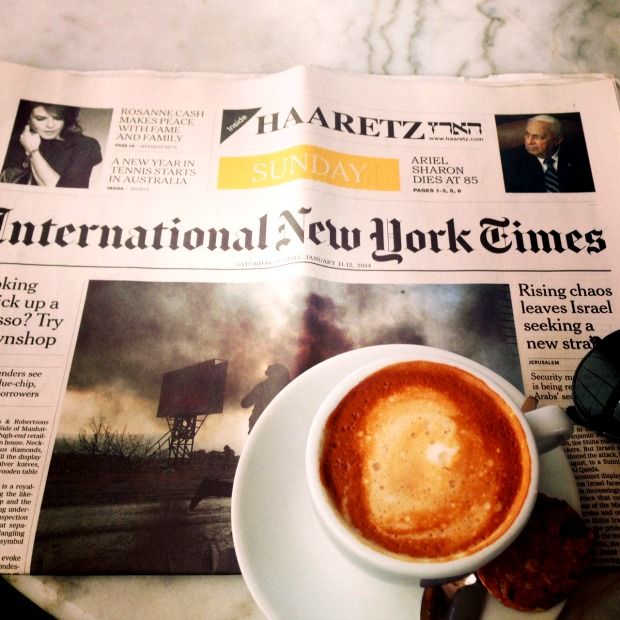 Mendeli Street Hotel
Located on a tiny street just steps from the glistening Mediterranean beach is a boutique hotel that epitomizes effortless and casual Tel Aviv style. Modern yet cozy, light and open, the open restaurant and lobby feels more like a posh living area than any hotel. Designed by Tel Aviv-based architecture firm Baranowitz Kronenberg, the space is comfortable and incredibly chic due to the attention to detail. Everything from the pillowcases to the saucers have been chosen with the utmost love and attention. Standard rooms begin at $200 per night including breakfast (the restaurant is by renowned chef Rafi Cohen – wow), which is a steal considering the service and the food. I didn't want to leave!
Brown Hotel TLV
Up the road from the insanely charming Neve Tzedek neighborhood sits the reigning King of Cool in Tel Aviv, the Brown Hotel. Decked out all in rich tones of Brown, the hotel feels more like a members only boys club than a boutique hotel. Rooms are small, but the feel of the place is very comfortable and thoughtfully done. The back patio offers a bar, which fills up on weekends and attracts a very hip younger crowd. Starting around $250 per night, this is the spot to stay to feel like one of the cool kids.
Rothschild 71
Tucked onto the most posh street in Tel Aviv sits Rothschild 71.Incredibly private and mellow (there's not even a lobby – guests check in while reclining in wing back chairs over a coffee table stacked with design books) this is the least design-y of the three hotels, and probably the most serious. This is for the more serious traveler, who likes clean lines and less of a scene. Rates begin at $198.
Pastel
We eat with our eyes first, right? If you want to be really wowed by a restaurant's ambience, head to the restaurant at the Tel Aviv Museum, Pastel. The design is impressive – huge metal sheets connect the architecture from the outside of the building into the dining room. The vibe inside is of a modern bistro, featuring Israeli specialties alongside French classics. This is the spot for the chic lunch pit stop you're looking for in Tel Aviv.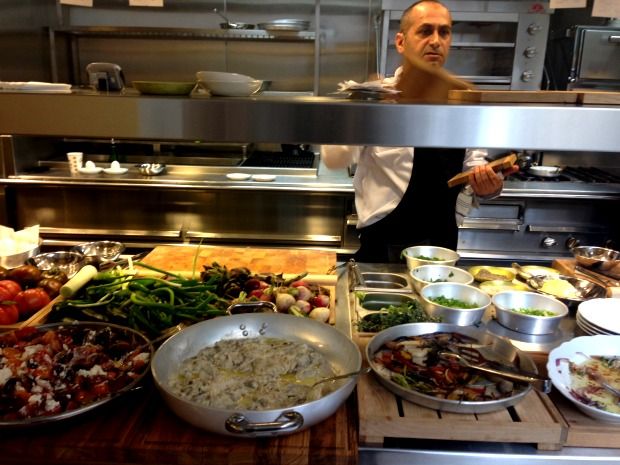 Manta Ray
Located right on the beach boardwalk overlooking the Mediterranean Sea and the old city of Jaffa, there's no better place to be on warm day than on Manta Ray's back patio, chowing down on sea food. The view is spectacular and so is the food. The star menu items are the 15 different mezze appetizers (salads, labneh, pita, etc). At around $4 each, this is the perfect way to start a lazy weekend dinner in Tel Aviv.
Dallal
A hot and trendy restaurant located in an old house, Dallal is the place you want to hit for a relaxed yet stylish weekend brunch in Tel Aviv. The menu fuses together French and Middle Eastern cuisine and features fresh local produce. Indulge in some of the baked delights, including the smoked-salmon croissants and the indulgent strawberry French toast sandwich.
Jaffa Souk
For the most authentic shopping experience you can get in Tel Aviv, head to the Souk in Jaffa. The ancient port city of Jaffa is located just 10 minutes from the center of Tel Aviv. An outdoor market, or souk, is the heartbeat of Jaffa. Vendors set up shop selling vintage clothing, ancient knives and coins and random knick-knacks. If vintage threads and boho jewelry is your thing, you've hit the mother load. Hand embroidered caftans, peasant blouses and Bedouin silver jewelry are in surplus and can be had at very reasonable prices. Sprinkled around the souk are independent boutiques featuring up and coming local designers.
Dizengoff Street
One of the biggest shopping boulevards in Tel Aviv is Dizengoff Street. The central hub of local style, shoppers can expect to find solid every day clothes with an Israeli twist. Linen t-shirts, army jackets and thin knits are the perfect staples to create the ultimate Tel Aviv look: casual chic. Stand out boutiques are Yosef Peretz for unique silk-screening and Shanibar for vintage-inspired shoes.
Sheinkin Street
For a more boutique shopping experience, head to Sheinkin Street. Just across the road from the Hacarmel Market, this is where the young and hip of Tel Aviv flock for their retail therapy. Small jewelry shops (and I mean small) featuring handmade hamsas and evil eyes pepper the street along with trendy clothing stores and charming cafes. The stores are tiny and seem to go on forever so plan a few hours to really dig in.
If you want to learn how to dress for conservative countries, please read this.
---
If you found this post on experience the best of Tel Aviv street style useful, please share with your friends on Facebook, Twitter, and Pinterest. Thanks for reading!
---