Support TFG by using the links in our articles to shop. We receive a small commission (at no extra cost to you) so we can continue to create helpful free content. As an Amazon Associate, we earn from qualifying purchases made on Amazon in addition to other retailers featured on the blog. Thank you, we appreciate your support!
Planning your Europe travel checklist? We have nine unexpected essentials you may have forgotten. Keep reading to make sure they're on your list!
---
Europe Travel Checklist: 9 Essentials
Written By: Rachel Jones
---
I love everything about Europe. I love the phenomenal food, rich history, splendid landscapes, charming pubs, and so much more. Europe is beautiful, magical, and classy. However, preparing to undertake such a variety of lovely experiences can be daunting during the planning and packing stages.
I have traveled to Europe several times for various reasons and have acquired a few simple packing tips I will fondly call The Nine Essentials.
The Shoes
The decision on which shoes to take can be difficult and I urge you to be picky about your choice. The best compromise between fashion and function is lightweight, strappy sandals that have great arch support and a thick sole.
You may also like:
The Flexx Gladiator | Born Sandal | FitFlop Sandal | Fly London Sandal | Geox Slingback
Choose a style that's classy, durable, and suitable for almost any occasion – one you can wear to sightsee for hours and then pair with a cute dress for dinner.
You only need three pairs of shoes for any trip. Find out how with Pack Light Stylishly! 
Bring light layers
Denim Jacket | Stripe Zip Back Sweater
Although the summer weather in Europe is warmer, you'll want to be prepared for any changes in the weather especially in the evenings. Two light layers that can be worn together or alone are easy to carry and can easily be removed as the weather warms up.
Always check the weather for your destinations before you go.  Once you've researched the weather, you can focus on creating a travel capsule wardrobe. For example, you may not need a jacket for Italy but you should take light layers for Portugal. Ireland and Holland might be cold during your visit but they might have a streak of sun. If you're visiting several destinations, pack the layers.
The Sleep Sheet
This may or may not apply to your Europe travel checklist, but if you'll be staying in hostels, shared Airbnb rooms, cabins, or on couches, I definitely propose taking a sleep sheet. Depending on the size, it can also be used as a blanket for the beach or picnic.
Read more about the five benefits of traveling with a sleep sheet.
The Shopping Bag
Many European grocery stores and markets require you to bring your own shopping bag for your purchases. Europe is ahead of the game in recycling, and eliminating plastic bags is one more reason we love them. This said, I suggest taking a reusable grocery bag that folds up small and can be carried around easily.
You may also like:
I Love Paris Tote Bag | Herschel Packable Bag | Canvas Shoulder Bags
This item will come in handy for other purposes too and you won't regret adding it to your Europe travel checklist. Many women in London and Paris use canvas bags to tote around extra daily essentials.
Store your shopping bag inside a slim packing cube until you need it.
Sun Protection
Neutrogena Sunscreen Ultra Sheer Stick
Europe is full of beautiful views highlighted by sunshine. Don't forget to protect your eyes and skin as you're taking in both the sun, the wine, and the colorful sites.
Allergies
If you are allergic to pollen or other allergens, make sure to bring extras of either over-the-counter or prescription medication to ensure that the landscape doesn't ruin your trip.
Editor's note:I couldn't stop sneezing the entire time I was in Lisbon in June and the England countryside in July even though I don't generally suffer from allergies. Always consult with a doctor before taking any medication.
Protect your stash
Compass Rose RFID Secret Bra Wallet
It's not secret that pickpockets are in most major European cities. Be smart and stash your cash with anti-theft travel accessories. My favorite option is the Bra Stash shown above. This is a must for any Europe travel checklist!
Read these tips on keeping your passport safe while traveling!
The Scarf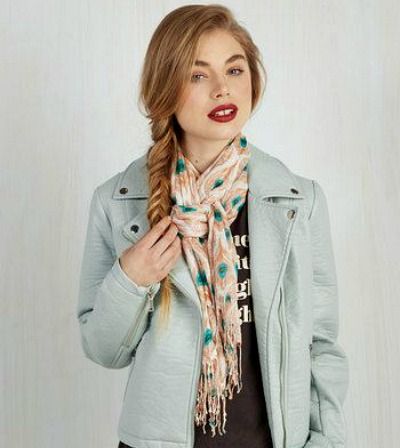 The scarf serves numerous purposes and is a must-pack for any destination. It can be used in the basic around-the-neck approach, as a shawl to cover your shoulders when going into cathedrals or other places requiring modesty, and to cover your head in protection against rain or sun.
You may also like:
Crinkle Scarf | Silk Blend Scarf | Silk Blend Graphic | Linen Blend | Cartography Scarf
You don't need to wear it in 80F weather but pack it in your purse if it cools down later in the day or to change the look of your outfit at night. You might want to skip adding this item to your Europe travel checklist and opt to buy one upon arrival at your destination – they're lightweight, functional souvenirs.
Sneakers…are everywhere
It's 2016, not 2006. Sneakers are everywhere and yes, they are are just as popular in Europe as they are in the US. It's not about the shoe, it's about how you wear it. Some of the most popular color choices seem to be white and metallic although you can never go wrong with a pair of classic black sneakers.
Other styles straight from the streets of Europe:
Nike Air Max 90 |  Superga Sneaker | Geox Sneaker | Adidas Superstar
The main tip is to avoid wearing these with leggings or other athletic items. Choose clothing (dress, skirts, skinny jeans, slim trousers) that are well tailored, classic, and chic and you'll achieve a happy balance between comfort and fashion.
---
What's on your Europe travel checklist? Share in the comments below!
---
For more Europe packing list, please read:
---
LIKED THIS POST? PIN THIS PIC TO SAVE IT!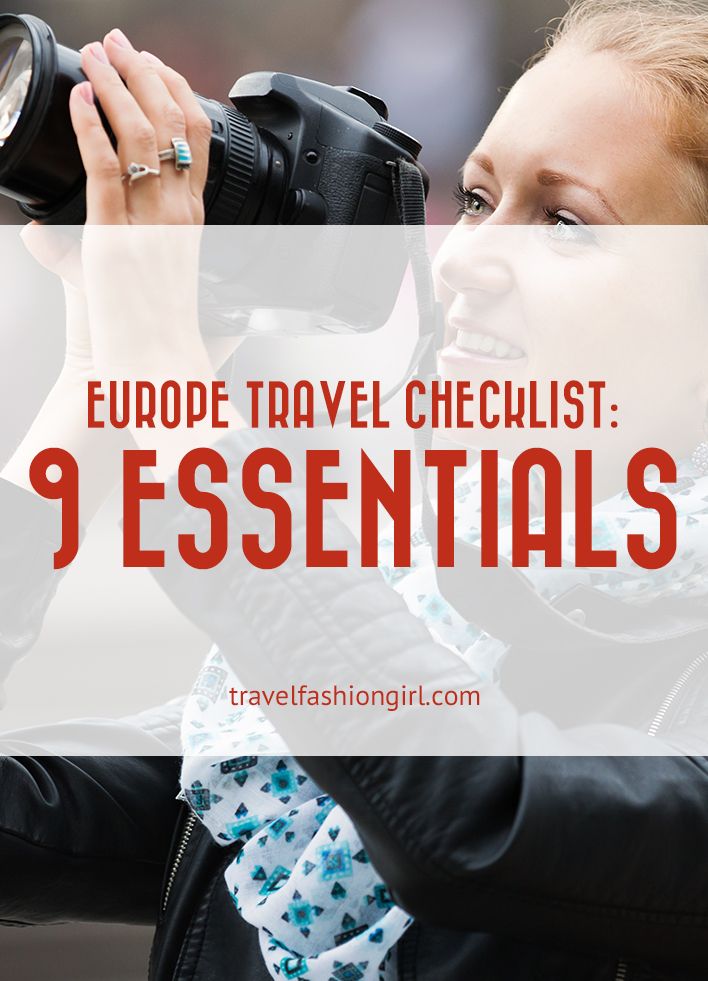 ---
Hope you liked this post on Europe travel checklist. Please share it with your friends on Facebook, Twitter, or Pinterest. Thanks for reading!
---
Author Bio: Rachel Jones currently resides in the Philippines serving as a U.S. Peace Corps Volunteer for 27 months. She loves finding new and exciting ways to travel on a miniscule budget while embracing various foods, cultures, and fashions. Check out her blog at My Global Arena.
---