Support TFG by using the links in our articles to shop. We receive a small commission (at no extra cost to you) so we can continue to create helpful free content. As an Amazon Associate, we earn from qualifying purchases made on Amazon in addition to other retailers featured on the blog. Thank you, we appreciate your support!
Soul Escape is your one-stop shop for resort, island, or beach vacation clothing. Why look for a stylishly functional travel wardrobe in various places when you can find beautiful airy dresses, cute summery rompers, and fun beach ready tops all in one place.
As a sun chasing traveler, this is seriously the store I've been wishing for! I fell in love with so many unexpected pieces – the Soul Escape team definitely chooses cute summer clothes with the stylish yet practical traveler in mind. And the best part? They're clothing is affordable, too.
Looking for a beautiful blend of travel and fashion for a hot weather trip? Keep reading to learn more about some of my favorite pieces from their collection!
(All images by Luna Vandoorne taken at the HM Playa del Carmen Hotel.)
---
Cute Summer Clothes: Soul Escape
PRODUCT REVIEW
---
We first told you about Soul Escape back in November, just in time for your winter beach escapes. Read about their tropical clothing here. Now, I've gotten a chance to test drive a few of their cute summer clothes in person. Let's take a look at how they hold up in my current destination: Playa del Carmen, Mexico!
Hudson and Bleecker Jewelry Case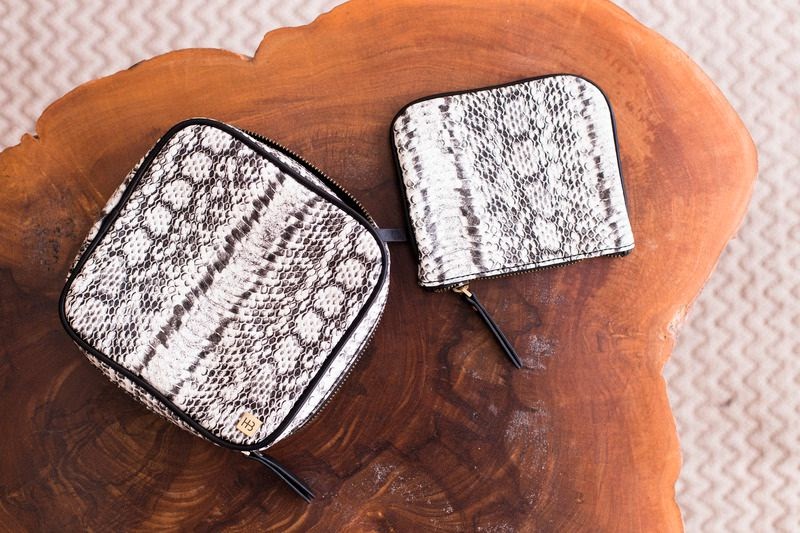 If you're on the hunt for seriously stylish travel accessories, Hudson and Bleecker is a great place to start your search. Soul Escape offers their St. Germain Jewelry case and I absolutely love it. The design is to-die for and it's super cute.
I'm a sucker for black and white monochrome imitation snakeskin and the quality of this case is fantastic. The material is not cheap or plastic-like and the brass hardware details add the perfect complementary touch. The interior is also lined with soft velvet to protect your prized jewelry.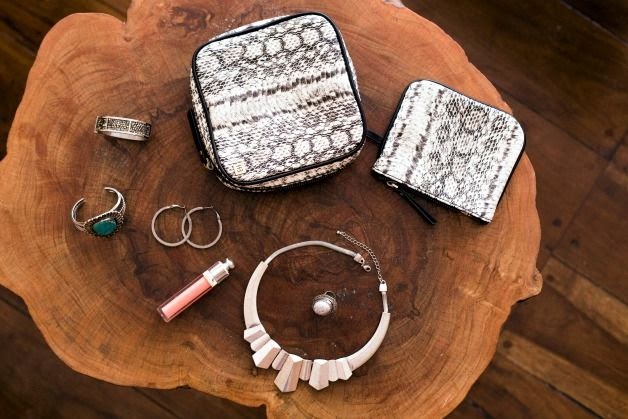 One of my favorite features is the earring holder that fits three sets of earrings – the perfect amount for a trip. Take a chic casual set for daytime, something dressy for evenings, and perhaps some small studs for active days.
The earring holder also doubles as a detachable ring holder. No more worrying about losing your favorite rings. There are also two small pockets below this holder where you can place other jewelry like a chain bracelet or oversized ring.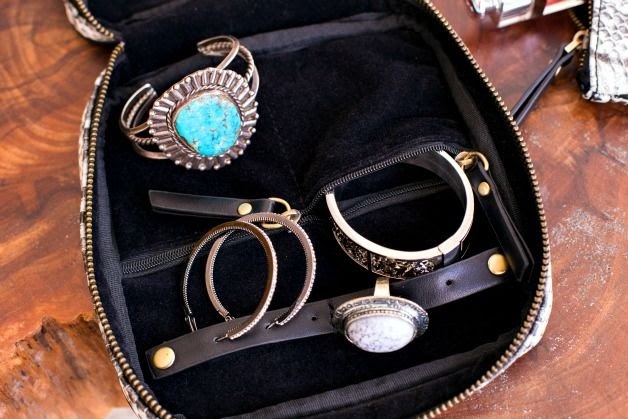 On the other side of the case is a large pocket to hold wide items such as necklaces. There is also a small detachable pouch with the same velvet lining and exterior design as the larger case.
Use this as a small clutch, to store additional jewelry, or for trips where all you need is a few small accessories to style your outfits. I'm currently using the clutch as a wallet. It's slim yet holds plenty of cash, cards, and my lipgloss – everything I need.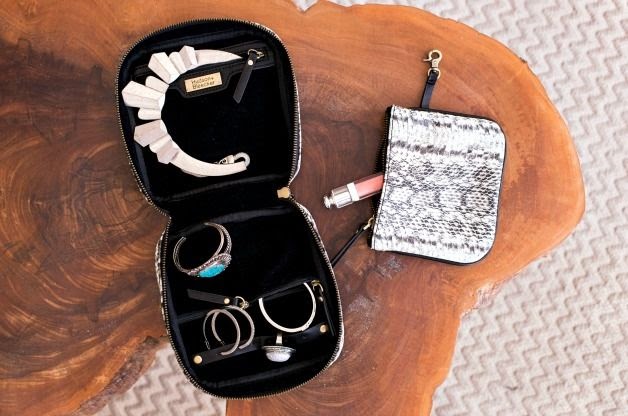 Jewelry can transform your look from day to night, and casual to dressy. Always make sure to pack a few sets to enhance your cute summer clothes on vacation.
Give your travel gear a luxury fashion makeover with travel accessories from Hudson and Bleecker available at Soul Escape!
Rio Print Maxi Dress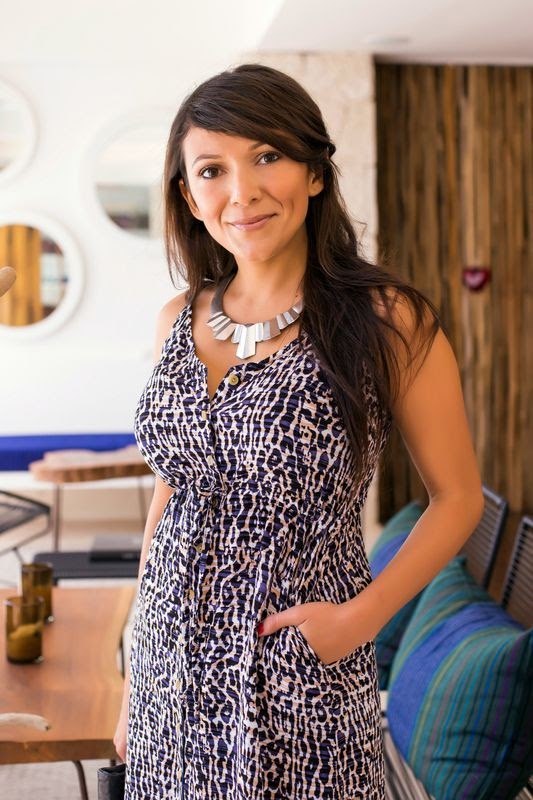 A maxi dress has become a staple in every traveler's wardrobe. The one downside is that some maxi dresses can take up too much room and add weight to your luggage because of their length.
The solution to this is all in the fabric! Find something lightweight and airy like this Rio Print Maxi Dress (similar). It's breathable, easy-to-wear, and incredibly comfortable.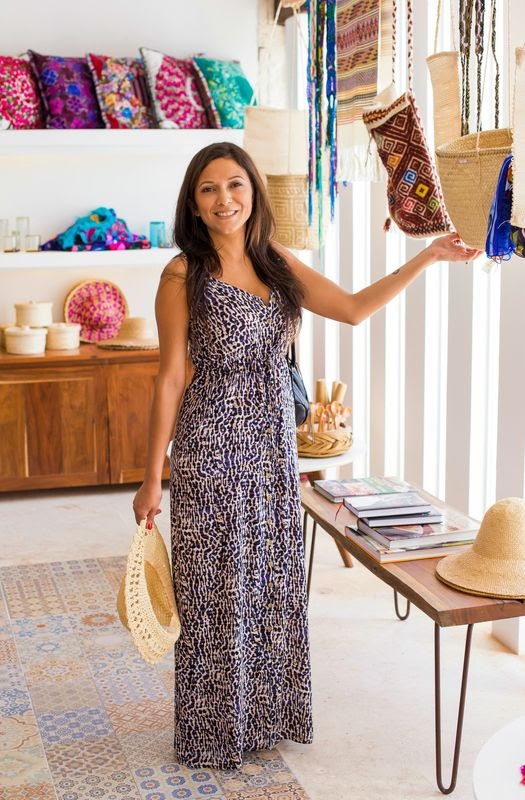 Made from 100% rayon – the ideal fabric for traveling in warm to hot climates. Rayon has all the same properties as cotton (also great for hot weather) but the advantage is that it's more wrinkle-resistant, lighter, and less expensive, too. Combine rayon fabric with a great print and you can say good-bye to wrinkles forever. Yeah!
One thing to note is that rayon tends to be a bit more delicate than cotton so hand washing your cute summer clothes is recommended. Rest assured – it's also a quick-dry fabric so you won't have to wait days for it to dry when you're on the go!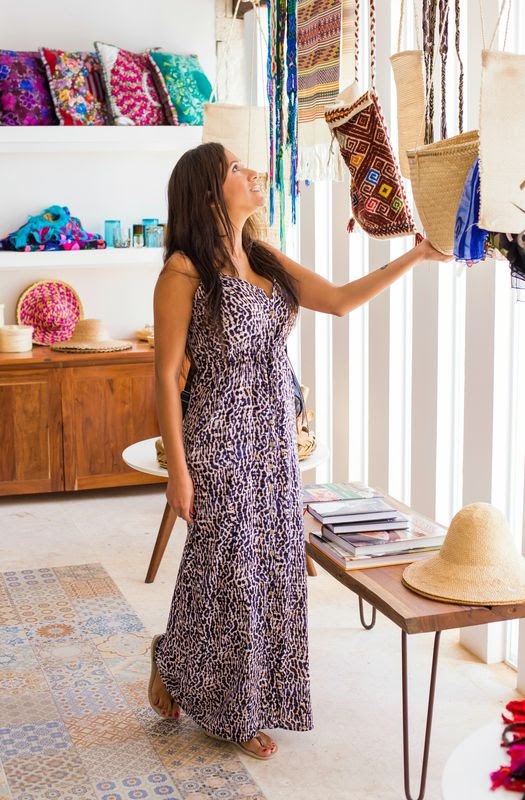 Aside from the easy-breezy fabric, one of the best things about this maxi dress is the fun pattern! It's a subtle leopard print with purple and salmon details. Despite the fun colorful twist, the dress has an understated elegance making it suitable to wear in beaches, towns, and cities, too.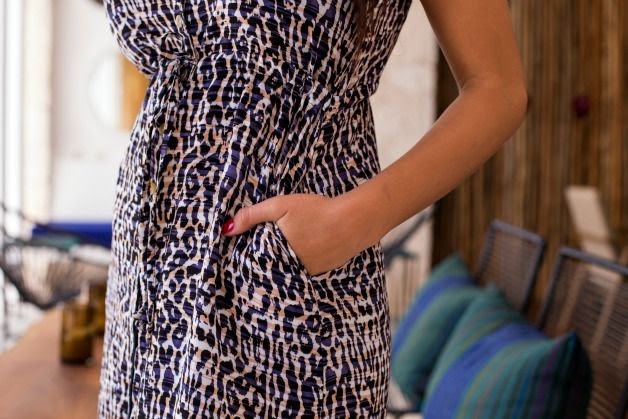 I was actually quite impressed with the functional details of this garment. The straps are adjustable, which is a big plus for a shorty like me, and it also has a discreet built-in adjustable tie to cinch the waist to your preference.
In addition to these awesome features, the dress has pockets. Always a major bonus for travelers.
And now, the Rio Print maxi dress (similar) has become my favorite every day dress to wear in Playa del Carmen!
Siren Wrap Mini Dress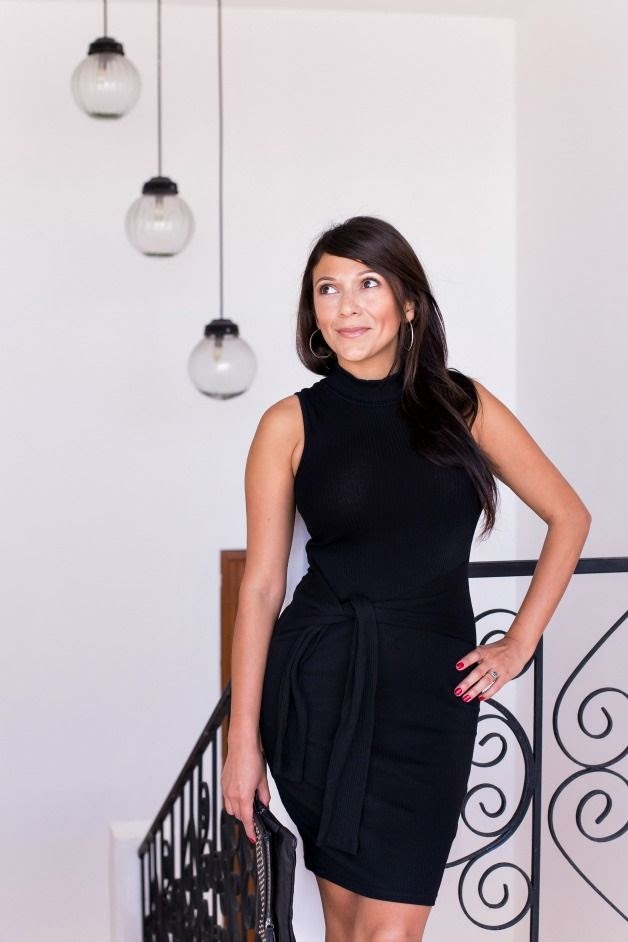 An absolute must for every female traveler is a versatile travel dress. This Siren Wrap Mini Dress (similar) is a good contender for an LBD you can take just about anywhere. A fitted, knit 100% cotton dress like this can be dressed up or down and easily transition through the seasons.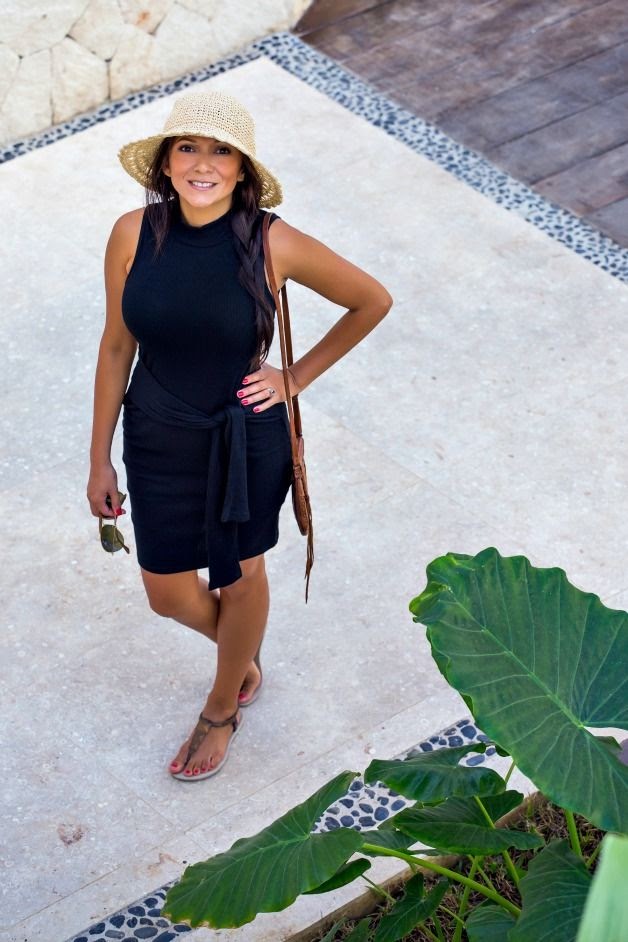 Pair it with a pair of tan sandals and a ponytail and you have a summery daytime look. Let your hair loose, add a bouncy blow dry, and pair with leopard print ballet flats to transform your look into casual chic. For nighttime, add a pair of snakeskin inspired heels, vibrant red lipstick, and a gorgeous clutch and you'll be ready to take the town.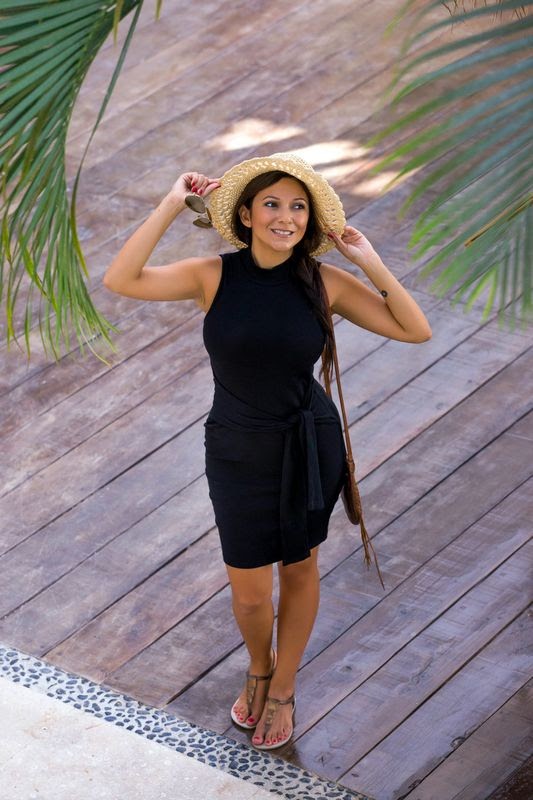 Heading into spring or autumn, transform your cute summer clothes by adding a pair of tights or leggings with sneakers and a military anorak for a chilled out sightseeing look. Trade those kicks for some boots and long-sleeve layered undershirt when the weather drops.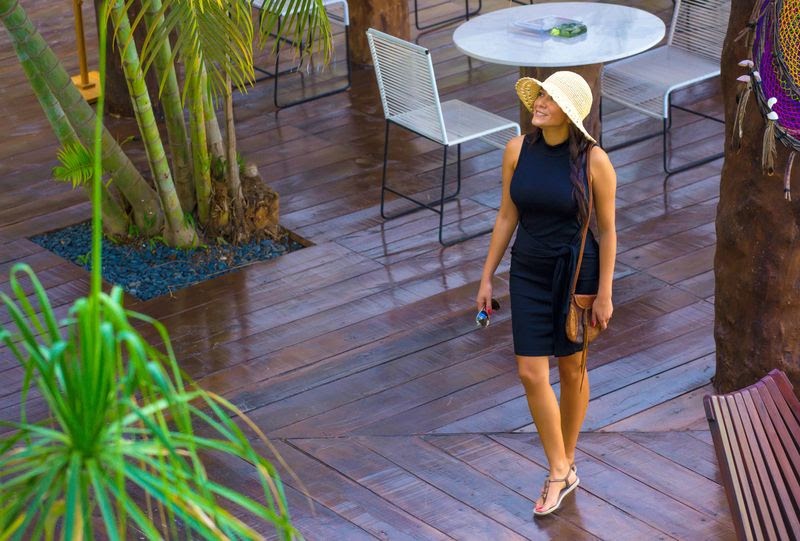 An easy-to-wear dress like the Siren Wrap Mini Dress (similar) will travel with you to every destination just about any time of year!
Biarritz Après Midi Dress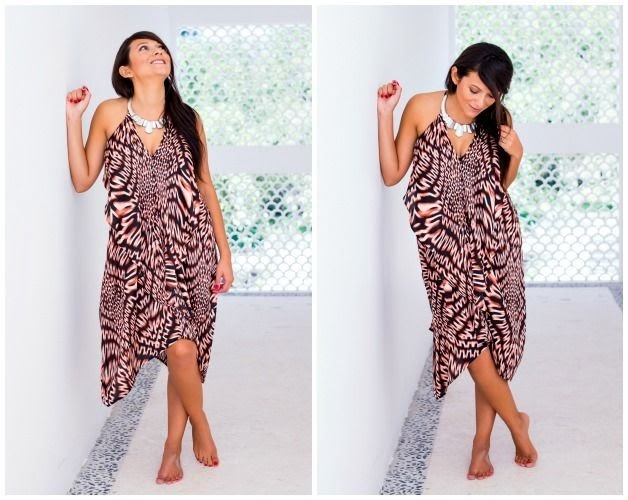 This Biarritz Après Midi Dress (similar) makes the perfect addition to our selection of top summer dresses for a trip abroad. It's featherlight, wrinkle-resistant, and pretty, too.
Starting with the print, it exudes a sophistication that would easily fit in for a beach side sunset drink in Playa del Carmen or a rooftop party in Los Angeles. The fabric feels silky smooth and falls nicely on your body with every step.
Here are some packing tips for Playa del Carmen and Cancun!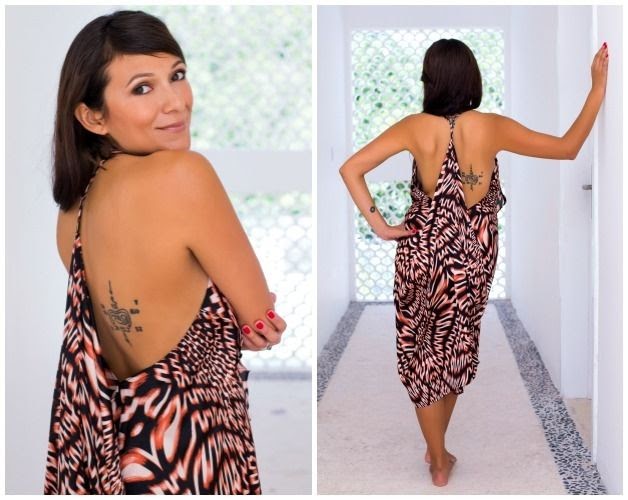 I never, ever, ever go braless but the draping of the dress conceals things quite nicely and makes it possible for a wider variety of women to ditch the bra. Alternatively, pair with an awesome strapless like this one (totally recommend for busty ladies) or a cute lace bandeau for a sexy peekaboo touch.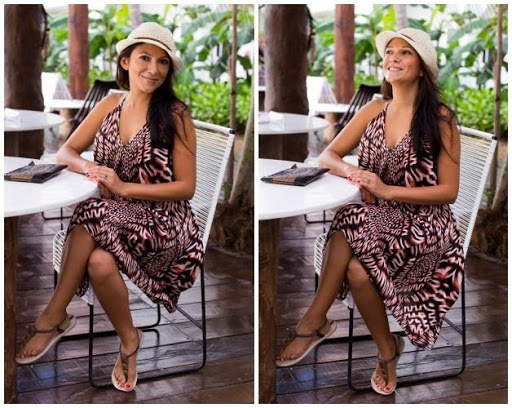 Dress it down with some patent leather thong sandals and a wide brim black hat or hit the best restaurant in town with a thin necklace, dangly earrings, and some strappy heels. I've paired them with my Maya Ipanema thongs in Bronze. Keep your makeup natural and dewy to add a golden touch to these cute summer clothes.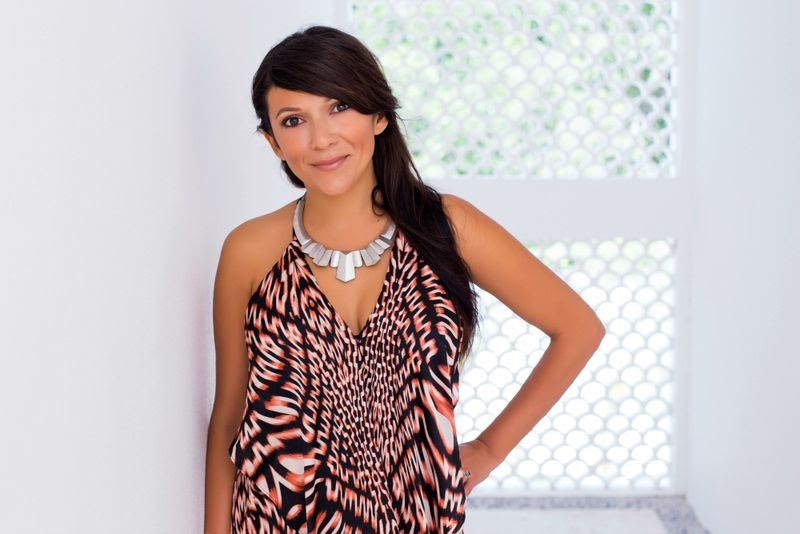 If you're familiar with my preferred color story of black, blue, grey, and white – this print completely throws me out of my comfort zone. I was very skeptical when they suggested I give it a try.
But you know what? I like it. In fact, I love it! The Biarritz Après Midi Dress is perfect for the upscale beach chic vibe in Playa del Carmen. Check out similar styles.
Honestly, this item ended up being one of the most unexpected yet totally appropriate travel dresses. It's sexy, versatile, and surprisingly travel-friendly. This is the piece that proved to me that the team at Soul Escape truly understands what it takes for a clothing item to be functional and fashionable, too.
I now know that when I'm looking for cute summer clothes I can confidently visit their online shop and trust that the buyers at Soul Escape know exactly what I didn't know I needed.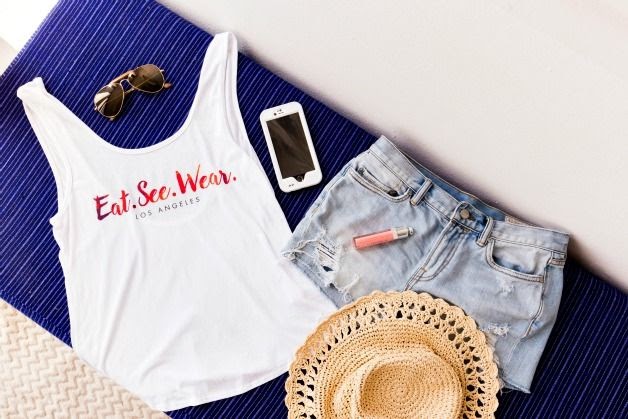 Visit their blog Eat See Wear for stylish travel tips for women!
---
Soul Escape is 100% TFG Approved and I couldn't be more excited about seeing their latest collection of cute summer clothes. Sign up for their newsletter and get 25% off your first order. 
Want travel and fashion? Soul Escape is the place to buy it. Shop now!
---
Hope you liked this post on cute summer clothes by Soul Escape. Please share with your friends on Facebook, Twitter, and Pinterest. Thanks for reading!
---