Support TFG by using the links in our articles to shop. We receive a small commission (at no extra cost to you) so we can continue to create helpful free content. As an Amazon Associate, we earn from qualifying purchases made on Amazon in addition to other retailers featured on the blog. Thank you, we appreciate your support!
Have you heard of Encircled? They're a Canadian company that specializes in stylish versatile garments for travel and everyday wear.
They've challenged me to test out their Chameleon Maxi Skirt that is a convertible dress skirt and more. Did I pass their test? And, did they pass mine? Find out!

---
From Beach to City with this Versatile Garment
---
Color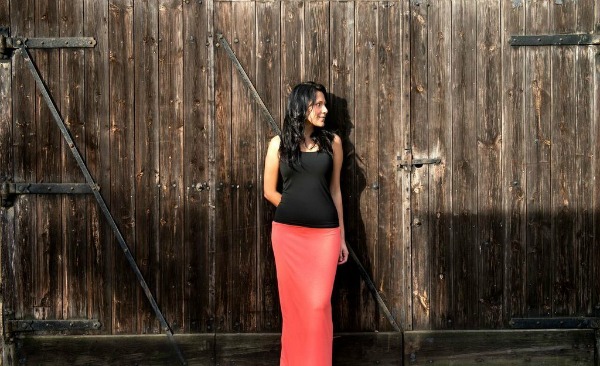 The Chameleon Maxi Skirt is a reversible multi-way garment that claims to offer you eight distinct looks and can be worn as a maxi, midi, short skirt or dress. To highlight it's various features and transformations I've paired it with this basic black camisole top from Adea.
 It offers diverse options enabling you to create numerous travel outfit combinations. Some reversible garments don't offer much color contrast so it was refreshing to see that this one does. I ordered the melon and heather grey combination which I'm extremely happy with because these colors would look awesome by the sea on my long term travels!
Another plus with the colors is that it helps to transition between seasons. I can wear the coral during the summer and the grey any time of year. I prefer more subdued colors on city trips and tropical colors for the beach.
This item definitely ticks the box with versatility.
Other colors available include coral/heather grey, fushia/coral, navy/periwinkle, slate/ocean and they just released two more combinations this week: black/stone grey and black/ocean!
Fabric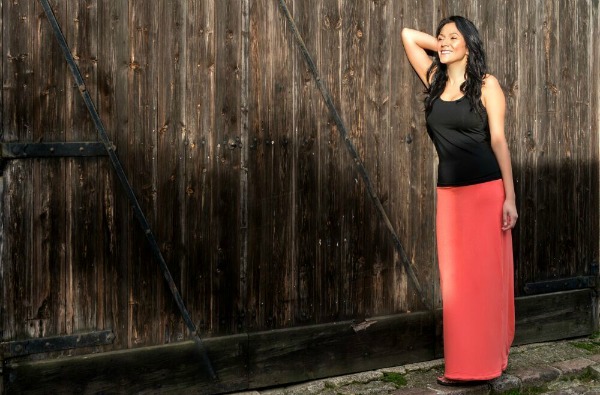 The garment is made from 95% modal and 5% spandex so it's incredibly soft. Modal should also be comfortable in the heat.
The fabric is slightly thicker than I normally like but that's to be expected with long clothing. If you're hand washing, the garment would take longer to dry than thinner material. However, if this convertible dress skirt proves that it really is a chameleon then its benefits would outweigh this detail.
Keep reading to learn the various ways you can wear this convertible dress skirt. Is it TFG approved?
Transforming The Chameleon Maxi Skirt Into 8+ Ways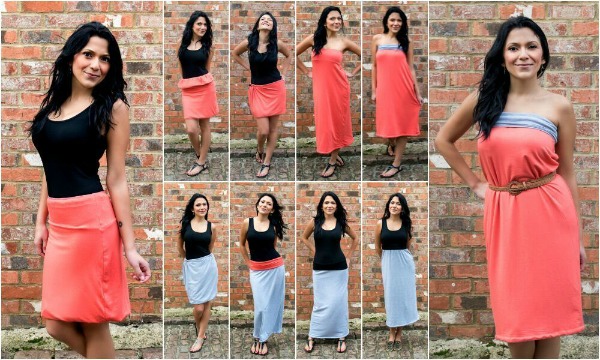 Worn as a Dress
Comfy loose dresses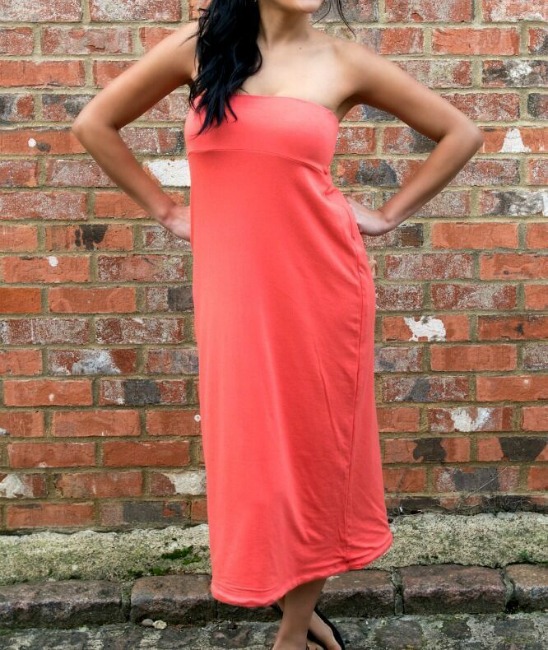 I love wearing comfy loose dresses in the heat and this fit just the way I like. At 5'2" it was a low calf length but if you're taller it will probably fall below your knees.
Strapless tops are always difficult for me but I've recently found a great bra line Panache that's enabled me to use a strapless bra – exciting!
Because the fabric around the waist isn't wide, this may be more flattering on women with an A or B cup. While I love the thinner waistline as a skirt I do need something wider to use this comfortably as a dress.
Pull the dress higher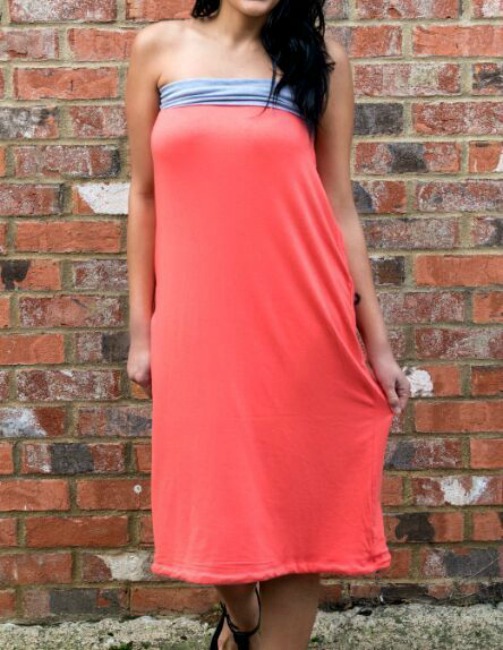 My solution for women with larger busts is to pull the dress higher folding the waist over itself. This keeps the seems away from your bust.
This worked well and I'm glad because I really like the look of the dress!
Belted look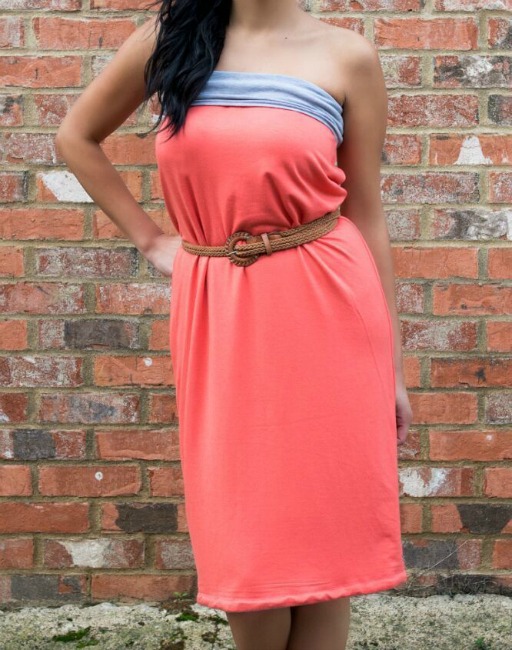 I'm not a fan of empire waist dresses with a belt but folding the top over itself enables you to wear this as a belted look.
Crop top over the dress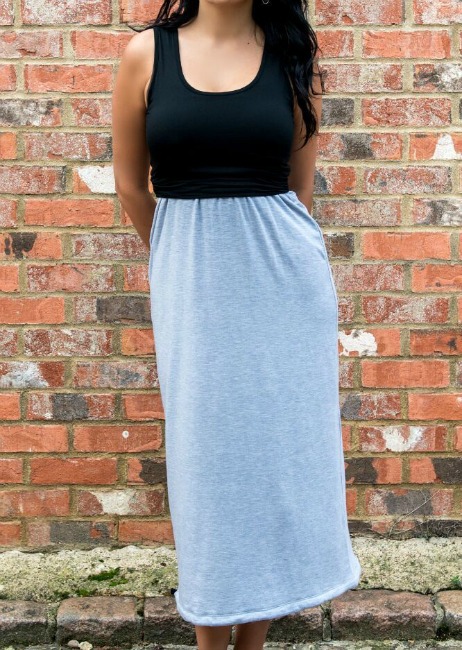 Alternatively, you can add a crop top over the dress and add one more look to your travel wardrobe.
Here I just folded the same black Adea top and tied it in the back but you can use this concept with a pre-cut crop top.
Worn as a Maxi Skirt
Top tucked out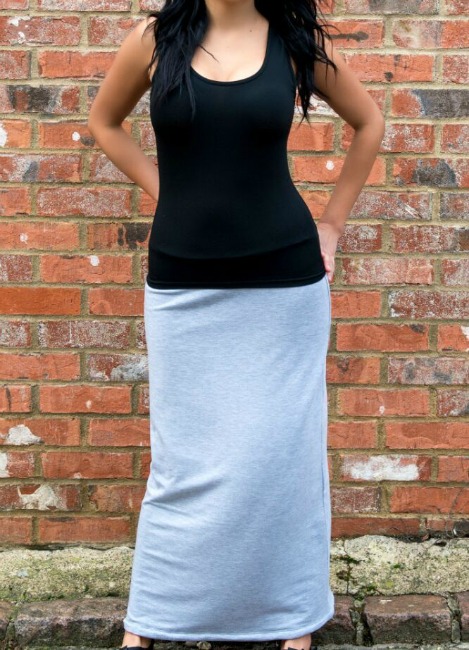 I ordered the size small and it was snug but not uncomfortable against my waist. Many skirts have a wide bulky band at the waistline making it difficult to pair with certain tops. It was nice to wear a skirt that accentuates my waist not adds a bulge.
With regards to the length, I'm 5'2" and it's floor length but it doesn't drag against the ground. However, if you're taller it may not reach your ankles. Alternatively, you can wear it to sit at your hips not at your waist.
Top tucked in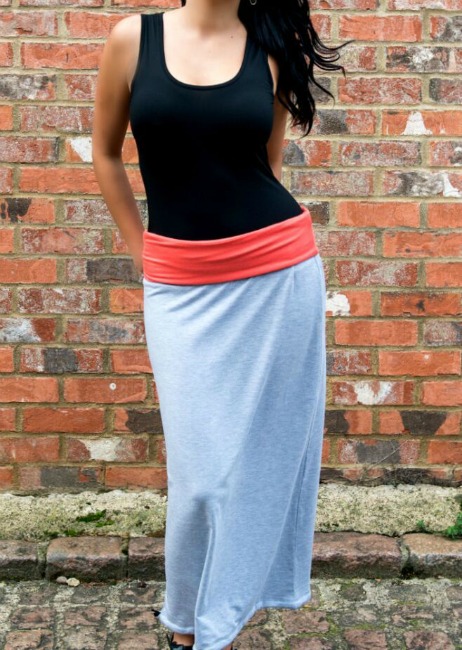 You can add a pop of color by flipping over the waist band when worn as a skirt.
Worn as a Mini Skirt
Sarong style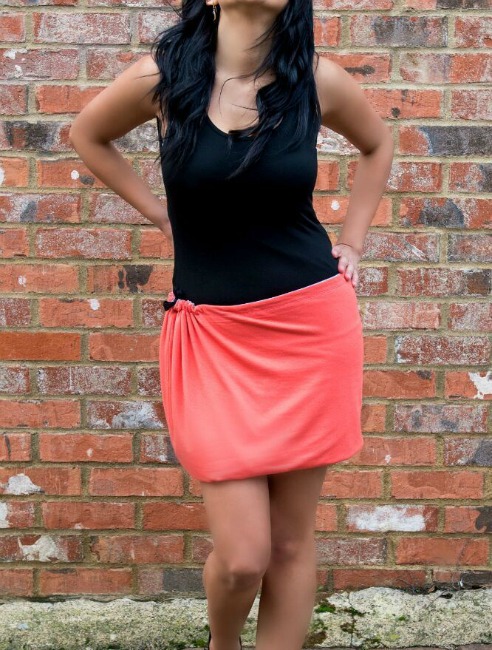 To create a mini-skirt you can either fold the skirt over or under itself.
In this example, I folded the bottom over while keeping the garment as a dress in order to create a short mini skirt (for my height). I folded the skirt over and pulled the rouching all to one side,  sarong style.
I was afraid the skirt style was going to overpower my short frame but moving the ruching all to one side was a nice way to prevent the fabric from bulging at my waist.
Peplum style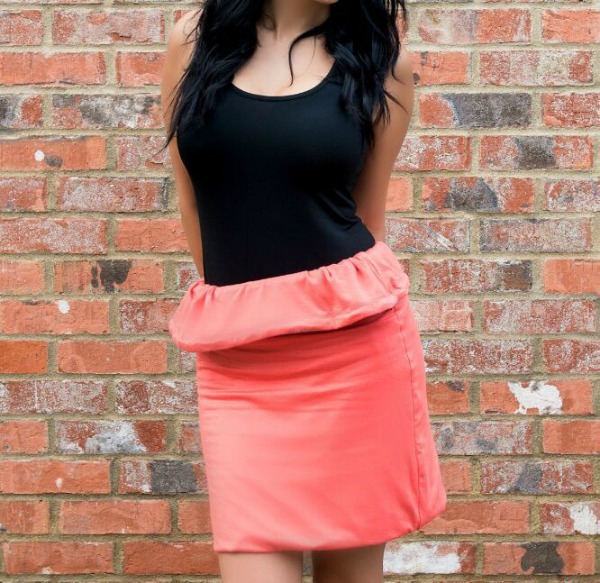 As I was testing out the option to create a short skirt by folding the fabric underneath instead of over I found that by pulling the fabric over the waist band I created a peplum style skirt.
At first I was unsure of this style but then it became my favorite because it felt fun and feminine.
Worn as a Knee Length Skirt
Typical look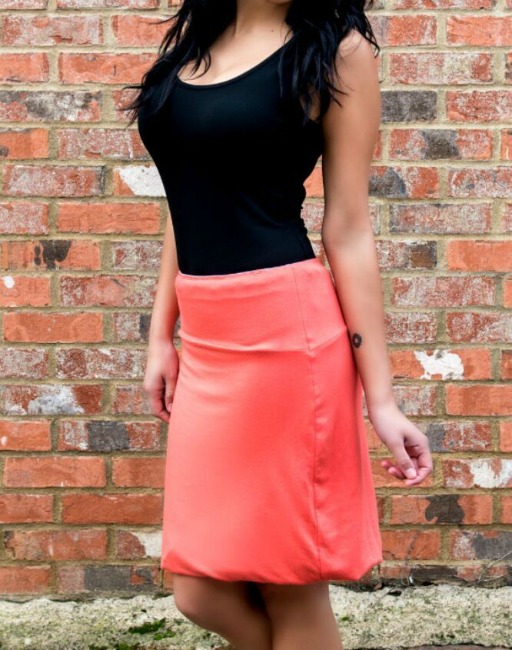 I then wore the skirt by pulling the fabric underneath (the way it's supposed to be worn to shorten the length). It was tricky to get the fabric to sit at the waist but I'm willing to give it a try because I like the idea of this style.
Flirty shorter skirt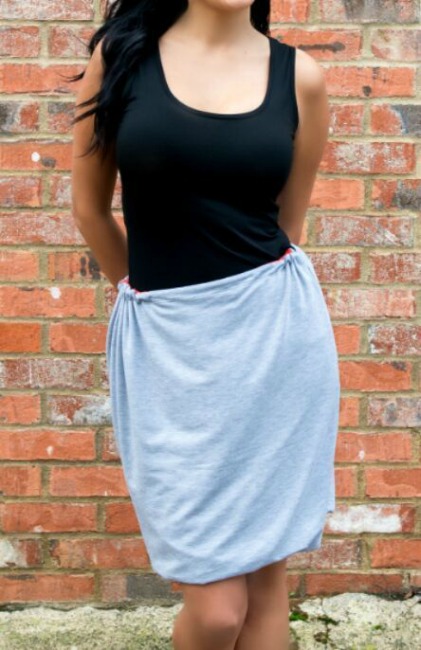 This time, I wore the garment as a maxi skirt before folding over. Because of my height the skirt ended right above my knee so if you're taller this may be mid-thigh.
Instead of ruching to the side as with the mini skirt I distributed the fabric to both sides. I really liked this style because there are many times where I wished I had a skirt this length in places like Bangkok where it's super hot but I don't feel comfortable wearing shorts (unless I'm on Khao San Rd).
I don't usually travel with mini or knee length skirts so this was actually my favorite transformation. While I would travel with a regular maxi or convertible dress skirt it was nice to have the two added versatile options of having a flirty shorter skirt or knee length.
Total Looks: 20
I've shown you how to create 10 different looks but if you reverse the color of the skirt you end up with a total of 20 different ways to wear this versatile garment. Although it's only supposed to transform eight ways, when your travel wardrobe is limited you have to get extra creative so I found even more options!
---
The Verdict:
100%  TFG APPROVED!
To be completely honest, I'm very hesitant when it comes to versatile garments because they tend to be bulky. The thickness of this garment is like packing two thin skirts instead of one. However, you get the added benefit of having a dress and short/mid length skirt too and this was a major selling point for me.
I've decided that this convertible dress skirt will be joining me on my upcoming trip in February so you'll probably see it in upcoming posts. In fact, if you recently enrolled in my Stop Overpacking ecourse you'll know that I changed my entire packing list at the end. Let's just say that this skirt was a game changer for my upcoming travel wardrobe.
 Please note: This has been a product review on behalf of Encircled. However, all opinions are my own. In addition, I haven't traveled with the skirt at this point but do plan to do so on the next leg of my long term travels.
---
For more details, please visit Encircled!
What do you think? Are you a fan of convertible dresses or skirts?
---
Hope you liked this post on this convertible dress skirt. Please share them with your friends on Facebook, Twitter and Pinterest. Thanks for reading!
---