Support TFG by using the links in our articles to shop. We receive a small commission (at no extra cost to you) so we can continue to create helpful free content. As an Amazon Associate, we earn from qualifying purchases made on Amazon in addition to other retailers featured on the blog. Thank you, we appreciate your support!
Planning a packing list for travel to conservative countries can be a challenge for even the most seasoned traveler. How to choose a modest dress that is respectful, comfortable, and flattering? Read these 15 expat tips to help you plan your Egypt Packing List!
---
Egypt Packing List
---
In 2013 I spent a month in Egypt including 3 weeks in Dahab. While I had previously been to Egypt on a G Adventures tour in 2008, this time around I had the opportunity to get to know both locals and expats.
I met 4 students studying at the International Languages Institute in Cairo and was eager to gain insight on their experiences living in Egypt. I interviewed them and Eva (Netherlands), Derek (USA), Suzi (UK), and Olivia (UK) help shed some light on what to wear to help you plan your Egypt Packing List.
The secret to traveling light is to create a functional but minimalist capsule wardrobe. Learn more in my guide!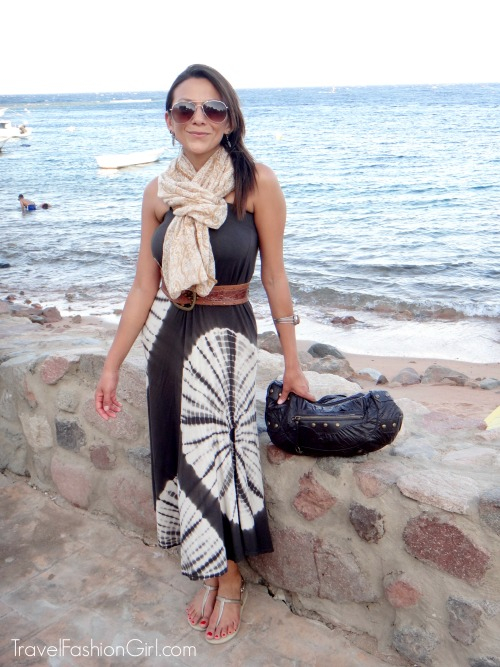 If you're in a tourist area, your arms and legs don't have to be fully covered as long as your knees and shoulders are concealed
Legs are far more important to cover than your arms
Shoulders must always be covered so a short sleeve t-shirt is ok – pashminas and bolero sweaters are also helpful to cover shoulders
Your collar bone should always be covered – wear a scarf like the image to the right to ensure you're collar bone is concealed (and your cleavage)
When in doubt always wear a scarf around your neck. Always try to carry a scarf for emergency situations – you can also wear it on your head as needed
Wear a wedding ring for engagement on right hand but left hand for married (even if you're not) to avoid unwanted male attention
Maxi skirts that cover ankles are good – perfect when it's over 40C / 100F
If you're going to use a cardigan as a cover up, choose one that has a long back covering your lower back
Instead of wearing "travel" shoes try to wear normal shoes so they don't think you're a tourist and stand out.
Walk with confidence and hold your own.
In expat neighborhoods or wealthier areas it's ok to have your shoulders uncovered.
If you are in less touristy "more local" neighborhoods, cover up as much as possible. For traveling to mosques, plan to be fully covered. They'll probably have a cover up you can use but it's better to be prepared.
You have to realize, you're generally going to draw attention because of the color of your skin (if you're fairer) regardless of how you're covered up. With fairer skin, you'll get stared at and if you have darker skin, try covering up more as you'll be considered a Muslim girl that's not dressing respectfully.
You don't need wear a hijab; just dress normally, but respectfully.
The key to packing light is to use packing cubes to compress your clothing shown in this video!
RED SEA AND RESORT AREAS
If are traveling to the Red Sea resort and beach areas, clothing is more relaxed and it is acceptable for tourists to wear shorts and tank tops but it's always a good idea to pack a few more clothing items as well in case you decide to travel inland on one of the many day trips available.
The above image of my maxi dress and scarf is taken in Dahab, a beachside town. While I am showing my shoulders, I have balanced this by covering my legs and my collar bone. If I were traveling inland, I would wear the same skirt/dress but throw the scarf around my shoulders and collar bone.
When traveling the rest of Egypt that is not on the Red Sea, we suggest you follow the previous guidelines.
For more tips, please read: What to Wear for Red Sea Holidays.
SAFETY
  If you are harassed, groped, assaulted, followed, or feel uncomfortable, here are some tips:
Shout really loud even if it's in your own language, Egyptians are helpful and will want to help you.
You have to make it clear that you're being harassed: sound angry, make a lot of noise. As soon as people hear noise, they'll want to know what's going on. SCREAM AT THE TOP OF YOUR LUNGS if you ever feel in danger.
"Haram" is a word that means "forbidden" so if you shout this people will know what this is.
PLEASE NOTE: these tips are for extreme circumstances and generally people in are kind. Don't be put off to travel Egypt by these safety tips. They are just words of advice from female expats that are currently living in and loving the country.
---
What are your best Egypt packing list tips?
---
For more on what to wear in Egypt, please read:
Travel Resources:
---
Hope you found these Egypt Packing List tips helpful! Please share them with your friends on Facebook, Twitter, or Pinterest. Thanks for reading!
---